Hanbunan jazz bar in Kyoto – quirky bar or creepy otaku's lair? You decide.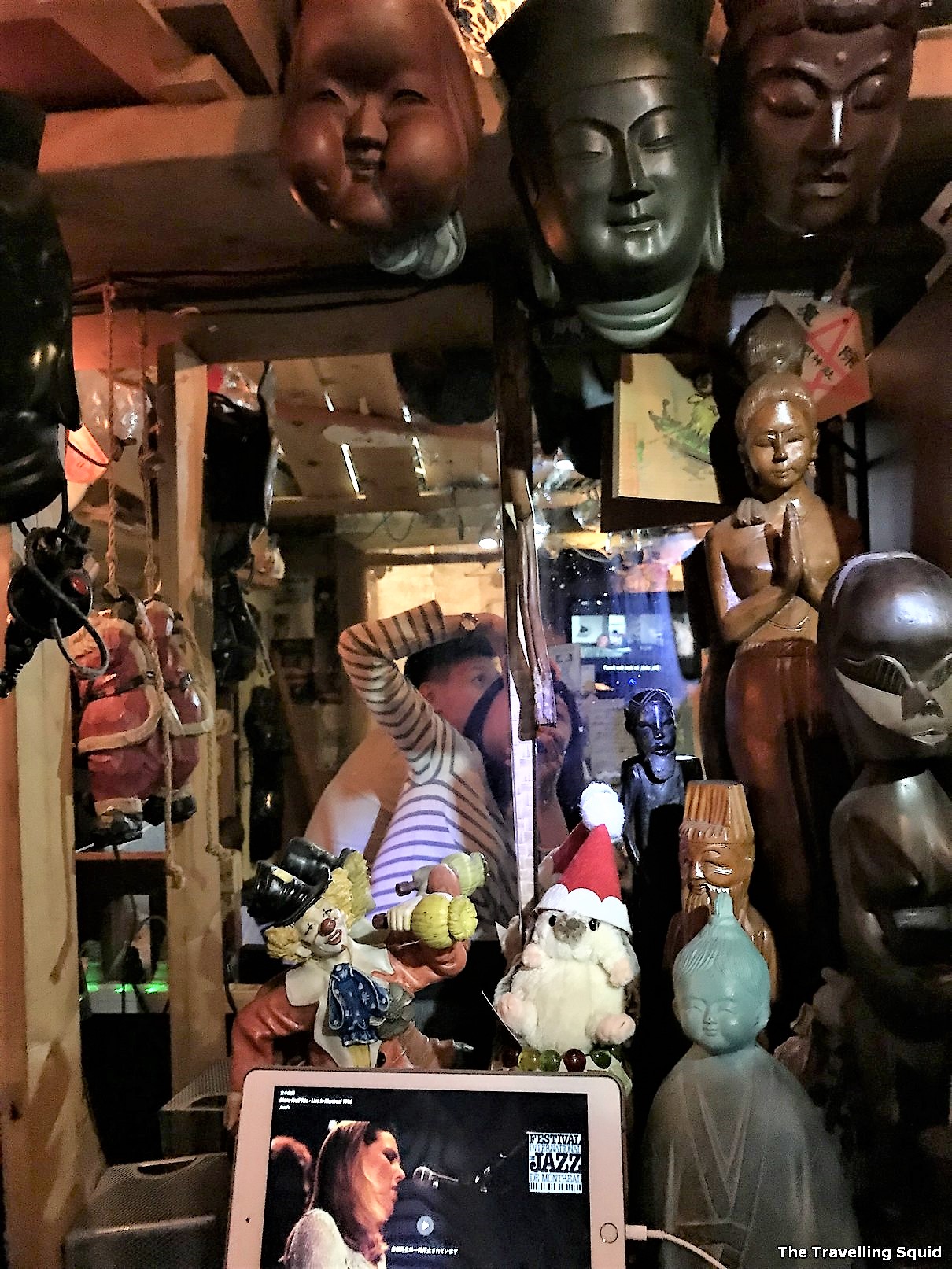 This was probably the most unnerving and in a way, exciting part of our trip to Kyoto. To be honest, the crowds at the shrines in Kyoto were wearing me out a little. And so were the people who had descended upon Pontocho in Kyoto, a popular street with bustling nightlife. It was impossible to find a bar to chill that evening, so we decided to explore the adjacent street. This is the story of how we found the Hanbunan jazz bar in Kyoto.
We were tired after walking for 15 minutes. There wasn't a bar that we were attracted to. Towards the end,  we spotted what appears to be a 'hipster place' at a random building. S liked the sight of the wine bottles from the outside and we decided to give it a try. I hesitated for a minute as the building didn't look like where cool bars will be located. But we went in nonetheless. Now getting there was more difficult than imagined, because the staircase was like a maze. The place had a 'strange massage parlour' sort of vibe.
On the first look, the Hanbunan jazz bar in Kyoto (半分庵) looks pretty welcoming. It's quirky no doubt, there are several TV screens in that little small space, and multiple sound amplifiers. It was clear that the owner was an audiophile. The screens were playing jazz music, which in my view wasn't too bad. So we entered. There was no one at the bar, but I spotted a lady eating at the 'restaurant' in front of the bar. (There was a partition so I couldn't quite see the other guests accurately.) I guessed she must have been with a group of friends as I heard chatter in the distance, amidst the loud jazz music.
As I settled in, I started observing the quirky surroundings around me. I've never been to such a place before. It did strike me as a little odd that alongside the audio equipment, there was also many face masks which were on the wall, and mirrors too. It was only after taking the picture did I realise that there was a clown and a soft toy penguin accompanying it. Indeed, it was a curious assortment of decorative items.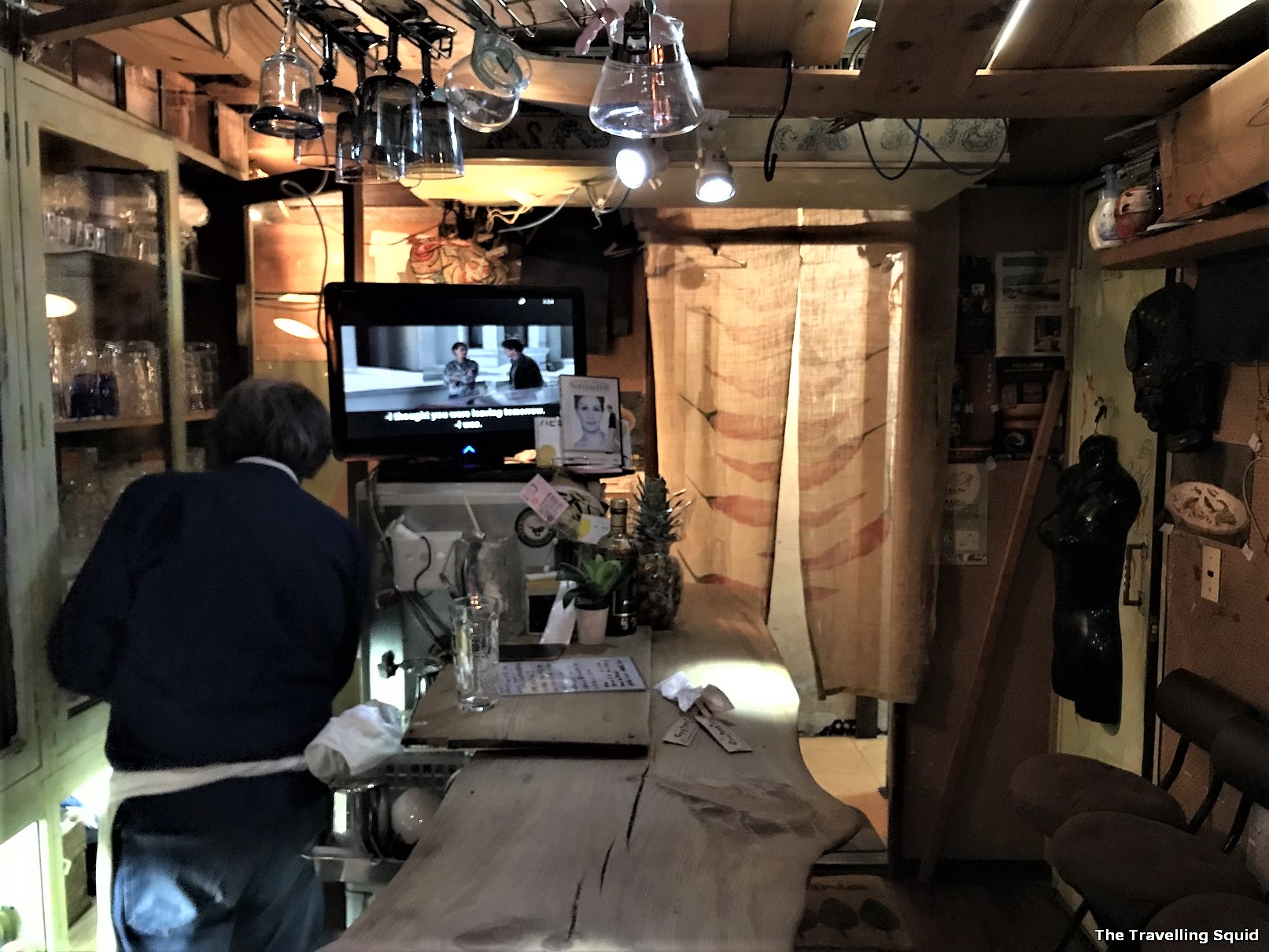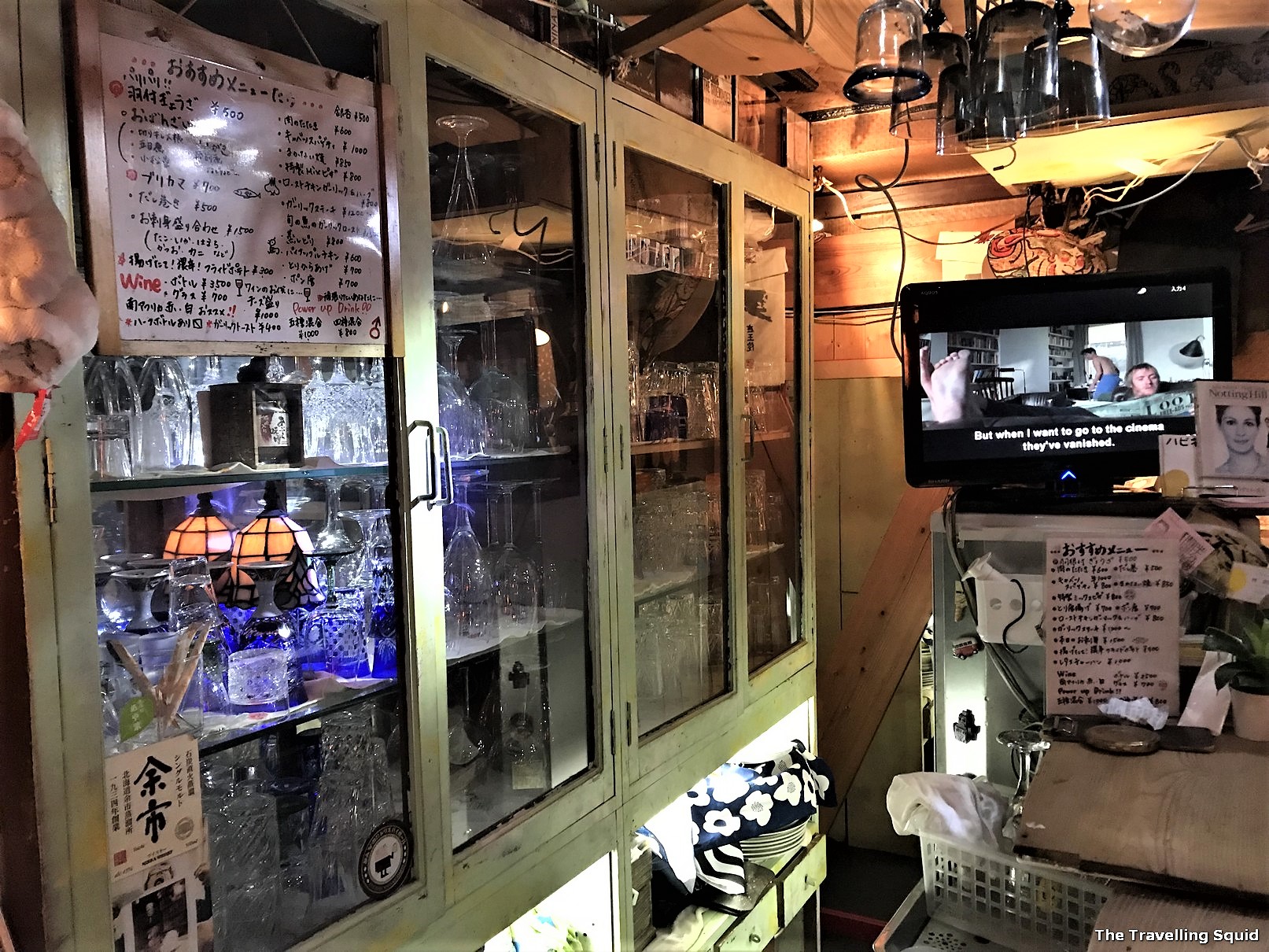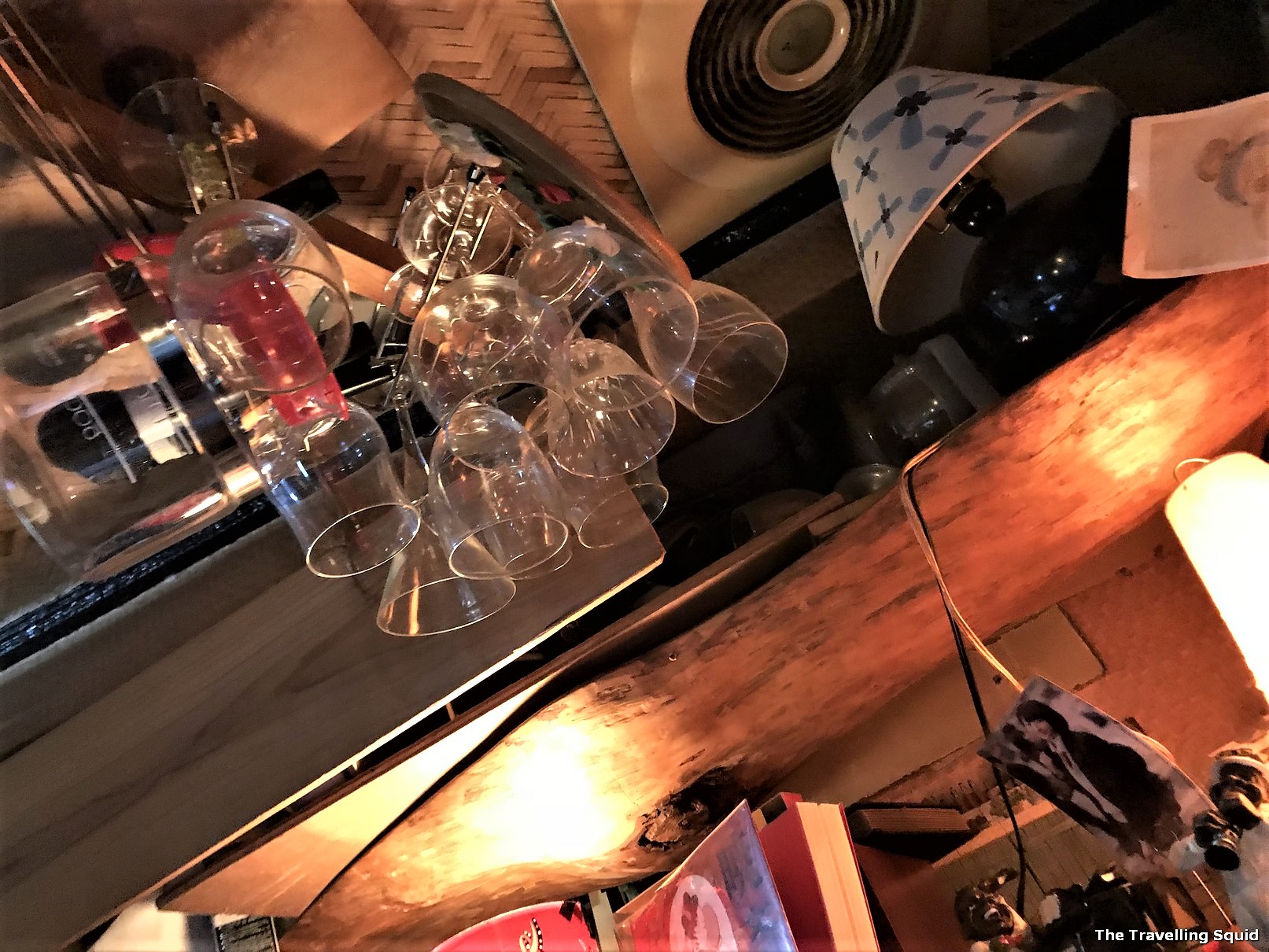 I  did like that the bar table which came in the form of tree log which had been split into half.  There were glasses which seem to hang precariously from the ceiling. There were also cloves of garlic hanging near a rack of CDs. I think they were used for cooking (not for warding off vampires). The owner  (let's call him Mr Oldtaku, ie. an Old Otaku) was probably in his fifties. He had streaks of white in his grey hair and wore black rimmed glasses. He moved slowly, lacking the agility of youth. He didn't speak much English, but handed an iPad enthusiastically to us to select a jazz performance video of our choice on YouTube, to play on the TV set with his high-quality speakers. We did so, obediently.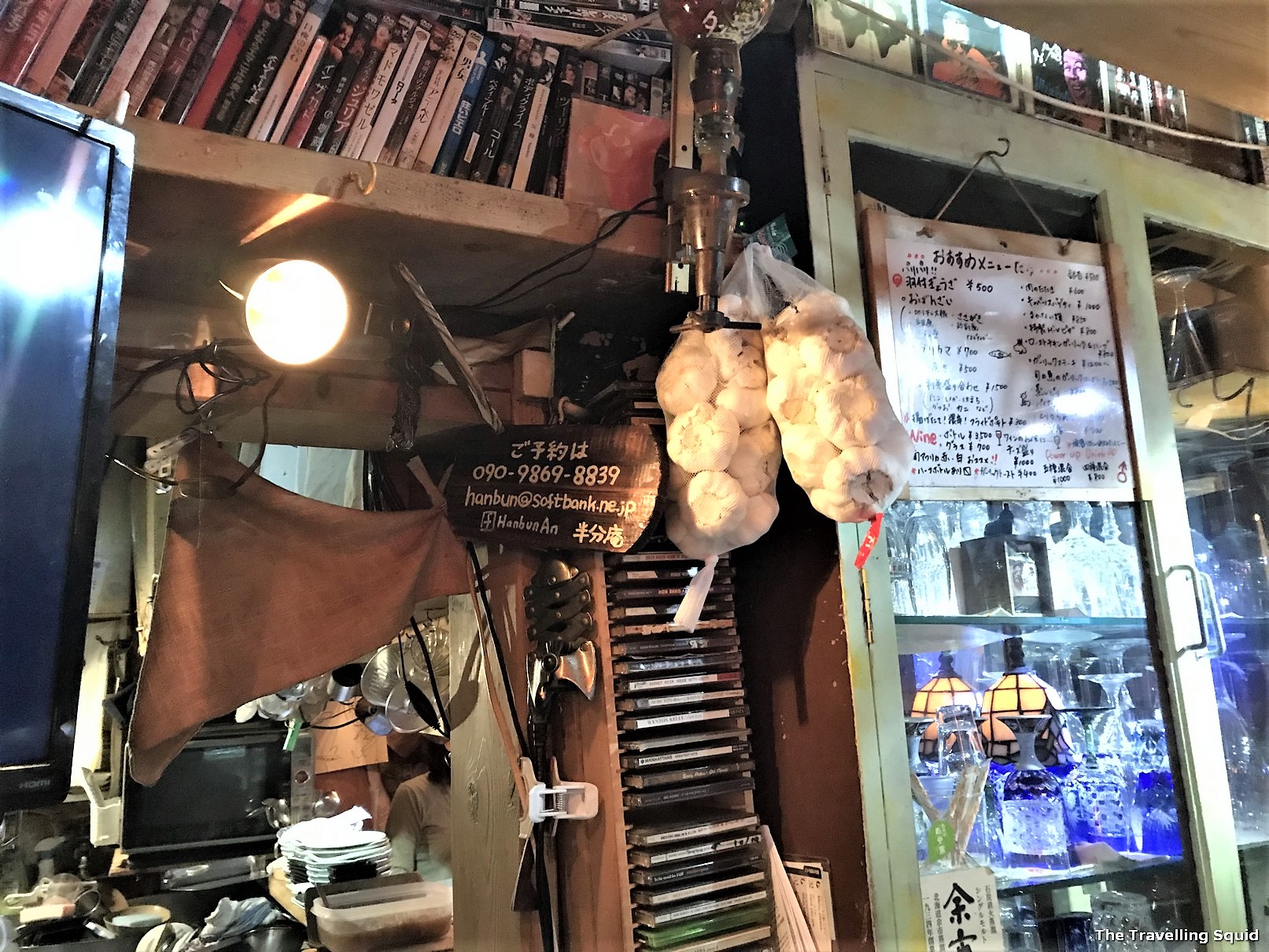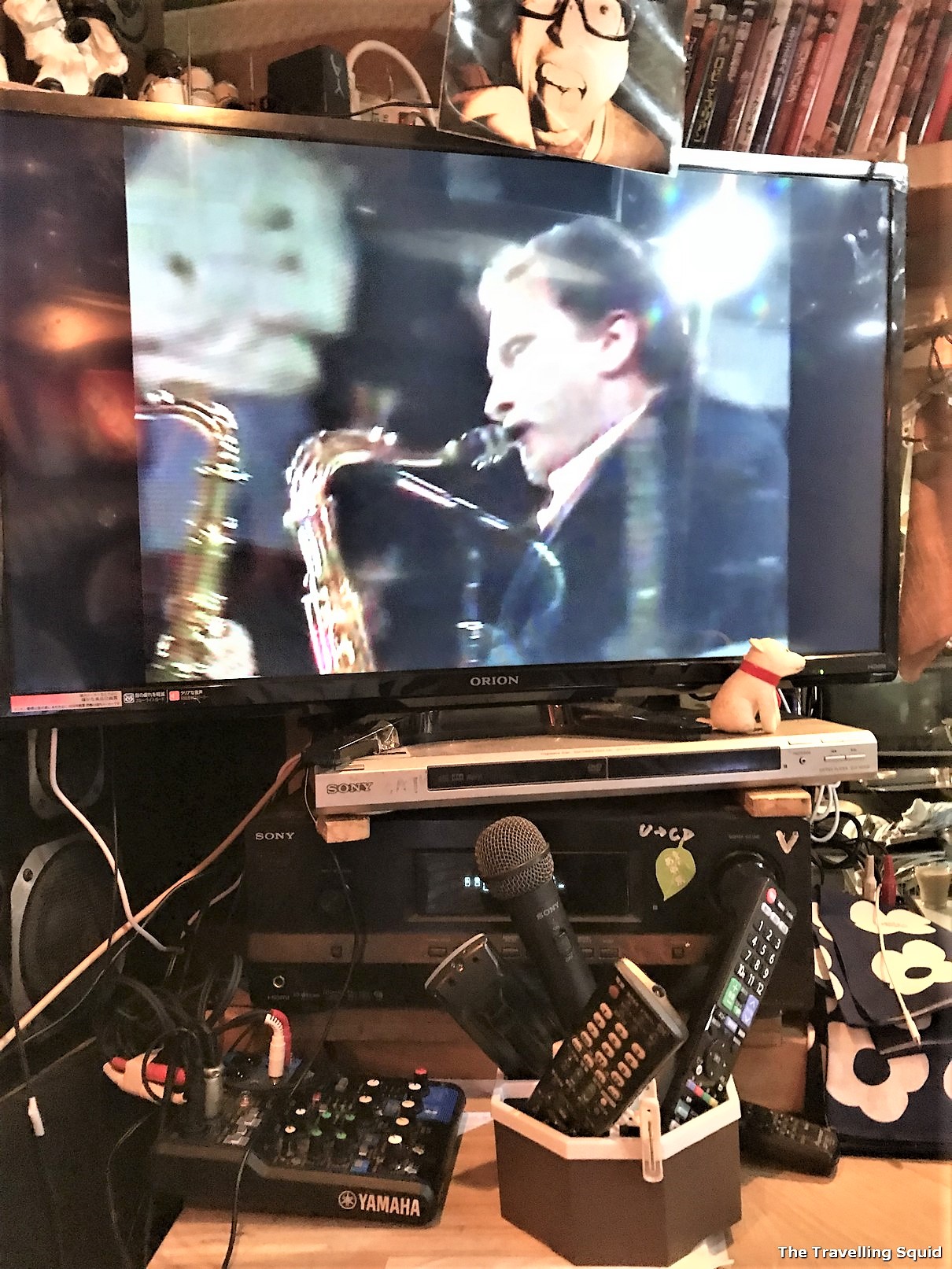 The Drink
We ordered a whisky highball for ¥500/ SGD6.10/ USD4.50. Instead of using Suntory whisky, Mr Oldtaku used Chivas instead to make a highball. It tasted quite okay.
Four weird incidents
a) Mirrors near my feet
After observing the somewhat haphazard surroundings around me, I realised that there were mirrors near my feet. My first thought was that it was very apt, for one to see if his/her shoes require some cleaning. My sneakers definitely needed some washing, as it was covered with a thin layer of dust after walking around Lake Kawaguchiko. Nudging S, I gestured towards the mirrors and he agreed with me.
b) Mannequin near the door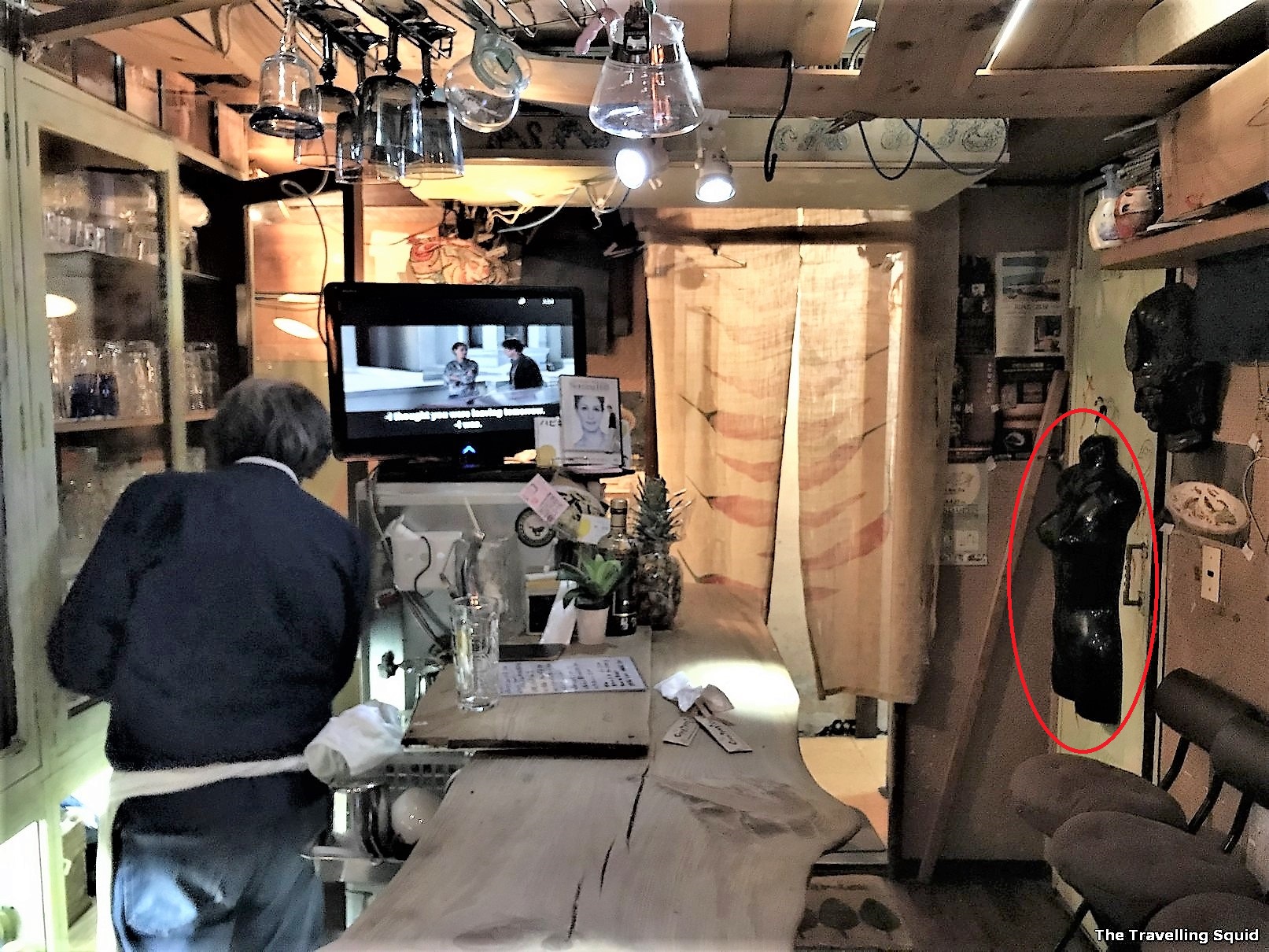 Just as I started to relax after a few sips of the highball, the sight of a half mannequin caught my eye. It got me wondering, why would a single guy need a mannequin to decorate his bar? The mannequin did not come with a head or legs (see picture above). That was very strange.
c) Postcard of Japanese Erotic Art
S gestures to a postcard on a shelf right behind my head. I look up and it's a postcard with Japanese erotic art. I would prefer not go into the details, except that the art would have been much more palatable if the person in the drawing was clothed.
d) Flipping of the thick book of Japanese Erotic Art
After about 10 minutes, Mr Oldtaku looks excited and gestures to a thick book next to the postcard of Japanese Erotic Art. 'Have a look please,' he said. 'This is Japanese culture.' S starts flipping the book, and looks somewhat interested. Page after page of drawings (undoubtedly and supposedly elegant) flit by, as jazz music played in the background.
Now I have been acquainted with such 'things', having been to the sex museum in Amsterdam and the Jeju Loveland. But this was stretching my limits. Feeling very uncomfortable, I emptied my glass of whisky highball and gave S the 'Time for us to go' eye. S got the hint. We thank Mr Oldtaku politely and told him we were calling it a night.
When we finally got out of the building, I turned to ask S a burning question which was at the top of my head. "Is there any chance that the mirrors were placed there to help customers determine the condition of their shoes?"
Later, we realised that the bar we wanted to visit was on the third floor, not the second.
***
Reviews of the Hanbunan jazz bar in Kyoto by Japanese people
In my mind, Mr Oldtaku was a creepy otaku who I just wanted to escape away from. His presence made me very uncomfortable. I felt a little trapped when I was in the bar, surrounding by strange masks, mirrors at weird locations and Japanese erotic art. But I thought I should find out how Japanese people determine who are 'creepy otakus'. This article from video game website Kotaku lists some actions like 'perfectly mastering dance moves otaku do at idol concerts' and 'referring to game characters as one's wife' as one of the traits of creepy otakus. It makes for a hilarious read.
I also did some research, and the Hanbunan jazz bar in Kyoto has a decent 3.14 rating on Tabelog  (the Japanese food review site, which is considered to be quite legit). According to reviews, most of them done in the past 4 – 8 years, the cabbage spaghetti and meat with garlic are Hanbunan's signature dishes. The reviews do mention that Mr Oldtaku is quite quirky.
(I later found out that the Japanese erotic art Mr Oldtaku shared with us is called Shunga. It is done via wood-block print, in a form of art known as Ukiyo-e. According to Wikipedia, shunga was enjoyed by all social groups in the Edo period, despite being out of favour with the shogunate. Apparently, samurai, housewives and merchants tend to own shunga, as they faced some separation from the opposite sex. With this historical and cultural context, I suppose the thick book of Japanese erotic art didn't seem too weird anymore. ) 
***
The Travelling Squid's Take
I initially wanted to write a sensational headline for this post, along the lines of 'Trapped in an otaku's lair in Kyoto'. But I thought to tone it down a little.  Granted that I did feel very uncomfortable sitting in this bar (which I seldom do), the Japanese reviews on Tabelog did compliment Mr Oldtaku for his quirky personality and good garlicy food. Perhaps, Mr Oldtaku couldn't converse that well in English, and therefore couldn't provide us context to why he had asked us to do certain things, like flip through a thick book of Japanese art.
That said, if you're a woman and absolutely have to visit this place, I'd strong advise that you wear pants. Keep the short skirts for another day.
Perhaps, this quote from Kotaku.com will sum up my thoughts on Mr Oldtaku.
So if you are big old nerd, you might want to keep (certain stuff) to yourself—or, you know, find someone who accepts you for you who are.
***
Hanbunan jazz bar in Kyoto
Address: 京都府京都市中京区木屋町通四条上ル/ 京都府 京都市中京区 木屋町 通四条上ル きぬたビル 2F
Tel: (+81-75-223-5911)
Opening hours: 17: 00 – 3: 00am