Review: Having contemporary sushi at Manten Sushi in Tokyo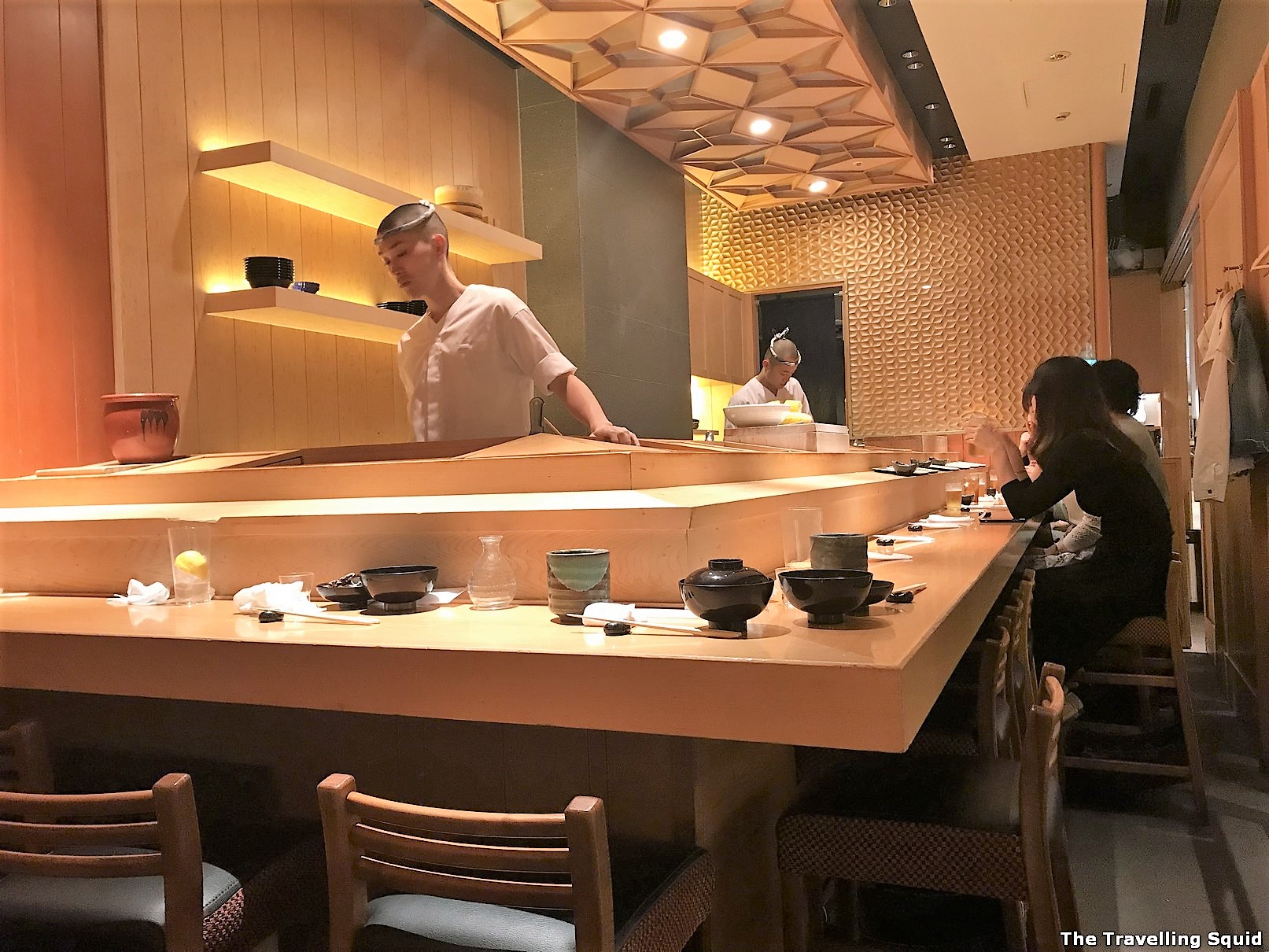 The second of my two big sushi meals in Tokyo was at Manten Sushi. It was an exciting experience because I didn't quite know what to expect of contemporary sushi. Having a meal there was akin to having an adventure – the ideas were novel and I absolutely loved Manten Sushi's special touch with simple food items such as tofu and a wedge of tomato. If you're planning to head there for dinner, I encourage you to make a reservation on Manten Sushi's website beforehand, as the restaurant gets full really quickly. Here's our experience of having contemporary sushi at Manten Sushi in Tokyo.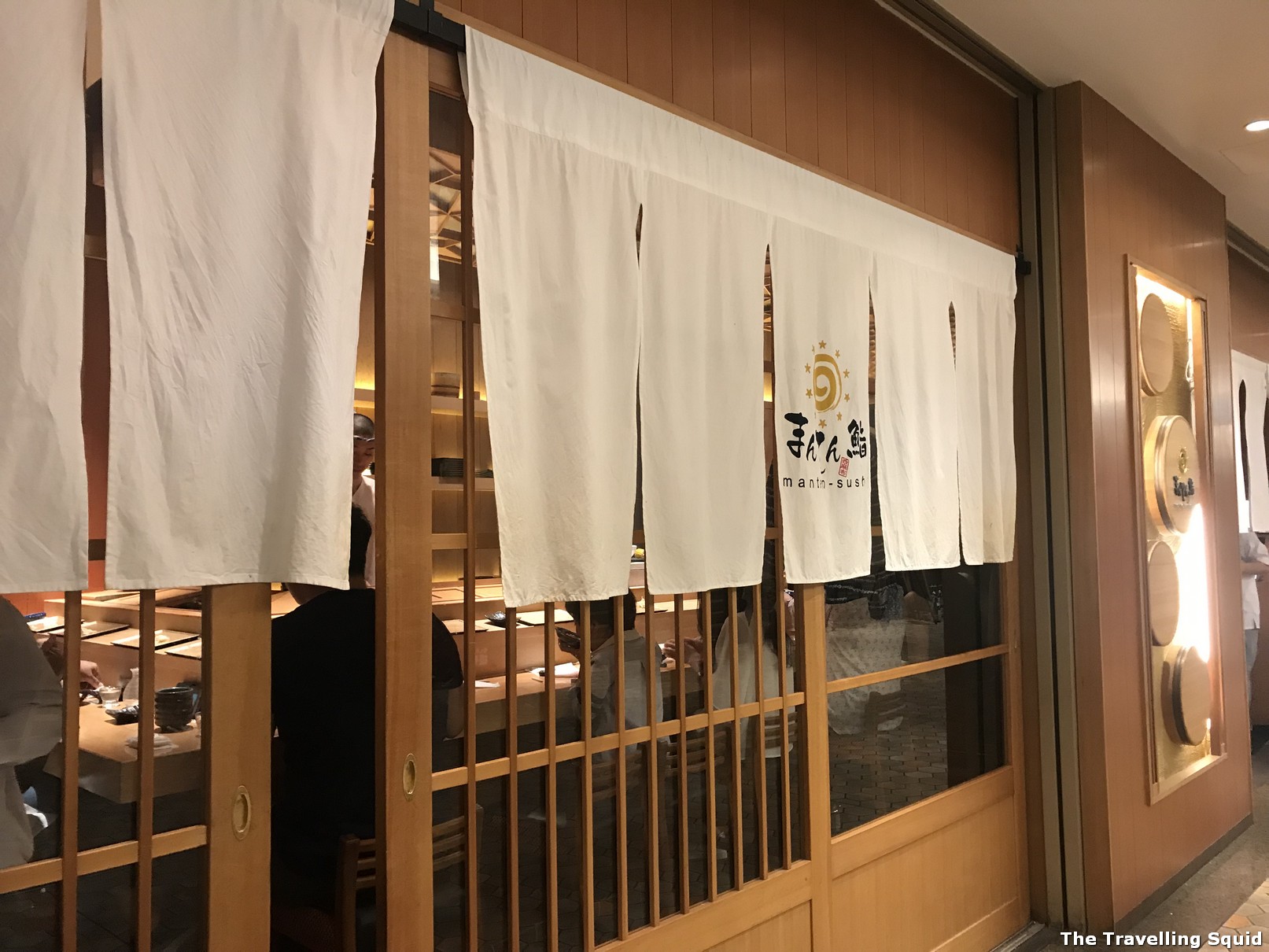 Making a reservation
You can make a reservation easily through Manten Sushi's website. The dinner omakase meal is priced at ¥6,000. ¥6,480/ SGD80 / USD59 is the price with tax inclusive. In my opinion, it's pretty good value because of the quality of food and fine ingredients used – think abalone, raw fish (sashimi) and the two types of sea urchin (uni).
Having contemporary sushi at Manten Sushi in Tokyo
1. Mackerel with green pepper sushi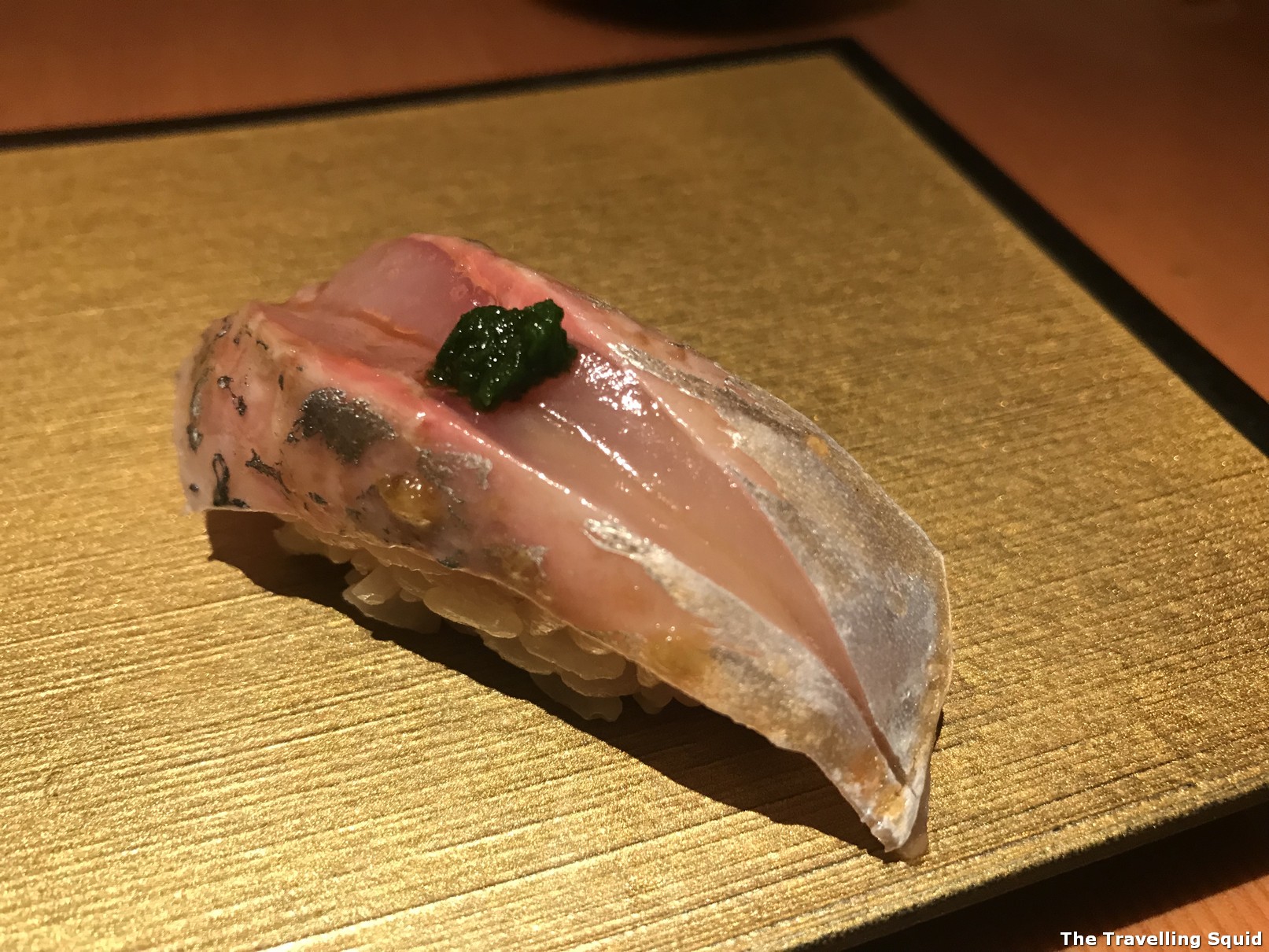 Our first dish was a mackerel with green pepper sushi. Unlike our dining experience at Satake Sushi, the cut of fish wasn't as smooth that it melts in your mouth, but it was fresh. It went well with the green pepper. There was a tendon in the slice of fish, but the mix of flavours was good.
2. Octopus and bonito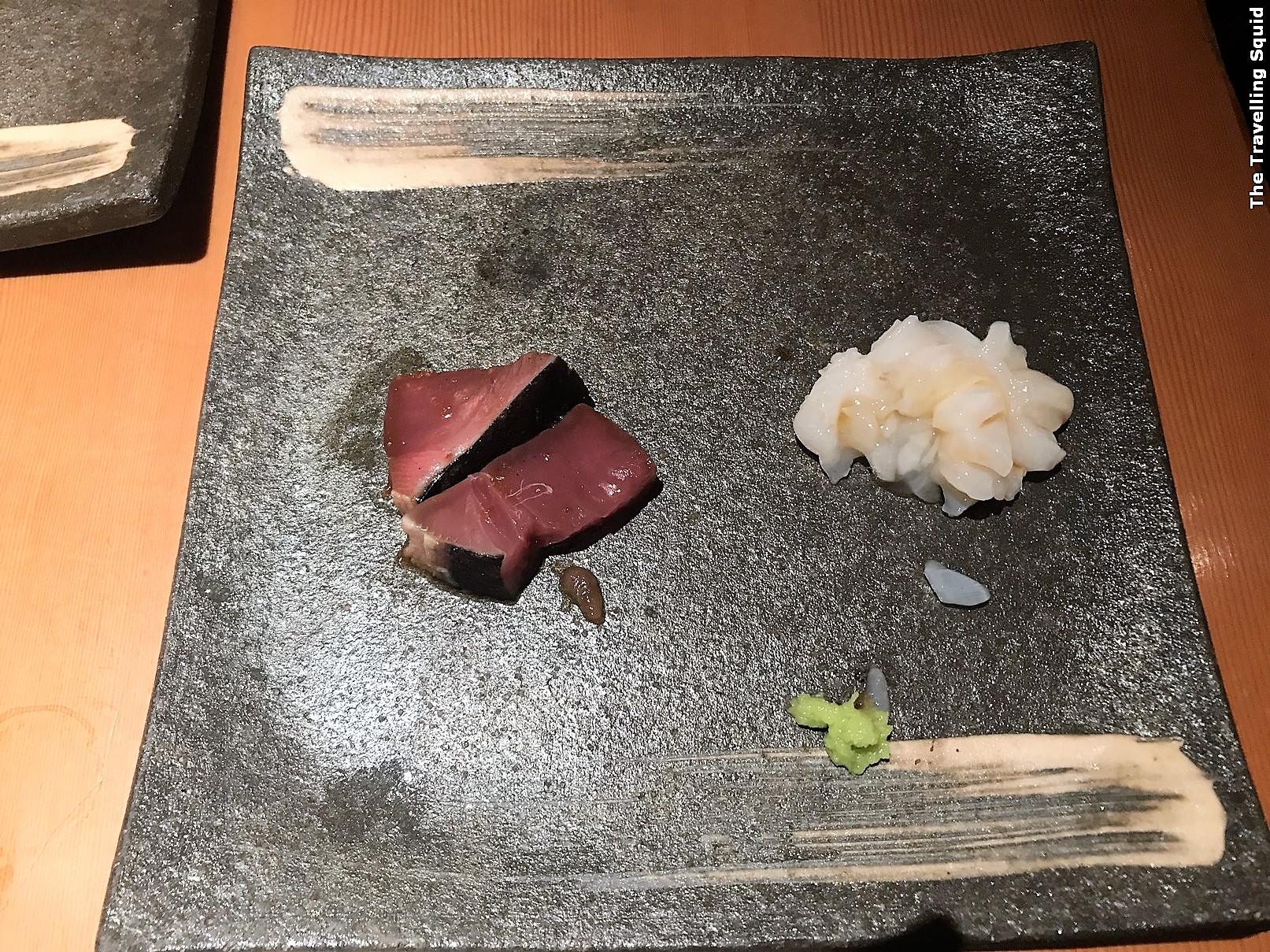 It was an interesting starter to behind with, as I thought bonito and octopus would be served as later courses of the meal.
3. Tofu and wasabi leaves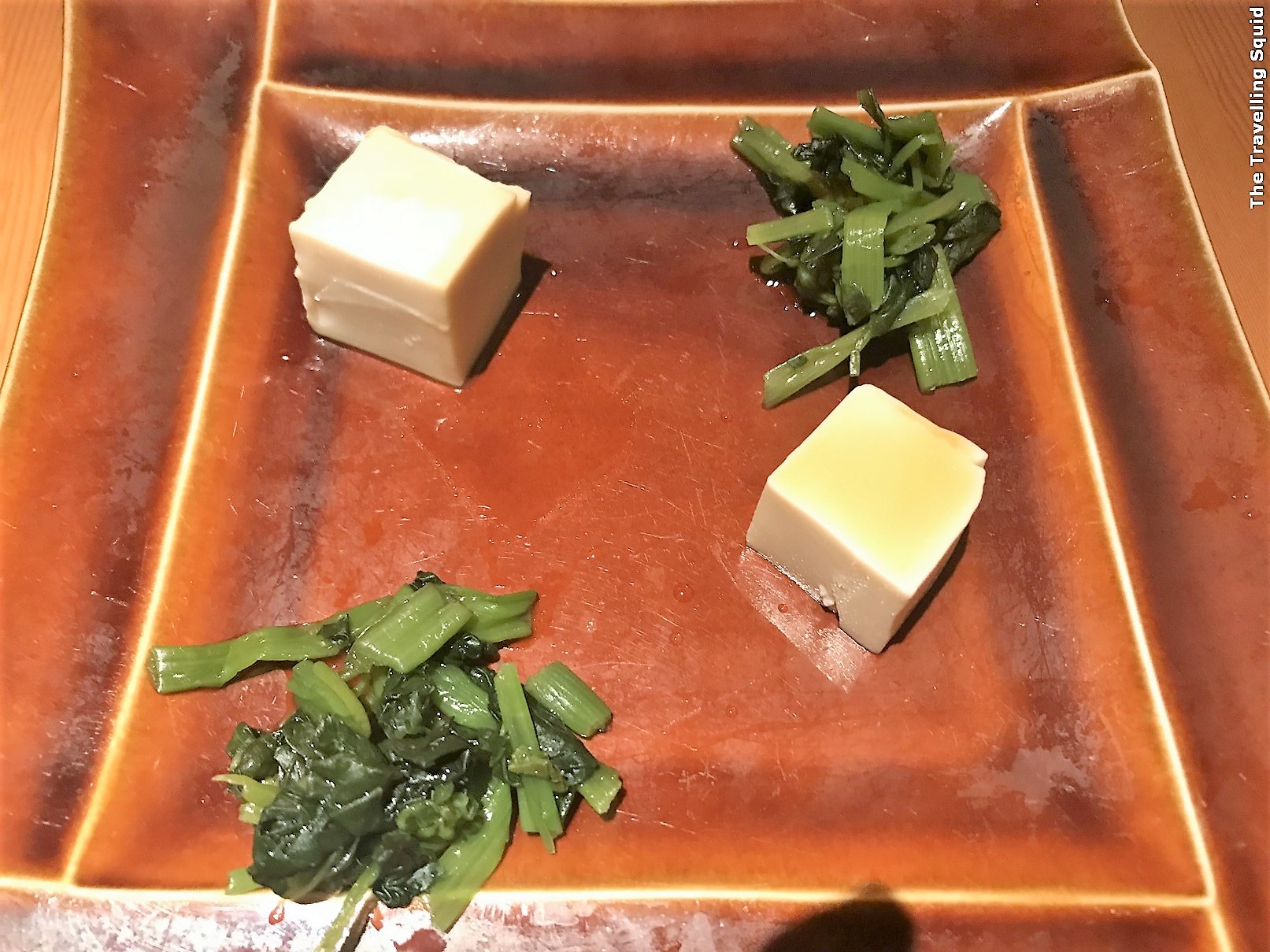 The tofu was one of the best I've tried. It was silky, soft, flavourful and not too cold. It was a simple dish done right. As for the wasabi leaves, all I can say is that it tasted a little like wasabi, but wasn't strong enough to give one a nasal ache thankfully.
4. Mushroom and tuna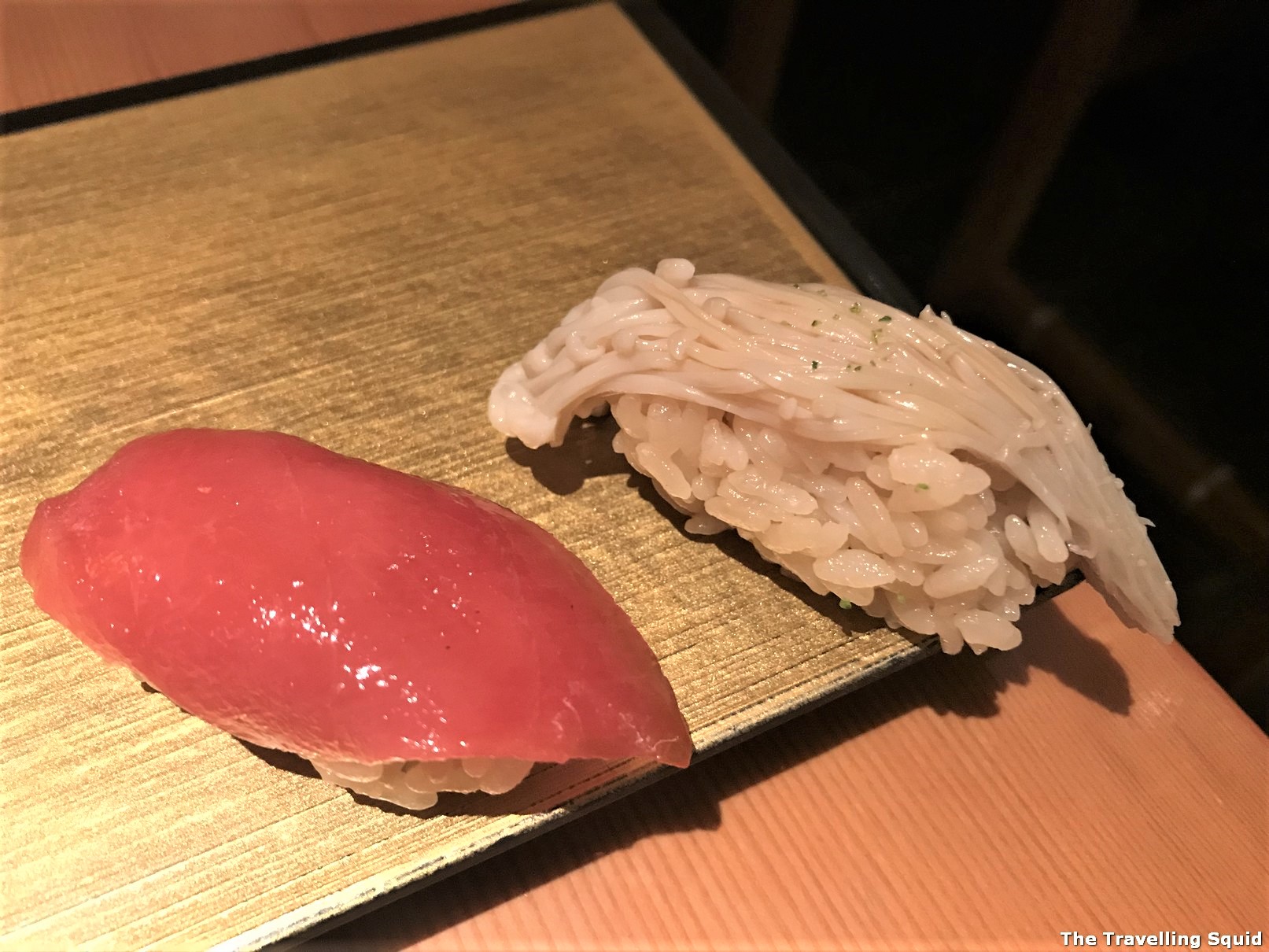 Now this was one of my favourite dishes because I love enoki mushrooms and never expected to find it on a sushi. I love how it was lightly seasoned and went so well with the rice. It was a memorable experience for me.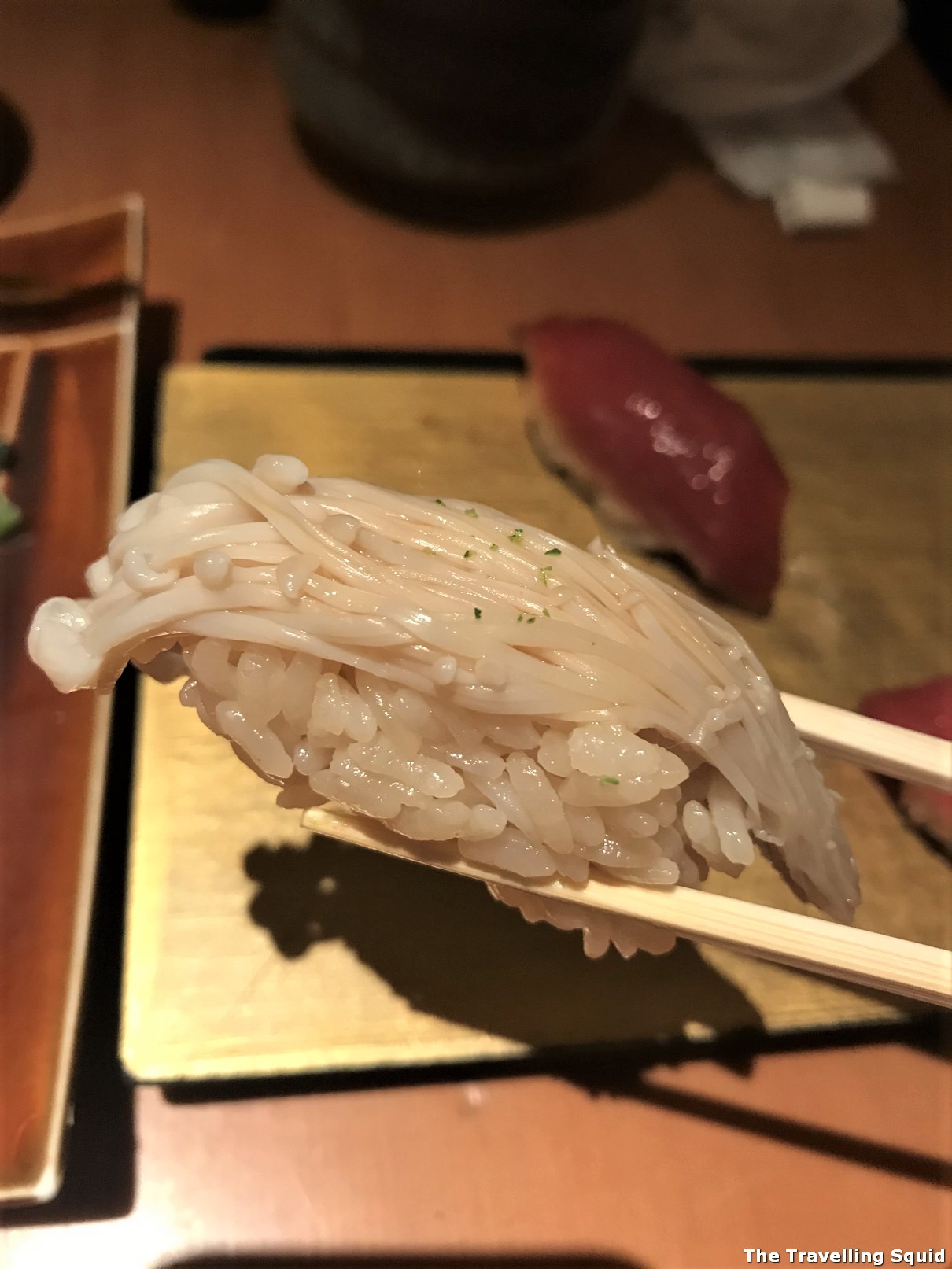 5. Abalone and roe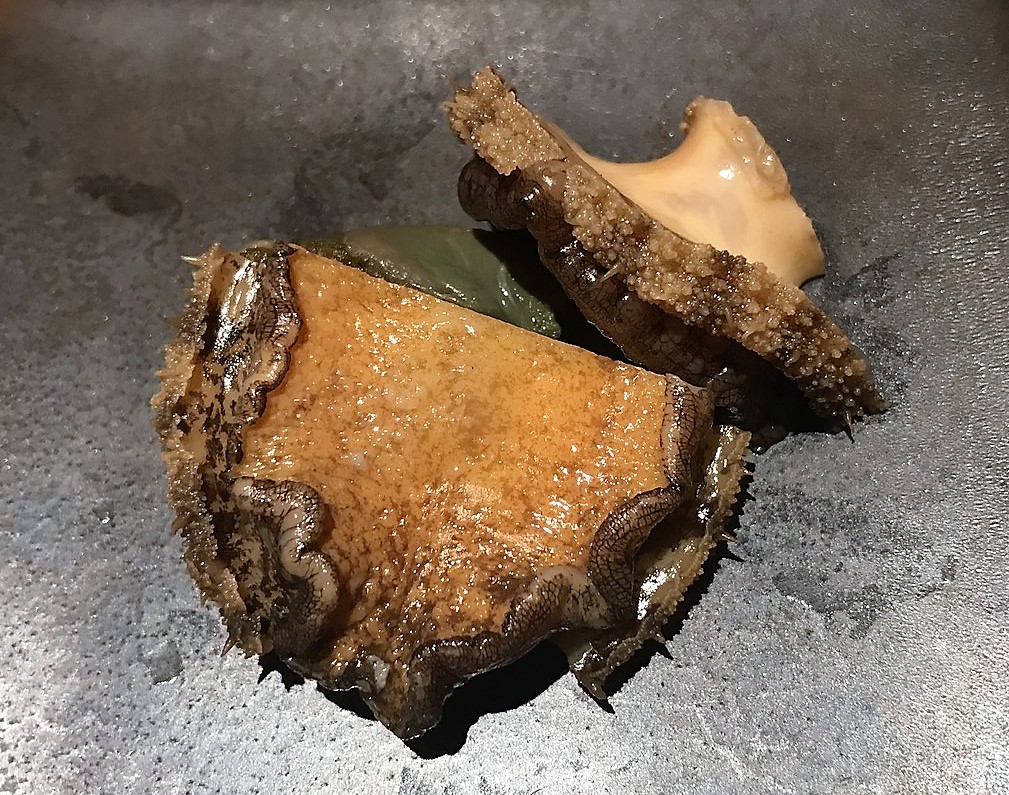 I do like shellfish and this stewed abalone was really tasty. I thought the portion was generous, given the price and scarcity of abalone.
6. Two types of sea urchin (uni)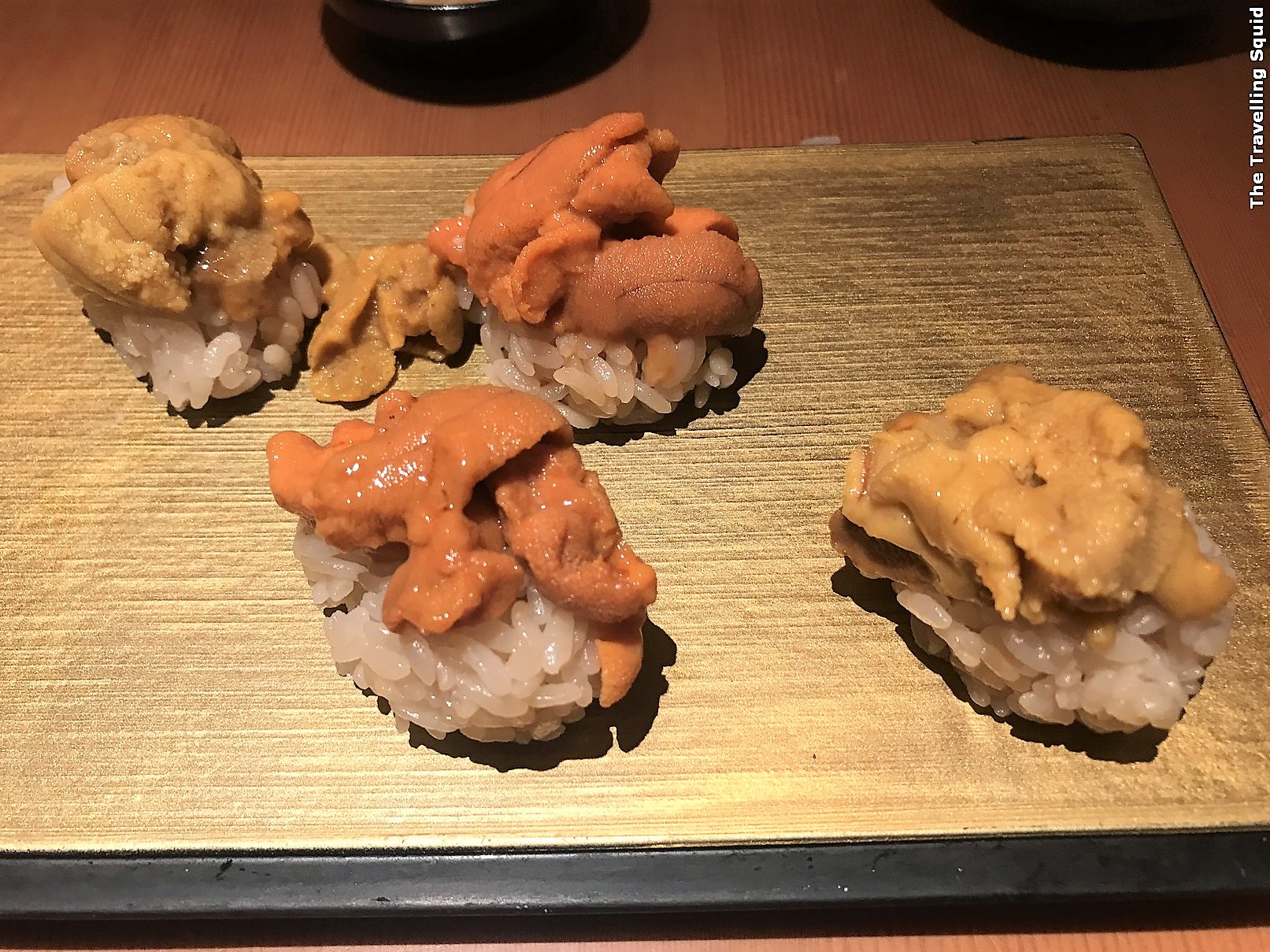 Now I love uni, it's just that my taste-buds are not as refined as to figure out which was a better type. I enjoyed both very much, perhaps the darker more orang-y looking one as the taste was stronger and had a creamy, buttery taste of the sea. I also thought it looked more appetising.
7. White fish and yellow tail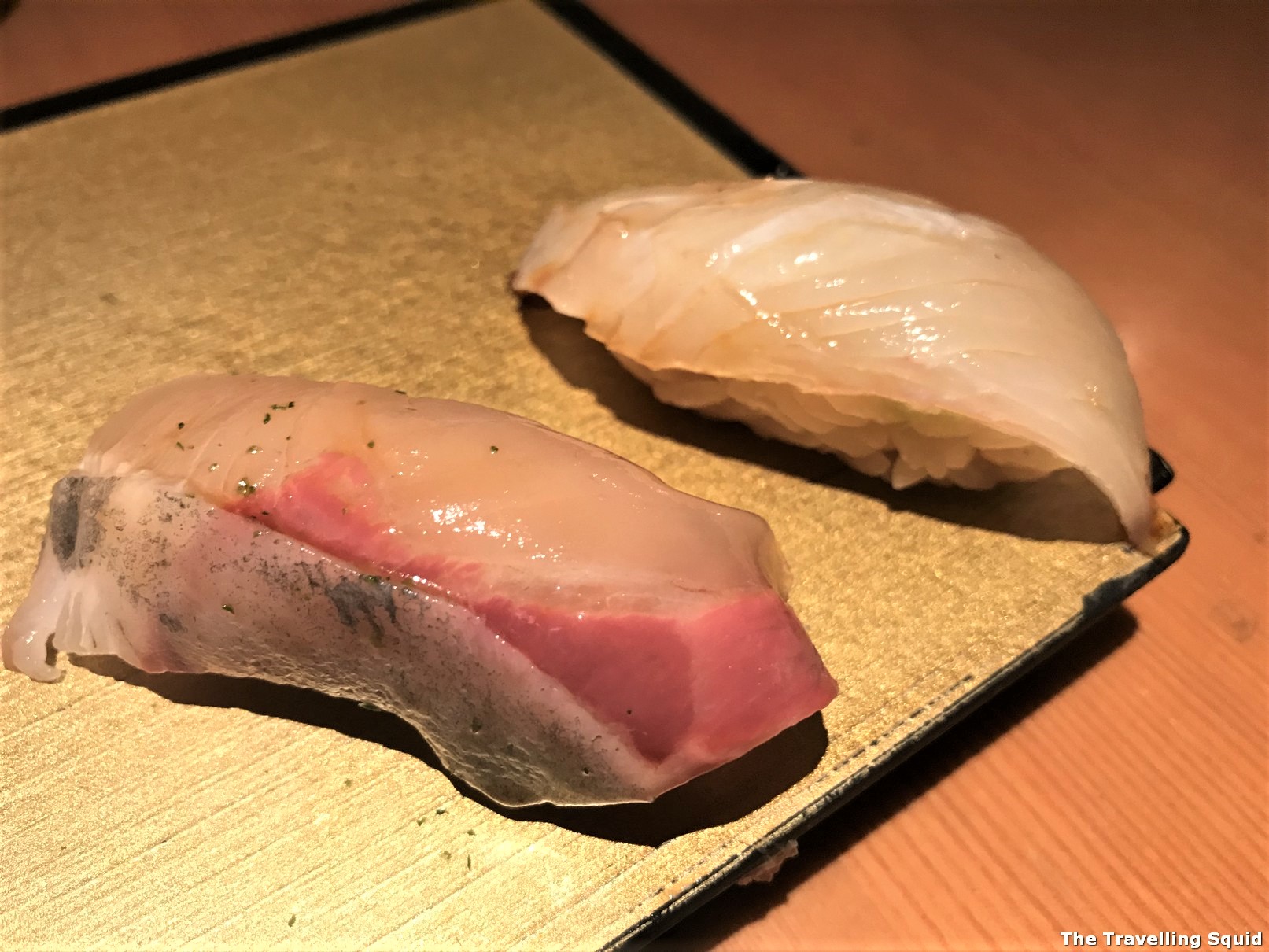 I recalled the hamachi to be very delicious. It was good sushi, not as exquisite and refined as Sushi Satake, but good nonetheless.
8. Roe and rice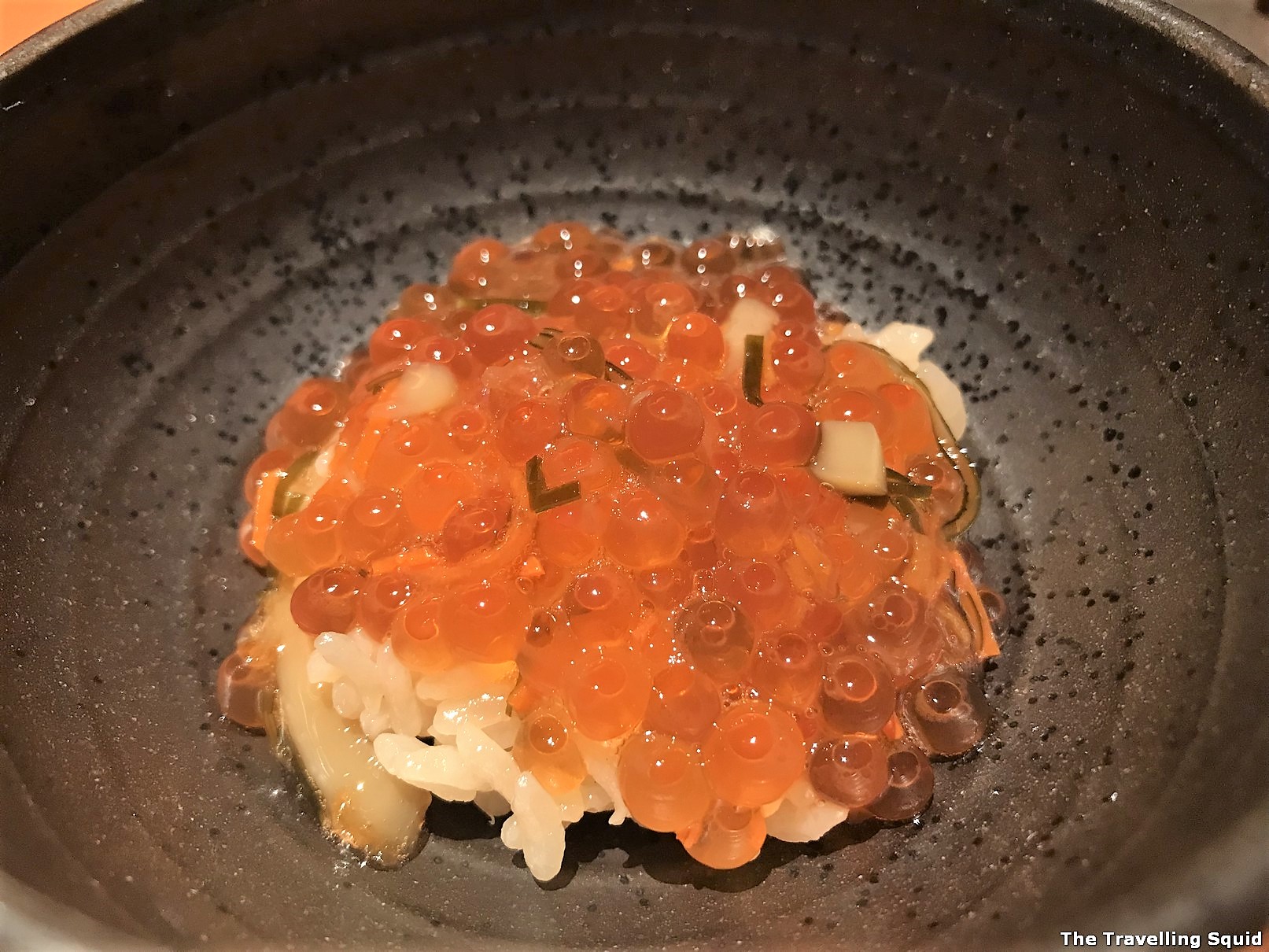 The balance of rice and roe was perfect. Each spoonful was a joy.
9. Tomato and bitter gourd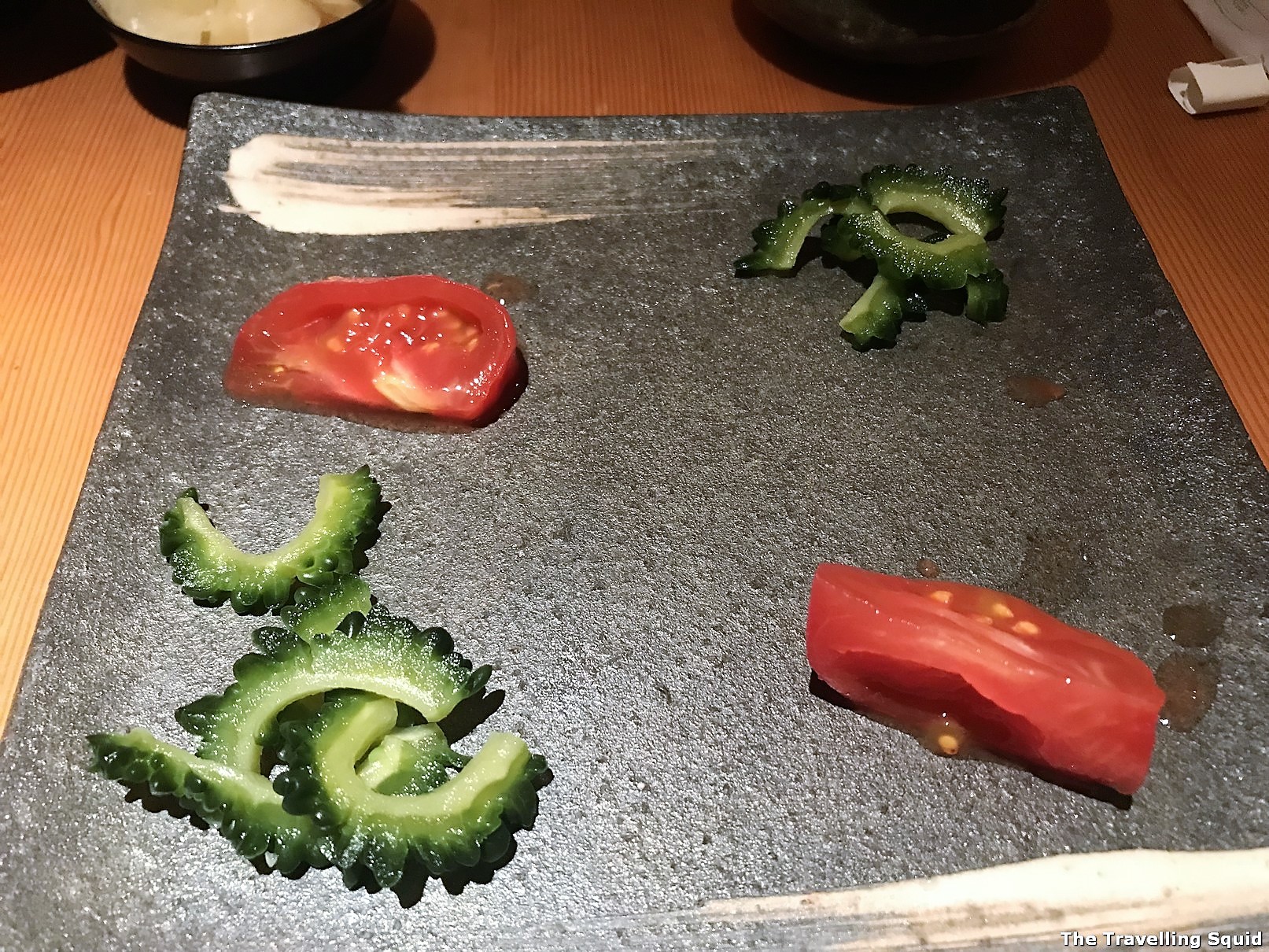 The bitter gourd was flavourful, but S was of the view that the tomato was the best dish ever.  One typically expects a tomato to be juicy and acidic, but this wedge of tomato was just full of umami flavour.
10. Tuna (chutoro) and prawn (ebi)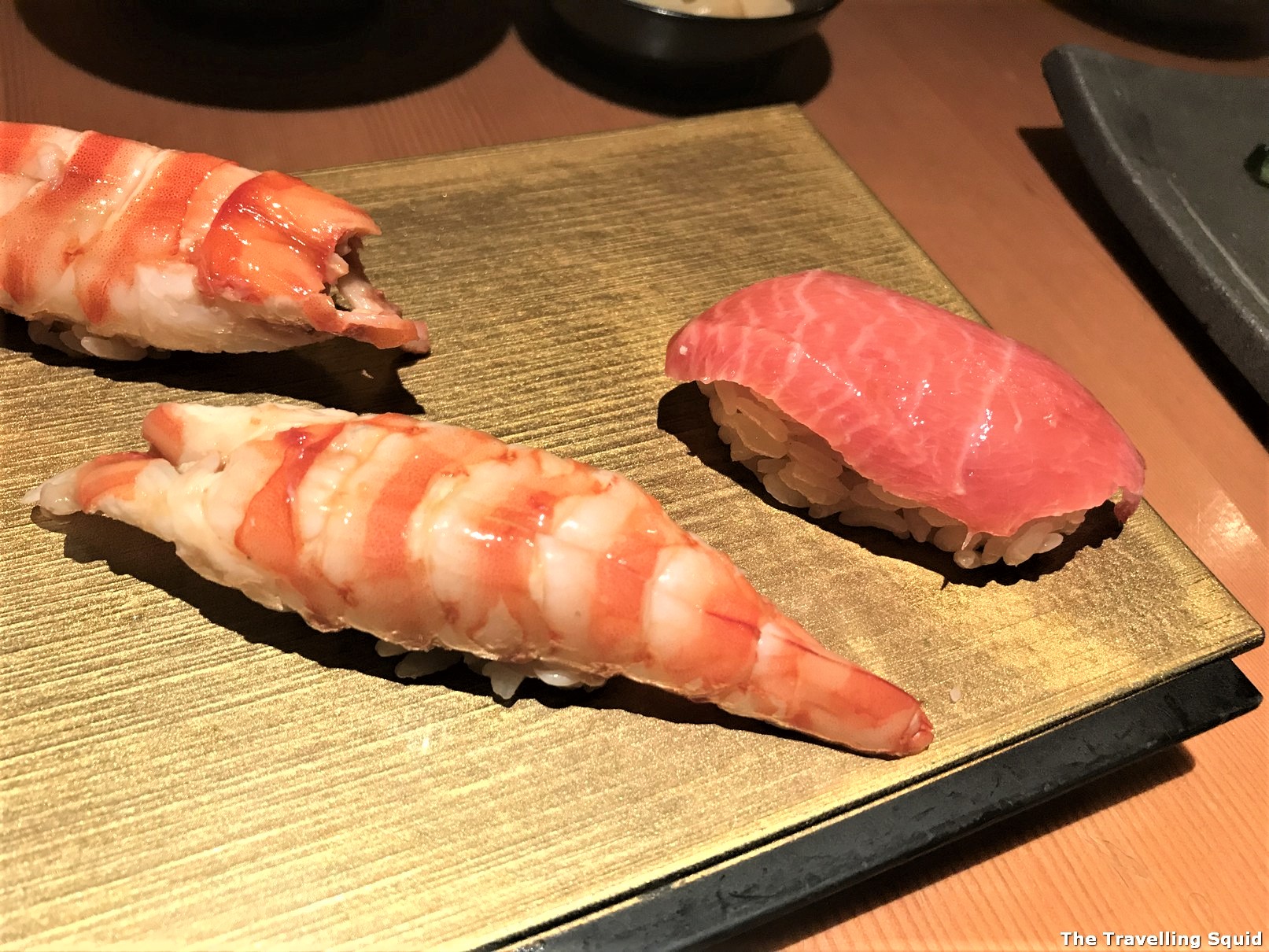 This dish was ok, I remember feeling full after this course.
11. Baby sardines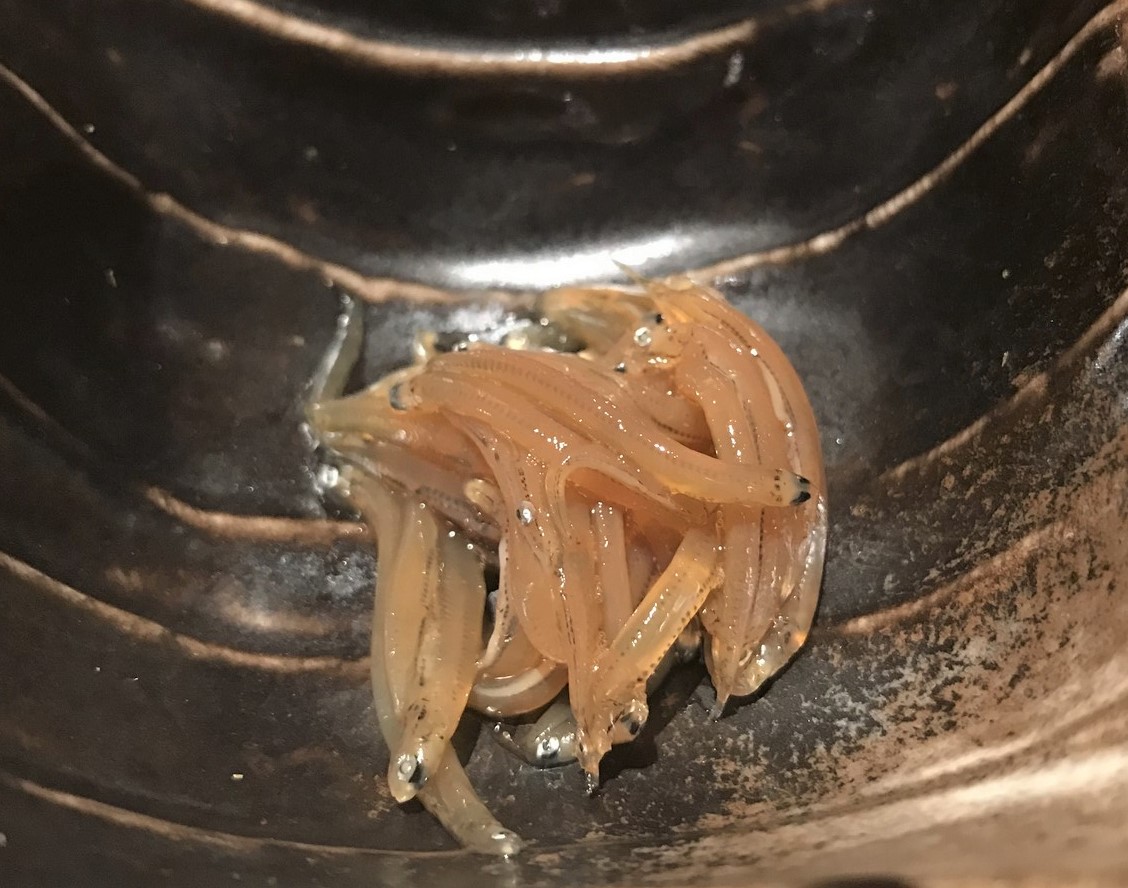 Just when you thought sardines could get any smaller.
12.  Corn and Snail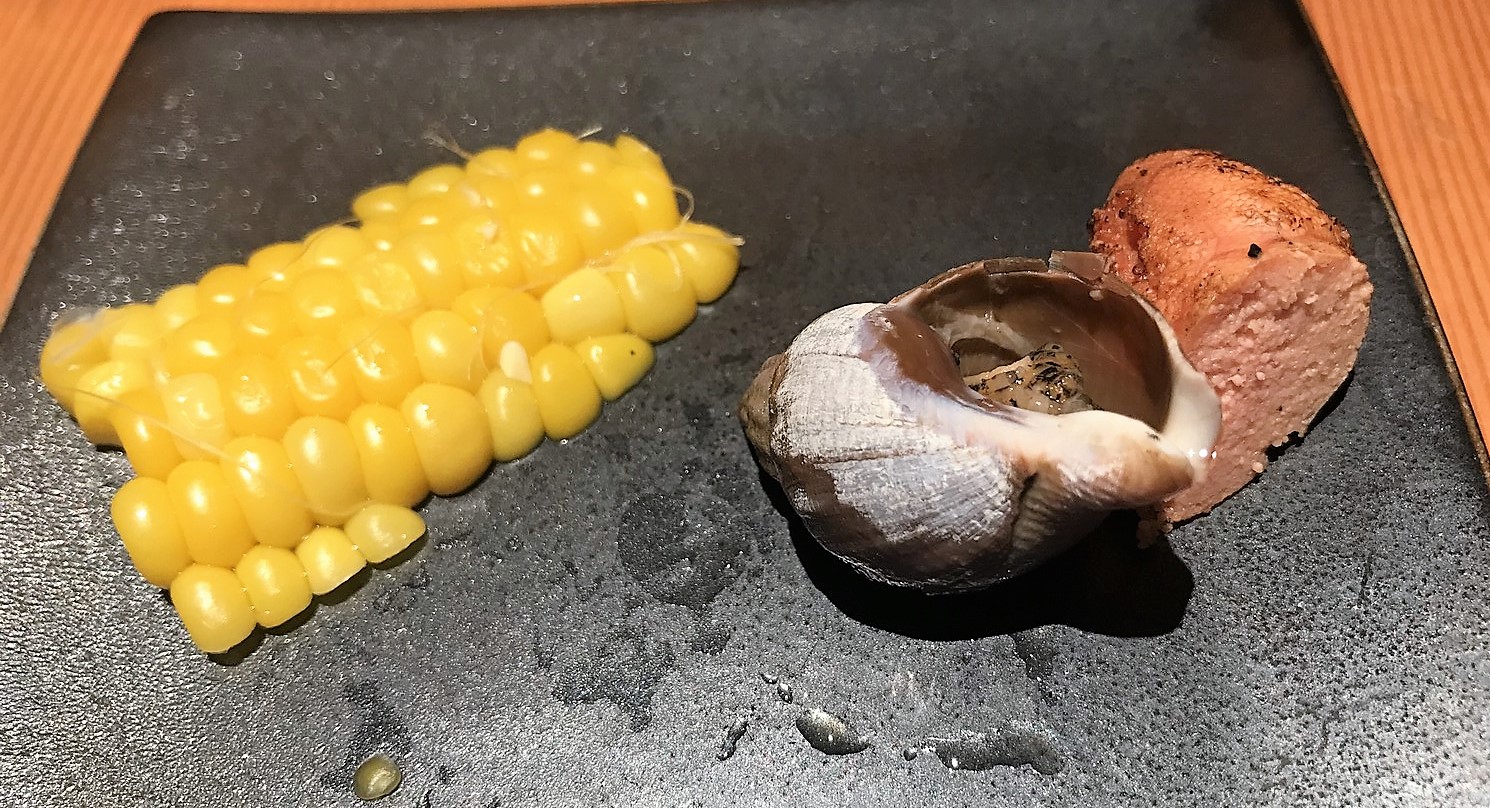 I eat most things including snails, and I found this to be quite delectable.
13.  California Handroll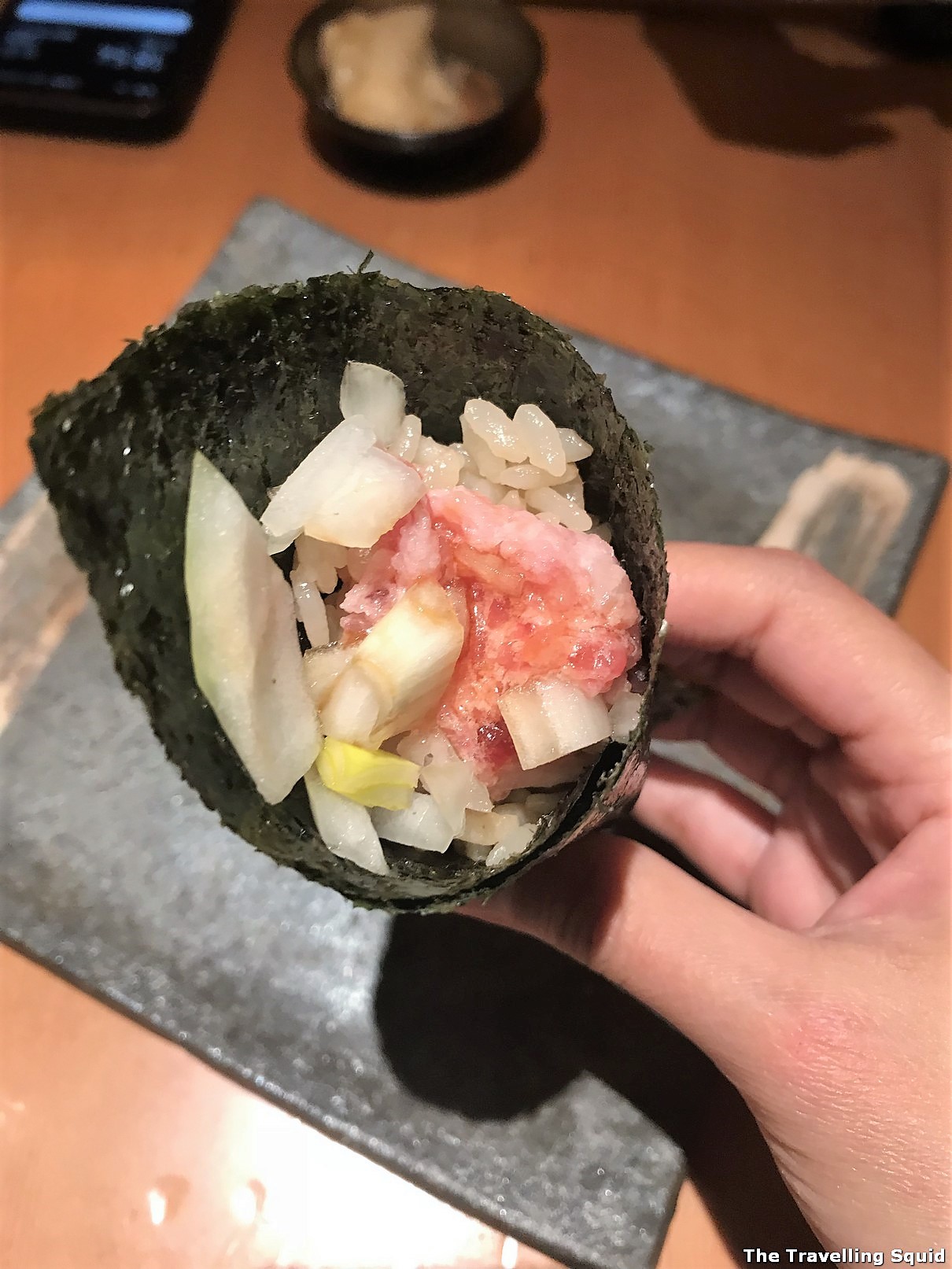 The California Handroll was an unexpected but nice touch. It was made of some chopped up gentle-tasting onions and a tuna paste. Very non-traditional Japanese, but I enjoyed it as handrolls were part of my experience learning about Japanese food when I was growing up.
14. Clam Soup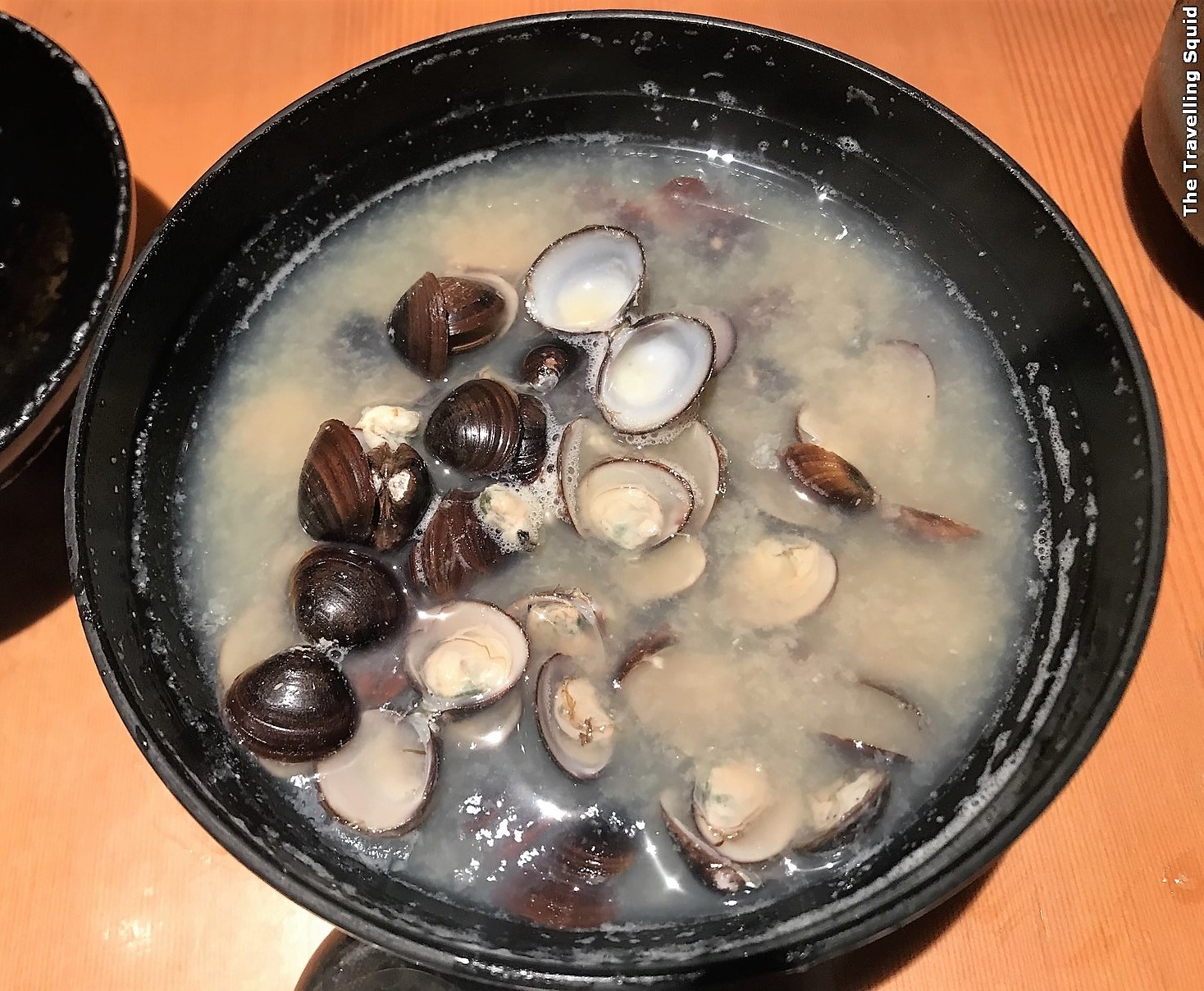 The soup was flavourful but not the clams. It had a light sweetness of the sea.
15. Anago and tamago?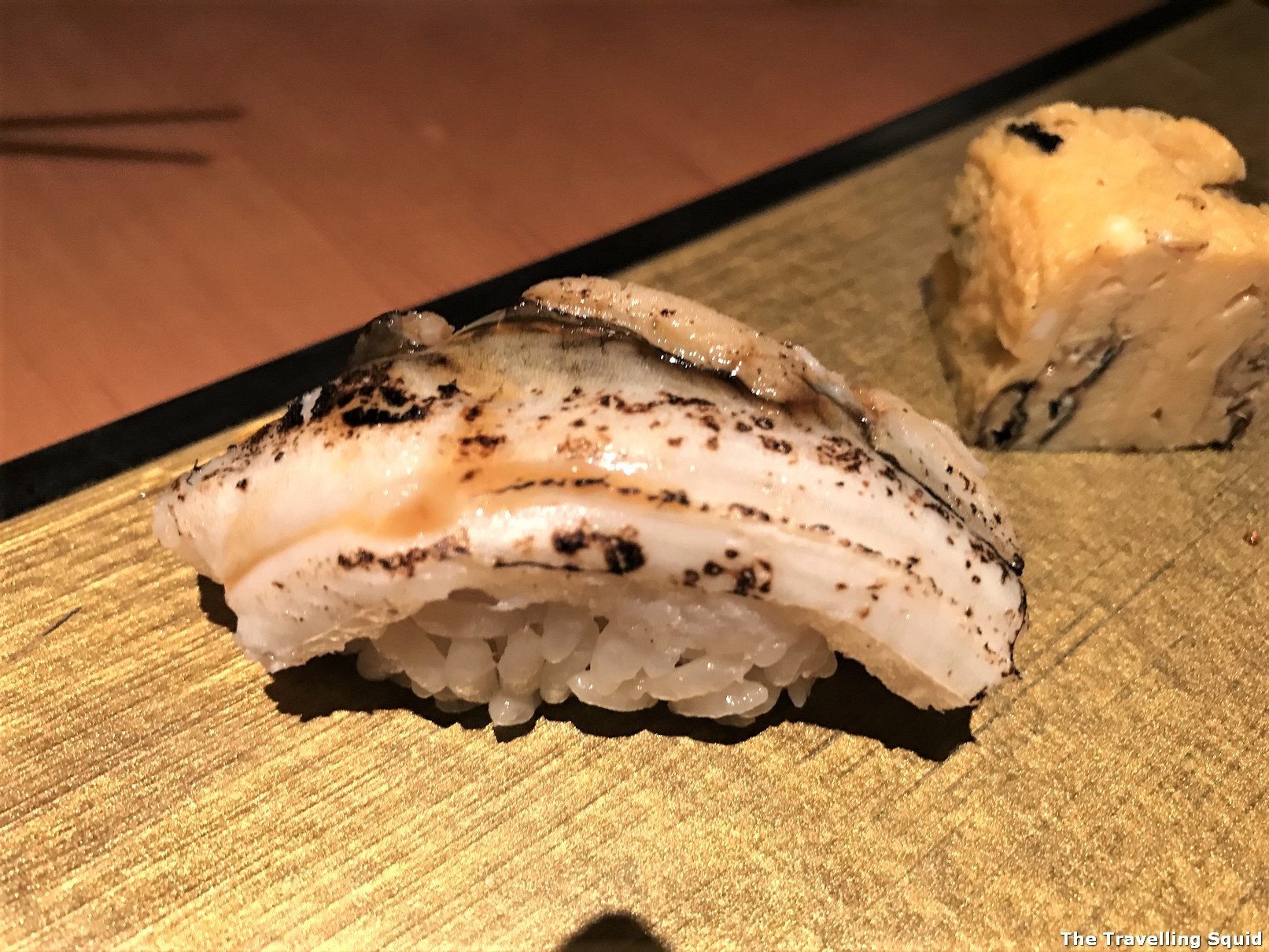 16. Pickles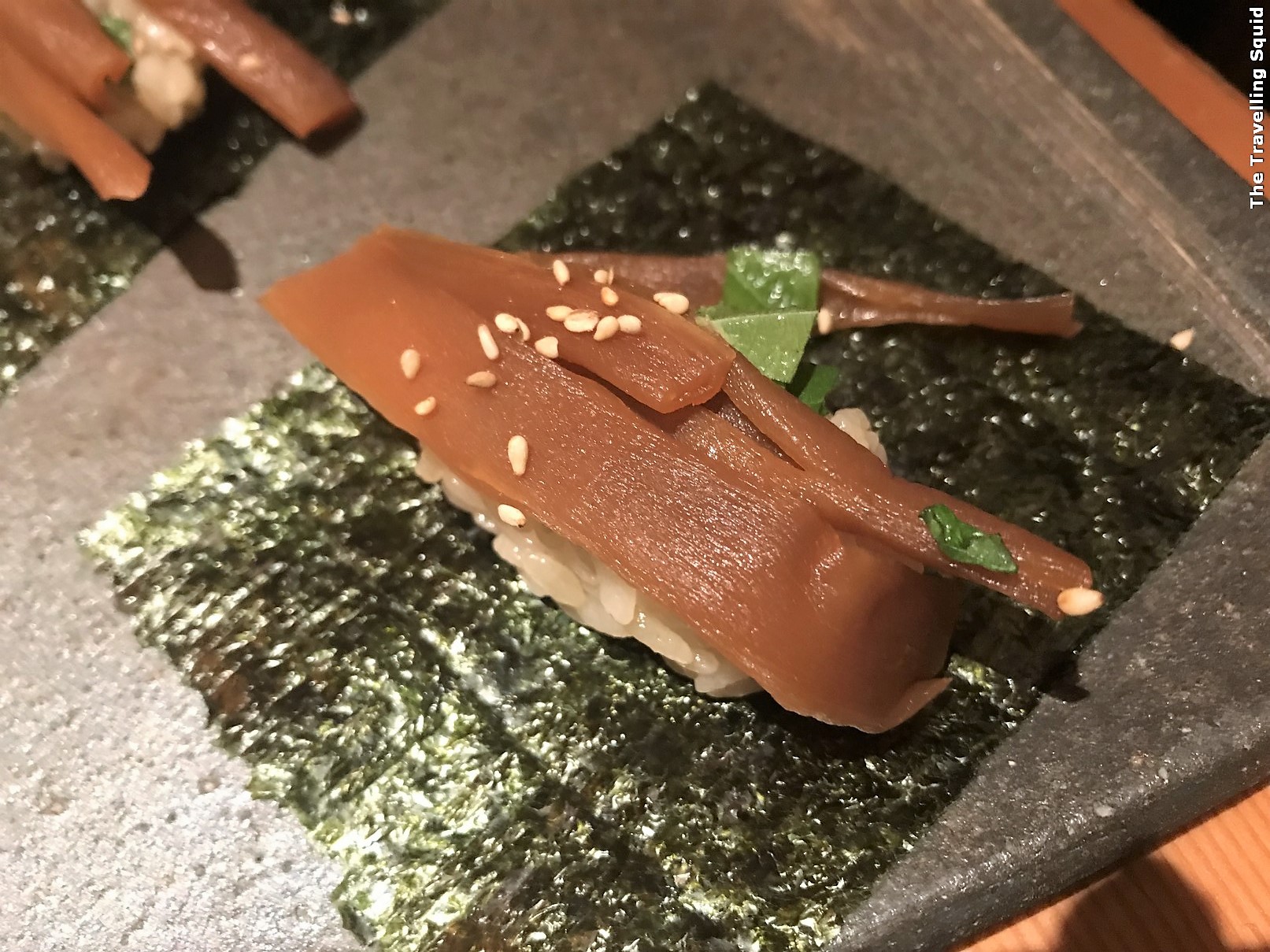 It's really contemporary because we the 'guest' were expected to wrap this up with the seaweed provided and have it sushi-style. Pretty cool in terms of expectations as well.
17. Watermelon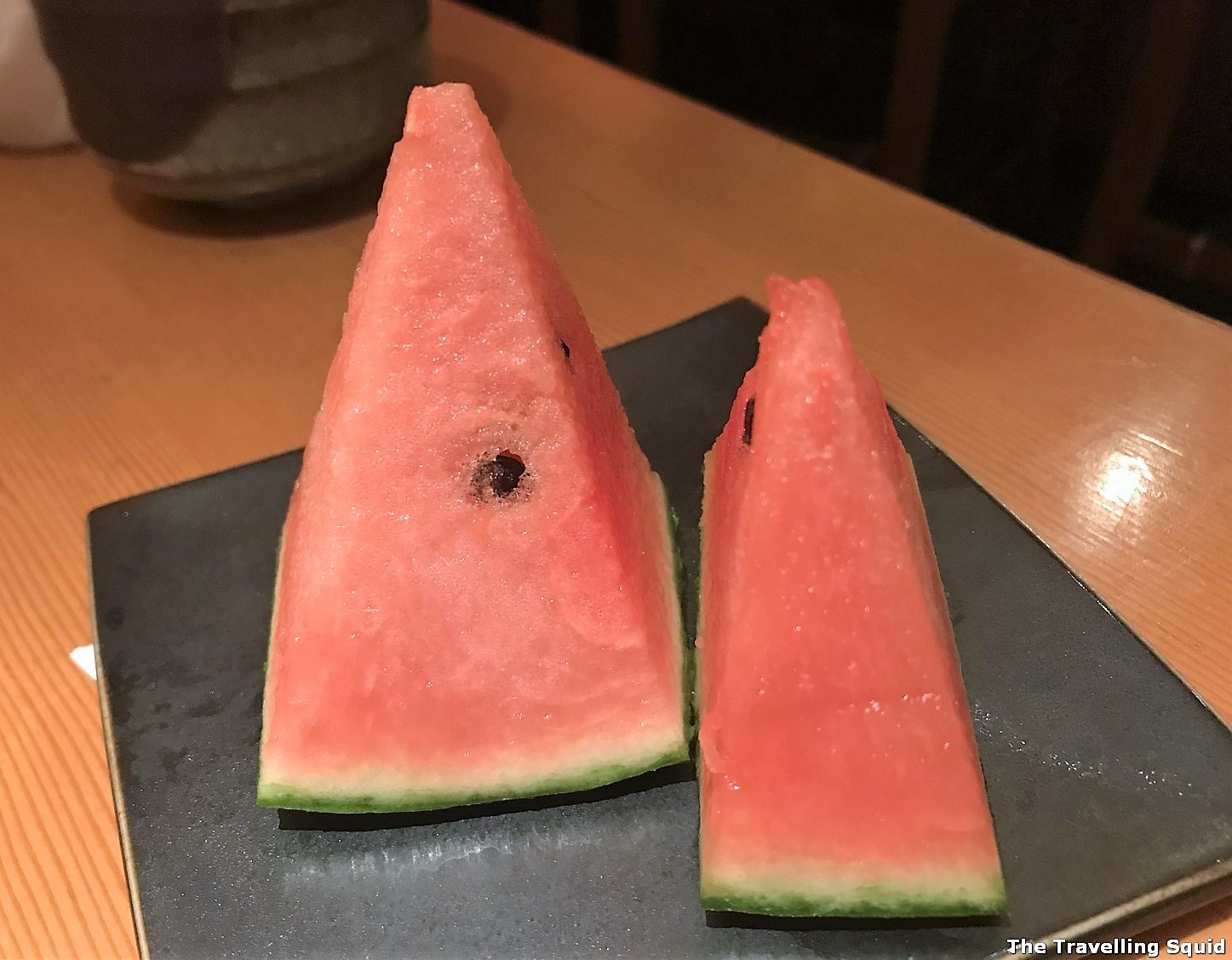 The Travelling Squid's Take
I hope I recorded the names of all 17 courses accurately, because I lost track of some names towards the end, as the courses came quickly, one after the other. This omakase meal was so rich with good ingredients and flavour that I thought it would have been extremely hard to find something similar at a price of SGD80 per person. It was a great find and we have S's friend Z to thank for this recommendation.
I strongly encourage that you have contemporary sushi at Manten Sushi in Tokyo, even after trying sushi from the famous edomae-style sushi chefs. It's a different experience, a youthful take on what more can be done in a seemingly narrow sphere of sushi-making. I like that it breaks the barriers and experiments, and is unafraid of imperfection. Such creativity and boldness should be rewarded.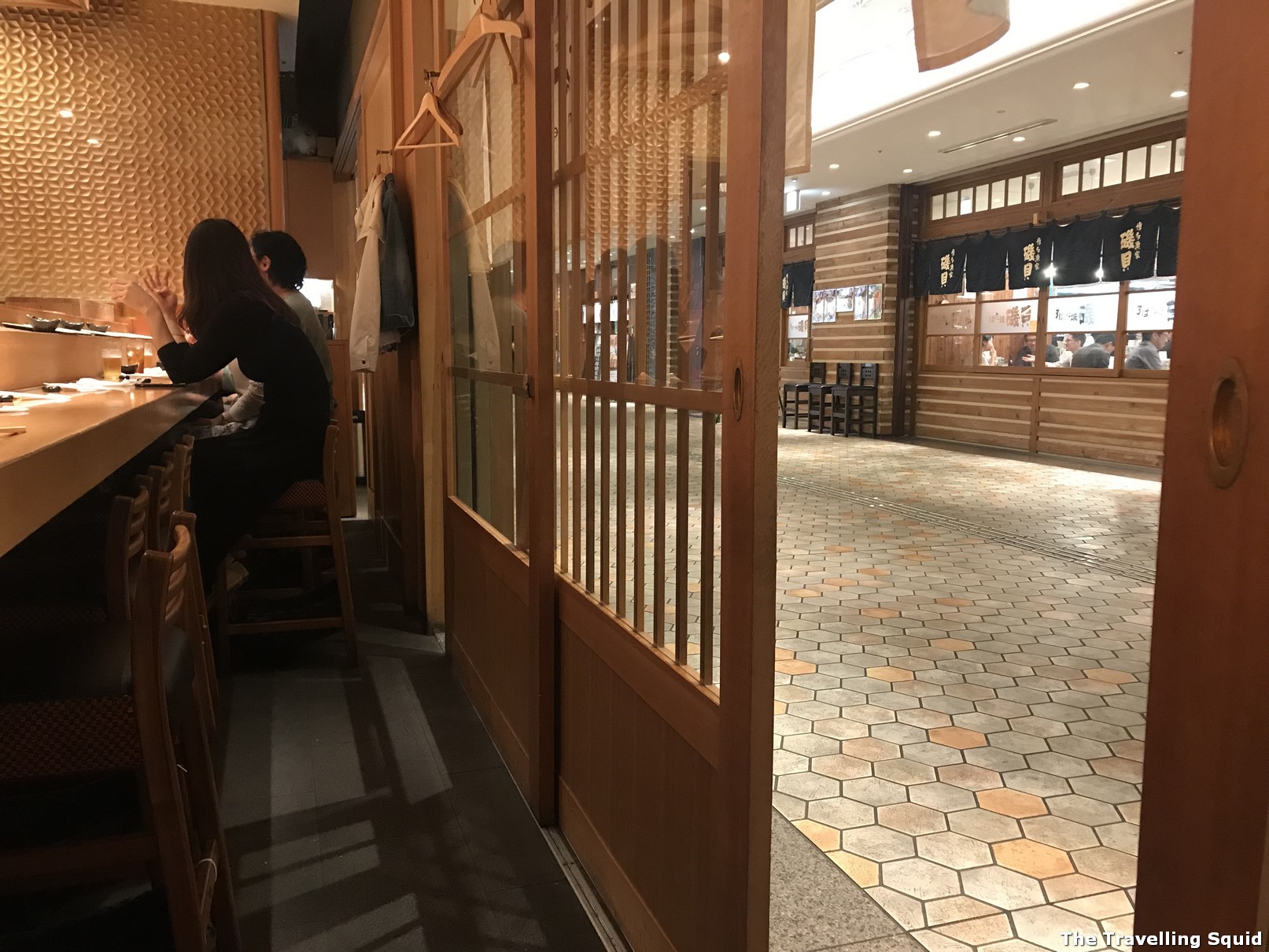 ***
Having contemporary sushi at Manten Sushi in Tokyo