Review: Having Peking Duck at HuaJia Yiyuan in Beijing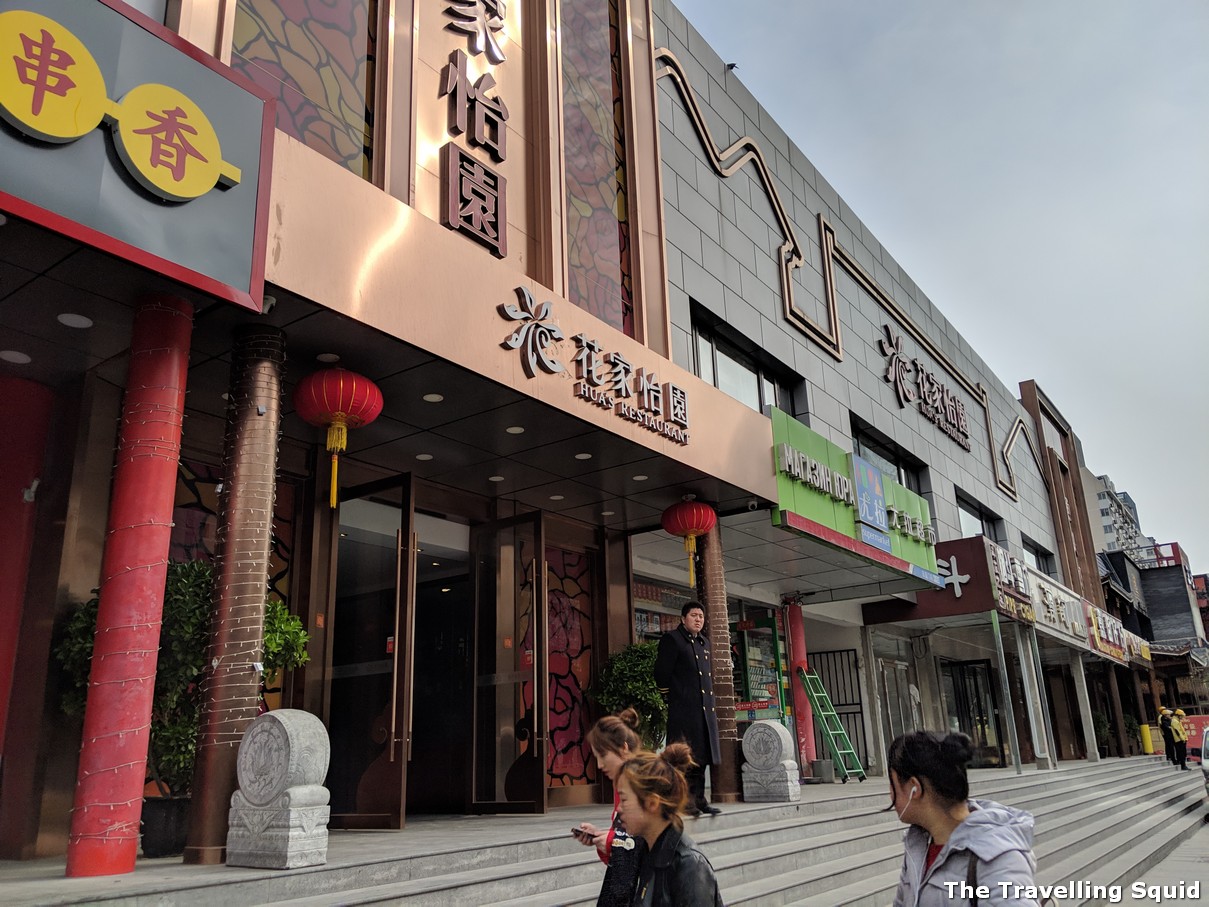 Huajia Yiyuan was a recommendation by a German friend who I met while climbing the Great Wall. He said the roasted duck was very good and that the food was affordable. The restaurant also had a draft German beer Krombacher on the menu, and he seemed quite satisfied with it :). I decided to give Huajia Yiyuan a try as it was on Gui Jie, a five-minute walk away from my hotel – Qian Yuan International Business hotel. I was also famished from my hike around the Great Wall and I thought some Peking duck would do my stomach good. Here's my experience having Peking Duck at HuaJia Yiyuan in Beijing.
The Service
It was a week day and I arrived at about 7.45pm, with the hope of avoiding the crowds. By them, the crowds had thinned and I had a large semi-private room to wait in. It was sufficient to hold 10 people and there was a nice plant at the centre of the table. I waited about 20 minutes before I was seated at one of the higher floors. The staff took a while to bring me the menu and to take my order. By then, I was starving! If I recalled correctly, the staff took a while to get the bill for payment as well.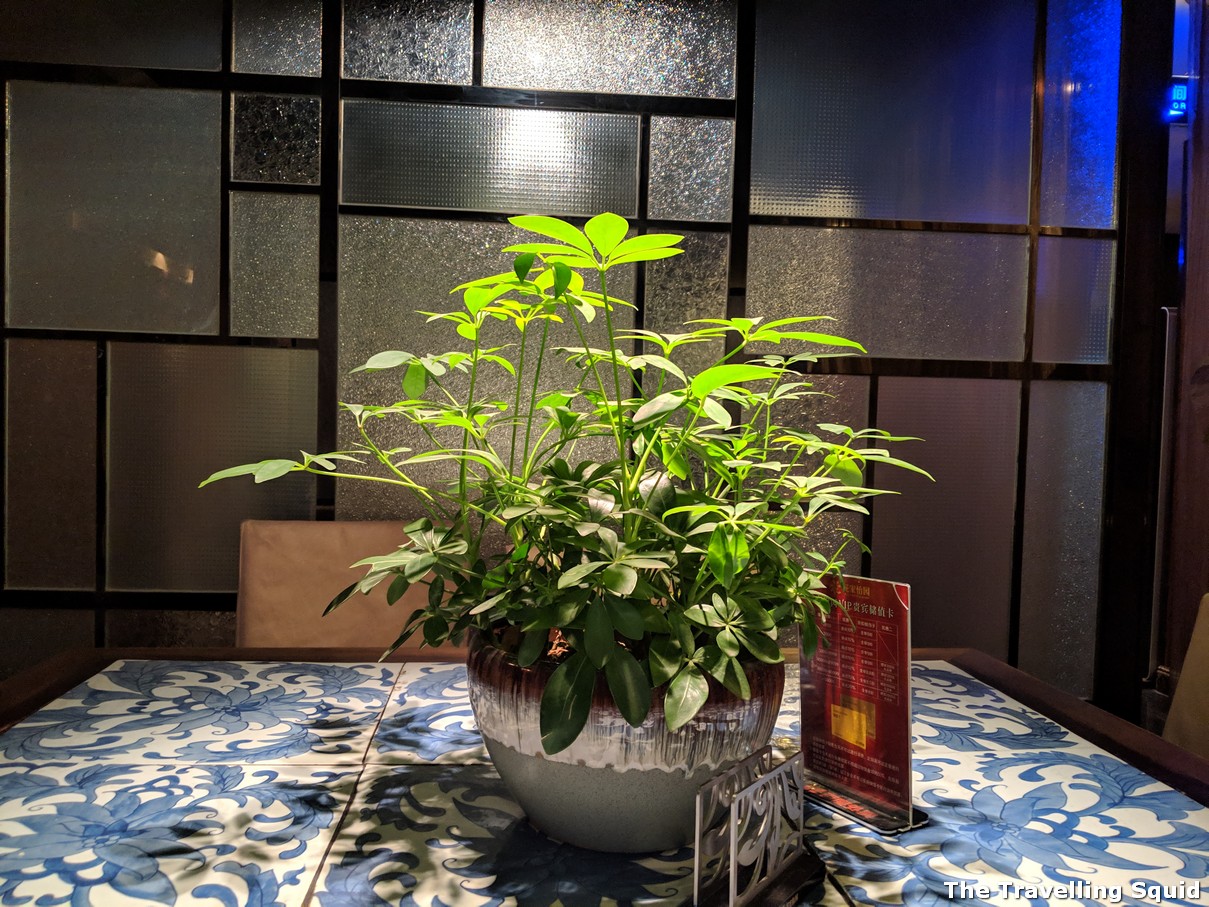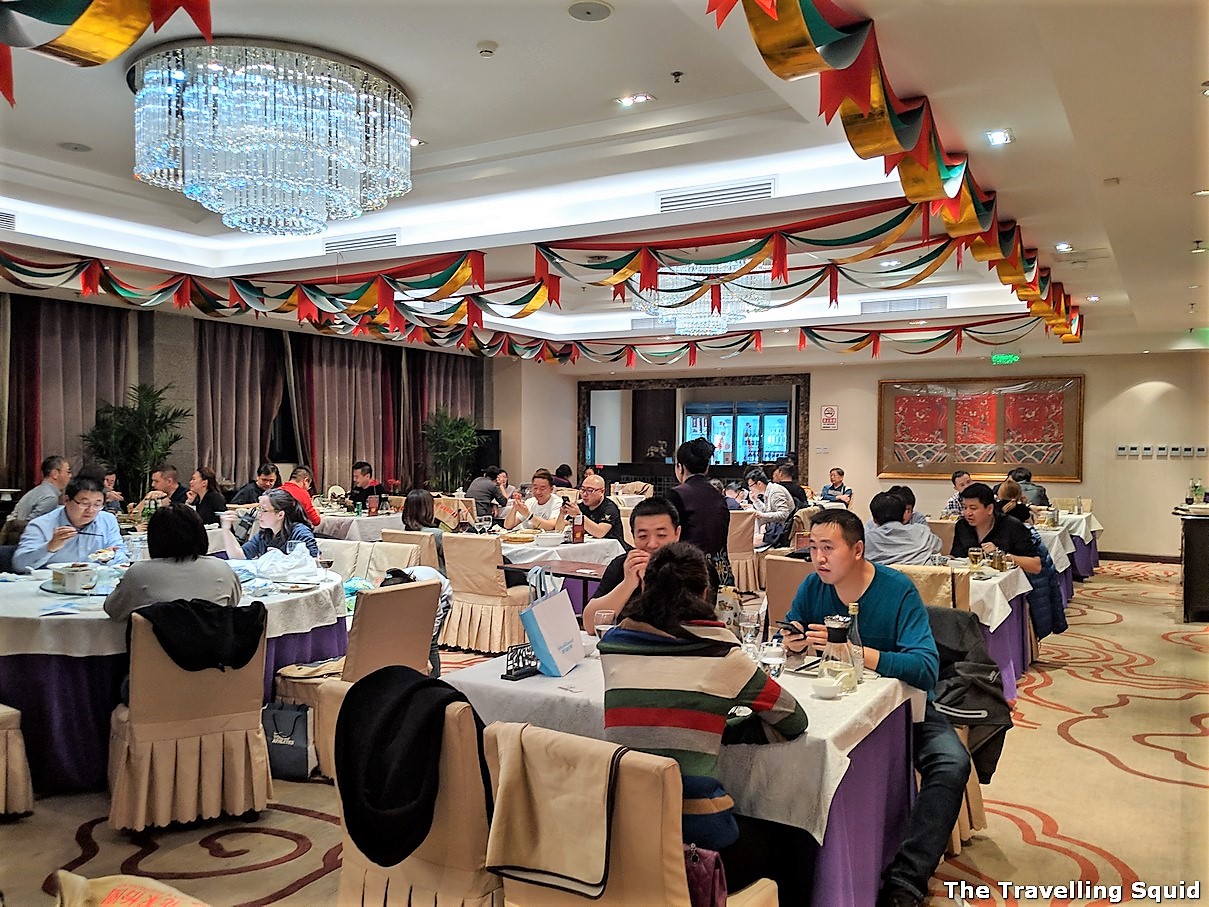 From the signs and decorations, it appeared that there was a function held at the restaurant earlier. It was probably a tour association event, based on the sign. I was starving and was told that the Peking Duck would take another 20 minutes to prepare. So I ordered a Zha Jiang Mian to go with it. I wanted to try and determine if the Zha Jiang Mian was similar to what I had the night before – which was made up of thick starchy noodles and a rather salty paste of minced pork and fermented soya beans.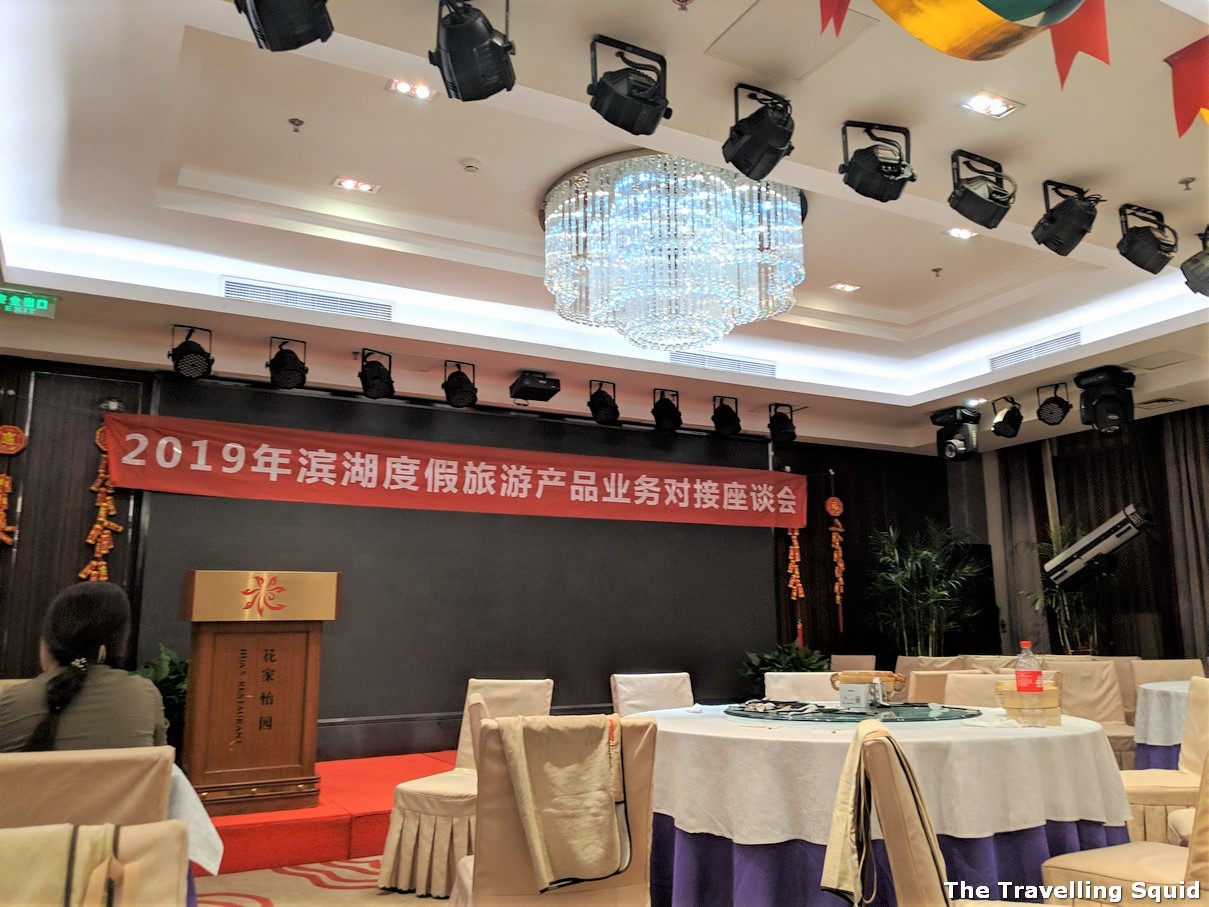 The Food
Zha Jiang Mian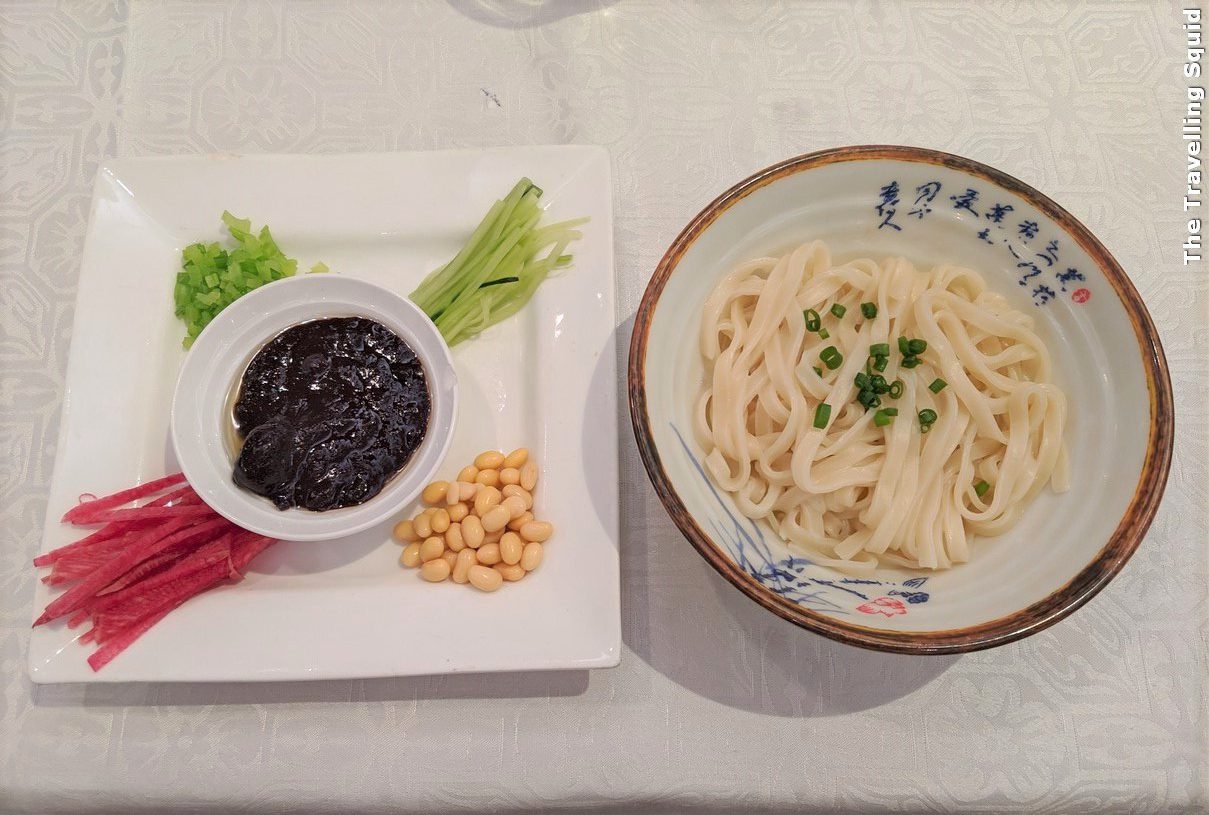 The Zha Jiang Mian tasted quite similar to the one I had the day before, at the barbecue restaurant along Gui Jie (which was filled with cigarette smoke – more on that in the next post). I thought the issue was with the restaurant, but it turns out that this level of saltiness seems to be quite the norm for a Zha Jiang Mian. I made a mental note to order food which is lightly flavoured, while in Beijing.
Peking Duck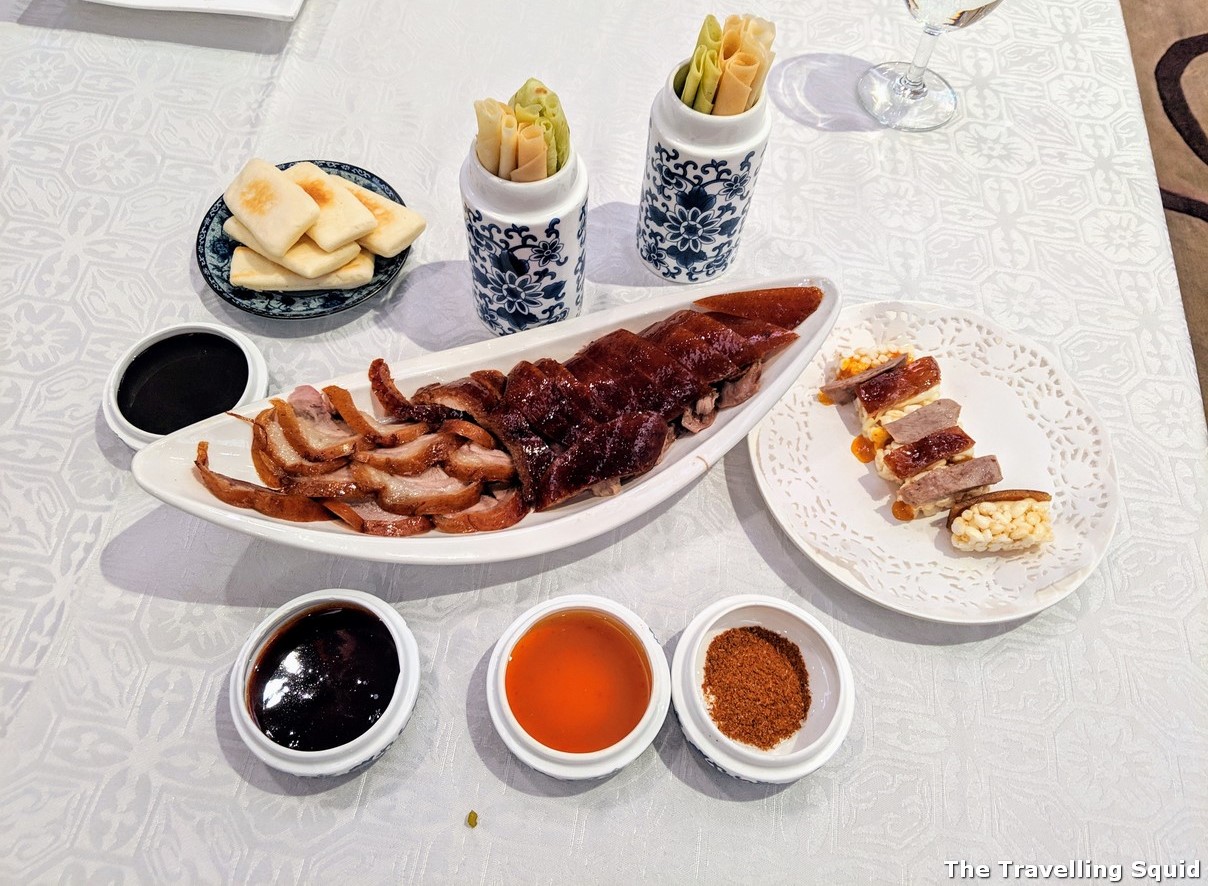 The minimum portion I could order was half a duck. I am not a big fan of eating animal fat, hence the many slices of duck skin were a little much for me. I couldn't finish them, though I enjoyed the flavours and the work that went into making the skin crisp with tiny air pockets. I liked that Huajia Yiyuan was creative with serving Peking Duck, and matched it with different sauces, condiments and rice wrappers, similar to that of a popiah skin (a popular Chinese burrito-like roll with a turnip filling).
The Travelling Squid's Take
The other restaurant which I had Peking Duck at was Quan Ju De and the service was impeccable. I arrived at about 11.30am on a weekday and perhaps due to fewer diners, the service staff was very attentive and thought me how to wrap the rice paper around the duck. I thoroughly enjoyed myself. As for the taste, I would say that Quan Ju De's duck seems to be a little more authentic, and I like it a bit better. That said, I suppose if you're looking for slightly higher than average restaurant food, Huajia Yiyuan makes a decent choice too. More to come on Quan Ju De in an upcoming post.
***
Having Peking Duck at HuaJia Yiyuan in Beijing
Address: 235 Dongzhimennei Dajie, Dongcheng District / 东城区, 东直门内大街235号
Tel: 6405 1908