Visit Roscioli in Rome for authentic Roman cuisine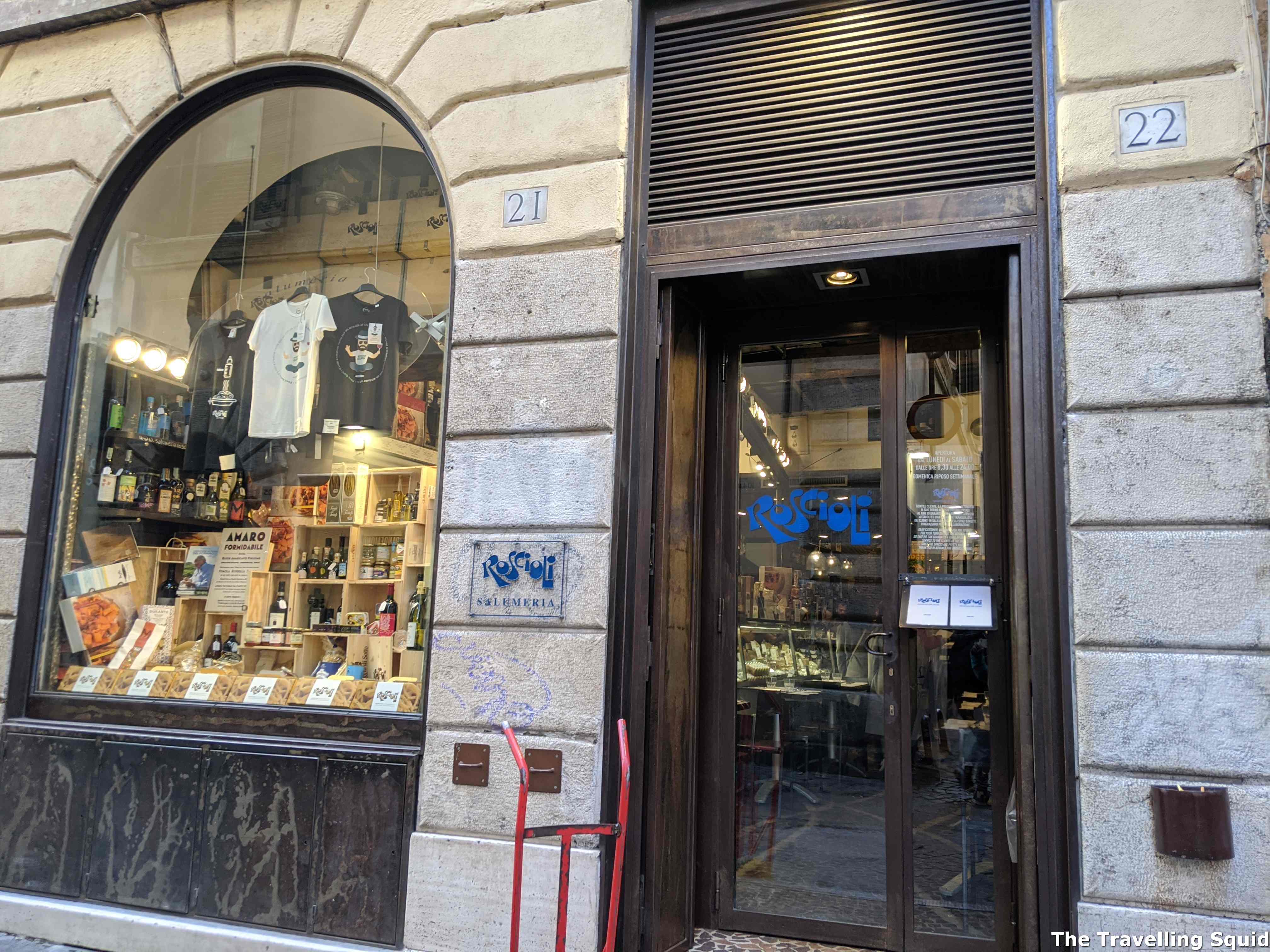 If you're planning a trip to Italy, do make a trip to Roscioli in Rome for authentic Roman cuisine. Roscioli was the recommendation of Friend A, who's from Italy. I am very glad to have eaten there because Roscioli opened our minds to very good cold cuts and Roman dishes. Roman cuisine features fresh and seasonal ingredients from Roman Campagna, a low-lying region surrounding Rome. This includes peas, globe artichokes and fava beans, shellfish, milk-fed lamb and goat, and cheeses such as Pecorino Romano and ricotta. Here's why you should visit Roscioli in Rome for authentic Roman cuisine.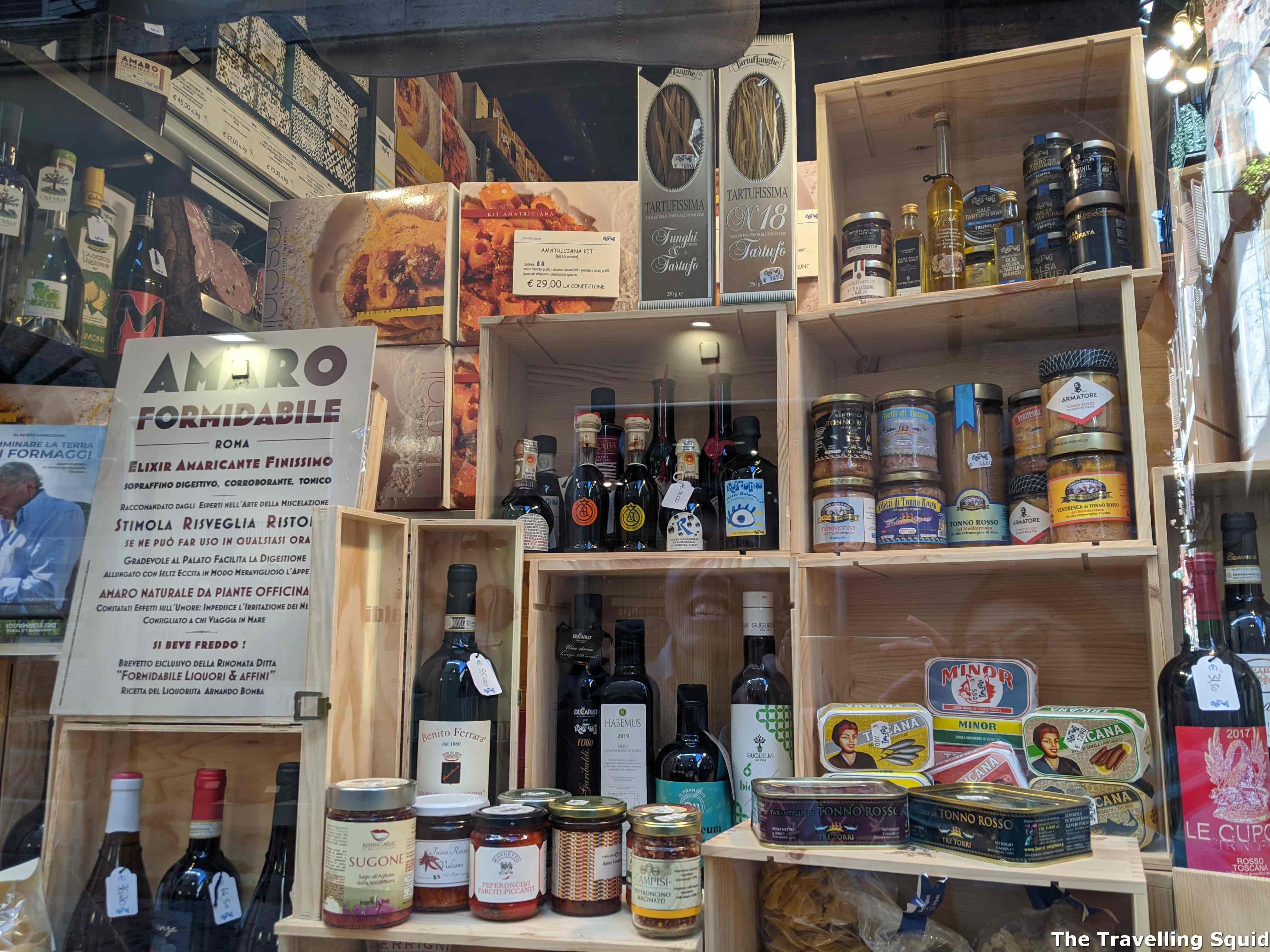 Why you should visit Roscioli in Rome for authentic Roman cuisine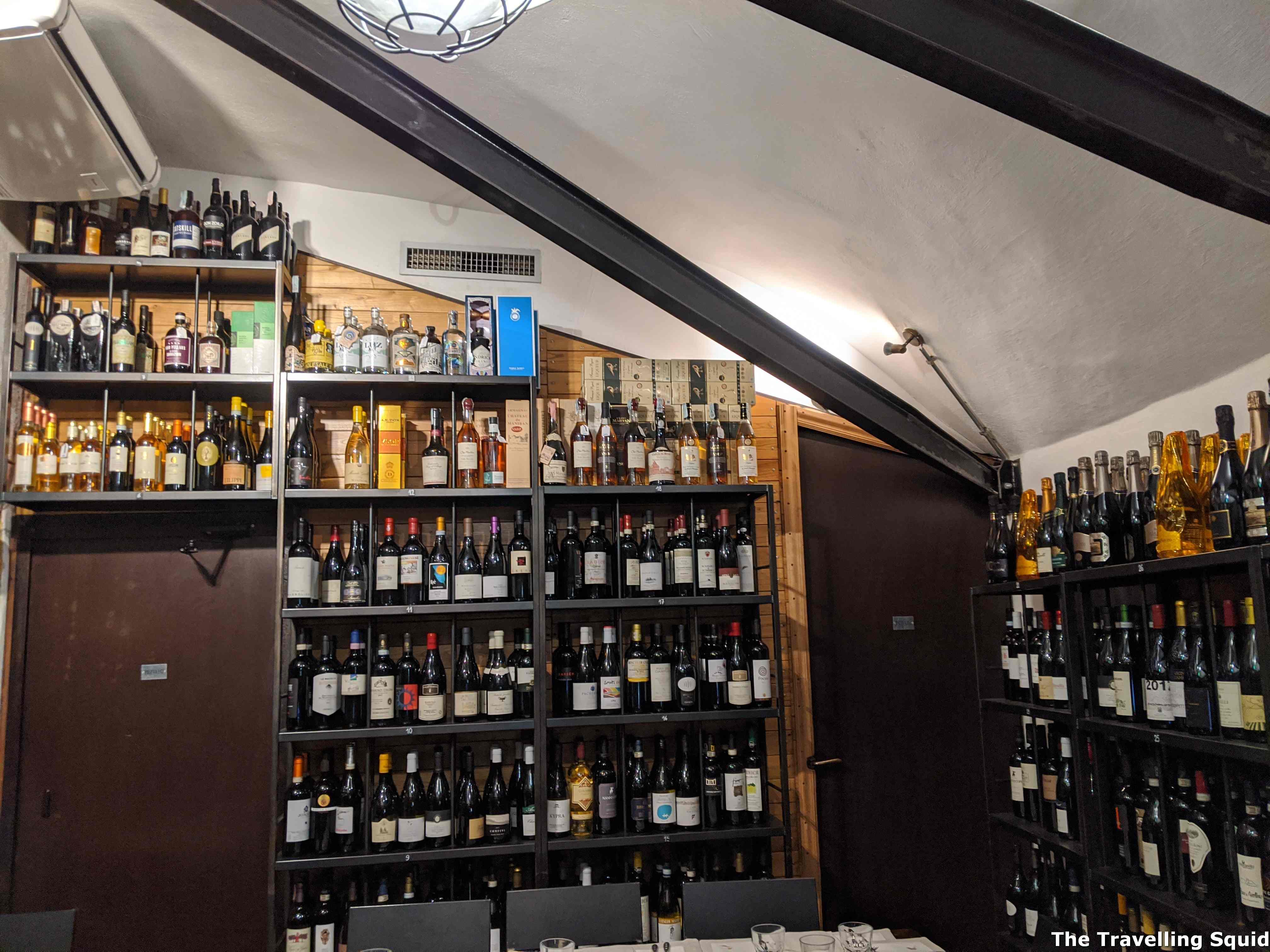 I would say that Roscioli had very good appetisers and charcuterie. Its pastas were very well done too. The restaurant also had a wide selection of good Italian wines to pair with the food. We sat in the cellar section of the restaurant and had an enjoyable time observing various wine labels from different regions.
1. Lingua (Tongue)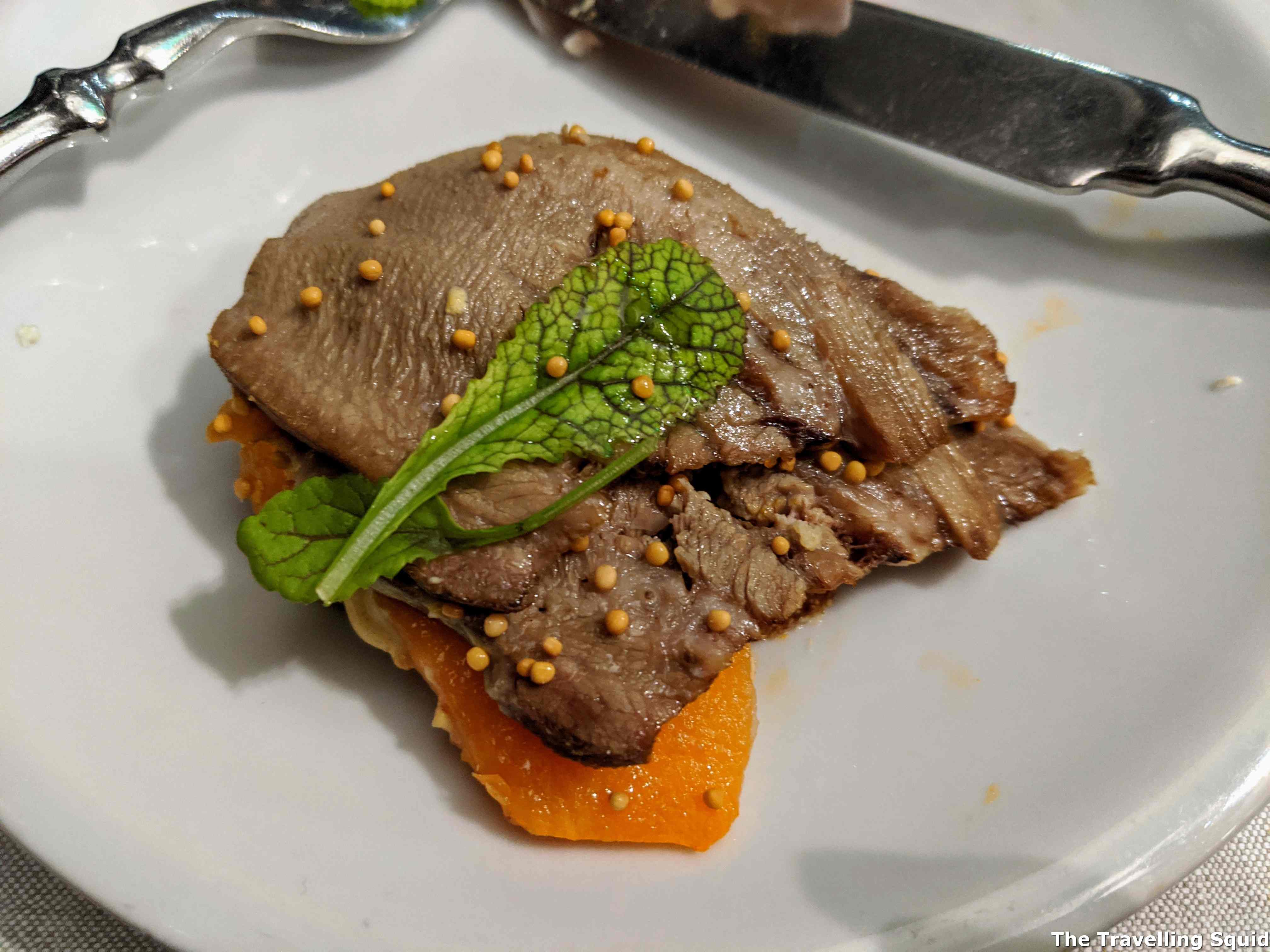 Now I would have avoided having beef tongue at any occasion, but after watching Dario Cecchini on Netflix's Chef's Table, I realised that to use and cook all parts of the cow well is to respect the animal. After visiting Dario's restaurant Solociccia in Panzano, I started to appreciate the off-cuts of different meats. The lingua is probably my favourite dish, seasoned with mustard seeds and orange peel. The meat was firm but not tough, and slightly chewy. I would say it had great texture and flavour – it's a dish you should definitely order.
2. Selection of Salami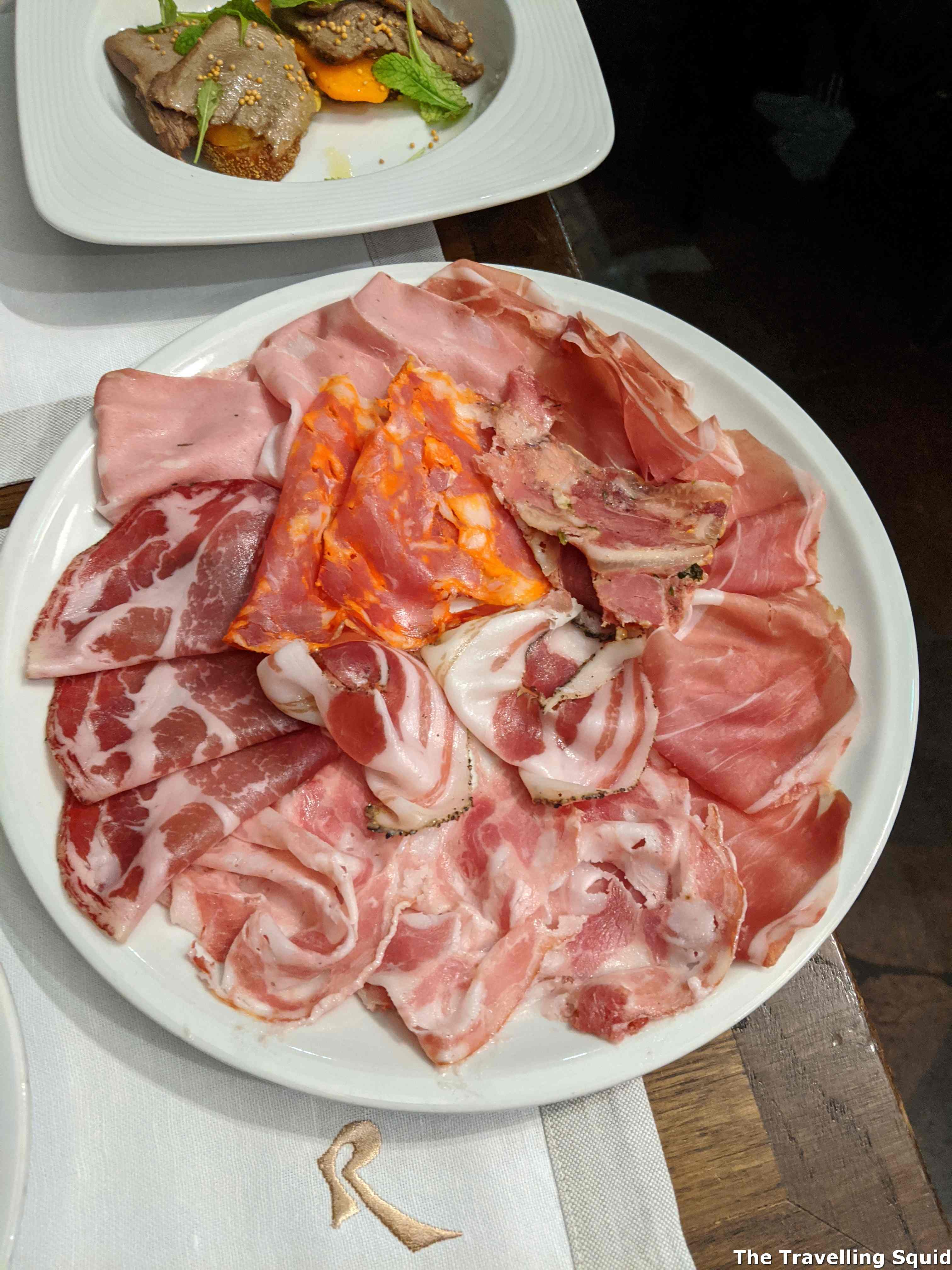 The salami was so good – it went really well with a glass of wine too. I really enjoyed the mortadella (cooked ham) because it was a familiar taste. While the other cuts were less stronger-tasting than jamon, they were flavourful in their own right. It seemed like a big portion but we finished it up quickly.
3. Porcini and tuna pasta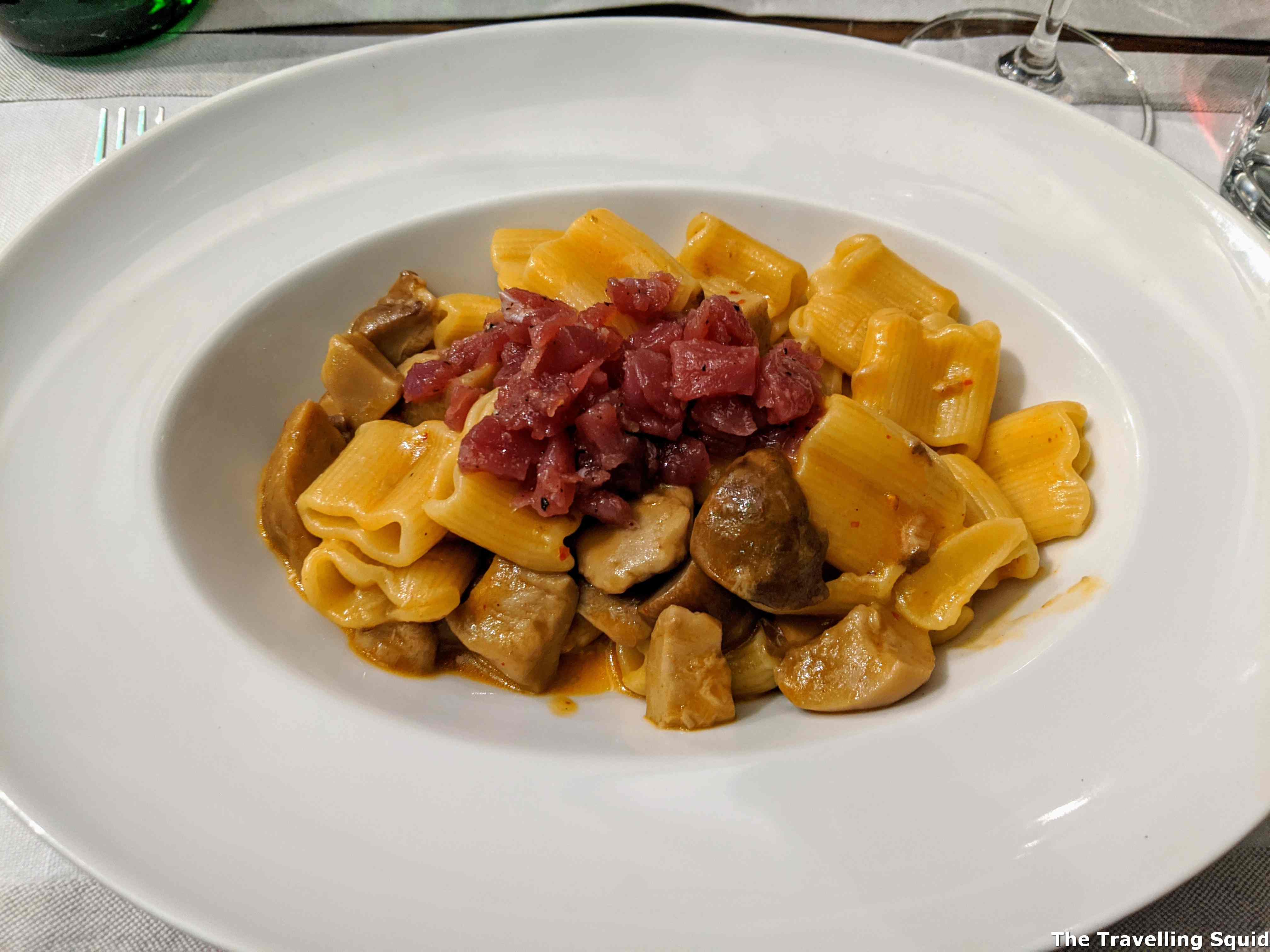 The pasta was one of the best we had in Italy. While we initially thought that porcini and tuna was a quirky combination, it turned out to be very complementary and a good mix of flavour.
4. Amatriciana pasta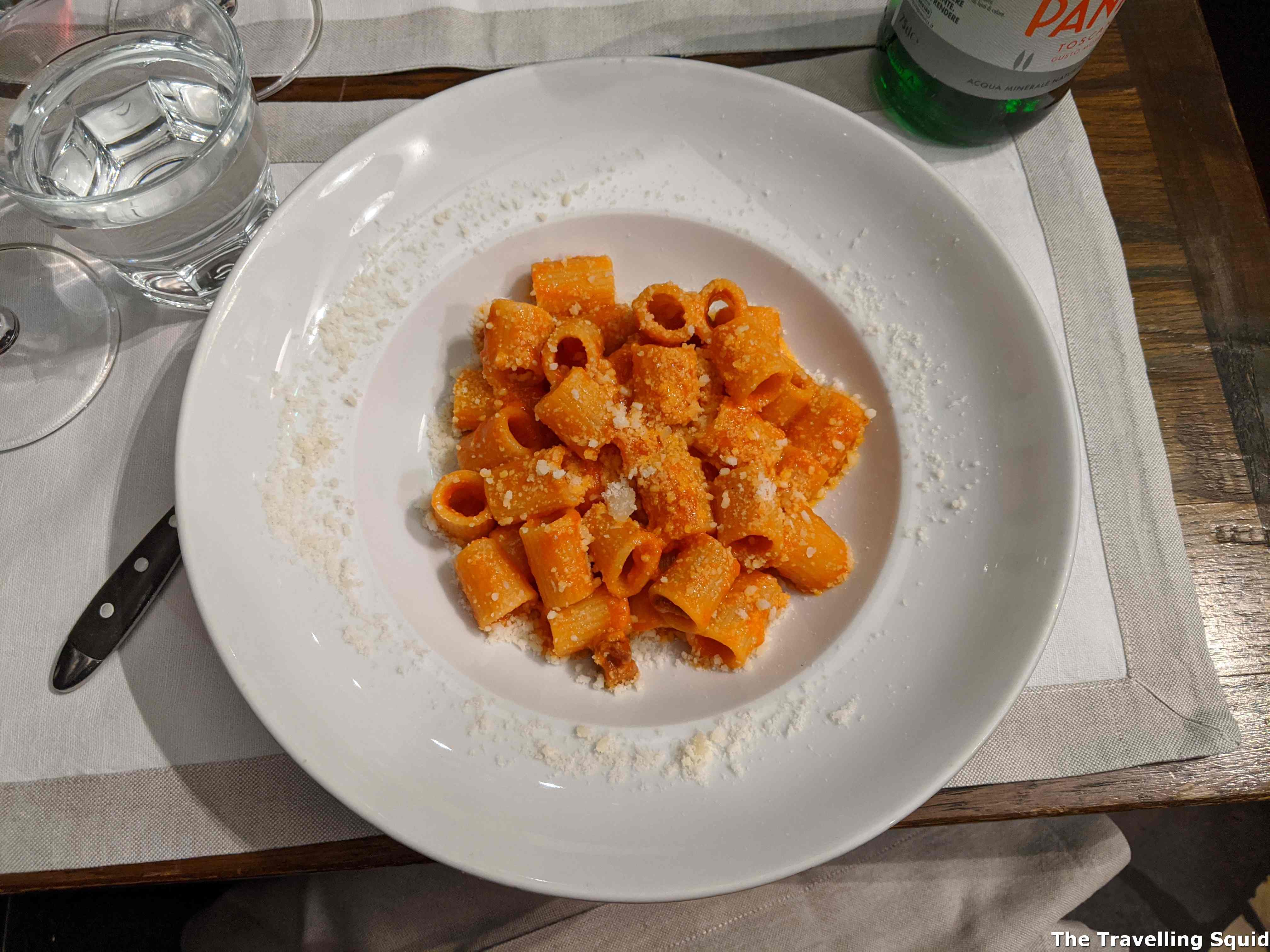 Amatriciana is said to be one of the most well-known pasta sauces in Roman and Italian cuisine, made up of guanciale (cured pork cheek), pecorino cheese (sheep's cheese) from Amatrice and tomato. According to Wikipedia, the sauce originates from the town of Amatrice , the Amatriciana is one of the best known pasta sauces in present-day Roman and Italian cuisine. The amatriciana I had was well-flavoured and the tomato sauce went well with the pecorino cheese.
The Travelling Squid's Take
As one of our last meals in Italy, Roscioli was very satisfying. The lingua and salami are definitely must-trys. The restaurant also serves a wide selection of good Italian wine. While we were there (pre-COVID), there were plenty of Japanese diners who had made reservations. The two Japanese girls seated next to us had Carbonara – that's another highlight from Roscioli. If you're planning to visit, do make a reservation in advance!
Visit Roscioli in Rome for authentic Roman cuisine