Recipe: How to make Singapore Chai Tow Kway or Fried Carrot Cake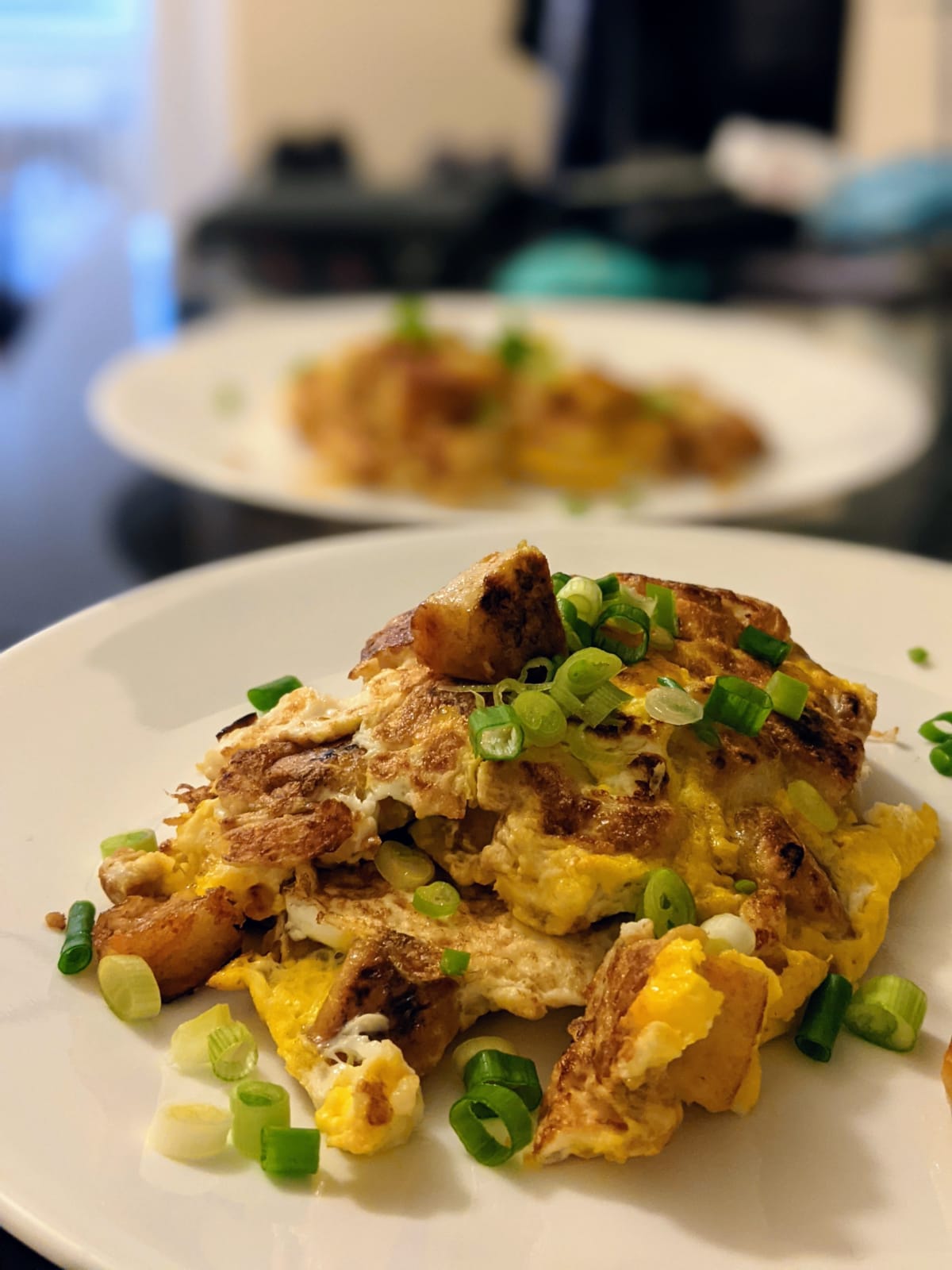 It did not occur to me to make my own Chai Tow Kway in Singapore as it was sold at most hawker centres. It was also pretty affordable at approximately SGD4/ USD3 per serving. I've been studying in the US for close to 4 months and realized that chai tow kway or fried carrot cake was the one hawker dish I really missed. There is Chinese food near where I live, but it just isn't the same. I guess that's because I used to have white chai tow kway with chili for breakfast at least once every week when I was in Singapore. Here's a recipe on how to make Singapore Chai Tow Kway – it's less oily compared to the hawker version but delicious nonetheless!
About Chai Tow Kway
According to Wikipedia, Chai Tow Kway first originated in Chaoshan, Southern China. It is also popular in a number of South-east Asian countries such as Malaysia and Singapore. Chai Tow Kway is known in English as carrot cake, but it has absolutely no relation to that of a Western carrot cake (also one of my favorites). Interestingly, the percentage of carrot in Chai Tow Kway is actually very low – the kway is made with a higher percentage of radish.
How to make Singapore Chai Tow Kway
Making the kway is probably the most challenging step as it's hard to get right. But fret not! We tried making this in the US and it worked out fine. The main constraint is actually time – it took us more than 2 hours to prepare the ingredients, steam the kway (rice cake) and sauté it with eggs.
Before you proceed, watch this video of hawkers doing the actual cooking! They do it more professionally but you get a rough idea of the rationale behind the steps.
Equipment
A large wok (but we made to do with a small frying pan)
A steamer (we made do with a pot, small bowl and a stand)
Ingredients (and alternatives if you're abroad)
Serves 3-4 portions
Ingredients for the kway (rice cake) batter
150g of rice flour
25g of corn starch
1/4 teaspoon of salt
500ml of water
25ml of oil
Small portion of carrot (1/4 of an average size carrot)
Small portion of daikon or turnip (we used 3/4 of a average size turnip as we couldn't find daikon)
2 large cloves of garlic (chopped)
1 tablespoon of chye po (preserved radish) (rinsed at least 4 times or they will taste super salty!) (No alternatives – if you're abroad try getting them at a Chinatown near you)
4 eggs (crack them and leave them in a bowl, you don't have to mix them up)
Fish sauce
Soy sauce
Sambal chili sauce (amount depends on how spicy you want it)
Spring onions for garnishing (chopped)
Mix ingredients 1-5 together until they are well incorporated and a smooth slurry is formed. In a pan, gently sauté the grated carrot and turnip in a teaspoon of oil so as to remove moisture. Once the moisture has released, mix the carrot and turnip into the slurry until it is well incorporated.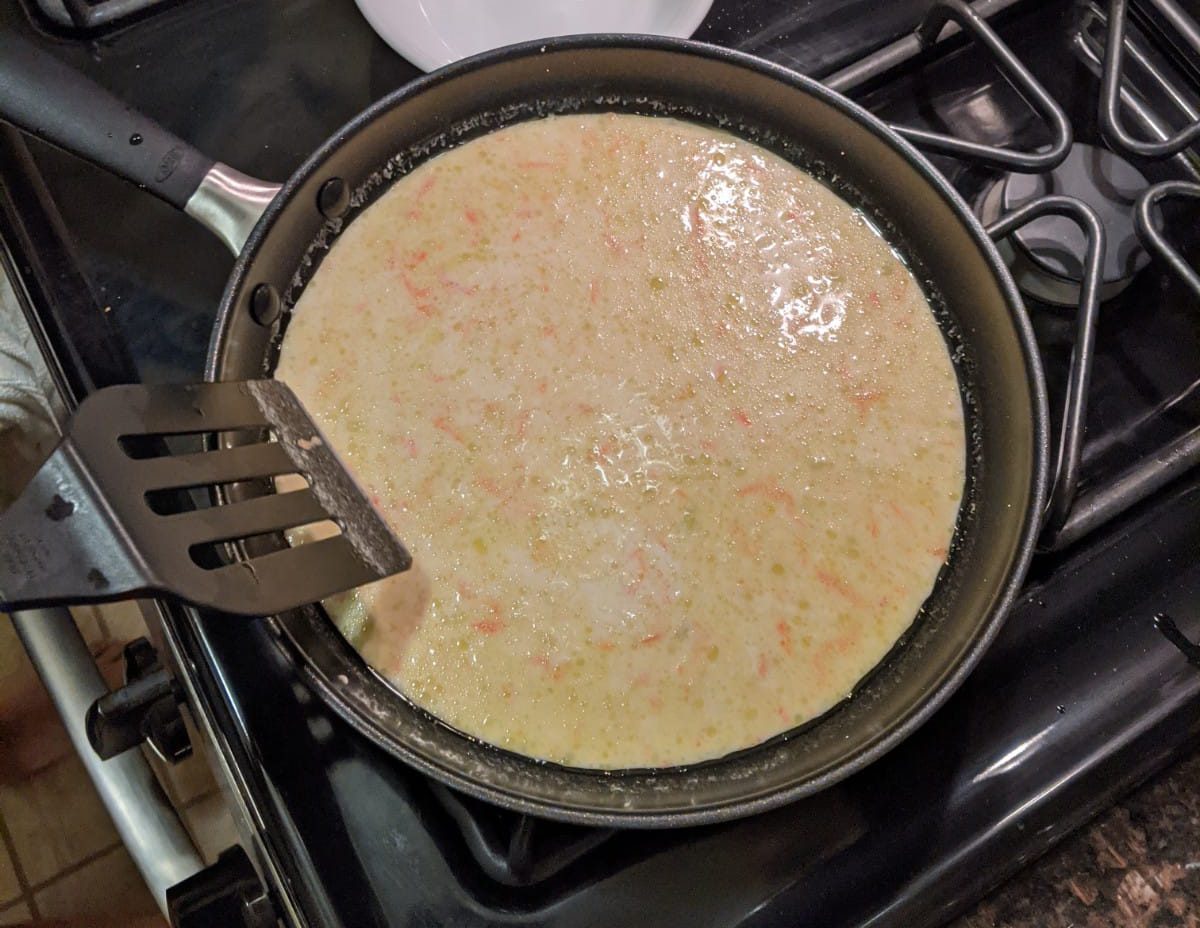 Add the slurry into a pan at low heat. The mixture will gradually thicken. This is the trickiest step as you will need to get the right consistency before transferring it into a bowl for steaming. Keep stirring the slurry over low heat until it starts to thicken, making sure to break up any clumps that may form.  Once the slurry reaches the consistency of a thick pancake batter, pour it into a well-oiled dish for steaming.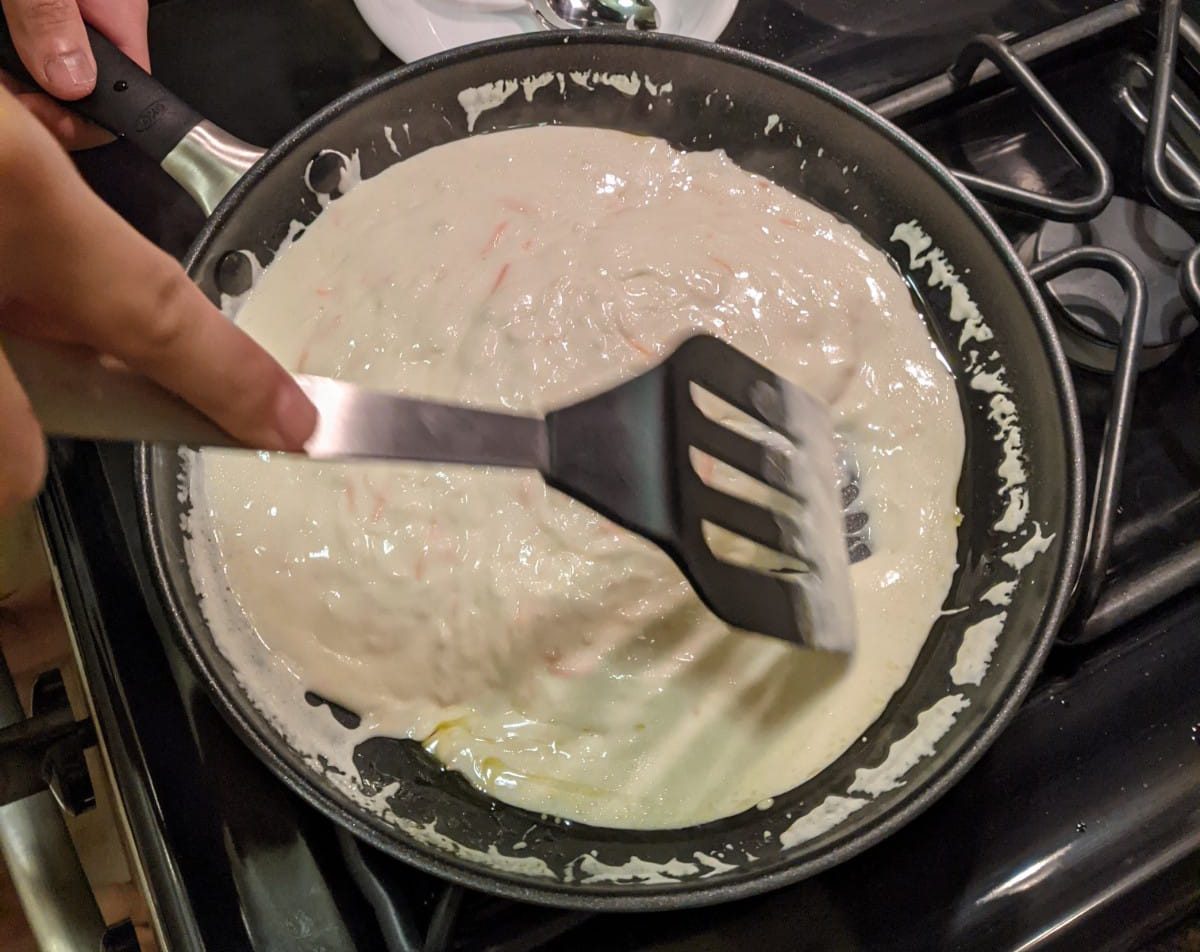 Steam the kway for about 30 minutes – it should appear off-white and slightly translucent when ready. Let the kway cool to room temperature and remove it from the dish. A sign of a good kway is that it is firm to touch and bounces back when gently pressed.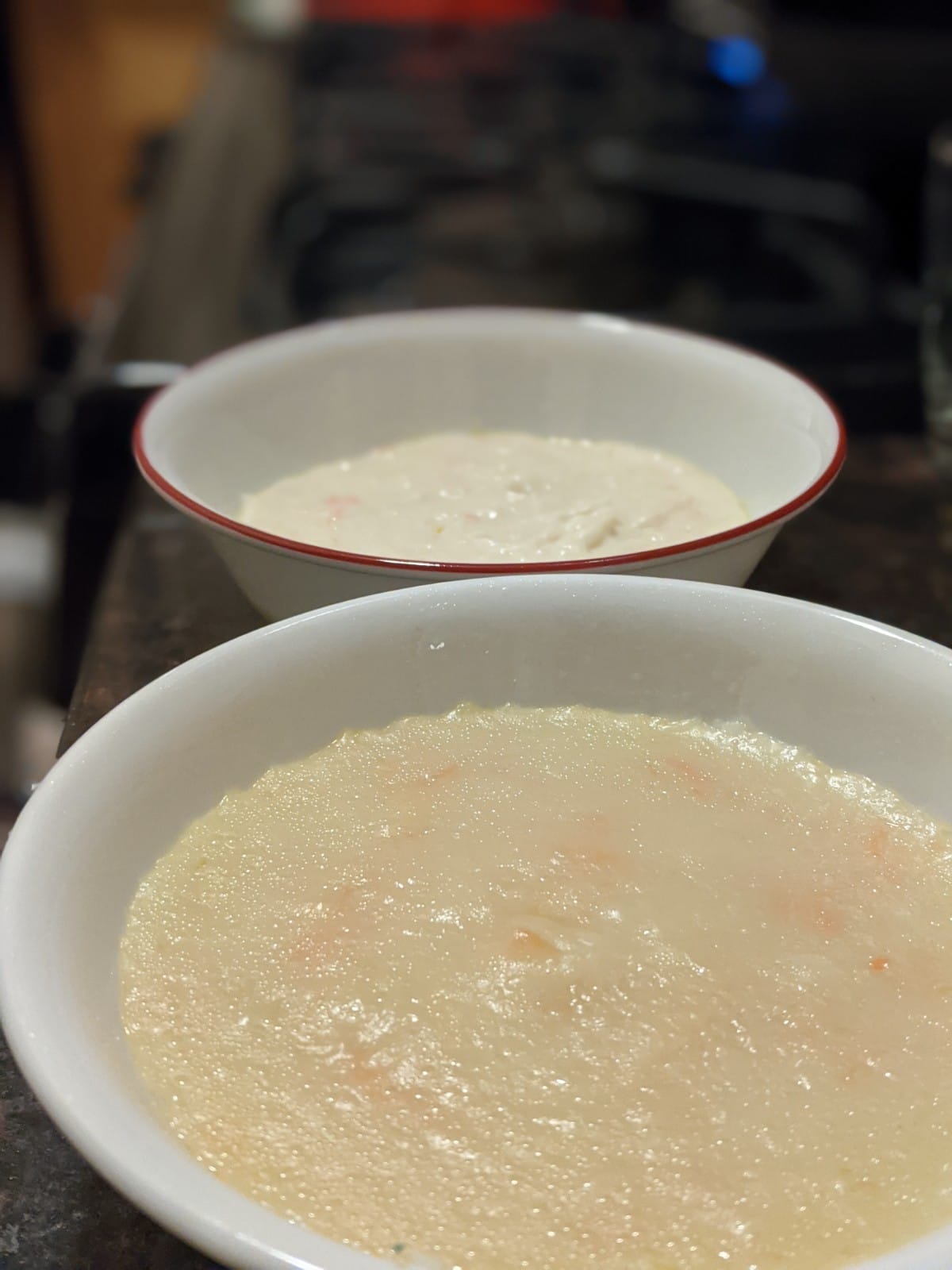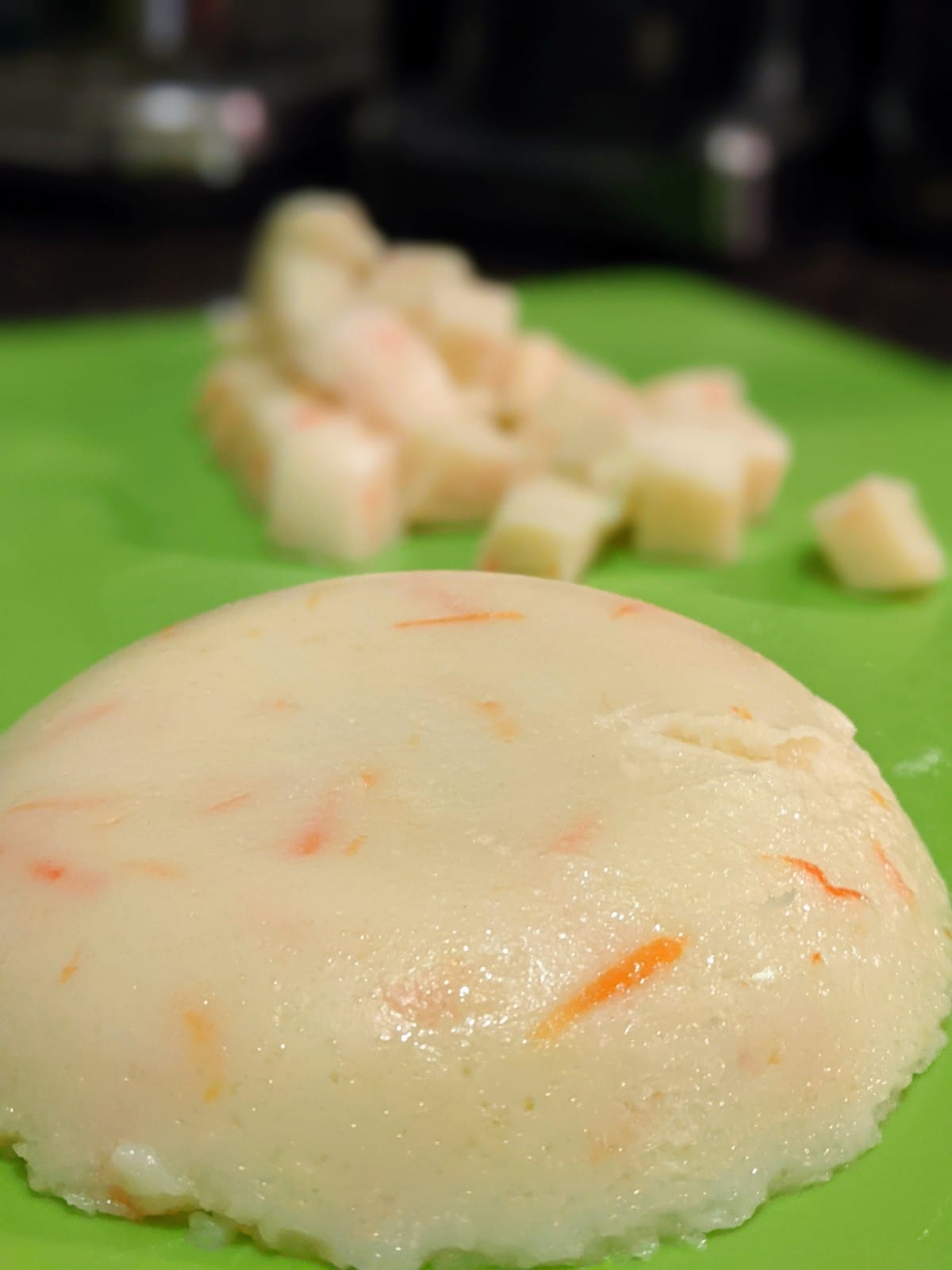 Cut the kway into small pieces (the size is up to you).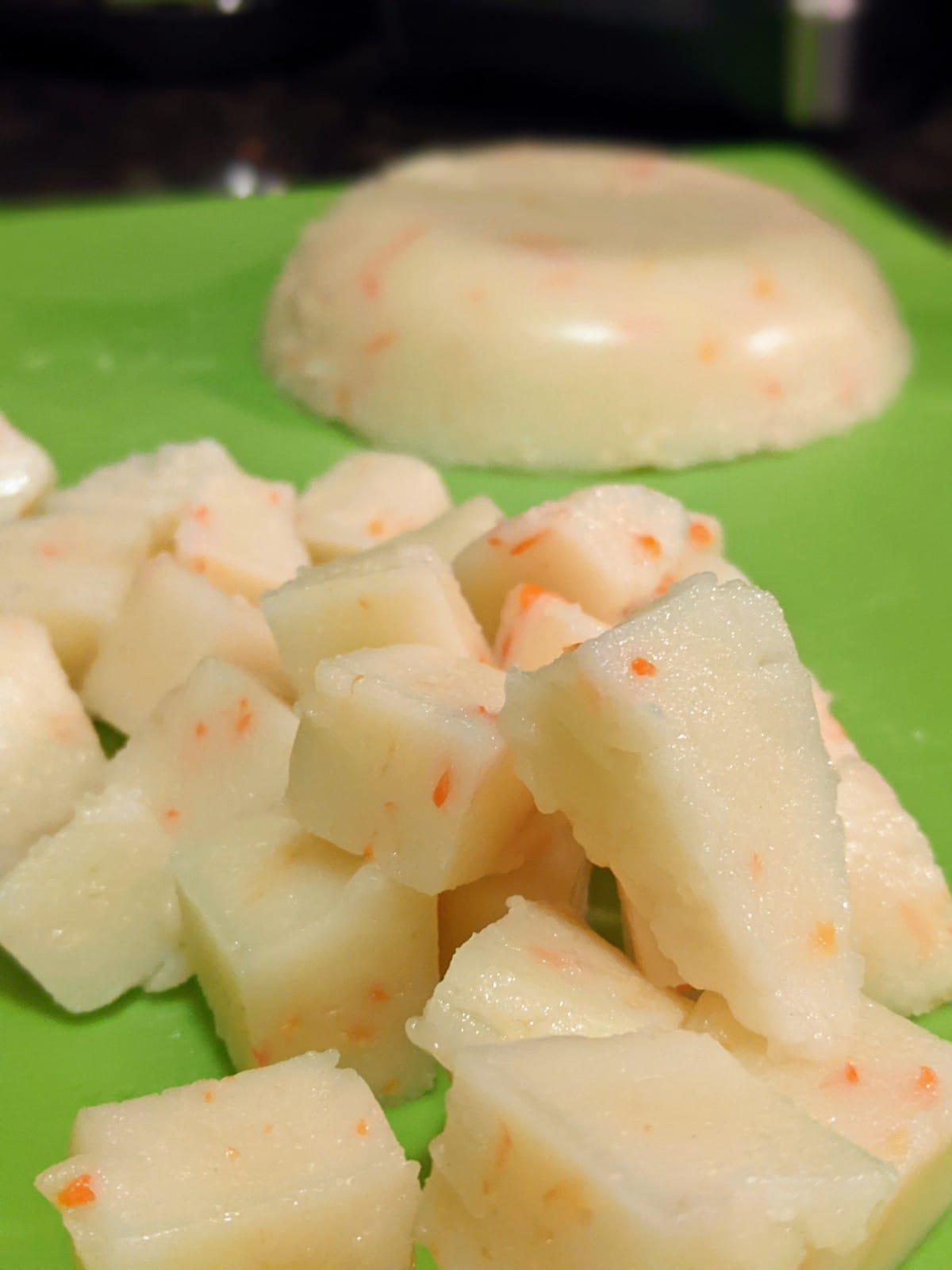 Heat up the frying pan (or wok) and add some oil. Add the kway  and allow it to brown on all sides. Once the kway forms a light brown crust, make space in the center of the pan and add oil, chye poh and garlic. When the mixture browns slightly, give the kway and chye poh mixture a good toss in the wok. Add fish sauce, soya sauce and chili sauce to season.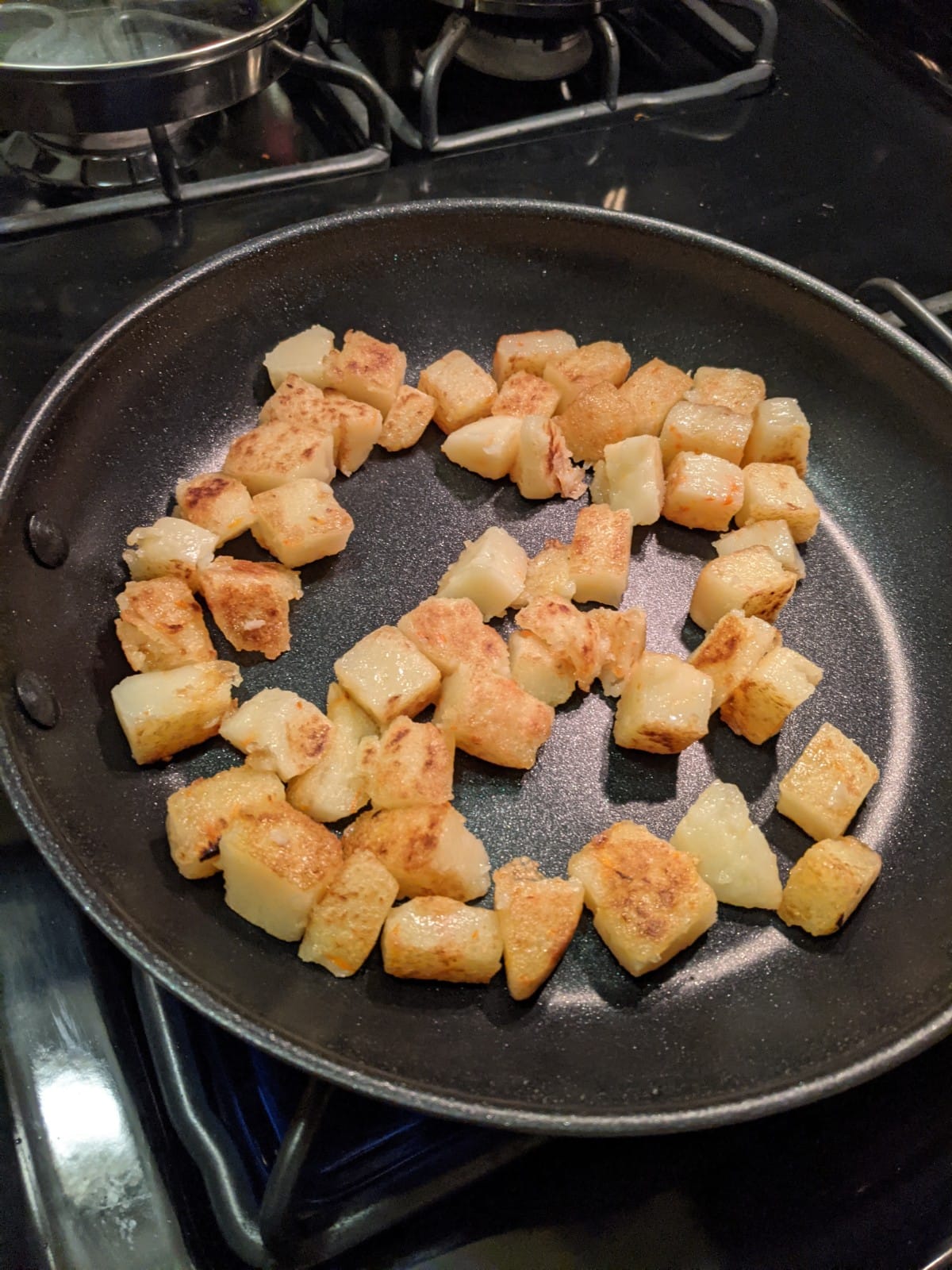 Next, add in the eggs. Use your spatula or fish slice to break apart the yolks. We prefer chai tow kway in pancake form, as opposed to it being in loose pieces (like that of the hawker video shown at the top of this article. It's just a personal preference.) Allow the eggs to set with the kway, then break the pancake like into pieces and flip them when ready. When both sides are brown, you're all set!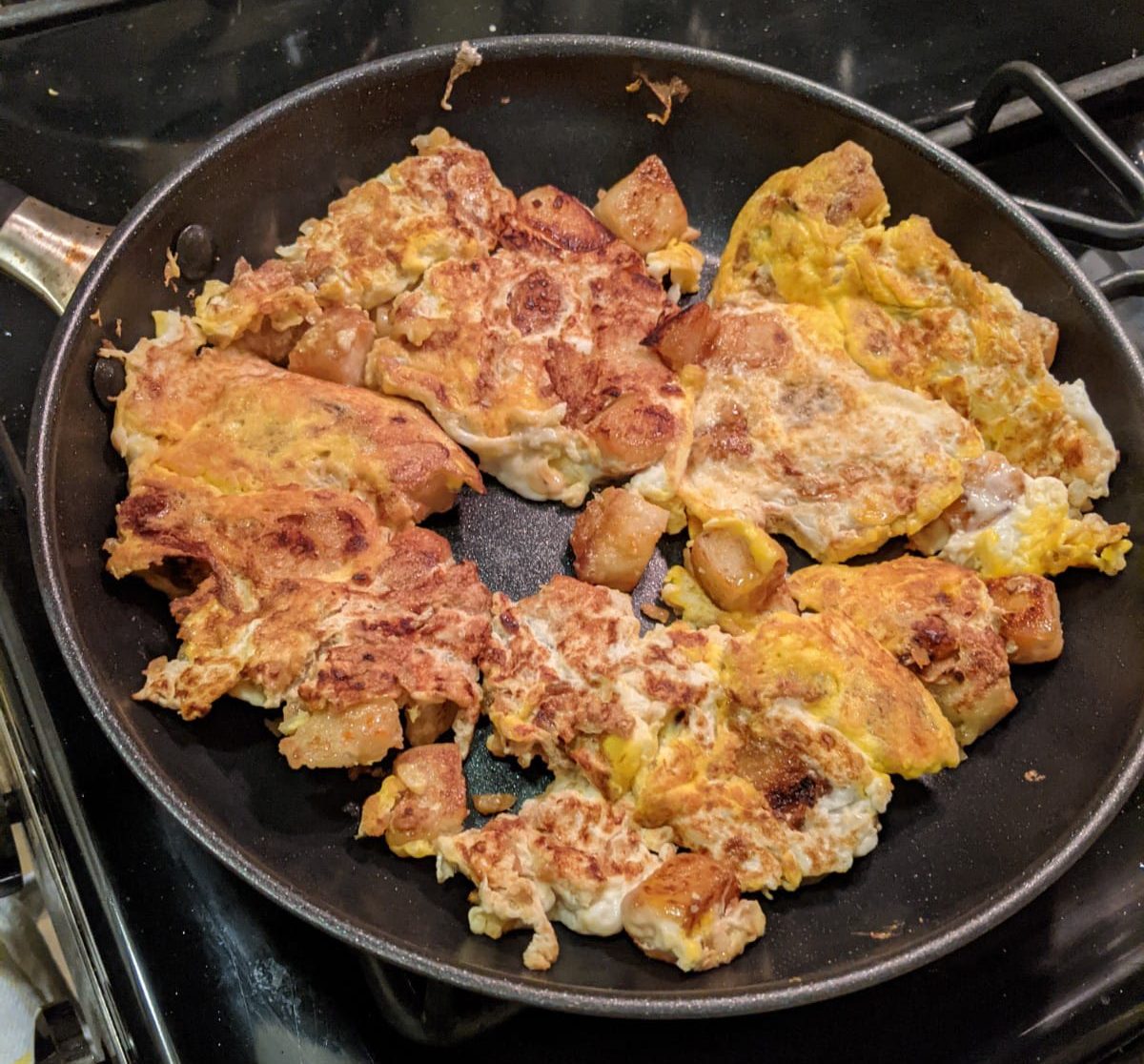 Garnish generously with spring onions and the chai tow kway is ready to serve.
The Travelling Squid's Take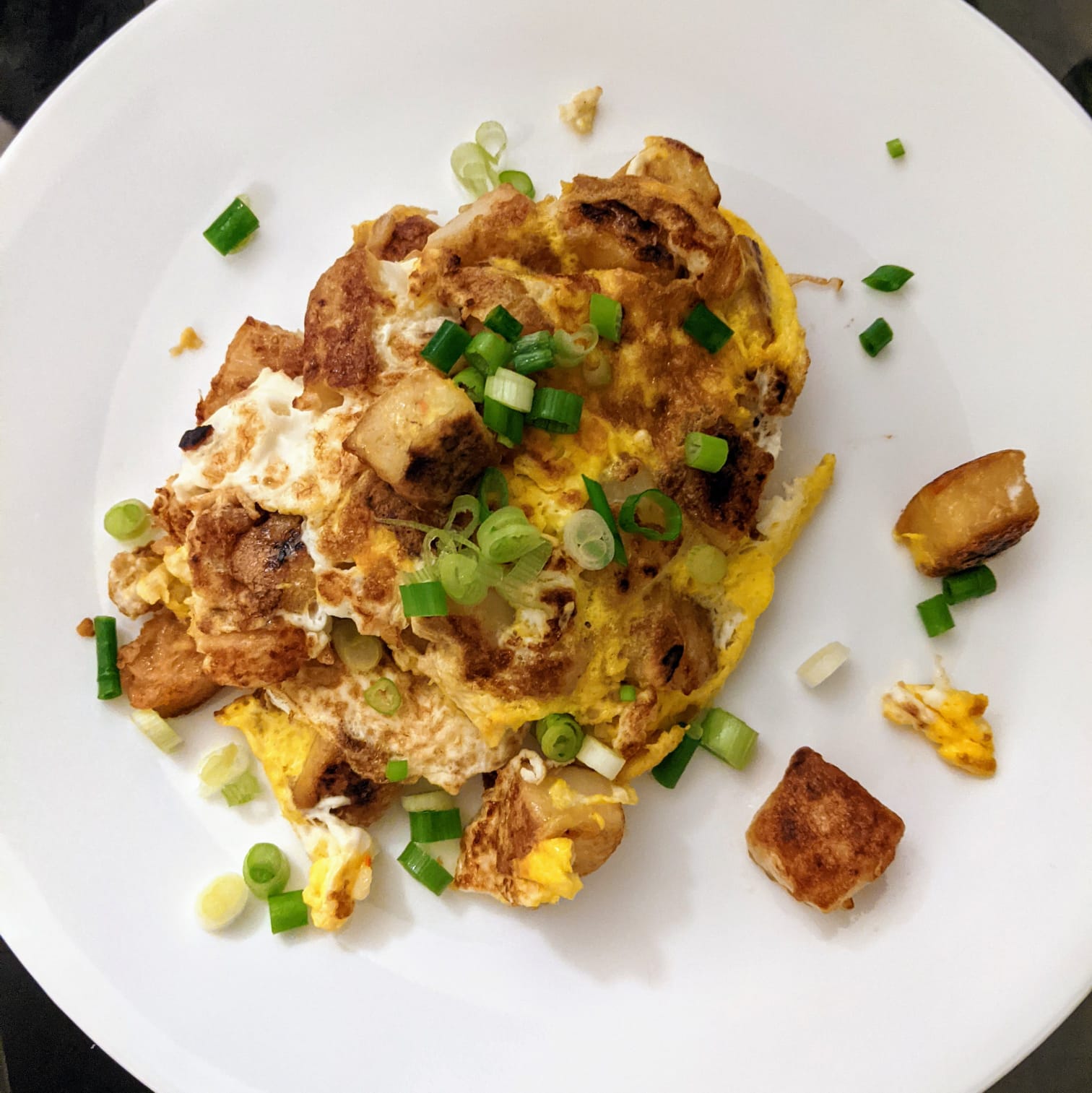 Chai tow kway uses simple ingredients, but making the kway requires a fair bit of technique. If you're in Asia, getting hold of the ingredients should be a breeze. But no worries if you're in Europe or the US — the ingredients can also be found in Chinese supermarkets. To be honest, it will be hard getting the authentic hawker taste as hawkers use high heat, a big pan and lots of oil. That said, you can be assured that the version you make is a pretty healthy one. Enjoy!