Visit Laut in NYC for authentic Singaporean food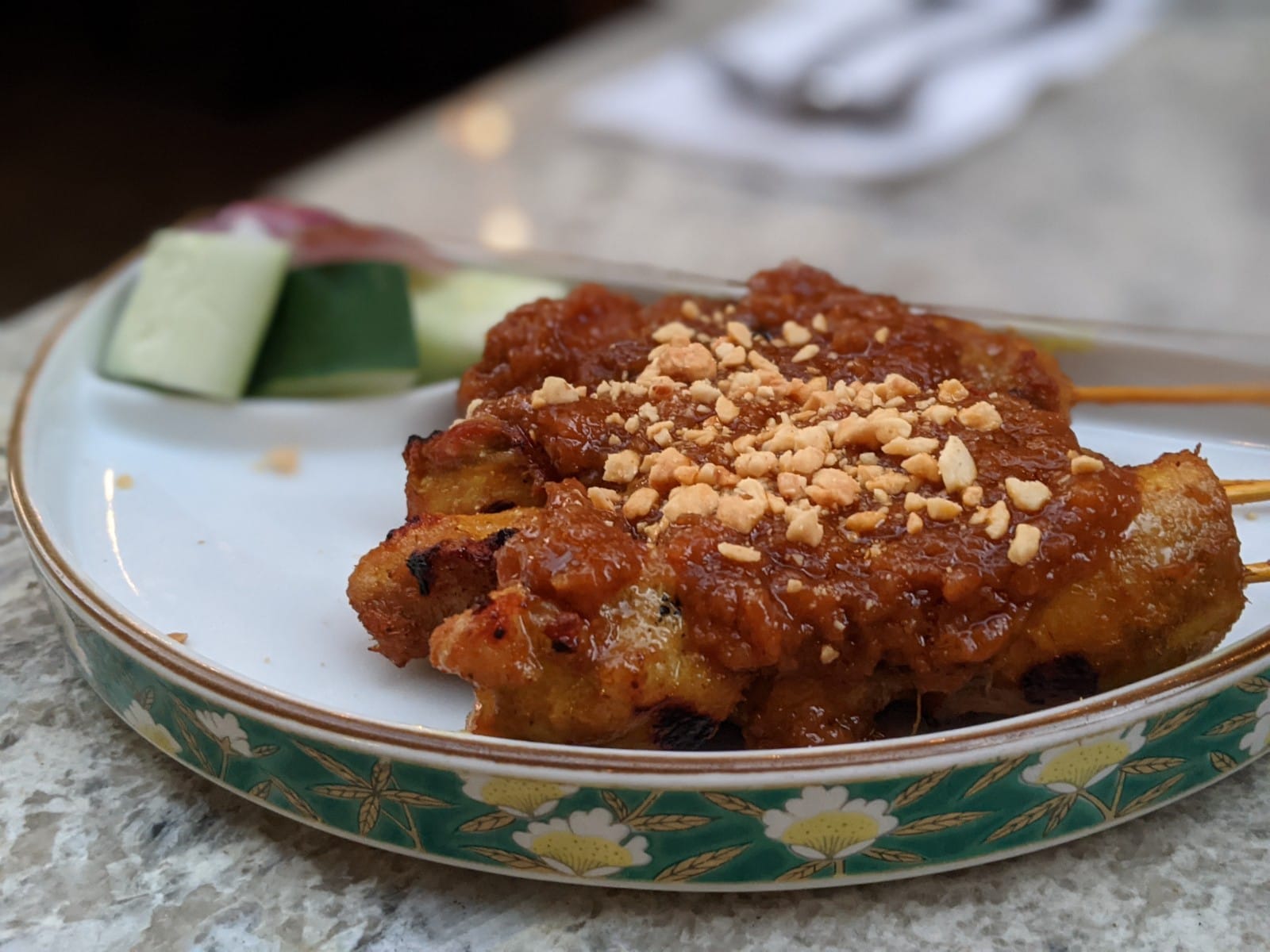 If you're looking for good Singaporean food in NYC, look no further than Laut! Located at 15 E 17th St, this Laut, also known as the 'cheaper Laut' to my colleague G, is in my opinion, of good value. (Please note this is not to be mistaken with Laut Singapura nearby, which he considers to be more expensive and not as good. I can't comment as I have not visited.) The pricing of the food cannot be compared to Singapore, but the food is of good value as a) the flavours are authentic and b) portions are large.
When I visited Laut with Friend S a couple of weeks back, I was pleasantly surprised by the number of non-Southeast Asians enjoying the Malaysian/Singaporean dishes they had to offer. In all honesty, Laut brands itself as a Malaysian restaurant, but the food is very much similar to Singaporean dishes that I love, such as laksa, murtabak and nasi lemak.
Ok, so with any food post going forward, I plan to split it into 4 key areas: Food, Service, Ambience and Location.
Visit Laut in NYC for authentic Singaporean food
Food
I was very excited when I saw the menu and must thank Friend S for allowing me to order so many dishes). We ordered 2 mains (Beef rendang (with coconut rice) and Laksa) as well as a side dish of Satay. For drinks we had teh tarik, which was very good and strong, in fact stronger than what I'm used to in Singapore.
The Famous Rendang or Beef Rendang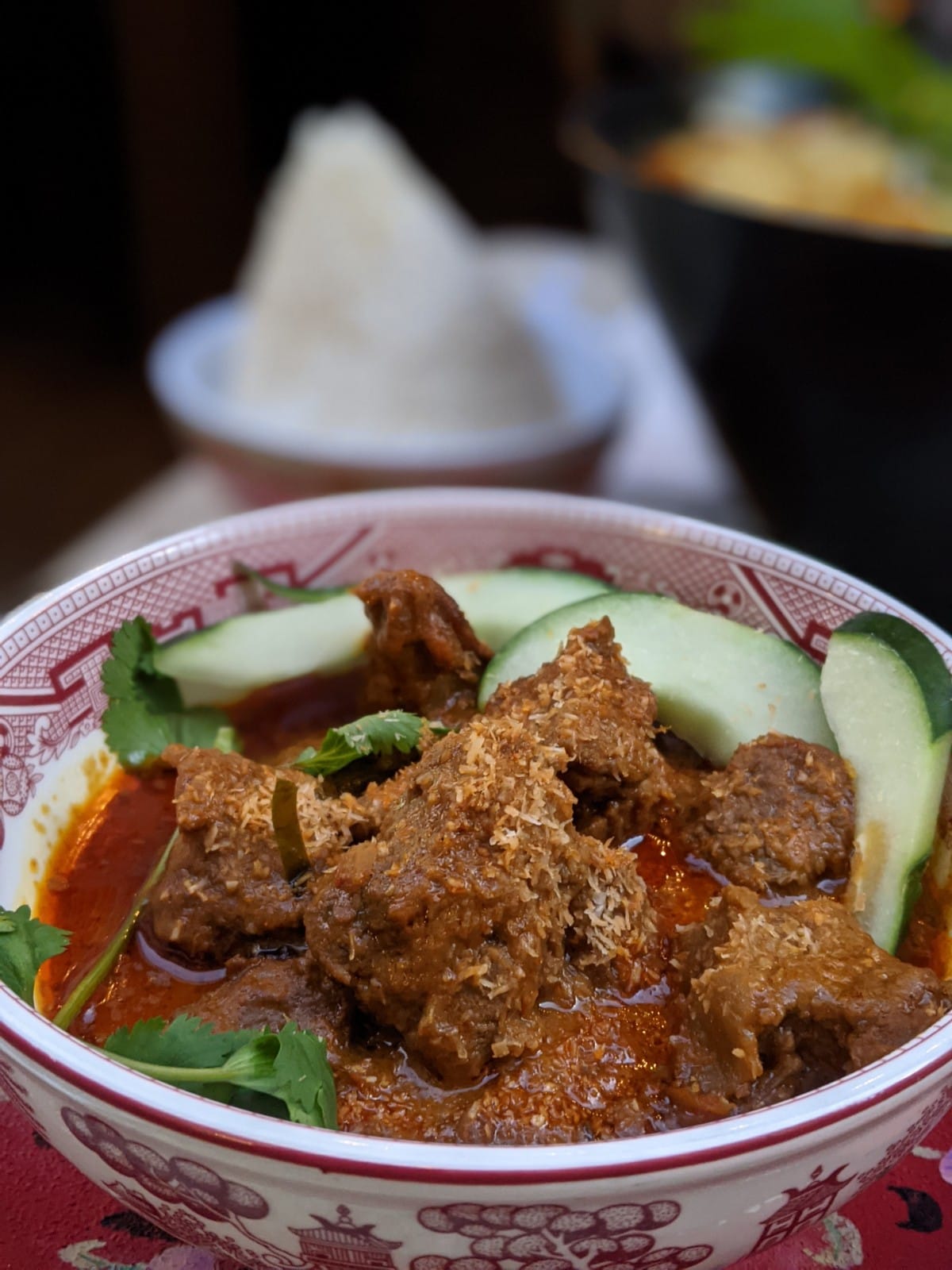 I love the plating – comprising a triangular-shaped rice and beef rendang in a patterned bowl. The beef rendang hit all the right notes – it was the right amount of sweetness, had the right spice balance and went very well with the coconut rice. $24 (for beef), 9/10
Ultimate Famous Laksa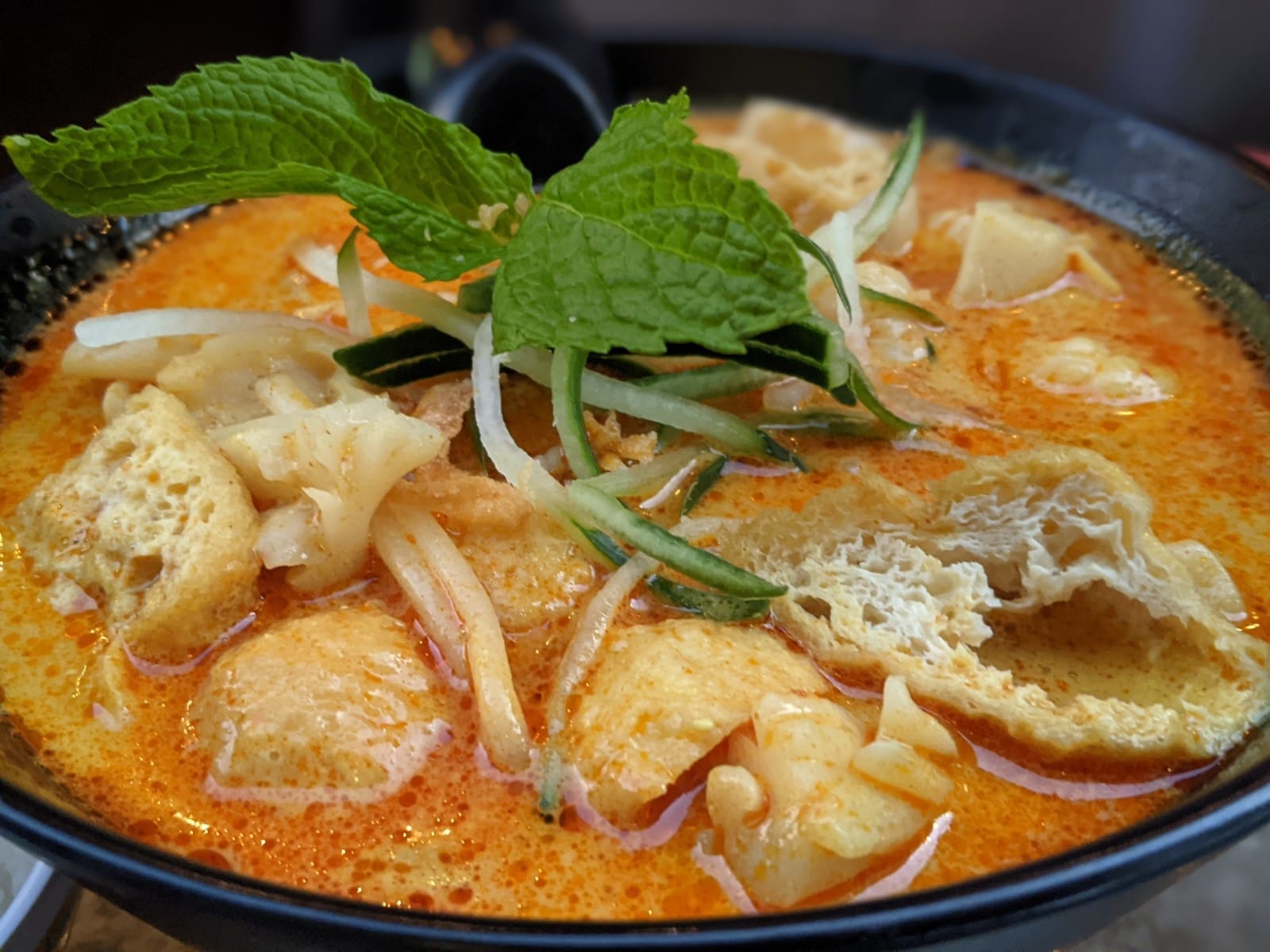 This was probably my favourite. Once again this was pretty rich tasting, slightly richer than what I'm used to in Singapore. But it was nice having that familiar taste, slurping noodles through a flavourful, rich (broth?). To be honest, my tongue could detect little and no spice, so I requested for sambal from our server who gladly handed it over. The sambal wasn't spicy either (I believe it was dulled down for people of all chilli tolerance(s?) to enjoy). I would have preferred the gravy to be less rich and a little spicier, but it was still very good. I was a little disappointed when I did not detect a presence of hum, or cockles, but acknowledge that ask is a bit of a stretch. $23 (for seafood), 8/10
Satay Chicken (4 sticks)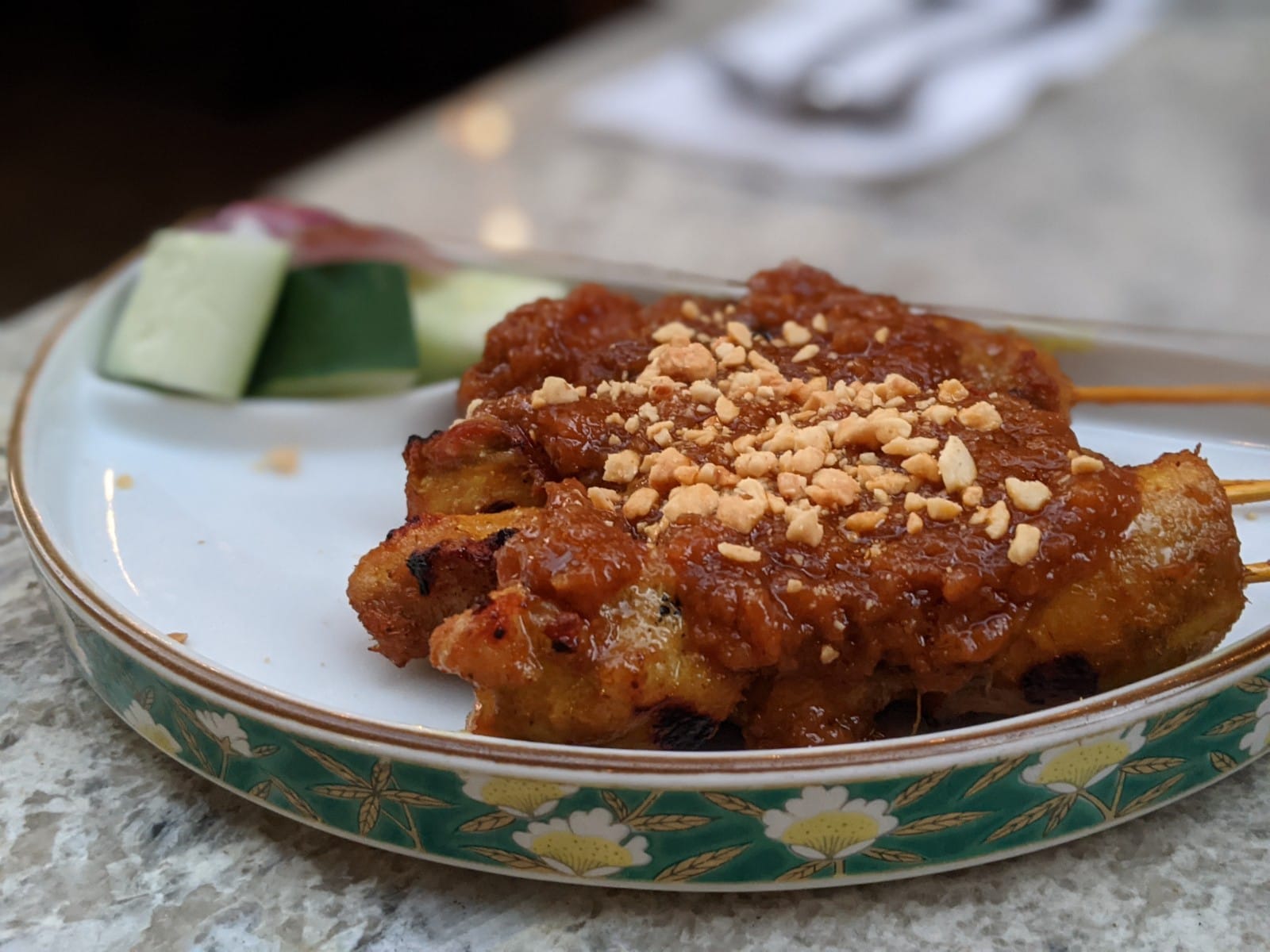 The satay was not a familiar shape to me. In Singapore, I'm used to skinny sticks going at less than US$1 each. Here, the satay was very plump?. That said, the meat was well seasoned and the peanut sauce that went with it was spot on. I love how they included the must-haves like fresh onions and cucumber by the side. The flavours were once again a little sweeter and richer, but authentic in my opinion. $11, 8/10.
Iced Teh Tarik (pulled tea)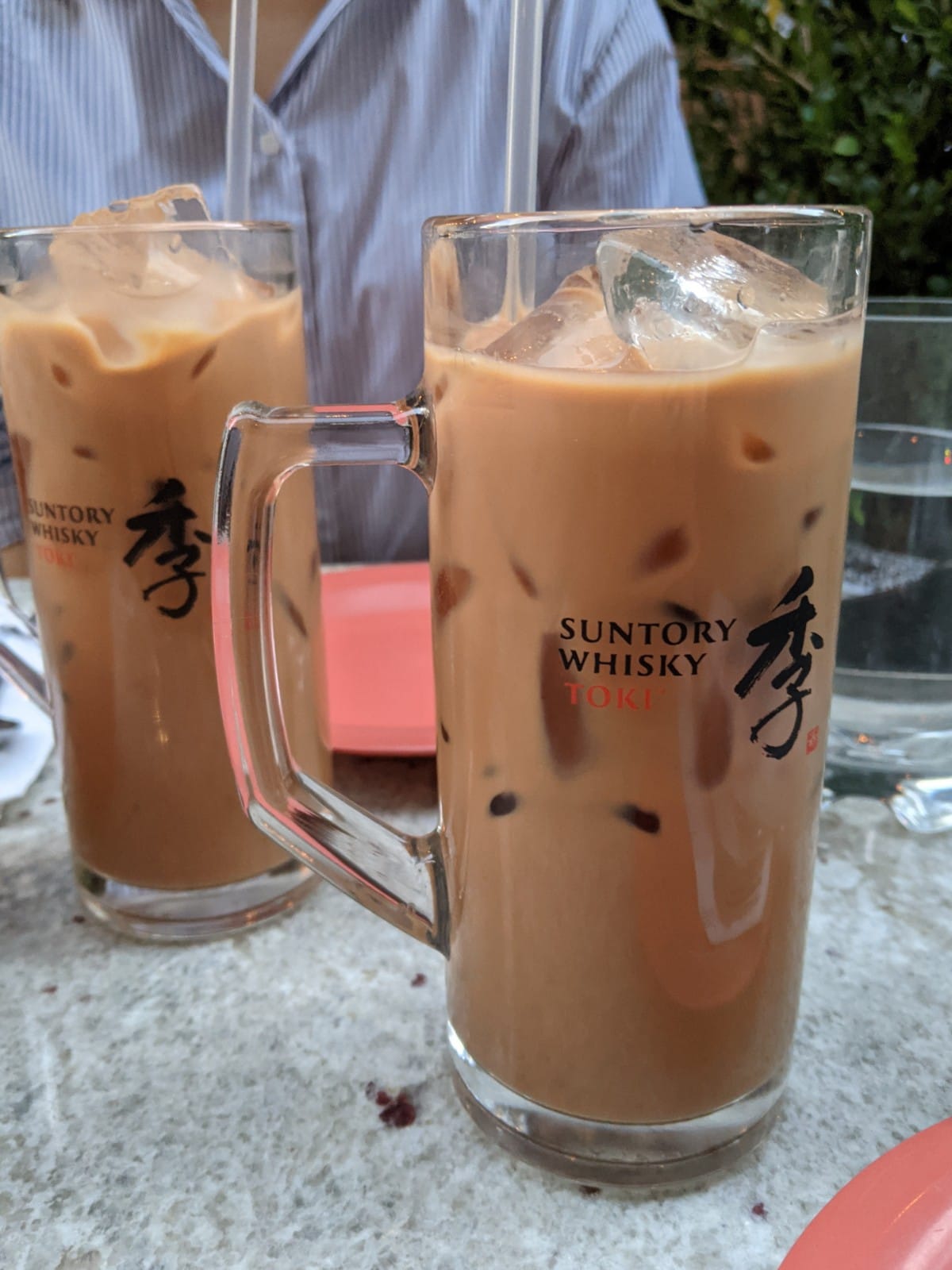 The tea was on point. It's much milkier and the tea flavour is much stronger but in all, excellent. I think our server Steven (from Malaysia) said he made it. $5, 9/10.
Service
Service was slightly delayed when we were there, but Steven made it up by providing us a generous portion of sambal. 😀
Ambience/ Location
We sat outside – the casual setting is nice for an evening with friends or a work lunch. Great if your office is located near the Union Square area.
The Travelling Squid's Take
I'm definitely coming back again! There are a number of rotis (bread) and curries I would like to try. It's a great place for both lunch and dinner especially if you work in the Union Square area. I like the casual setting but also the effort put into presentation and plating. In all, I'll definitely encourage everyone to visit Laut in NYC for authentic Singaporean food. You cannot expect the food to be identical to dishes you get in Singapore, but the flavours are quite right.
* Big shoutout to Friend S for the company and Colleague G for the recommendation! 
Visit Laut in NYC for authentic Singaporean food
Address: 15 E 17th St, New York, NY 10003
Reservations: https://resy.com/cities/ny/laut?
Opening hours: Weekdays: 11:30AM–3:15PM, 5–9:45PM | Weekends: 1pm – 10pm