Is it worth visiting McSorleys Old Ale House in New York City?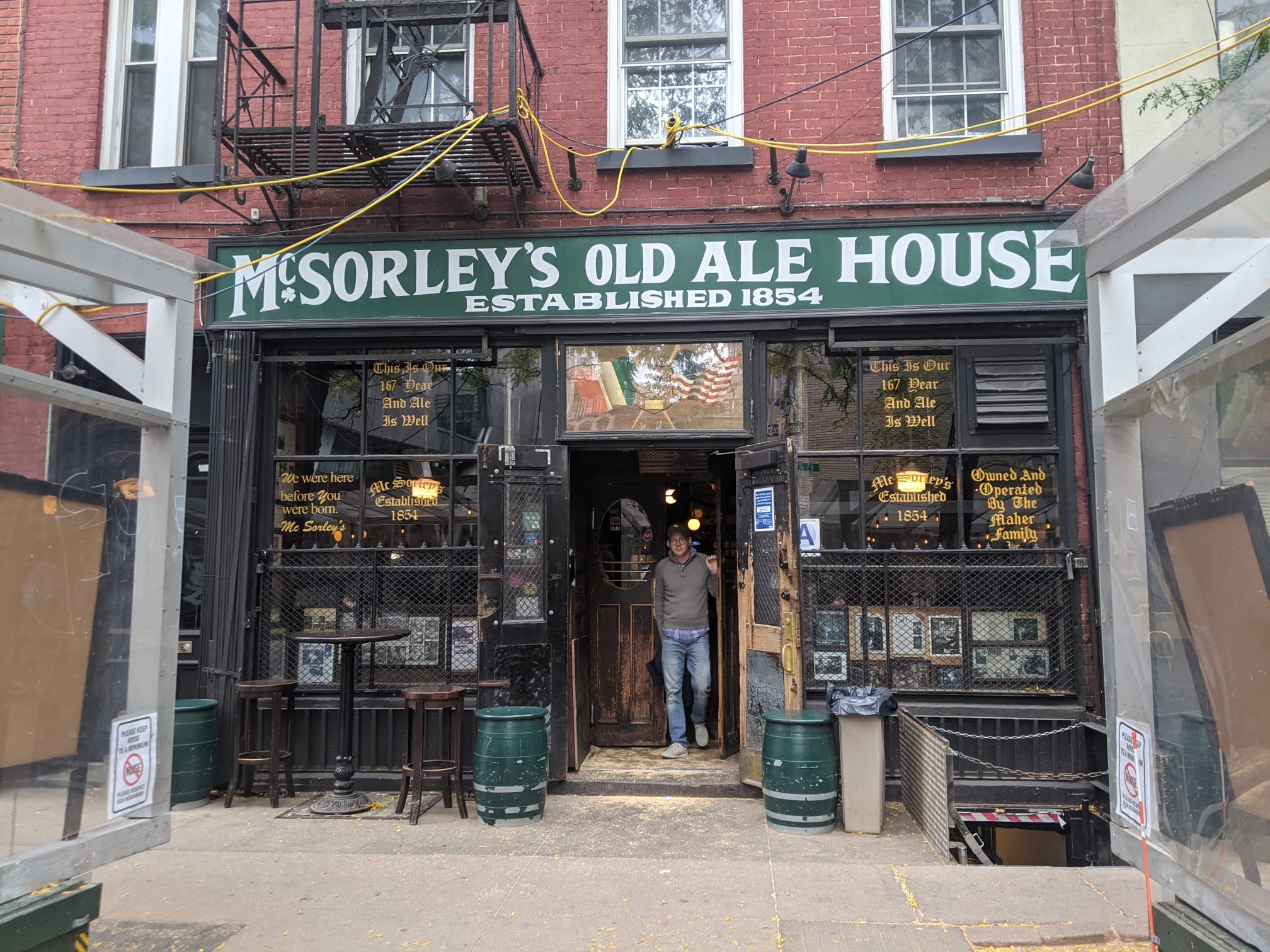 Is it worth visiting McSorleys Old Ale House in New York City? I would say yes for these three reasons. 1) Historical significance: The bar's roots date back to the mid 19th century. Back then, it had an impressive clientele – including the likes of Abraham Lincoln, Ulysses S. Grant, Teddy Roosevelt. It was known for being a bar for Men only, and only admitted women in 1970 when it was required to do so by law. 2) Simplicity: There are only two types of drinks on the menu. The light or dark ale. That's it. The New York Times puts it quite aptly, that the lack of choice is at times something to yearn for, in the face of extensive menus by modern bars. 3) Inexpensive: When the bill came, I was surprised that it set me back by only $6 for a serving of light ale.
Why I visited McSorleys Old Ale House in New York City
I visited McSorleys primarily because I was taken in by an art piece featuring a bar scene in New York City. The painting, titled 'One and One' by Janet Ternoff, was brimming with old world charm. It felt like I was taken back to New York City in the 60s or 70s. I thought it was the artist's memory of a bar she had visited in the past, and I was glad to learn that McSorley's is still up and running.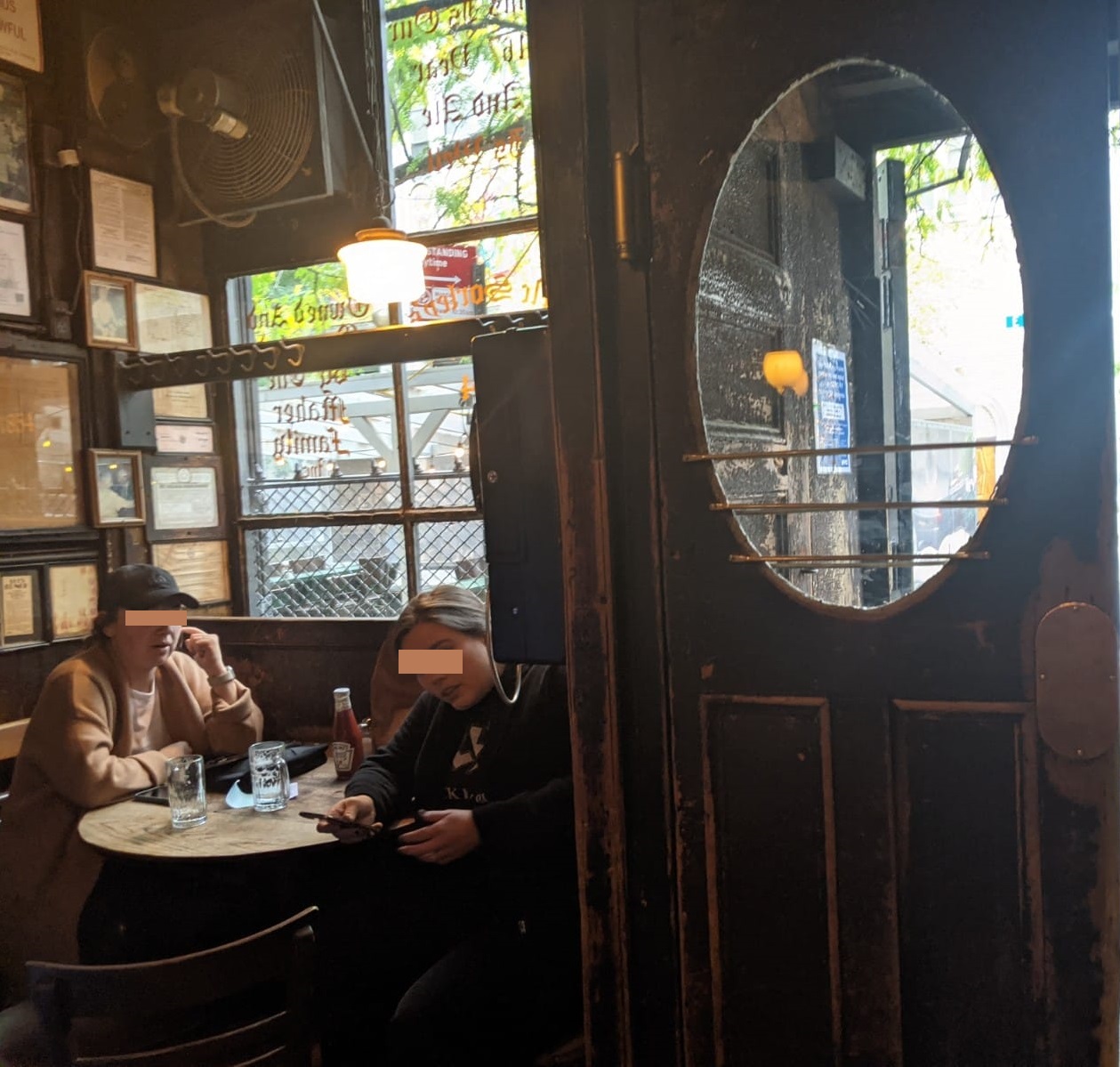 When I arrived, the seats indoors were mostly taken. So I decided to sit outside, after all, the weather was a cool 17C/ 62F. There isn't a menu. In the exact words of the server 'We only have two things on our menu. The light ale and the dark ale but we have run out of dark ale.' 
The Ale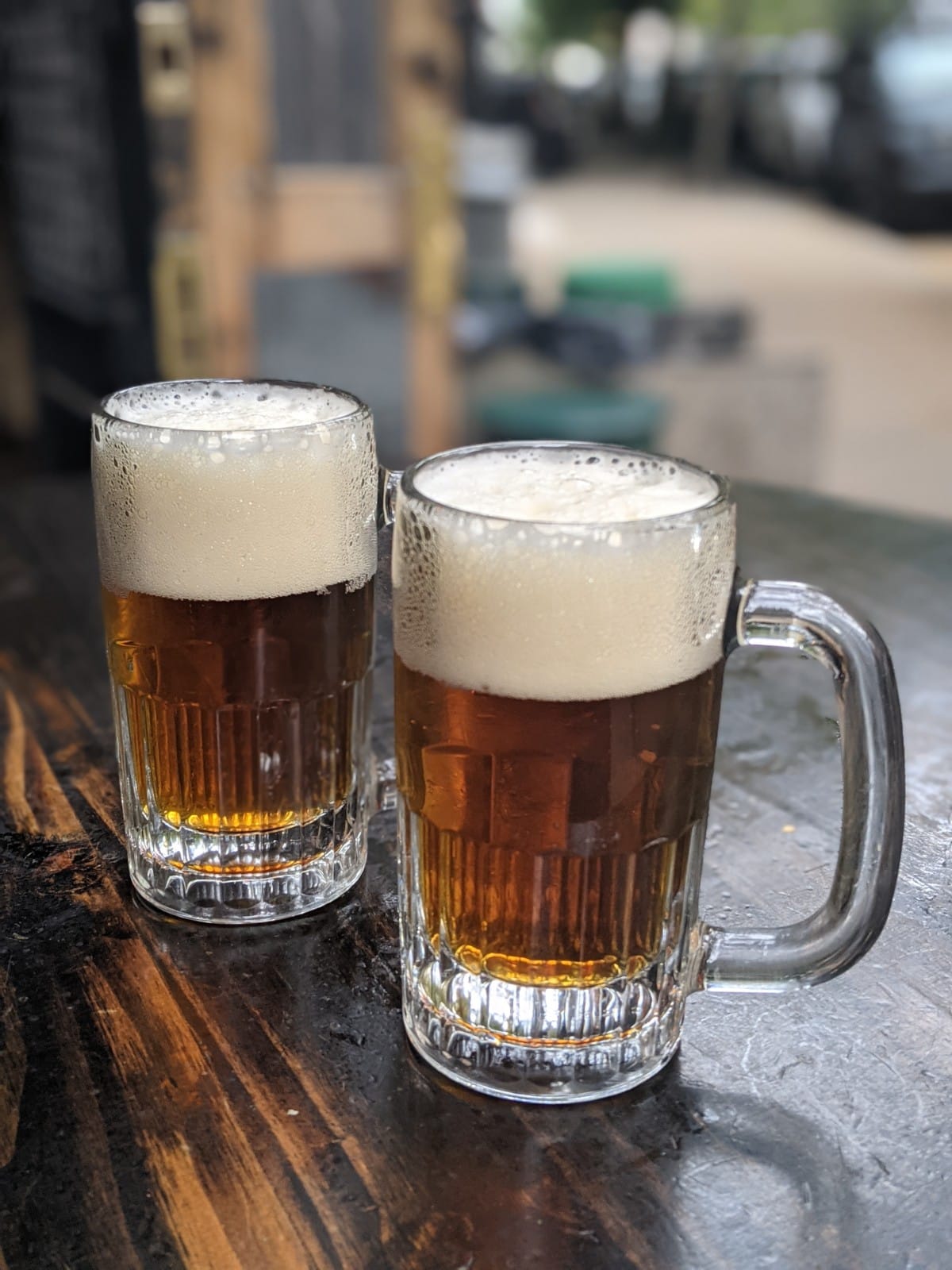 One serving of ale comes in two glasses. I like how the beer was expertly pulled to give just the right amount of head. It was a great tasting beer, one I could have at any time and moment of the day.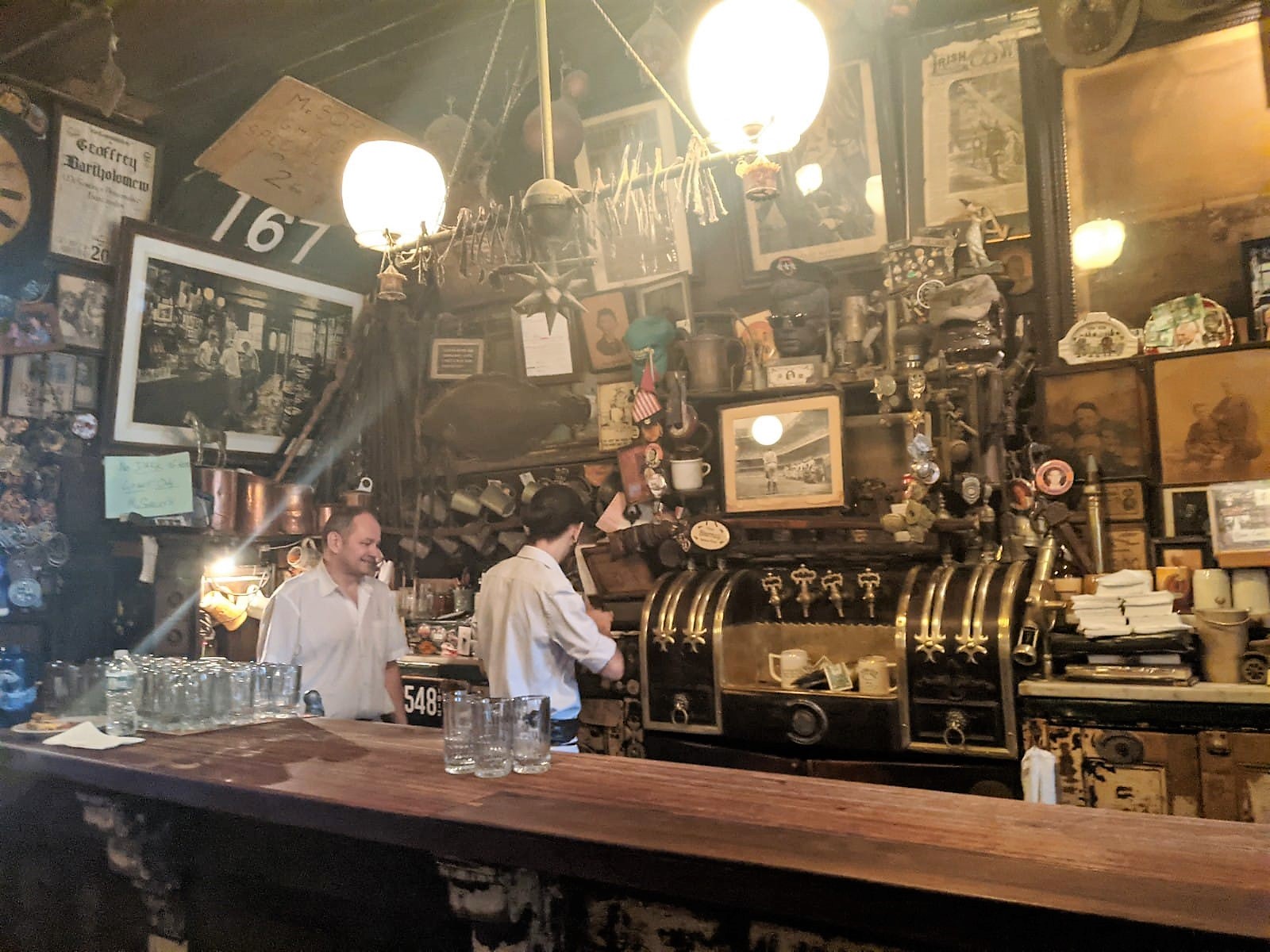 Before I left, I went indoors to use the bathroom. The bar counter seems quirky and interesting. The bathroom was a little grimy but I think I can live with that. Atlas, the spot where the painting was formulated was taken up by two ladies (see earlier picture).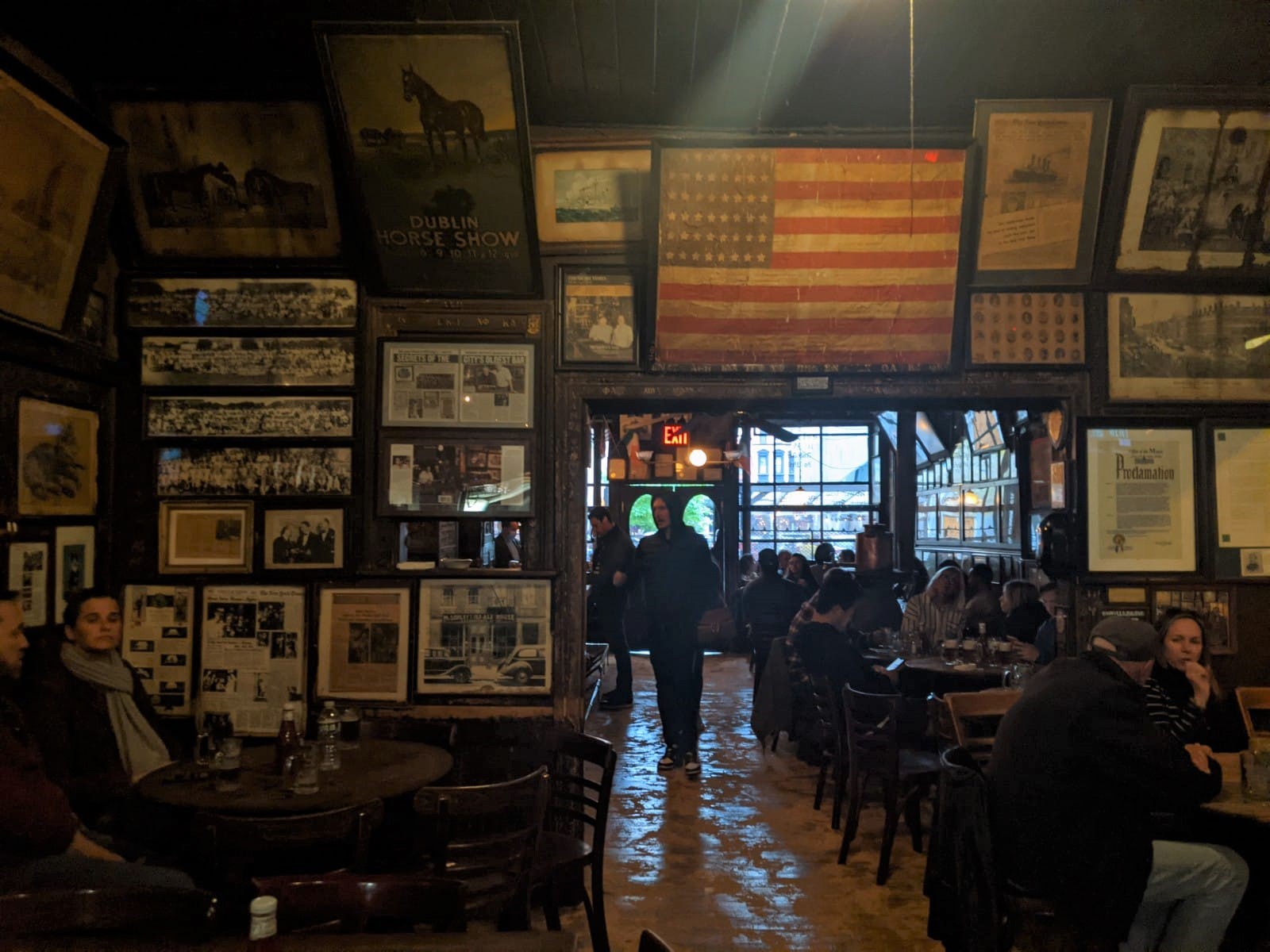 The Travelling Squid's Take
My hope is to return to try the dark ale, and hopefully get a seat indoors, at the scene of Janet Ternoff's painting. To do so, I will attempt to visit on a weekday – as the server shared that fewer people visit then. He also said that the refill of dark ale will come on Tuesday, so it might be worth giving it a shot.
Is it worth visiting McSorleys Old Ale House in New York City? Hell yes!
Address: 15 E 7th St, New York, NY 10003
Opening hours: Mon – Sat: 11am – 1pm, Sun: 12pm – 1am.
No reservations // CASH ONLY
Motto: "We were here before you were born".
Website: https://mcsorleysoldalehouse.nyc/
*On a side note, if you're looking for authentic Singapore/ Malaysian food in NYC, do check out Laut on 15 E 17th St!