Visit Ritual Coffee in San Fran for the perfect cortado
To me, the Ritual Coffee at Mission District in San Francisco strikes me as being at a crossroad. A crossroad between being a cool cafe serving professionals in the Bay area, and yet located on the fringes of what some would call a 'rough area'.
To get to the Espresso Bar from downtown San Francisco, we took bus number 14, which passed by some 'rough areas'. Essentially, the bus passed by and some African-Americans boarded. They refused to pay for the ride and the bus driver (a lady) got pissed off and yelled at them. There was some yelling back which was pretty unnerving for a newcomer to the city.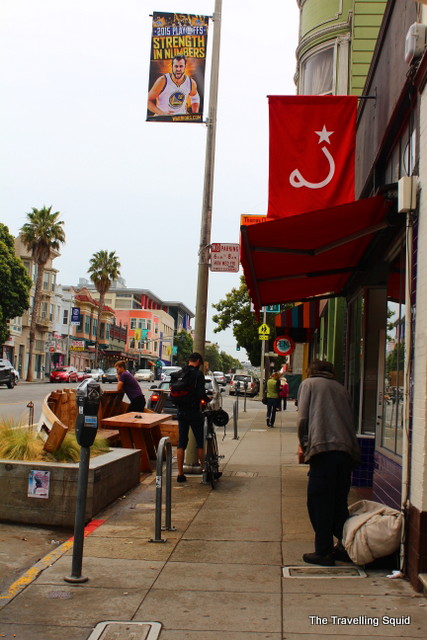 I was glad to alight when our stop arrived. Ritual Coffee at Valencia Street is a short 5 minute walk away. At the entrance, hipster bikers were on their way, after getting a quick fix from Ritual. A homeless man looked on.
As I entered, I was taken in by the decor. It was minimalist, with a nice light display. The place was very spacious and there was a little garden at the back.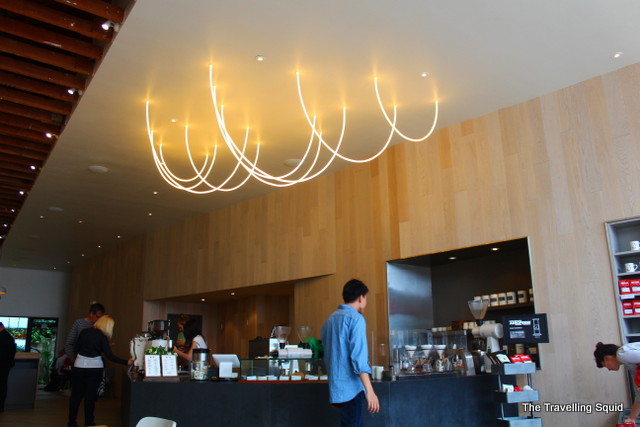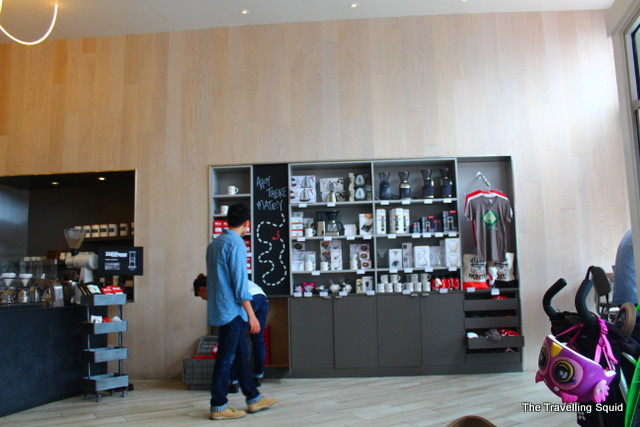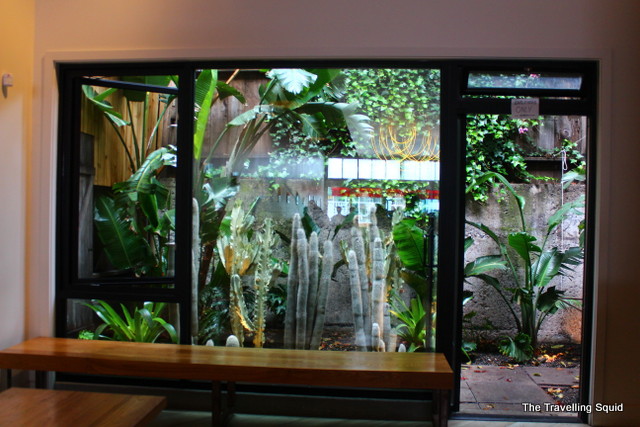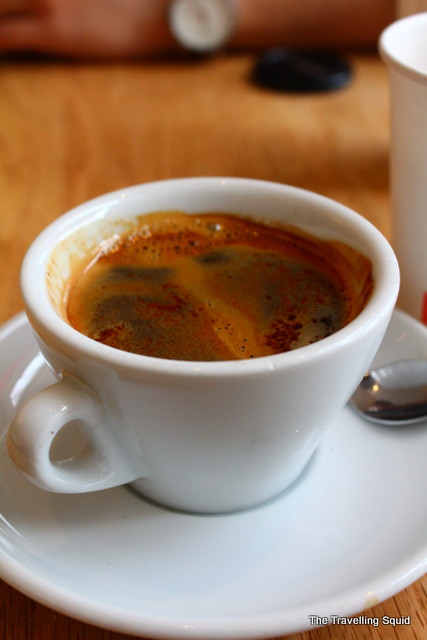 I had a long black while Friend S had a cortado. I found the long black good, though I preferred the one from Four Barrel Coffee. It's not an apple to apple comparison as Four Barrel only does double-shot long blacks, but to me, Four Barrel's Long Black was somehow creamier and more acidic. I could sense more complex flavours as well. On the other hand, Friend S was very satisfied with his cortado.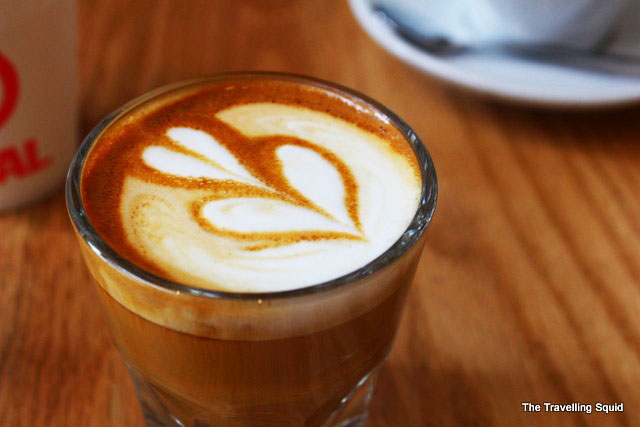 Our second order – I had a cold brew while Friend S had a pour-over. The cold brew was refreshing in the summer's heat. It was very much welcomed, especially since I didn't have much sleep the night before.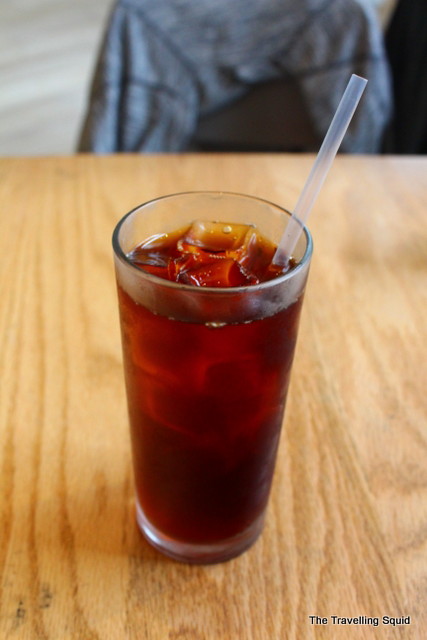 As for pricing, I didn't happen to take note, but it should be similar to that of Blue Bottle Coffee as well as Four Barrel Coffee.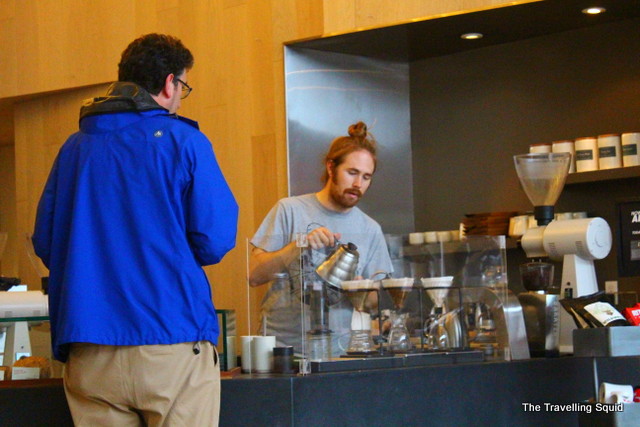 The Travelling Squid's Take
Ritual Coffee has a number of outlets in downtown San Francisco which to me, are more accessible than the Espresso Bar at Valencia St. That being said, the bar is a conducive environment to be working while having a cuppa. It's also a great place to meet like-minded people. Did I say I'm a big fan of Ritual's logo too?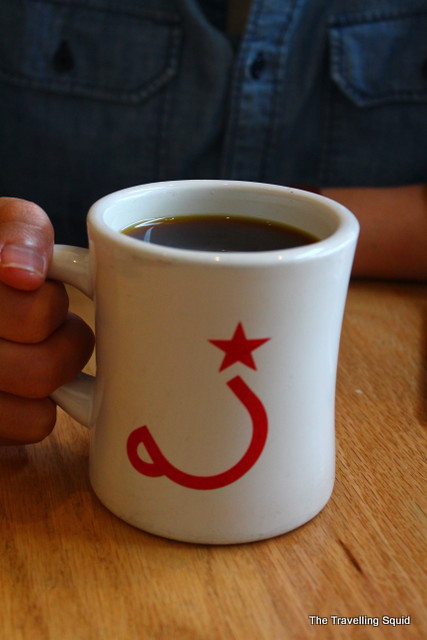 In general, Ritual Coffee provides good quality coffee across a wide range. My only gripe was that the location was a tad difficult to get to. That can be circumvented by the other outlets located at Octavia Street and even in Napa, at  the Oxbow Market which we visited previously.