Review: Coffee at Lake Side Cafe Ku in Kawaguchiko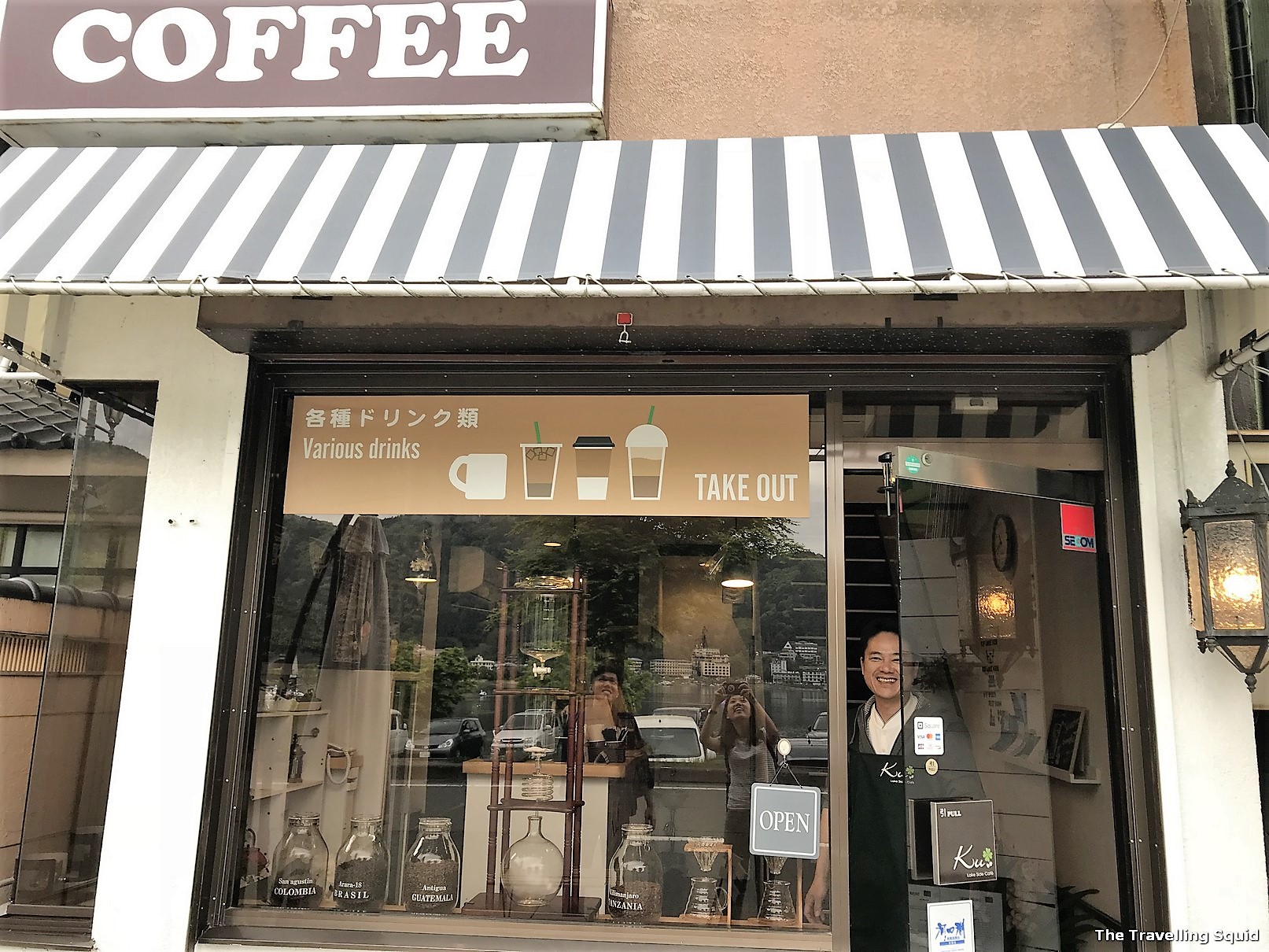 If you love coffee and are planning on staying in Kawaguchiko for a couple of days, I'd encourage you to visit Lake Side Cafe Ku in Kawaguchiko. Lucky for us, it's located right next to Hotel Konanso, and we walked past it in the evening when we were heading back to our hotel. It seemed like an interesting cafe, and we decided to check it out after a somewhat short breakfast at Hotel Konanso. Hope you find this review of Lake Side Cafe Ku useful.
The Menu
Lake Side Cafe Ku is a relatively new cafe which recently opened on 7 Mar 2018. Apart from coffee, it serves cold pressed juices (~¥580), sandwiches (¥700 for a toast with salad) and desserts (¥380 for a muffin). Click on this link for the full menu.
The Coffee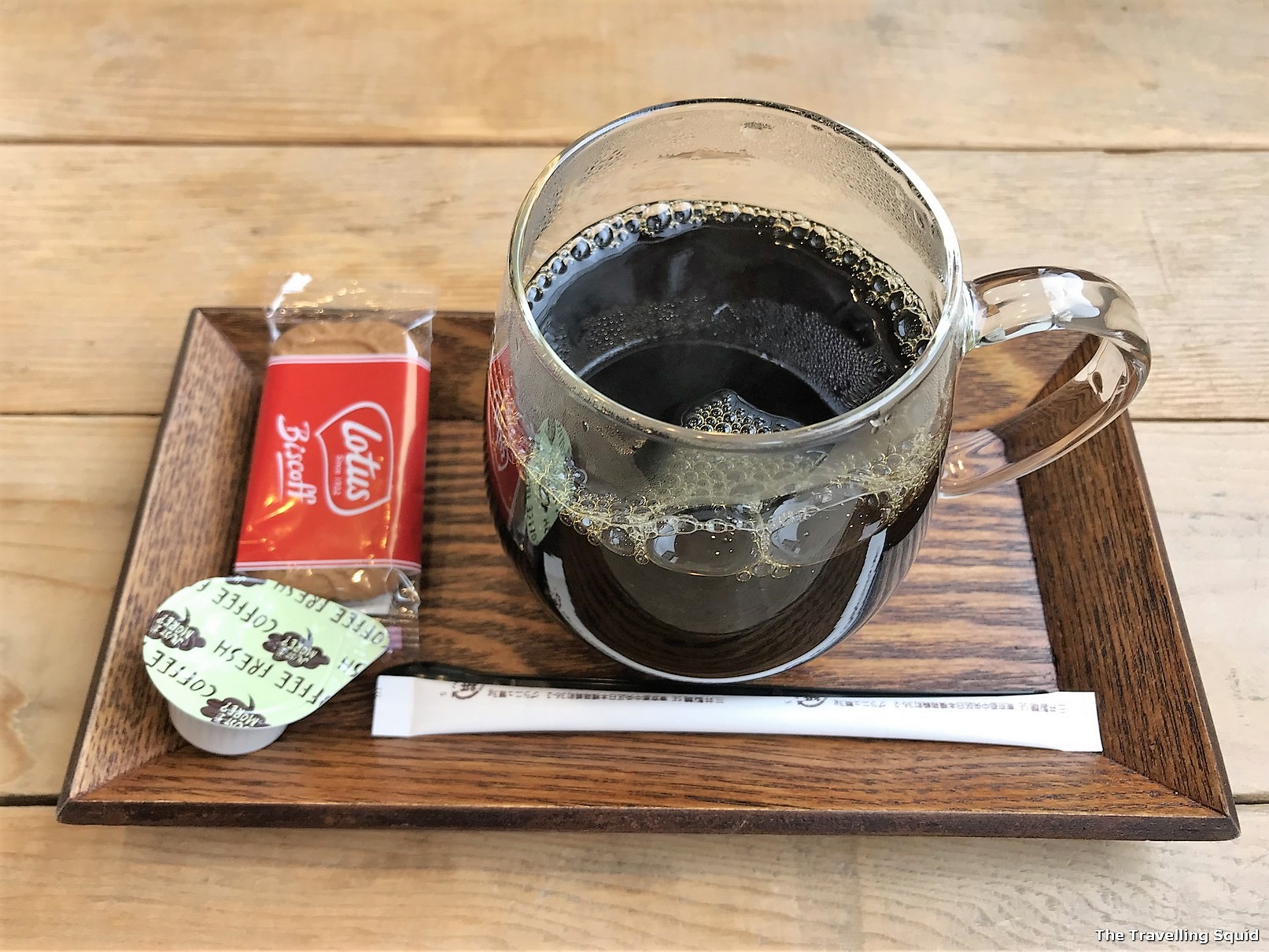 As we had breakfast earlier,  we both ordered seasonal blend coffees at ¥550/ SGD6.90/ USD5. The price is slightly more than what we would get in Singapore, but the serving of coffee is quite big. What I liked was the presentation. It came in a little heavy bottom glass cup. You could see the frothing of bubbles by the side. The Lotus cookie was a nice touch.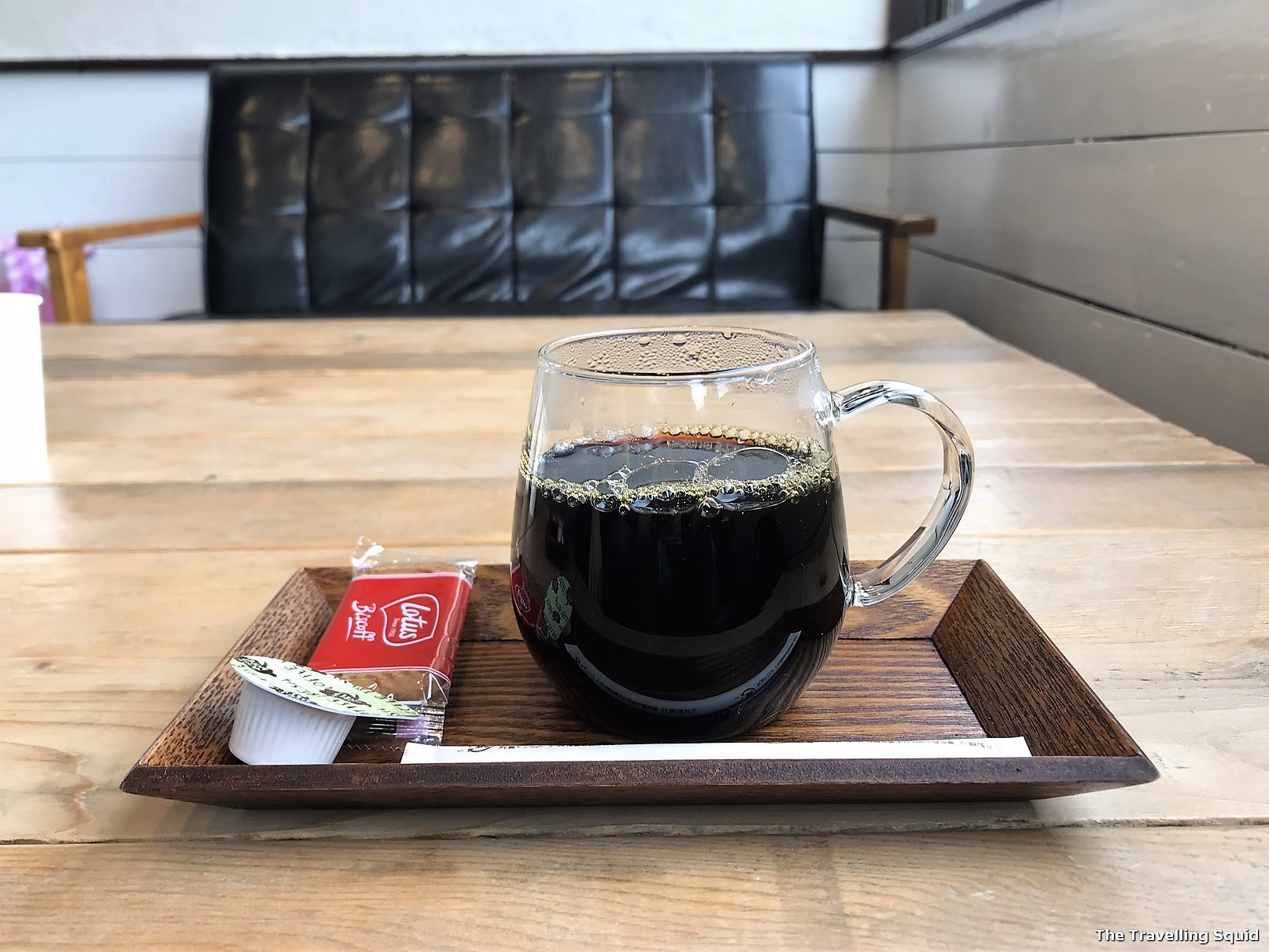 The coffee was acidic with a strong body, a flavour quite up my alley. It was the perfect perk-me-up. I felt much awake after drinking it, and yet was relaxed by the nature surroundings and comfy chairs.
The Ambience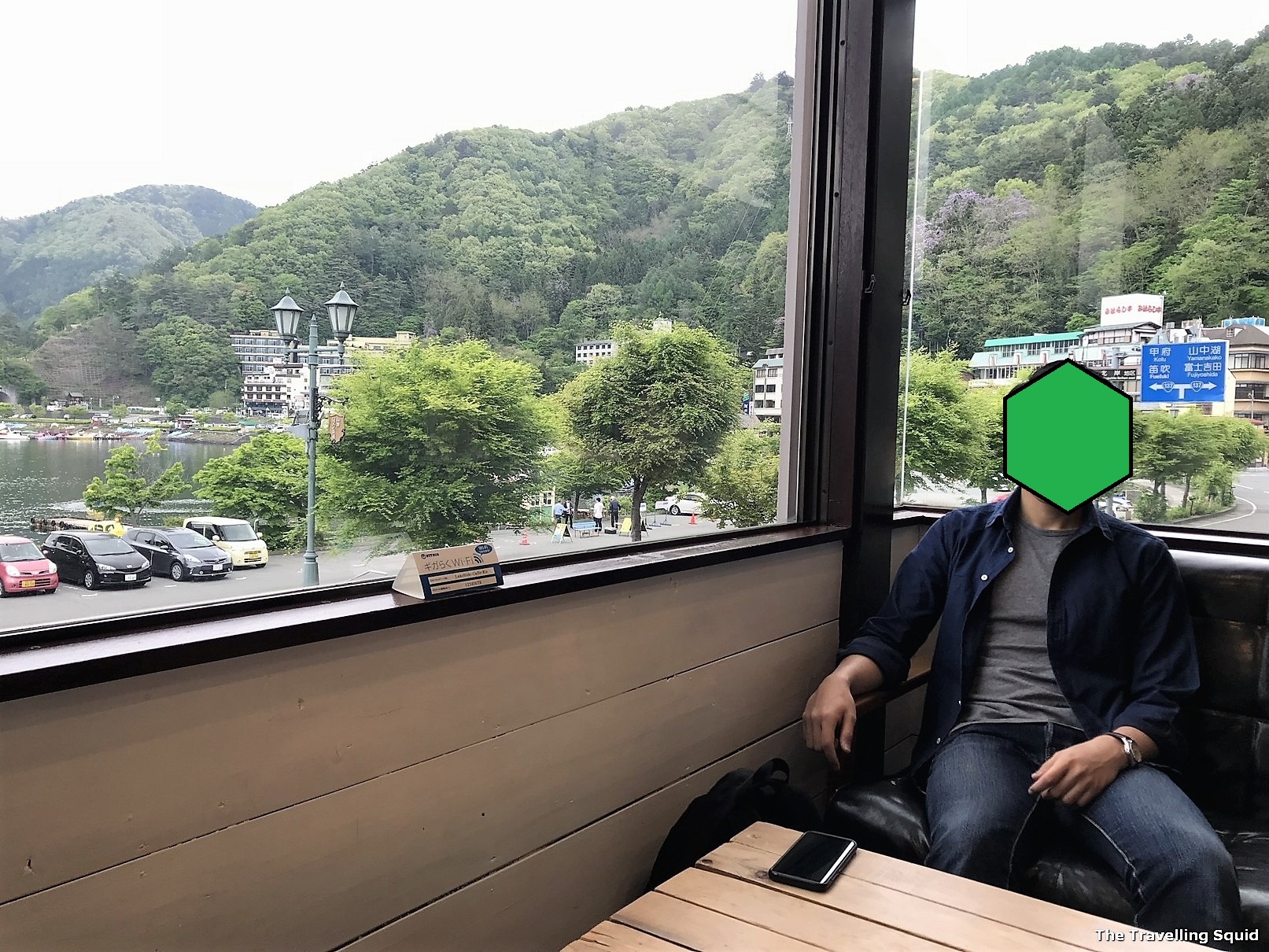 Apart from the 'plating' of the coffee cup, the design of the cafe was a draw. There were comfy faux leather chairs. The rest of the decoration was minimal – I suppose with such a nice lake side view, there wasn't a need for more.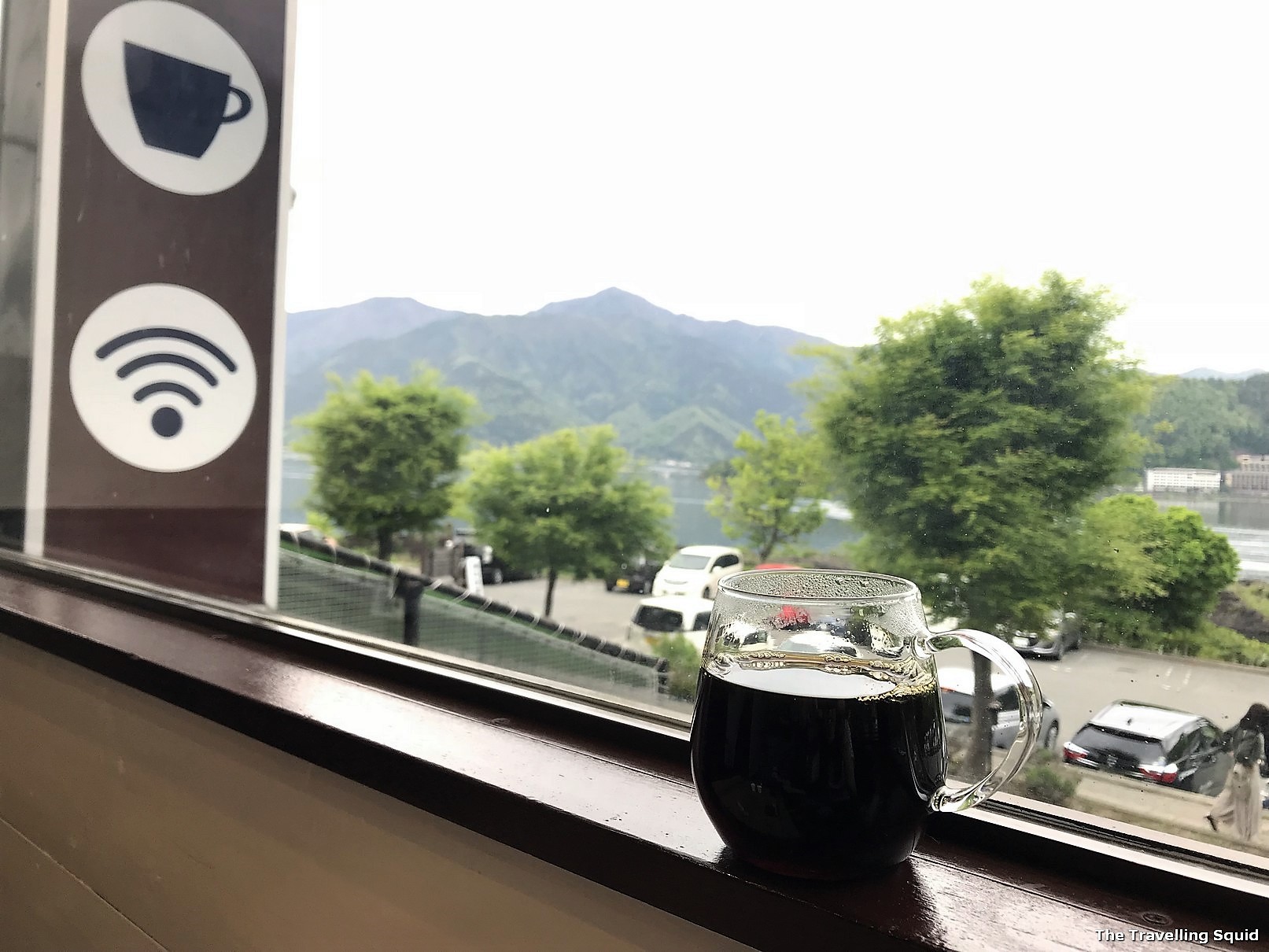 I always longed to have a beverage by the window, and this was the perfect moment.
The Travelling Squid's Take
I can't review the food or desserts served at the Lake Side Cafe Ku. All I can say is that the coffee was really  good. It was a nice moment to relax while passing time, before we took the hotel shuttle to Kawaguchiko Station. My only gripe about Kawaguchiko is time. There are just so many things to do, like dipping in an onsen, having a kaiseki meal, and taking a walk along the perimeters of Lake Kawaguchiko. There's just never enough time to do everything. But we had found a good coffee place by chance, and used the remaining time left in Kawaguchiko to savor it. As we were about to leave, the cafe owner came to bid us farewell. You can see him in the first picture. 🙂
If you're in the area, do have some coffee at Lake Side Cafe Ku in Kawaguchiko.
***
Coffee at Lake Side Cafe Ku in Kawaguchiko
Japanese name: レイクサイドカフェ クゥ
Address: Japan, 〒401-0301 Yamanashi-ken, Minamitsuru-gun, Fujikawaguchiko-machi, Funatsu, 4014−5
Tel: +81 555-25-6210
Opening hours: 9am – 8pm
Website: http://cafe-ku.jp/ (There isn't an English page but you can easily do a Google Translate via Chrome)