Recommended: Visit El Vin Del Paron for affordable wine in Venice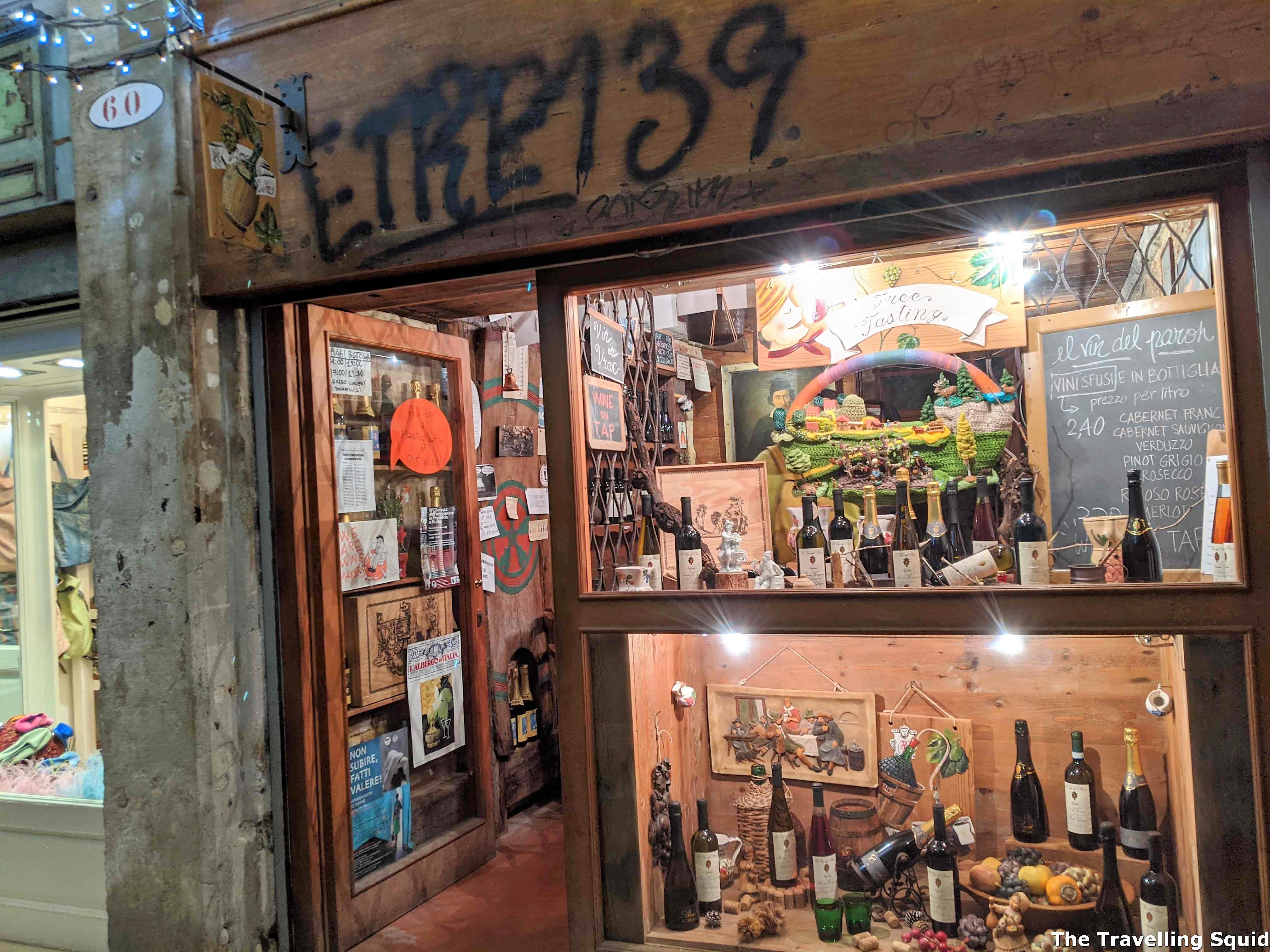 If you're looking to try fresh, simple Italian wine, do visit El Vin Del Paron for affordable wine in Venice. It was by far the cheapest wine place we had visited in Italy, and the wine was smooth and pleasant. If you're hosting a big group of people or a large party, it's the kind of wine you could bring out after serving your best bottles (wink*). Here's why you should visit El Vin Del Paron for affordable wine in Venice.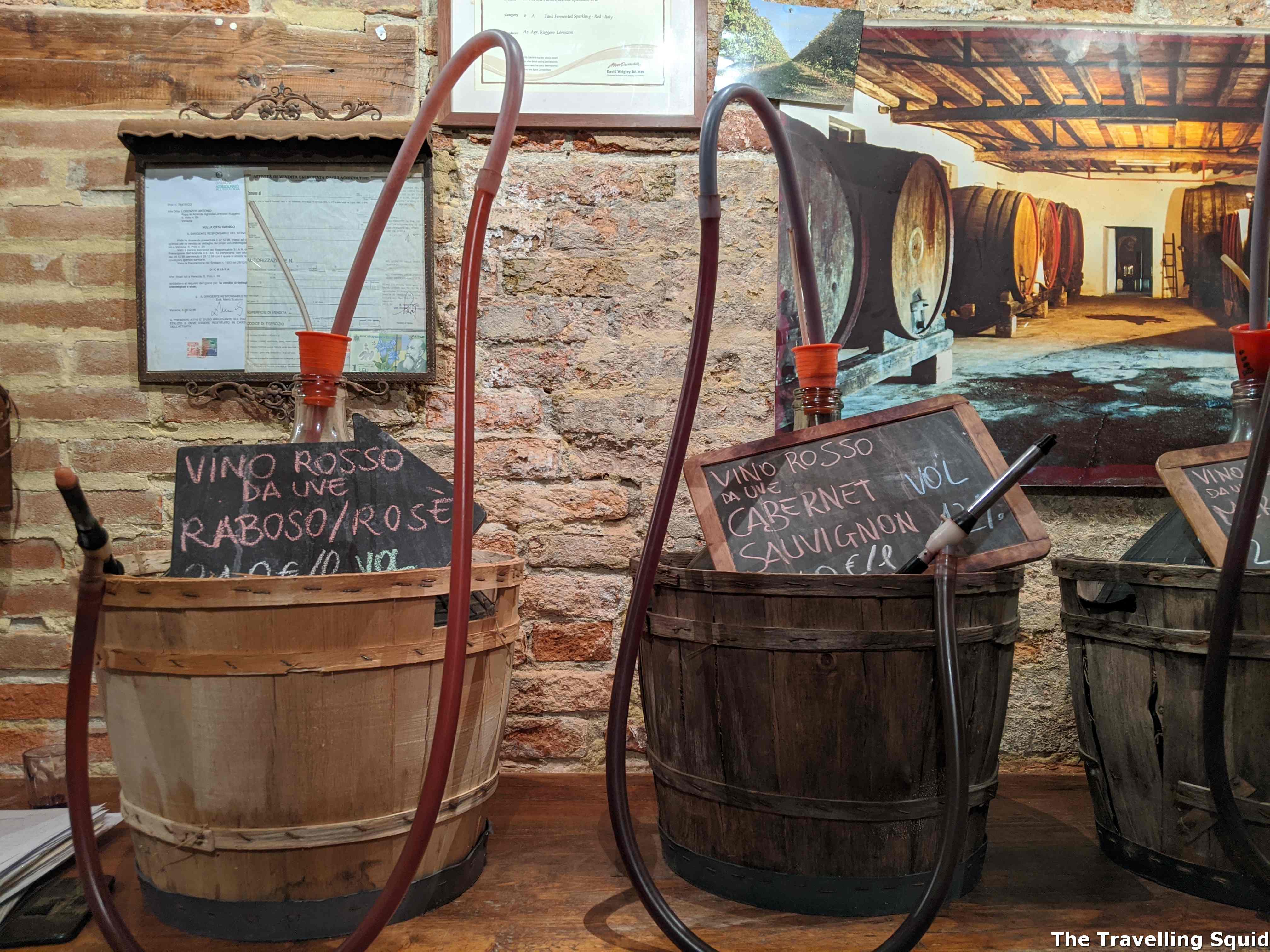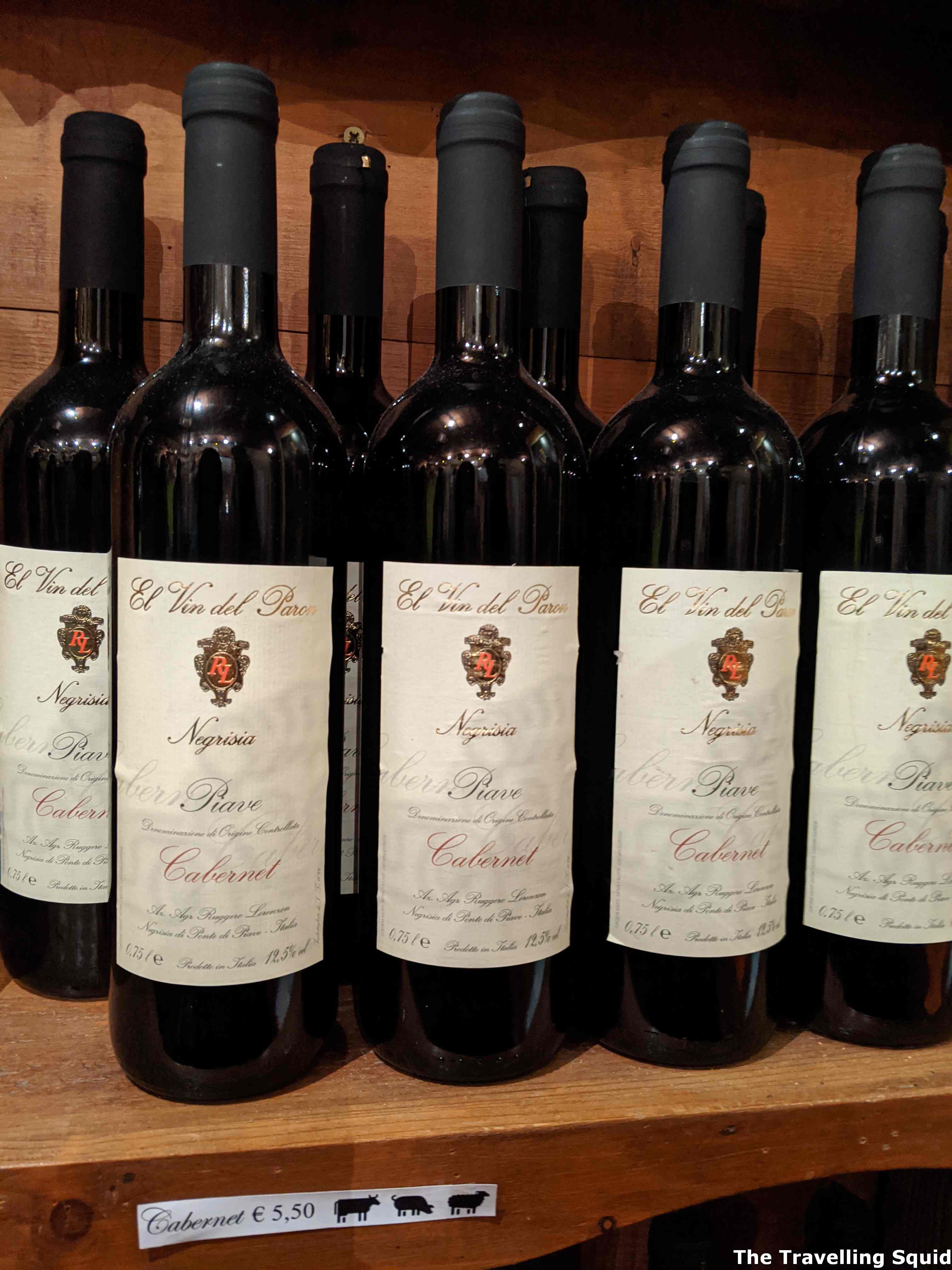 Visit El Vin Del Paron for affordable wine in Venice
We came across El Vin Del Paron by chance, while we were walking around the shopping area opposite the Rialto ferry station, waiting for the Al Merca Wine Bar to open. It was a cute little shop (with no signboard) and we noticed that wine was sold in wooden bucket like structures, which was interesting. They were also very affordable, with the wine going at €2.40 per litre if you were to bring your own bottle. The shop also had recycled mineral water bottles by the side, for customers who wanted wine by the litre. The wine in the glass bottles was priced at €5.50, the price of wine sold per serving at some of the restaurants we visited!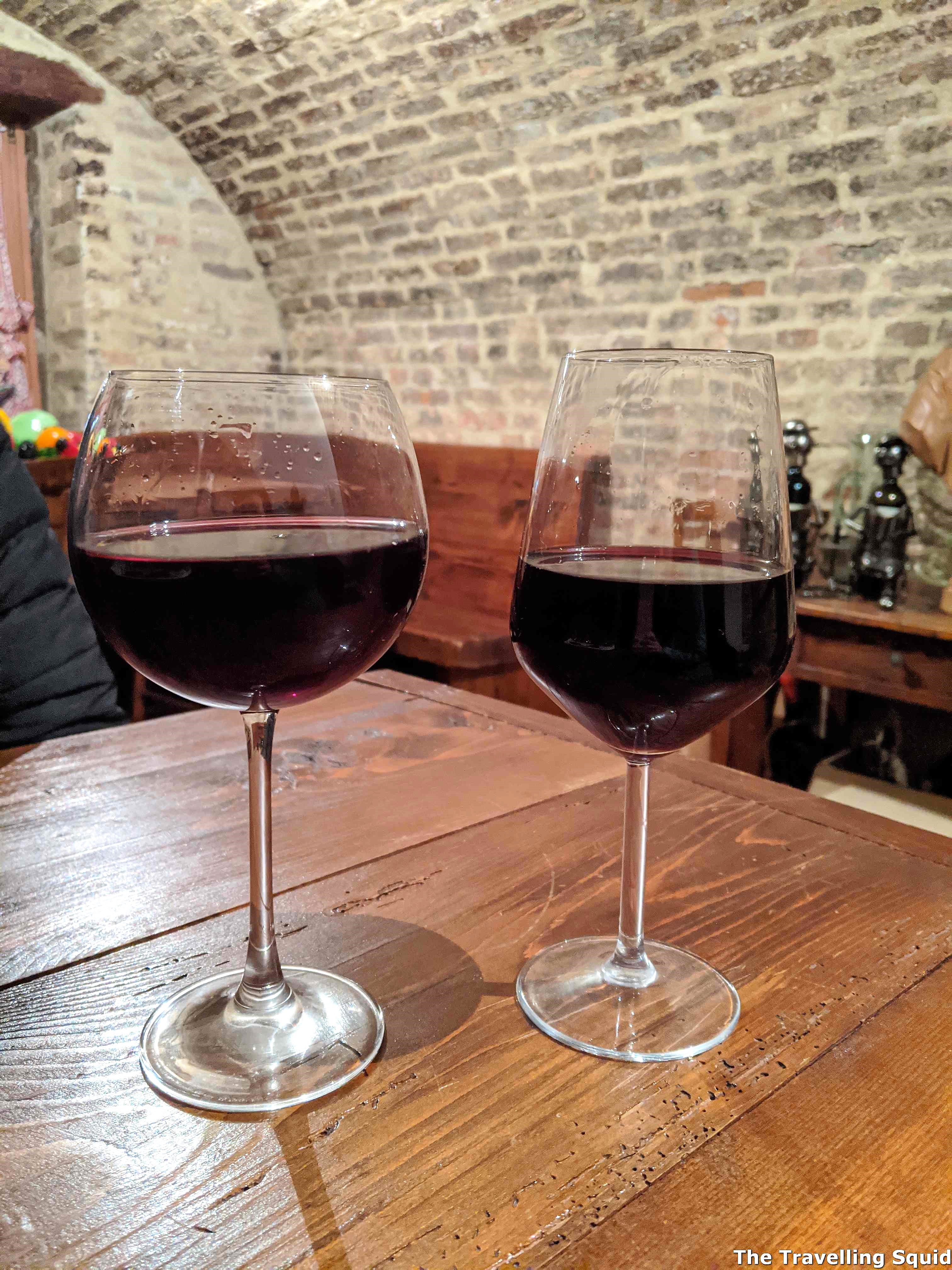 The shop's staff asked if we would like a taste – he poured us a hearty portion, at least one serving's worth of wine. After trying it, we thought it was good and decided to try their Merlot and Carbnet Sauvignon. The wine tasting cost us €2 per person, and the staff poured us a generous portion – about two serving's worth of wine to try. The shop also had a little room upstairs for you to sit and try the wine – I can imagine it would be fun to go with friends (and maybe bring your own cheese).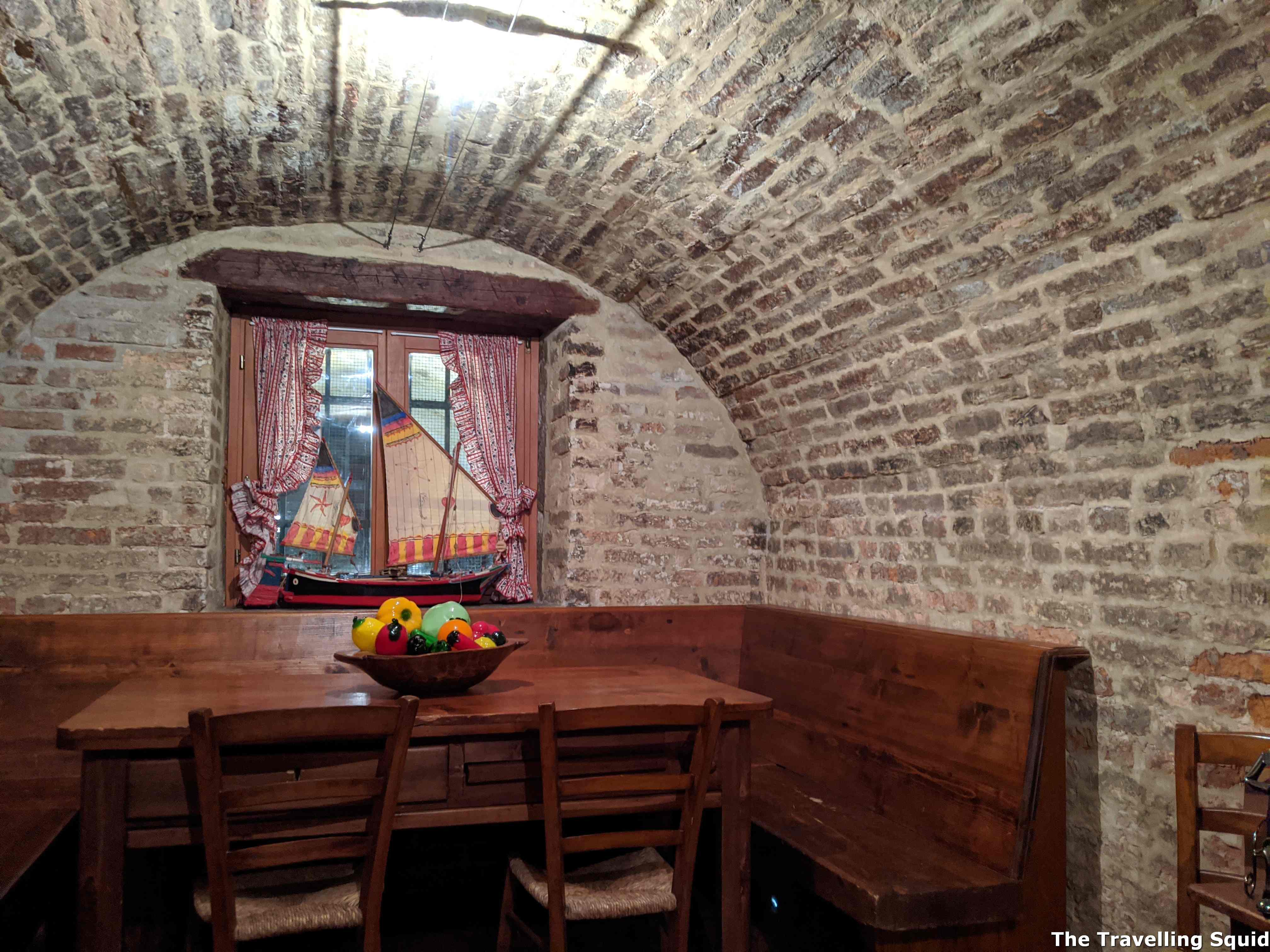 Here are some tasting notes of the wine from El Vin Del Paron, by S:
Cabernet Sauvignon – Seemed unoaked (no woody flavour), hardly any tannins despite being a young cabernet. Very short finish, extremely fruit forward and easy drinking.
Merlot – Fruit forward but less so than the Cabernet with more herbal notes.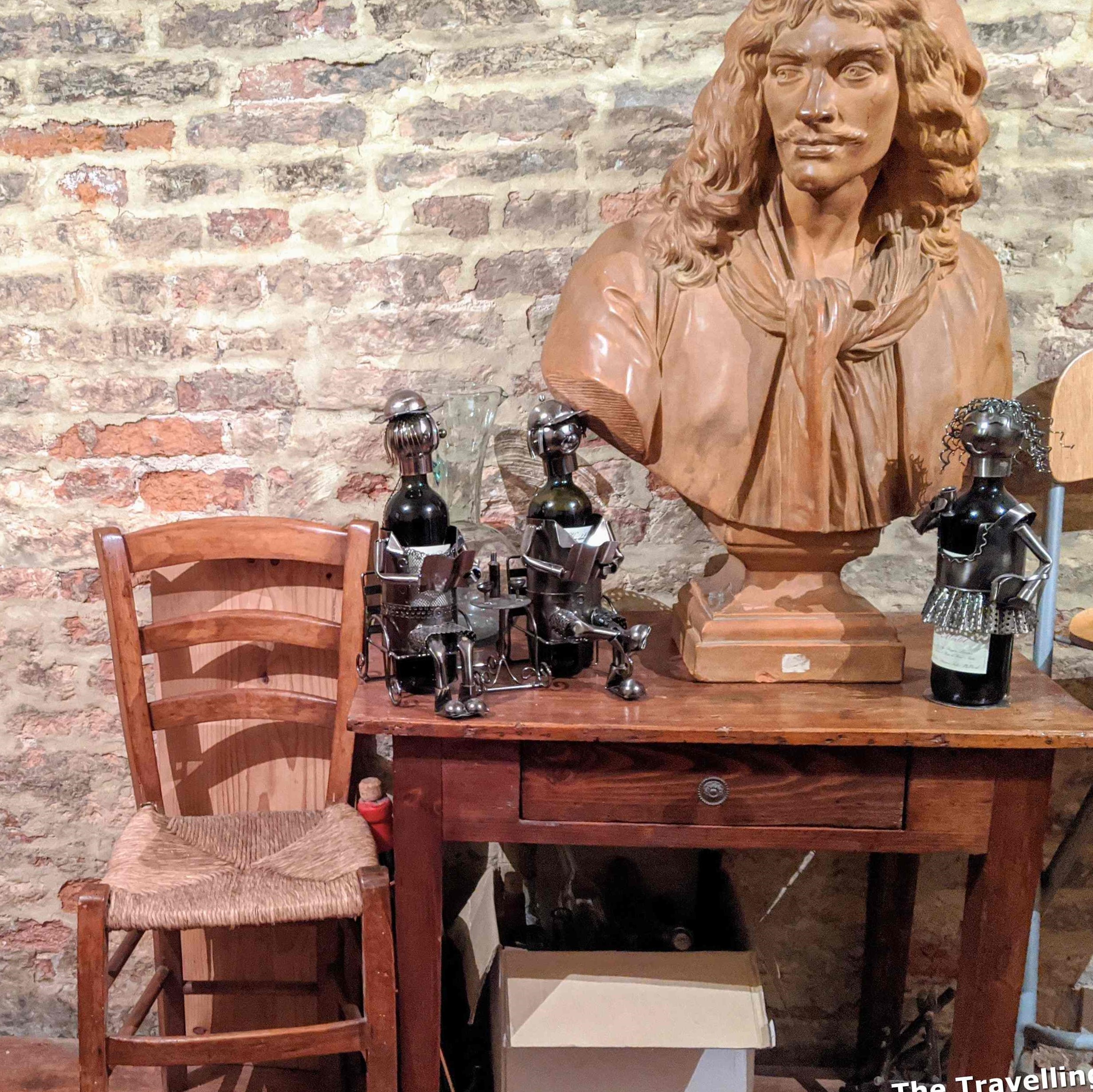 If you were to bring your own bottle, the wine has to be drunk in a week, and for those in a bottle, it has to be drunk in a month. It probably has little preservatives such as sulphites.
The staff shared with us that the wines were sold on a wine exchange and it was very competitive. What the company is famous for is actually making red wine prosecco, and is one out of two producers in Italy to do so. If you're wondering if the shop had any business, the answer is yes – three locals stopped by the shop while we were there, asking the staff to refill their plastic containers. El Vin Del Paron is probably a good wine to have each day with a meal, or to be used for cooking.
The Travelling Squid's Take
I typically tend to get a hangover from drinking too much wine, but I was pretty clear-headed the next morning. Perhaps, this is a sign that the wine does not have that much preservatives. Just for reference Vivino users rate its Pinot Grigio at 3.5/5, which is a pretty decent rating for its price. Most people do not head to Venice to buy wine, but if you're there, why not check out El Vin Del Paron. I was also impressed because this shop kick-started our journey of 'Never having a bad wine in Italy'.
***
Visit El Vin Del Paron for affordable wine in Venice
Address: Campiello Rialto Nuovo, 516, 30125 Venezia VE, Italy (3 min walk from the Rialto bridge) and the Hotel Riva Del Vin
Opening hours: 11am – 1pm, 5pm – 7.30pm, closed on Sundays and Mondays