Recommended: Have Cicchetti at Ostaria dai Zemei in Venice
In an earlier post, I mentioned that Hotel Riva Del Vin was located in a great location because of the number of good bars and restaurants it was located at. Apart from the Al Merca Wine Bar which served pretty complex Italian wines, and El Vin Del Paron which served pleasant chuggable wines, we were pleased to find Ostaria dai Zemei near our hotel too. The restaurant sold cicchetti (small bites unique to Venice), similar to the Spanish version of tapas. Specifically, Ostaria dai Zemei sells crostini, which comprises toasted bread slices with all sorts of toppings on it, including meat, vegetables, cheese and egg. We loved the place so much that we had it for dinner and lunch the next day. Here's our experience having Cicchetti at Ostaria dai Zemei in Venice.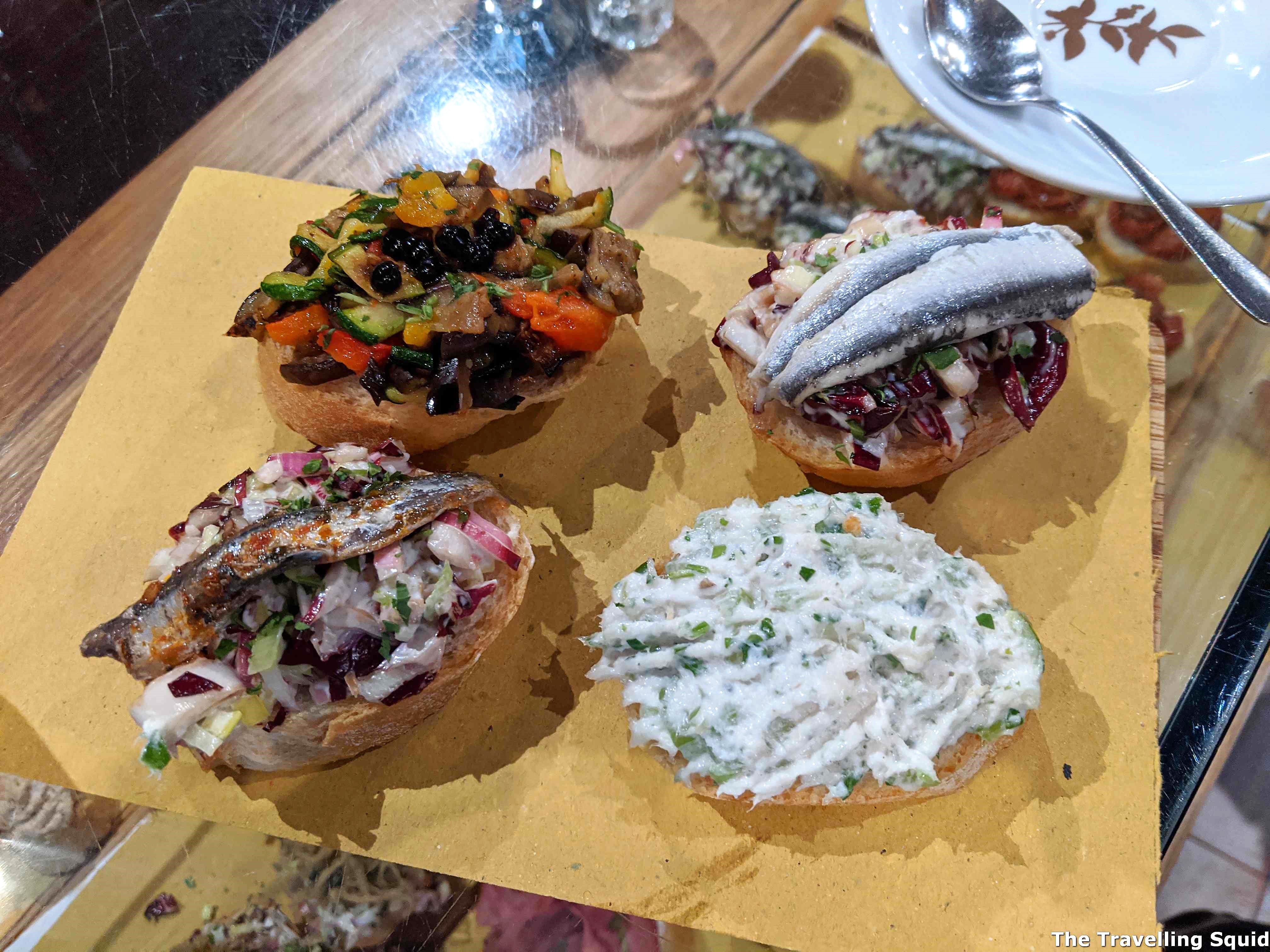 Having Cicchetti at Ostaria dai Zemei in Venice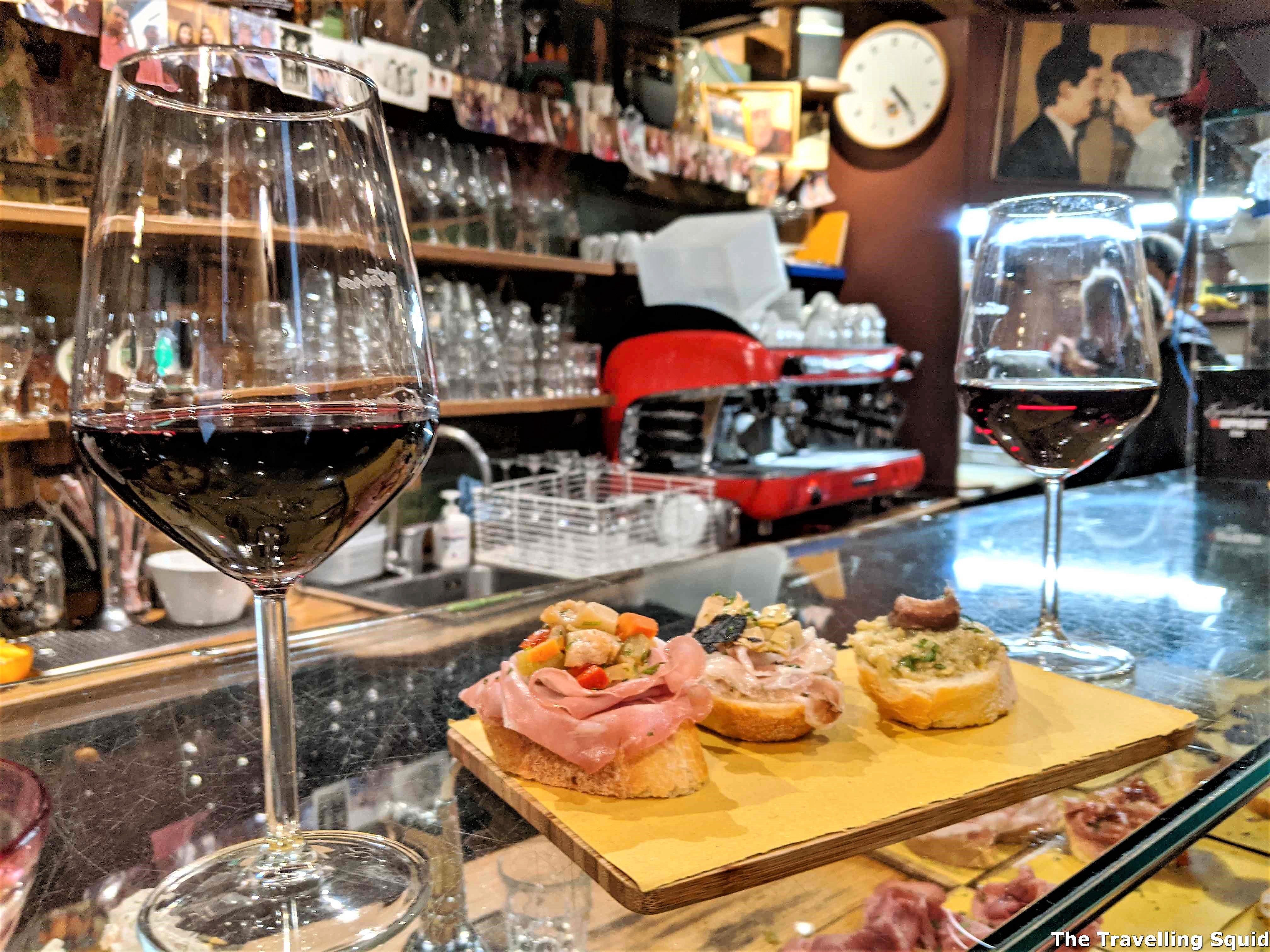 We first came across Ostaria dai Zemei while looking for a late afternoon snack at about 4pm. It's Google reviews were very good and the restaurant was less than a 5-minute walk from our Hotel Riva Del Vin. When we visited at about 4pm that day, the bar was somewhat full but we managed to find a space at the corner. We also ordered two glasses of wine to go with our crostini.
Pricing – it's cheaper if you eat at the bar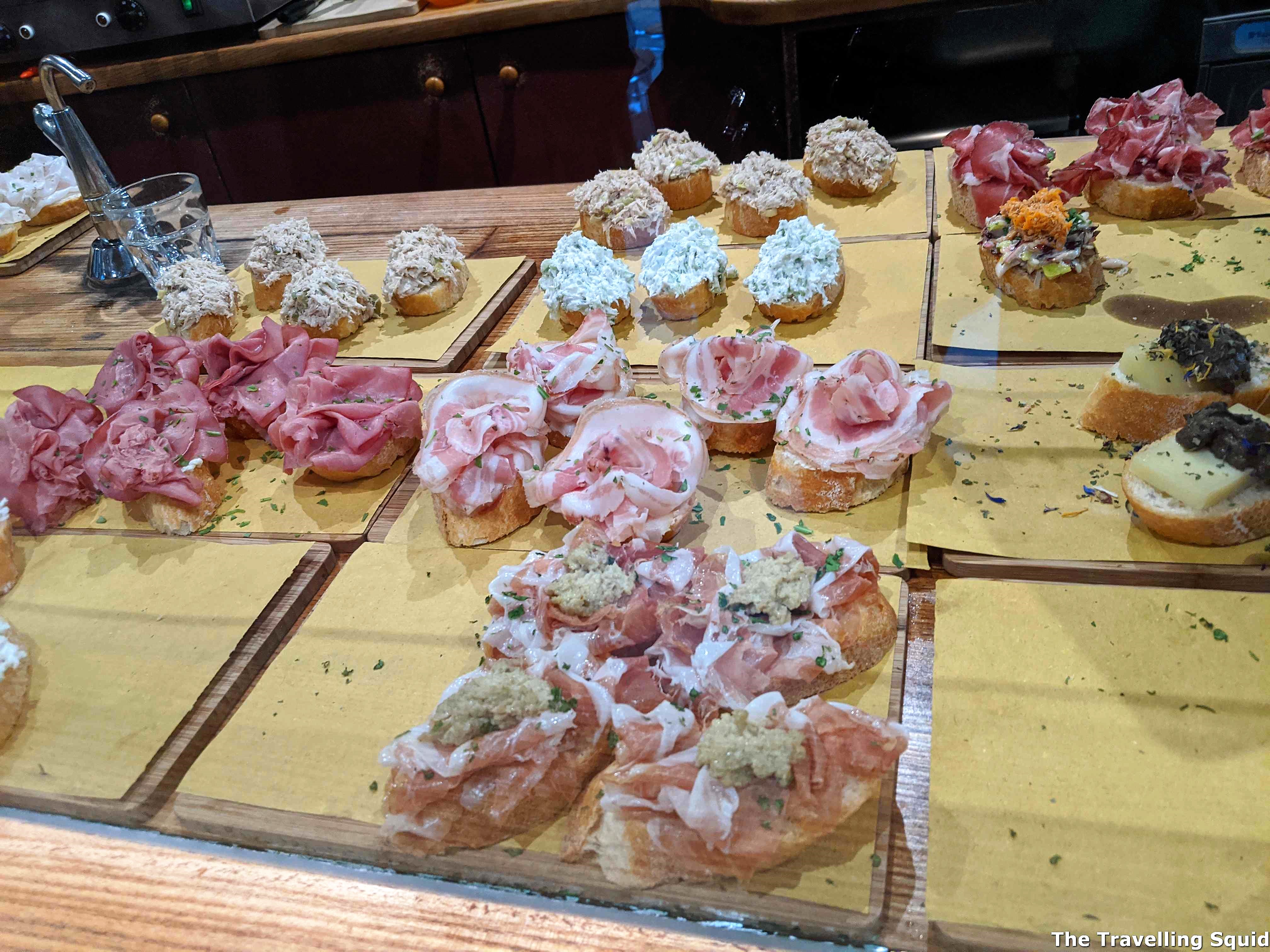 Similar to tapas bars in Spain, it cost more to eat while seated at a table than standing at the bar. Each crostino cost €1.80 at a bar and €2 while seated, while the crostino baccala (a dry salted cod fish) was €2 and €2.30 at the bar. Most people opted for the bar option as the seats were outside the restaurant and it was quite cold outside.
What should you order?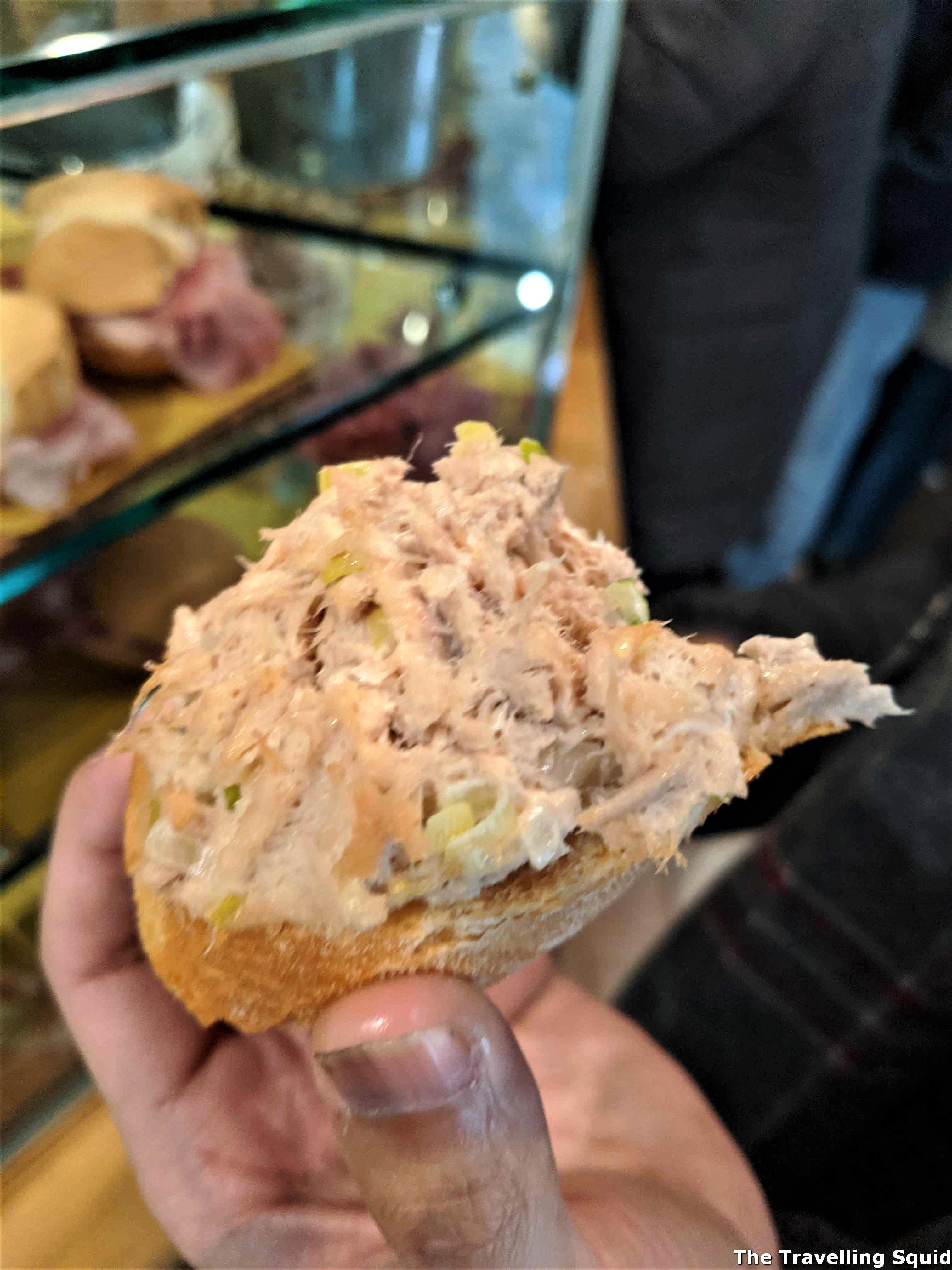 It really depends from person to person – but I strongly encourage you to try the baccala (dried salted cod) crostini. Unlike the salted cod which I tried in Portugal which was super salty, the baccala cream crostini was just nice, mixed with cream, garlic and olive oil. It was most delicious.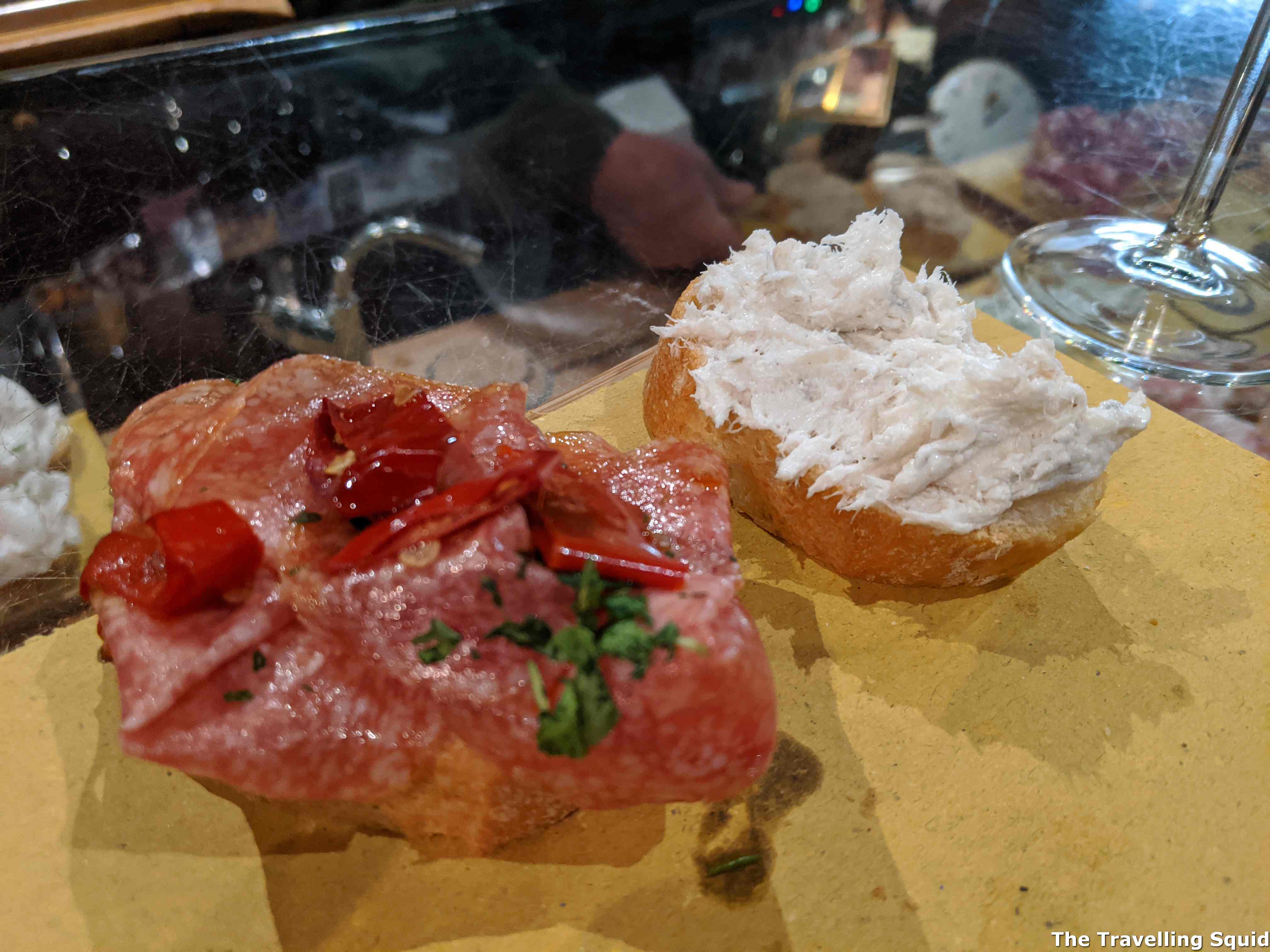 We were warned about the chili pepper, but thought that having an Asian palate could help us navigate the spice. It turns out the chili was incredibly spicy and S needed a glass of white wine to neutralise the spice.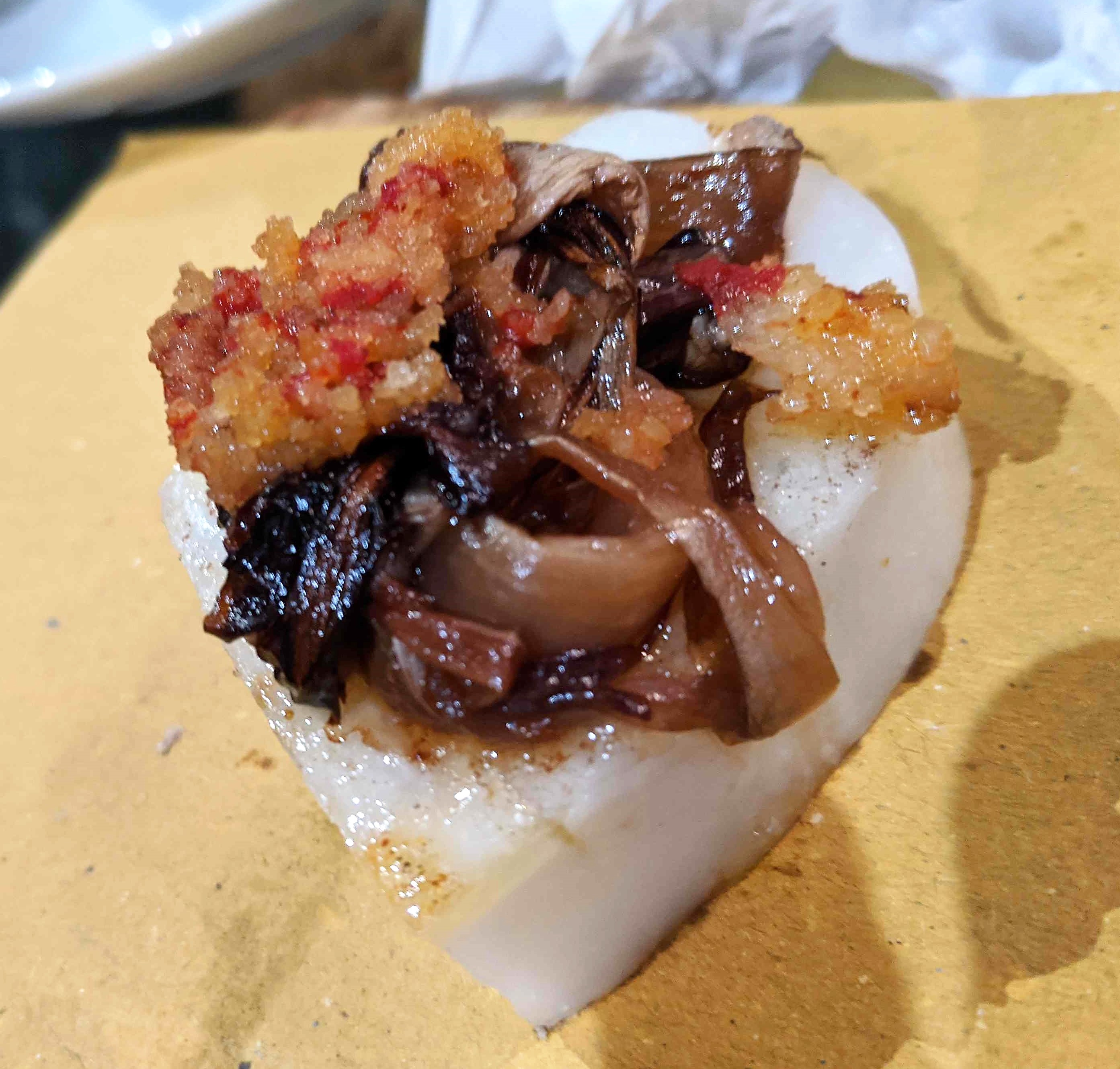 We also tried the polenta crostini with mushrooms – to be honest, I preferred it on bread. The base (which I think is polenta) tasted like a Chinese steamed rice cake (chwee kueh). I preferred the topping on bread instead as it was more chewy and had more texture.
The Travelling Squid's Take
Fresh ingredients and a simple, straightforward cooking style defined Italian food everywhere we ate at. Having cicchetti at Ostaria dai Zemei in Venice was no different. What I really liked about the restaurant was its friendly atmosphere too. It was the owner's birthday and he went about giving toasts to all customers. It didn't matter than we look Asian and were tourists. He toasted us all the same.
***
Have Cicchetti at Ostaria dai Zemei in Venice
Address: San Polo 1045, b, 30125 Venezia VE, Italy
Tel: +39 041 520 8596
Opening hours: 8.30am – 8.30pm (closes at 7pm on Sunday)/ Closed on Tuesdays