Seven great stops along the Lisbon Tram 28 Route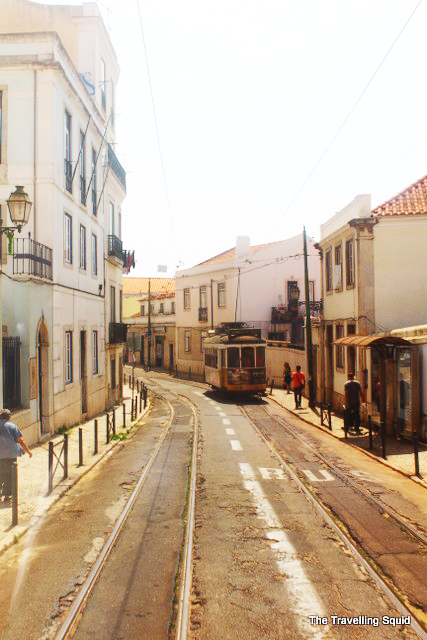 Tram 28, the whimsical little yellow tram is a rather interesting little mobile centrepiece of Lisbon. Despite its reputation for being a tad touristy, a ride on Tram 28 brings you back in time, as you traverse Lisbon's rolling cobble-stone streets on the wooden tram with its signature ringing bell.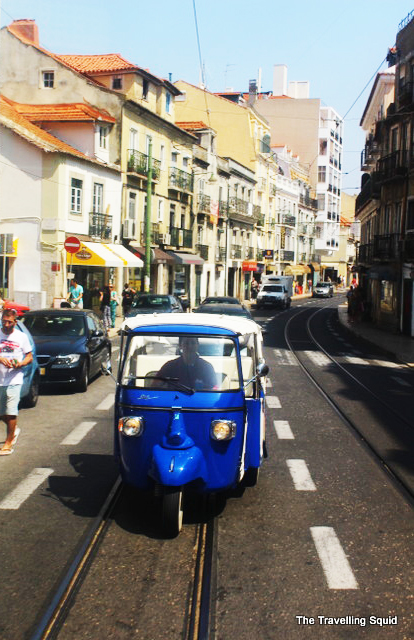 The experience aside, Tram 28 brings you to some very important sights in Lisbon. Unless you're keen on toning those calf muscles by hiking up the meandering slopes, it's a relatively faster way to get to these attractions.
It costs approximately €2 for a one way ticket. Therefore, it's much more worth it to get the 24hr pass for €6. You can use it for the metro and buses too.
The stops along the Lisbon Tram 28 Route have a certain allure and charm about them. If you have the time, take the chance to explore every one of them – you may find some hidden gems.
For those looking at when to get on and off, the full list of tram stops have been included at the back of this post.
Here are seven great stops along the Lisbon Tram 28 Route, which you absolutely have to check out if you have the time.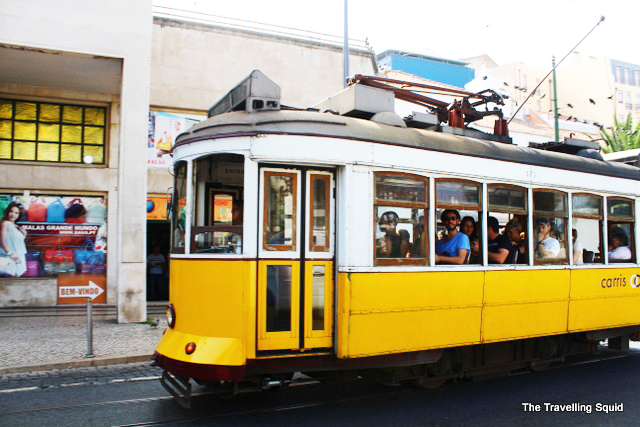 1. Waiting to depart at Martin Moniz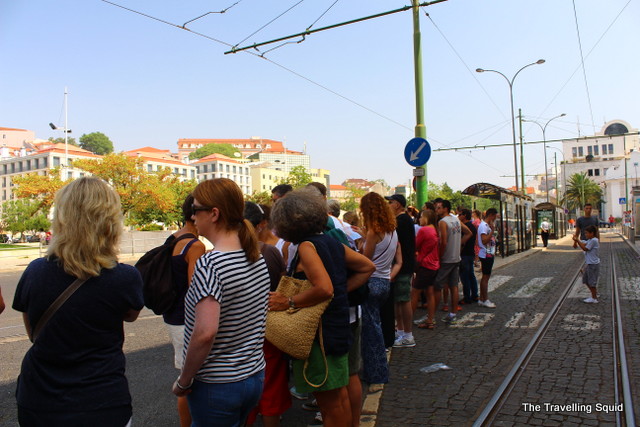 You can get to the iconic tram's starting point quite easily, as Martim Moniz has its own station on the Green Line of the Lisbon Metro. The station is located at the Martim Moniz Square.
If you're planning just a day trip in Lisbon, a taxi from the airport could get you there early (left luggage is available at the airport).
When we arrived at Martin Moniz at 10.30am on a Sunday morning, a long queue had already formed. We waited for about 45 minutes before we boarded the third tram. Each tram can fit about 30 people. There were trams which were parked nearby. They appeared to be following a strict schedule. Even though they were available, they continued to be parked at the specific area and only set off after 15 minute intervals. Therefore, be prepared to Wait.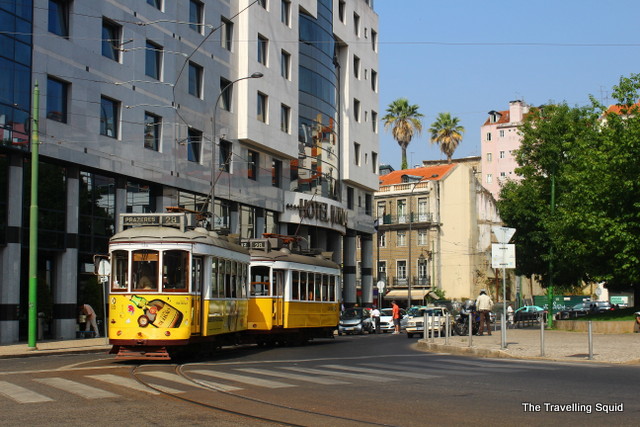 2. Graça – Miradoura Da Graça (Viewpoint)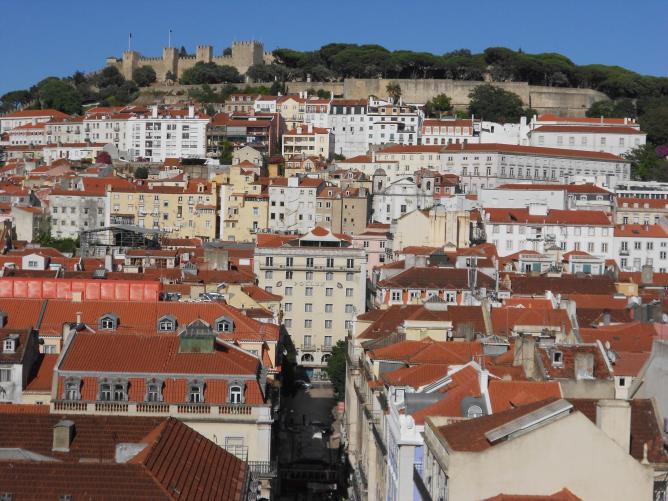 For great views of brown Lisbon rooftops, you may wish to stop at Graça. Take note that this is the 9th stop, instead of the one in front of it, Rua de Graça. According to reviews on Tripadvisor, it has stunning views and a nice outdoor cafe to take in the city. Makes a great place for capturing Lisbon from afar.
3. Portas Sol (Alfama District) – Gate to the Sun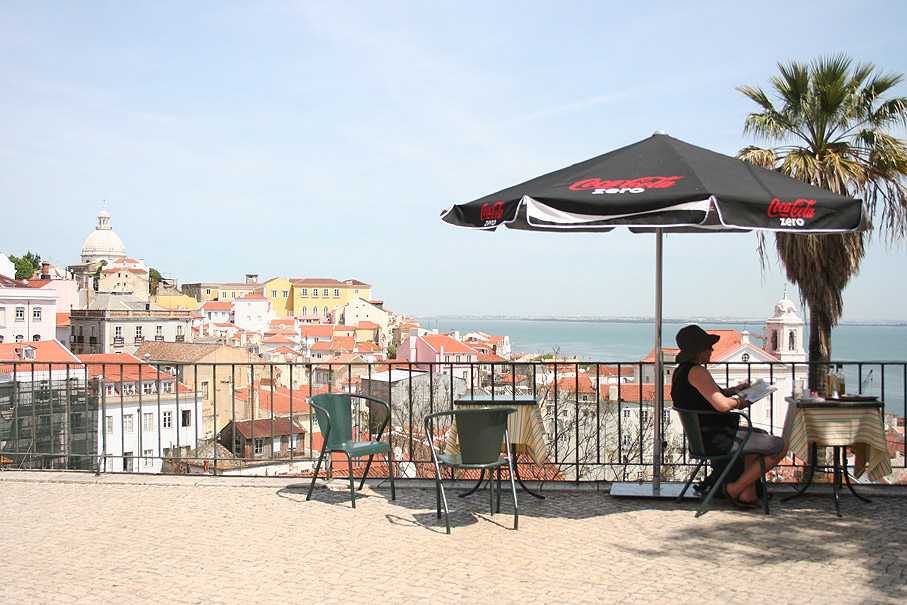 For the non-Portuguese speaking, the stop 'Portas do Sol' means Gates to the Sun. Similar to Miradoura Da Graça, it serves as a great viewpoint of the city, and comes with a coffee bar and restaurant.
The views overlook the Alfama rooftop and Tagus River. According to The Lisbon Connection, it makes a great chillout place once you have completed your visit of São Jorge Castle.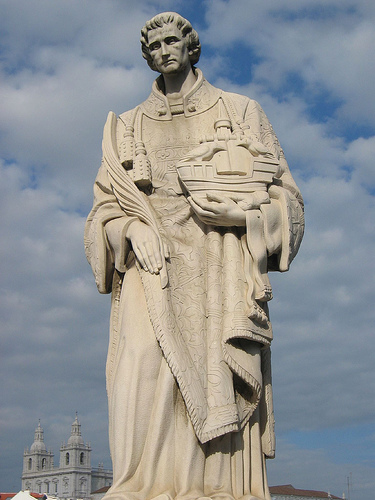 When you're there, do lookout for the Statue of São (Saint) Vincent. He is holding a boat with two ravens, the symbols of Lisbon. Saint Vincent is also the patron saint of Lisbon. (In case you, like me needs the definition of a patron Saint, it means 'the protecting Saint of a place').
With credits: The Lisbon Connection 
4. Sé – Lisbon Cathedral/ Santo António Church and Castelo de São Jorge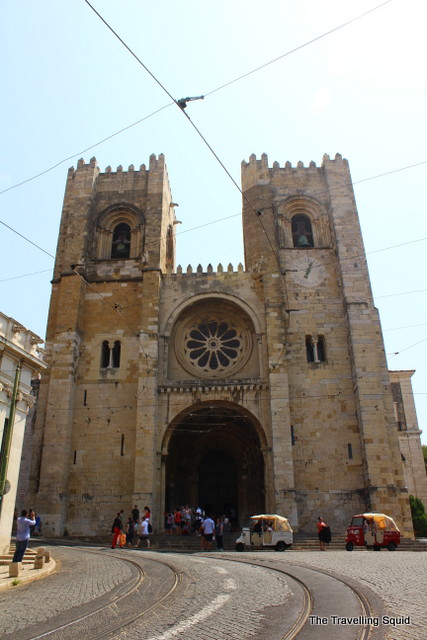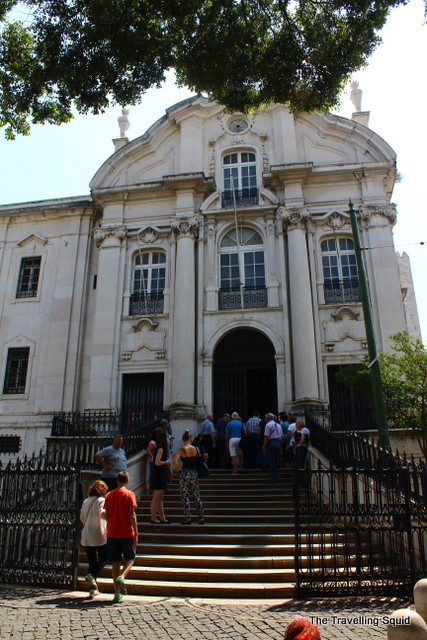 From the Sé stop, you can visit the Santo António Church, which is a 30 second walk away. Most people stop here and walk over to Castelo de São Jorge. It's a 10 minute walk. A post on how to get there is coming up soon. The road is formed by undulated slopes, so be sure to wear comfy shoes!
5. Chiado (Metro)
According to 10best.com, Chiado is the elegant neighbour of Baixa (downtown Lisbon). Home to several upscale restaurants, bookshops, boutique stores and hotels, Chiado allows you to wonder along leisurely, before taking the metro to your next destination. For more information on Chiado, Go Lisbon has an extensive write-up on the sights and food there.
6. Estrela (Basílica) – Estrela Park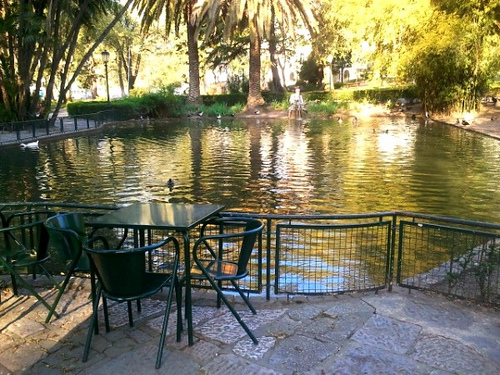 If you're into parks and gardens, the Estrela Park is one of the best in Lisbon. According to Go Lisbon, it's a favourite with families. There are exotic plants and trees, a small duck-dotted lake, various sculptures and a children's playground. The pond-side cafe is a good place for a break.
With credits: Go Lisbon
7. Campo Ourique (Prazeres) – Cemetery of Pleasures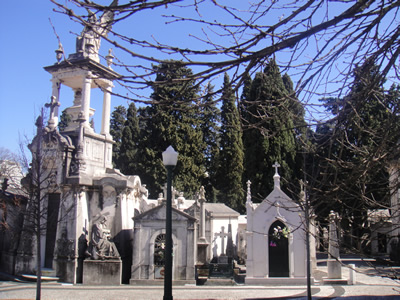 If you're spending a few weeks in Lisbon (and are really into Portuguese history and culture), the Cemetery of Pleasures would be an ideal place to visit. The cemetery is home to famous Portuguese personalities including actors, singers, writers, painters and television presenters. Unfortunately for fans of fado (a genre of Portuguese music), the mortal remains of famous music artiste Amália Rodrigues were transferred to the National Pantheon in Lisbon (under enormous pressure from her admirers). You can visit The Lisbon Connection for more information and pictures.
* * *
Hope you enjoyed the seven great stops along the Lisbon Tram 28 Route. Please drop a comment on your experiences visiting them. As promised, the list of tram stops have been included here below. Have fun!
* * *
List of tram stops along the Lisbon Tram 28 Route
Source: Carris.pt
Martim Moniz

Palma (Metro)
Igreja Anjos
Maria Andrade
Maria Fonte
Angelina Vidal
Sapadores
R. Graça

Graça – Graca Church/ Miradoura Da Graca (Viewpoint)

Voz Operário
Cç. S. Vicente
Escolas Gerais

Portas Sol (Alfama District)

Miradouro Sta. Luzia
Limoeiro

Sé – Santo António Church/ Castelo de São Jorge

Conceição
Academia Nacional Belas Artes
Vitor Cordon / R. Serpa Pinto

Chiado (Metro)

Pç. Luis Camões (Metro)
Calhariz (Bica)
Catarina
Cç. Combro
Poiais S. Bento
S. Bento / Cç. Estrela
Cç. Estrela / R. Borges Carneiro
Cç. Estrela / R. Dr. Teófilo Braga

Estrela (Basílica)

Estrela – R. Domingos Sequeira
Domingos Sequeira
Saraiva Carvalho
Igreja Sto. Condestável

Campo Ourique (Prazeres)