Must visit: The Soul Kitchen Beach Bar and Restaurant in Hoi An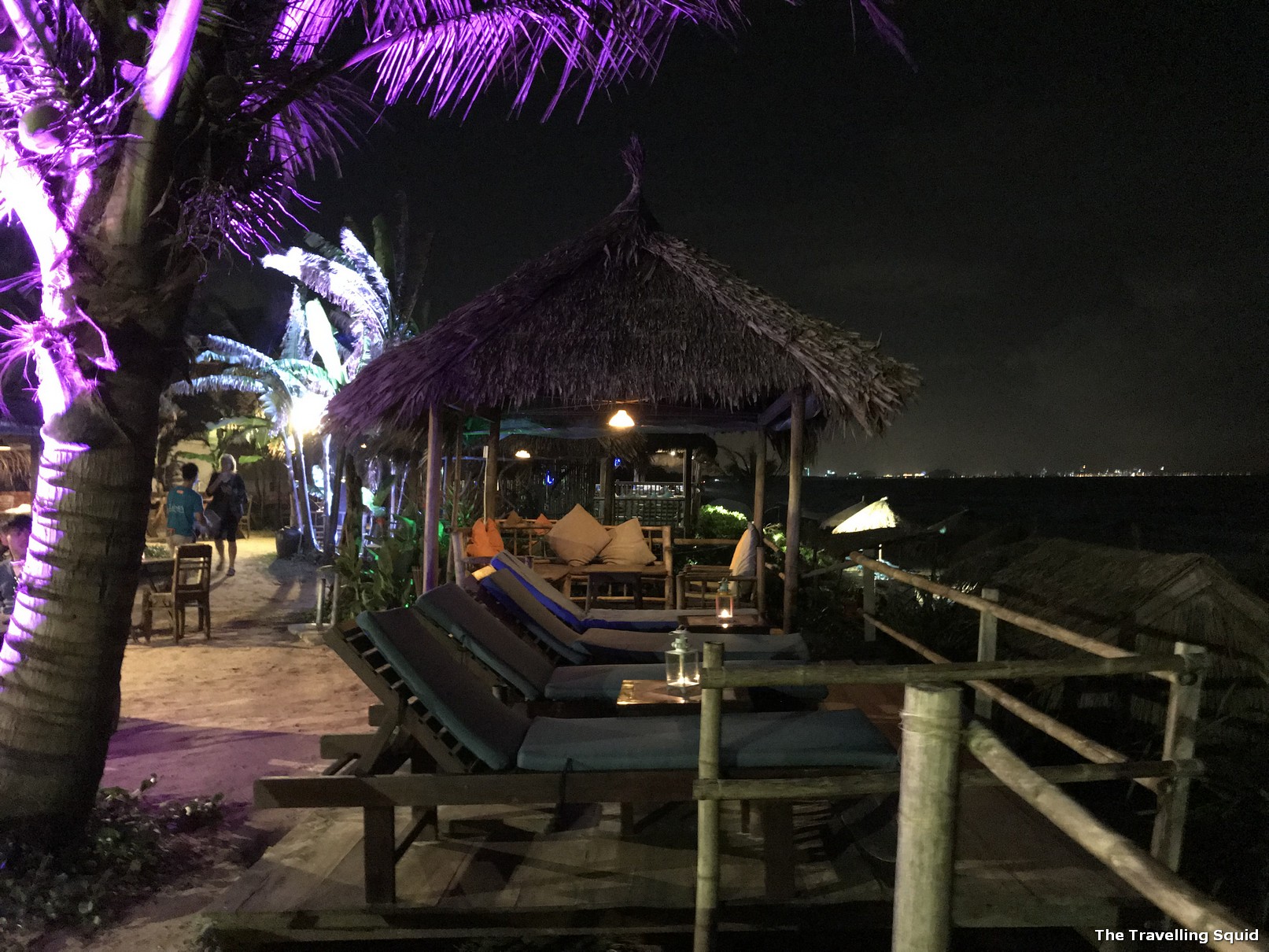 Hoi An is extremely touristy, but if you travel beyond its UNESCO-renowned old town, you may just get the beach to yourself. The Soul Kitchen Beach Bar and Restaurant in Hoi An was recommended by a bartender at the Asoviva Dining Bar in Hoi An. He advised us that Hoi An could be covered in 3-hours and gave us this restaurant recommendation. With it, we'd probably end up eating at a more commercialised restaurant in the old town.
Getting there
Getting to Soul Kitchen was easy, despite its rather vague address – An Bang Beach. But the restaurant is marked out on Google maps, making it easy to pin-point the exact location. At about 6.30pm, we got an Uber from the fringes of the Old City, to take us to Soul Kitchen. See pictures below on the drop-off point.
The Ambience
When we arrived, the sun had set and the surrounding area was covered in darkness, apart from the lights of neighbouring establishments. The Uber driver dropped us at what appeared to be a drop-off point, and told us to walk in. As there were not many other tourists around, I started to wonder if we were going to a legit location. I was glad that we followed a path and walked right to the end – there was Soul Kitchen.
Like its name suggested, Soul Kitchen reminded me of a quintessential beach bar which serves full meals. It was like a Potato Head or a Kudeta in Bali, albeit located in a less fancy setting. It was not frequented by the 'cool crowd'. When we arrived, we were the second group of customers. There was a wide indoor dining space and deck chairs facing the beach. You could hear the waves crashing against the shore. We could see that a part of the beach was lighted up, as the adjacent restaurant had spotlights which lighted up the shoreline. We were in Bali right before this trip, and the Soul Kitchen Beach Bar and Restaurant in Hoi An reminded us of our time there (the positive parts that is).
The Food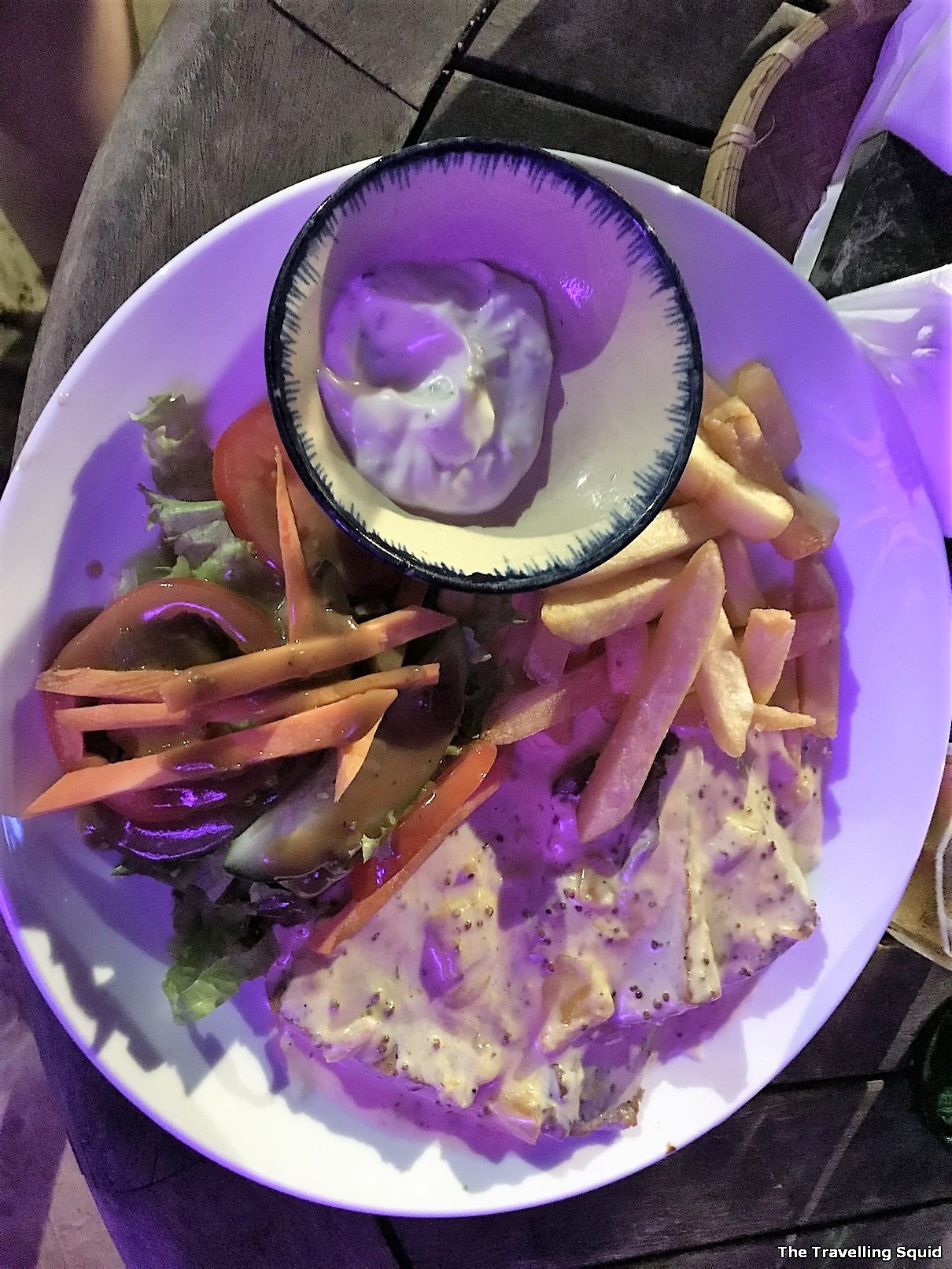 The food was delicious and very worth it. I ordered a tuna steak in mango sauce and french fries, and the portions were generous. To be honest, I was a little doubtful about the mango sauce which covered the tuna steak at the start, but the flavour was good – it wasn't too creamy. Just a touch of sweetness and light cream. The tuna was cooked well – I was surprised to find that it was not over-cooked, but seared nicely on the top and bottom, like a medium steak.The fries were crisp and lightly salted. It was a good dish – yum.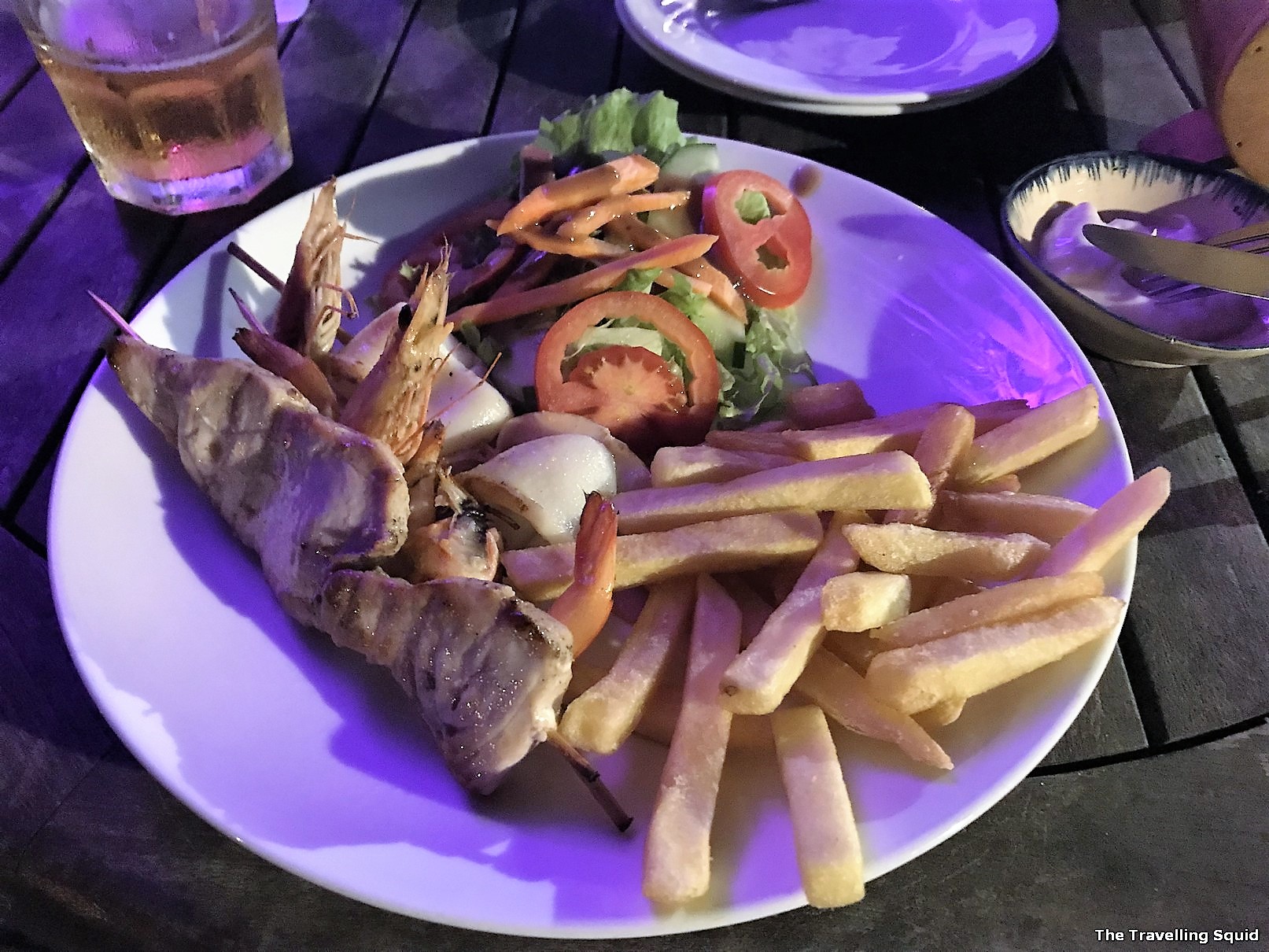 Friend S also ordered seafood skewers and french fries. It came with prawns and squid. The other skewer looks like chicken, but it could be fish too – can't based on the photograph. By the way, if you like cats, you will be approached as you dine. They are mainly there for the food, but there was one which also enjoyed a good chin-rub by Friend S.
The Drinks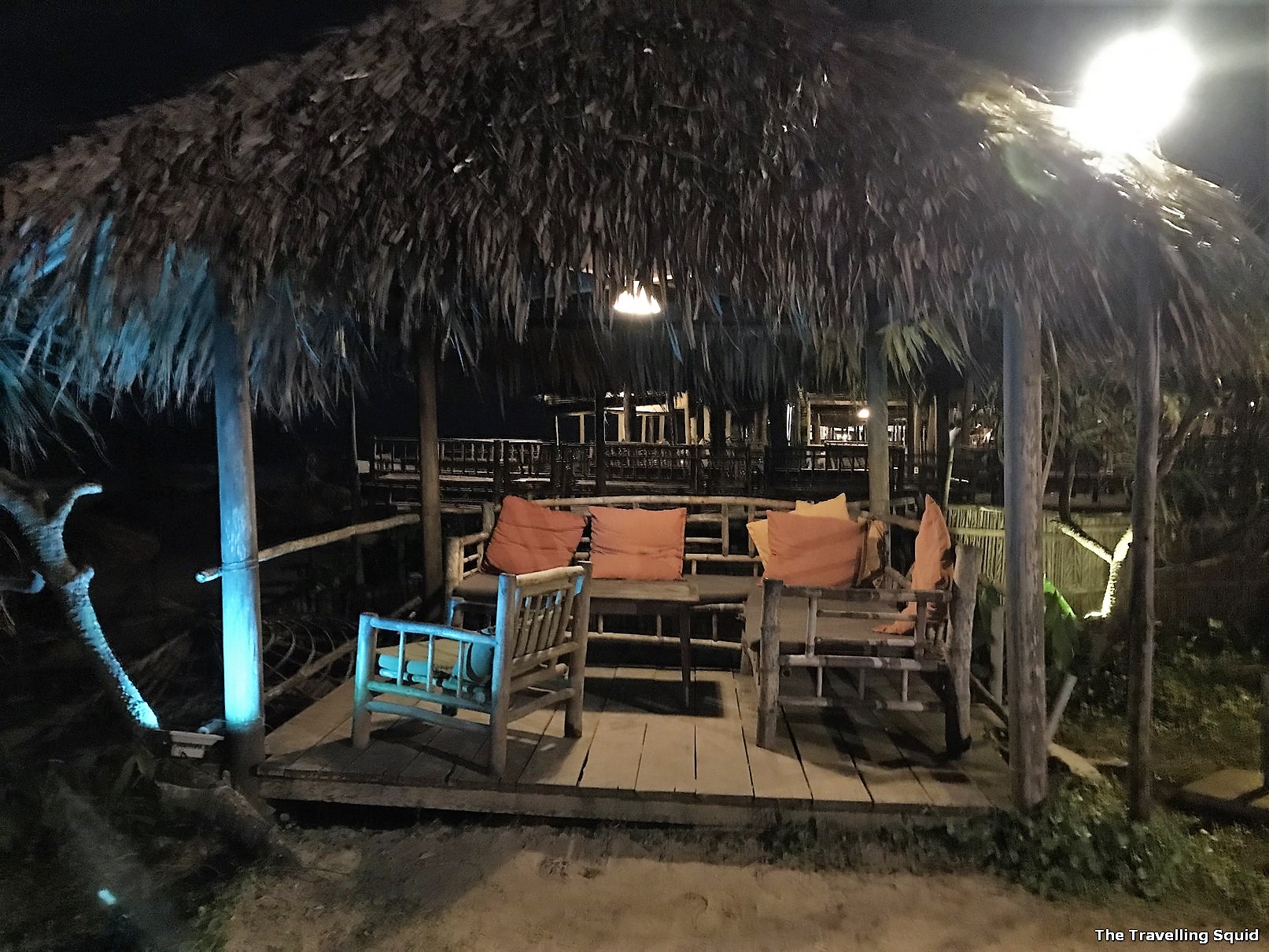 When we were done with dinner, we decided to have a drink at the pavilion as the drizzle had stopped. (Hoi An has similar rainy weather to London.) I ordered a Long Island ice-tea and Friend S an old-fashioned. The old-fashioned was much better. I found the Long Island to be too sweet. It cost us about 200,000 dong/ SGD12/ USD9 for a drink. I thought the Saigon Special Friend S had earlier was pretty good as well.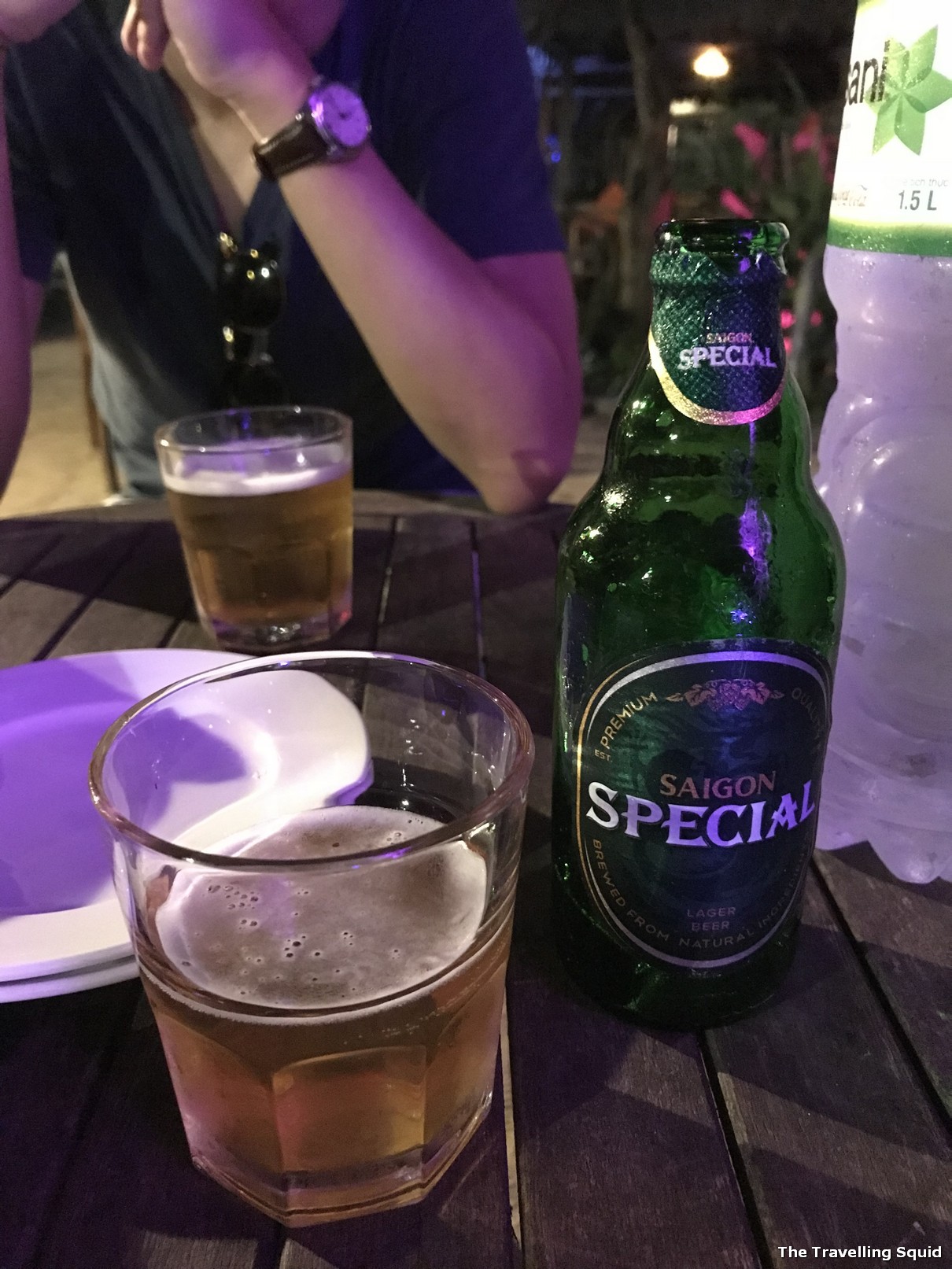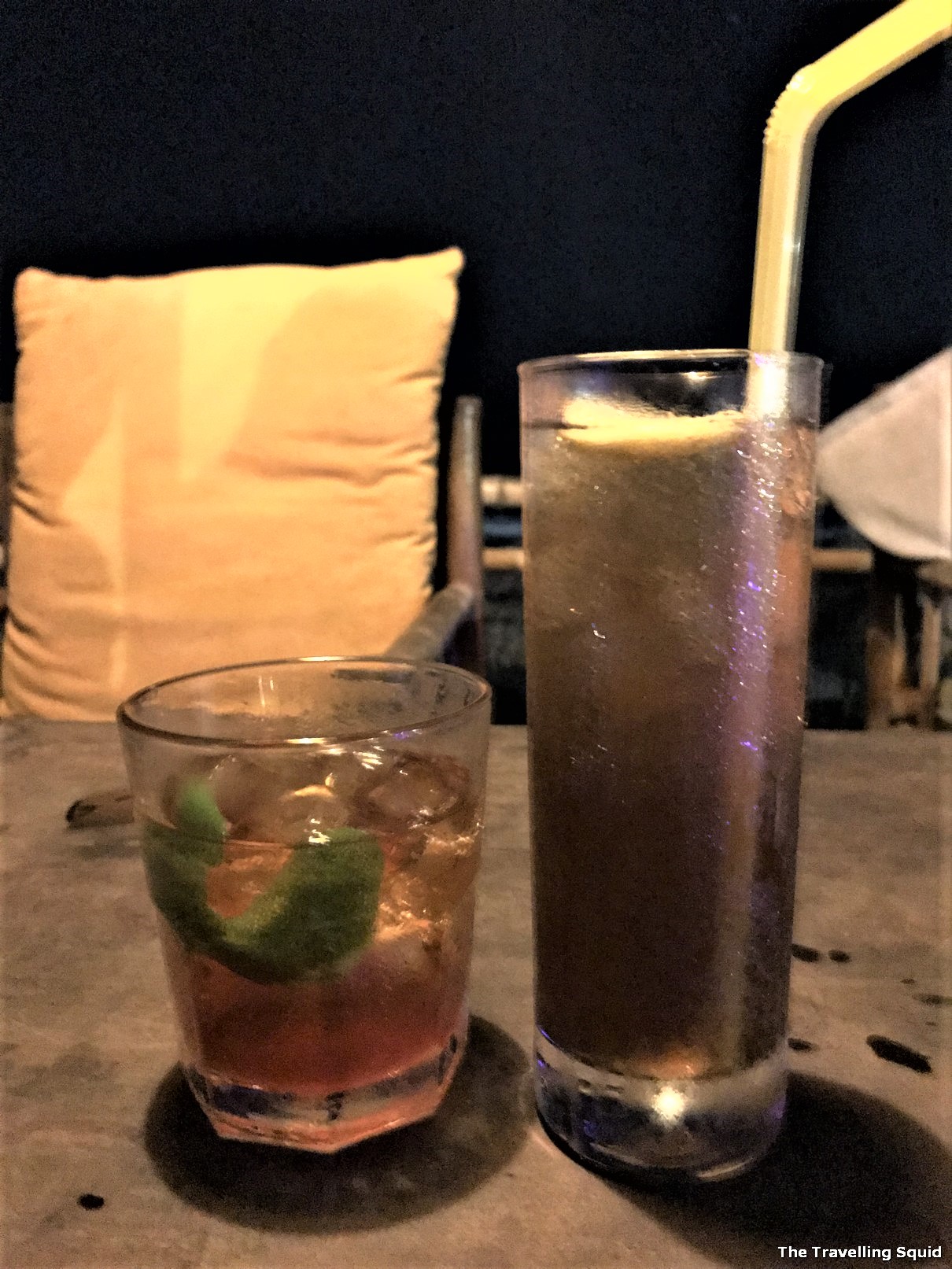 Waiting for an Uber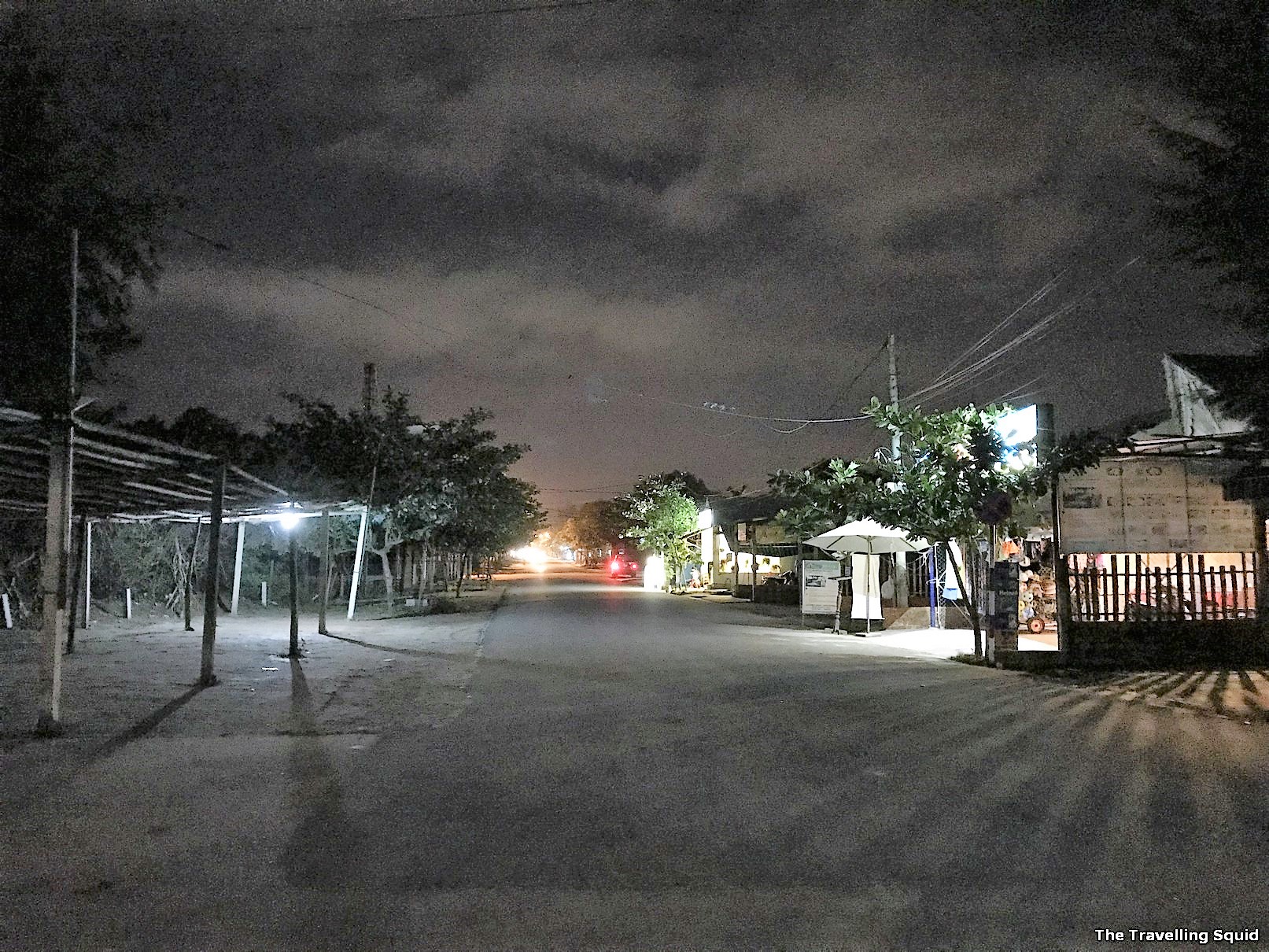 Thought I'll share some photos of the drop-off point, and the remoteness of it all. Just don't give up – Google Maps will lead you there. On a separate note, there might be green taxis waiting for you as you exit. No matter what you do, don't take them unless you're willing to pay twice the amount for an Uber. Therefore, I'd recommend Uber as your sole means of transportation. If there are none in the vicinity, try take other taxis apart from the green ones.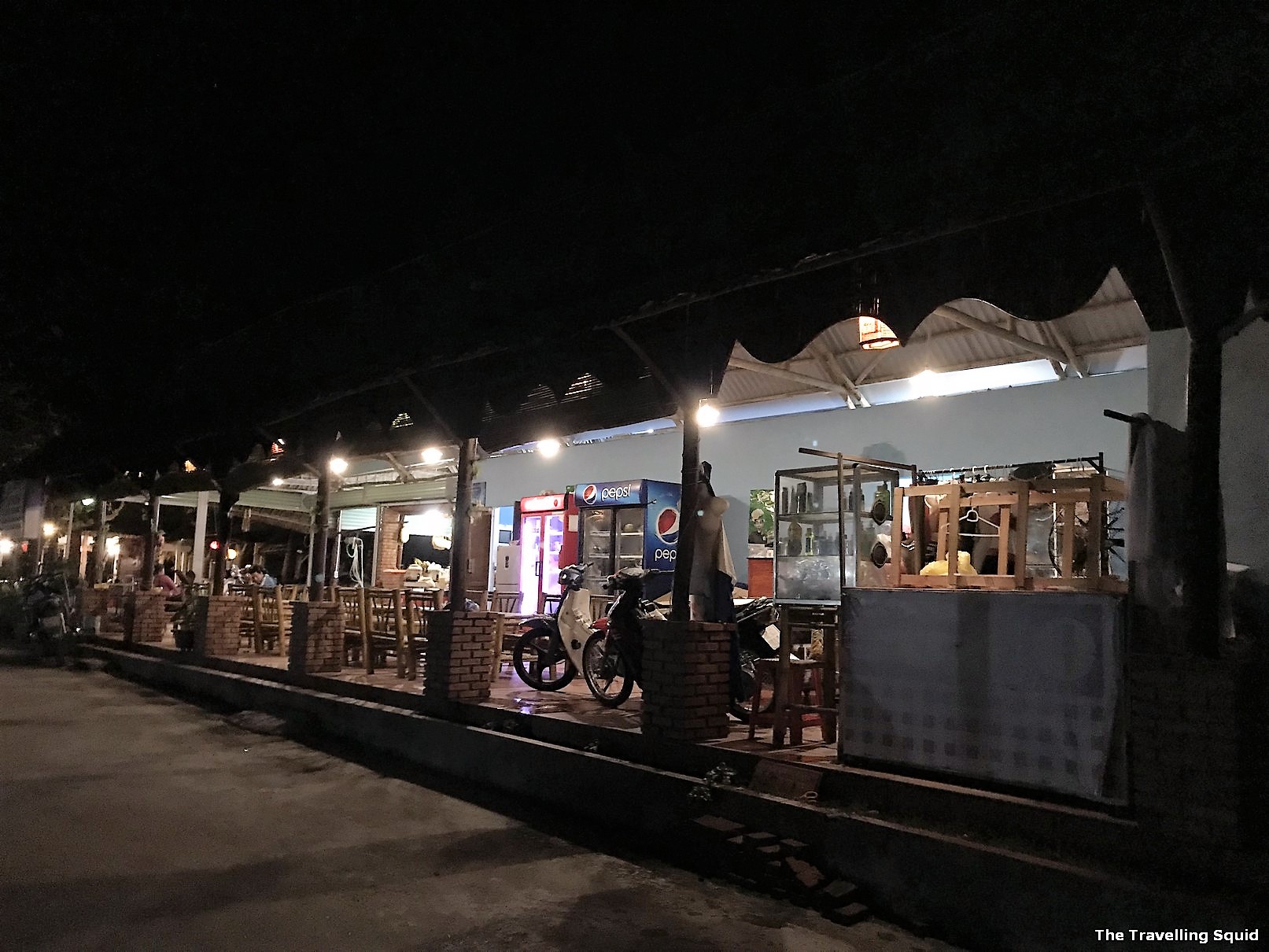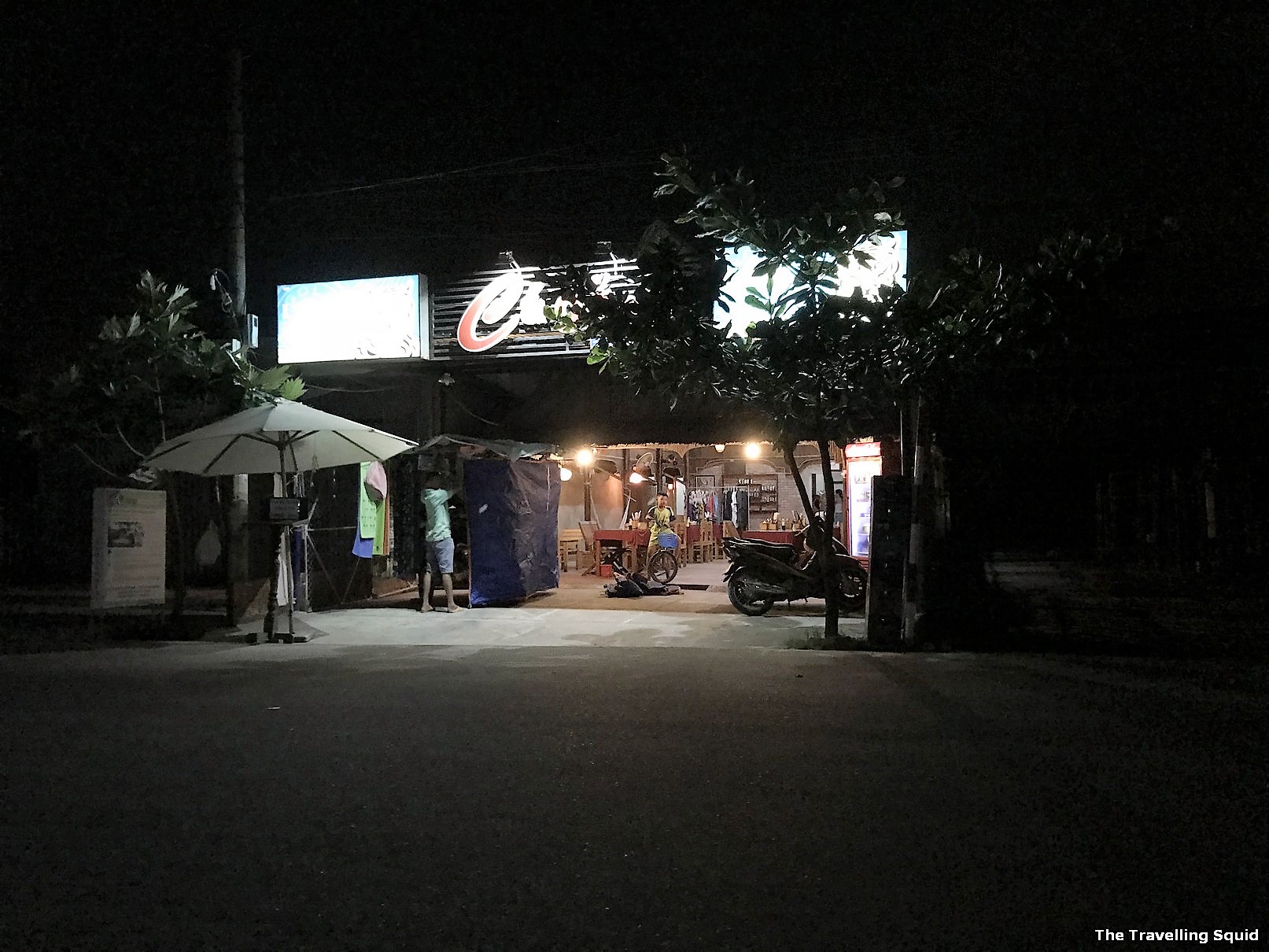 The Travelling Squid's Take
Perhaps it was my introverted self talking, but I enjoyed the Soul Kitchen Beach Bar and Restaurant in Hoi An because it was relatively quiet and we had the place to ourselves. It was nice watching the waves crash against the shore, with the breeze gently blowing against our faces. There wasn't a need to dress up – I felt at home with my T-shirt, shorts and a pair of Keds sneakers.
If you've seen my reviews for the Taiwan Porridge restaurant in Singapore Senze 87 and the understated Italian restaurant Follia (which has since closed), I do have a penchant for trying to save restaurants and bars that are not well-frequented, but serve good food. I feel it's such a waste because the owner's passion can be seen through the conceptualisation of food. Sometimes, it's not just about the food, but about the ambience and marketing of the place.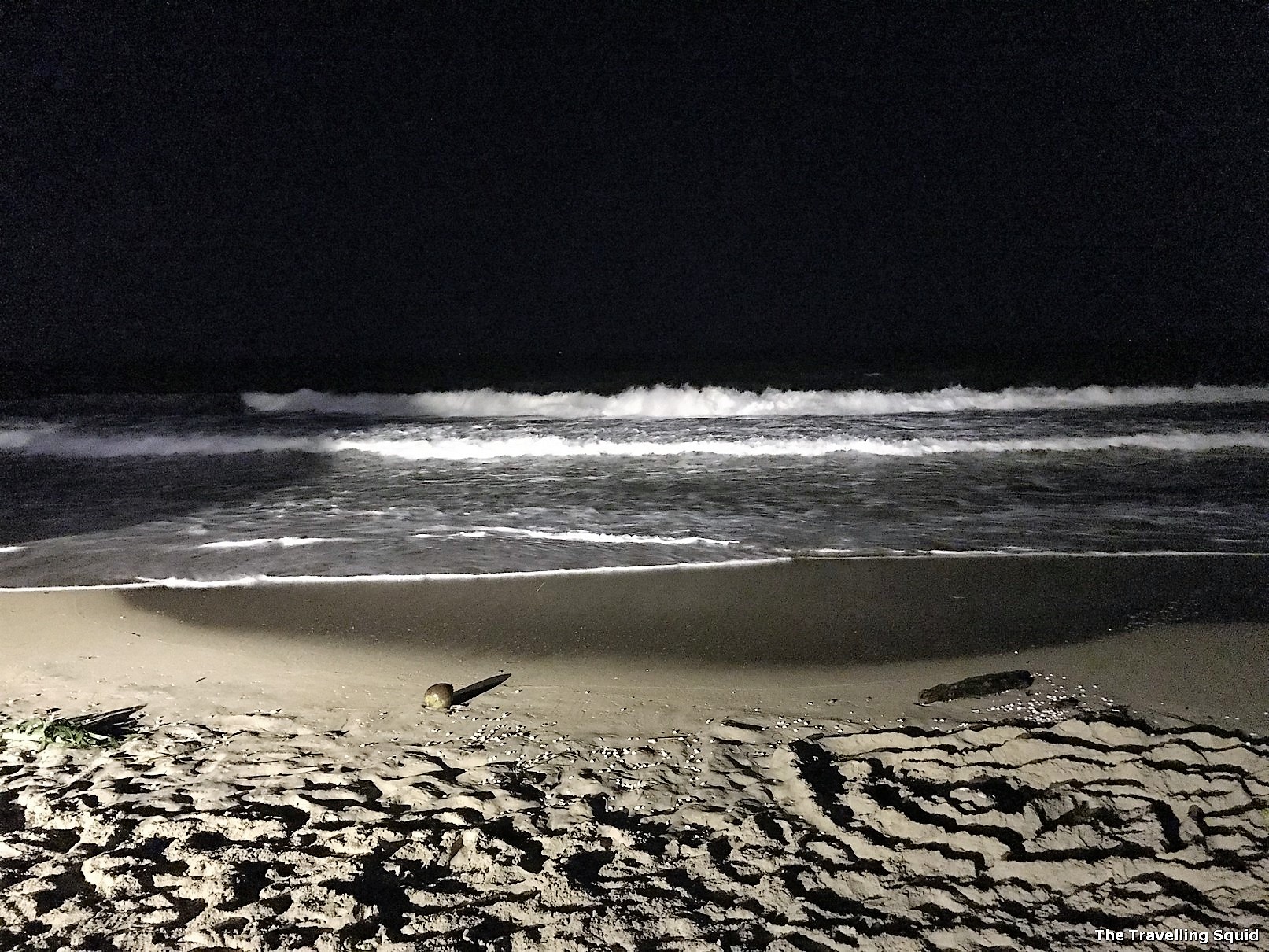 As it turns out, my fear that the Soul Kitchen Beach Bar and Restaurant in Hoi An would close is probably unfounded. Based on pictures on their Facebook page, it seems like a really vibrant place during the day and they have gigs and live music as well. Maybe we just came on a weekday night when it was quieter.
On our way back to Danang, the Uber passed by several resorts which were undergoing construction. I felt a tinge of sadness as it occurred to me that Soul Kitchen might have to make way for more of these resorts. Or it might be filled up with Chinese and Korean tourist groups – and the solitary vibe would have been lost. But no matter what happens, I am thankful for this recommendation – it's probably the best bar and restaurant we had been to during our Vietnam trip.
If you ever visit Soul Kitchen in Hoi An, would like to hear from you on how the place is. 
***
The Soul Kitchen Beach Bar and Restaurant in Hoi An
An Bang Beach, Hoi An, Vietnam
Phone: +84 90 644 03 20
Tripadvisor has pretty good ratings for this place. Check the link out.