Seven types of Vietnamese food to try in Central Vietnam
Travelling in Central Vietnam made me realise that while Vietnamese food largely uses the same types of ingredients, the taste profiles of food in Central Vietnam tend to vary in terms of flavour. Unlike the simple, ubiquitous dish of pho bo which is lightly flavoured, specific dishes which originated from Hue were spicier, saltier and more acidic. Several articles I read said such cooking styles were due to influence from the Nguyen Dynasty which used to be based in the imperial city of Huế. Such cooking styles have resulted in simple, yet sophisticated dishes. Forget the usual Pho Bo (Beef soup noodles) and Bánh mì (baguette with fillings), here are seven types of Vietnamese food to try in Central Vietnam (specially from Danang, Hoi An and Hue).
1. Bún bò Huế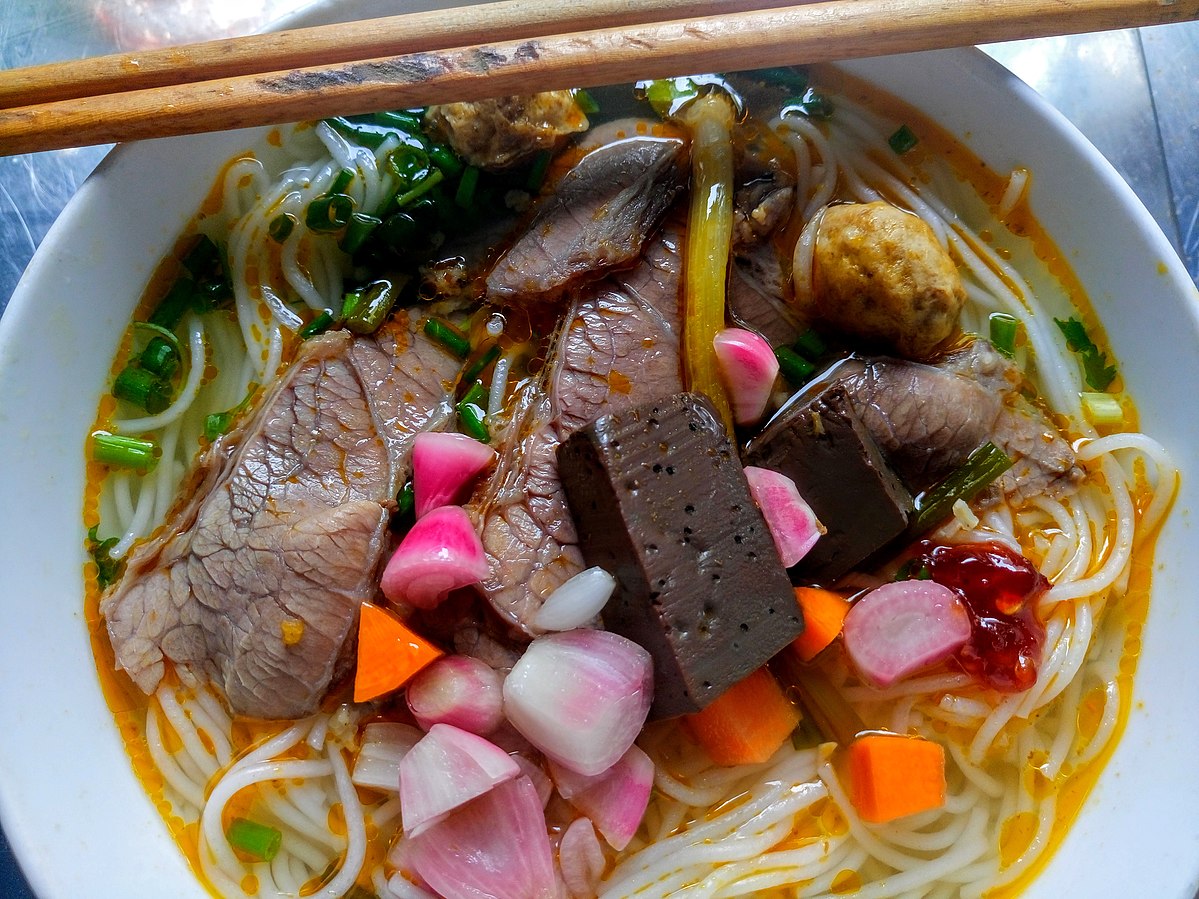 According to Wikipedia, Bún bò Huế is a popular Vietnamese soup comprising rice vermicelli (bún) and beef (bò). The dish is well liked for its balance of spicy, sour, salty and sweet flavors. Lemon grass is used generously in this dish. Compared to pho, the noodles used are thicker and more cylindrical.
In Huế, the dish is typically known as Bún bò but in areas outside the city it is called  Bún bò Huế to indicate the origin of the dish. According to Wikipedia, the broth is prepared by simmering beef bones and beef shank with lemongrass. The broth is then seasoned with fermented shrimp sauce and sugar for taste. Spicy chili oil is added later, just before serving.
The more embellished version of Bún bò includes thin slices of marinated and boiled beef shank, chunks of oxtail, pig's blood and pig's knuckles. Bún bò is commonly served with lime wedges, cilantro sprigs, diced green onions, raw sliced onions, chili sauce, mint, basil and sometimes mung bean sprouts.
2. Mì Quảng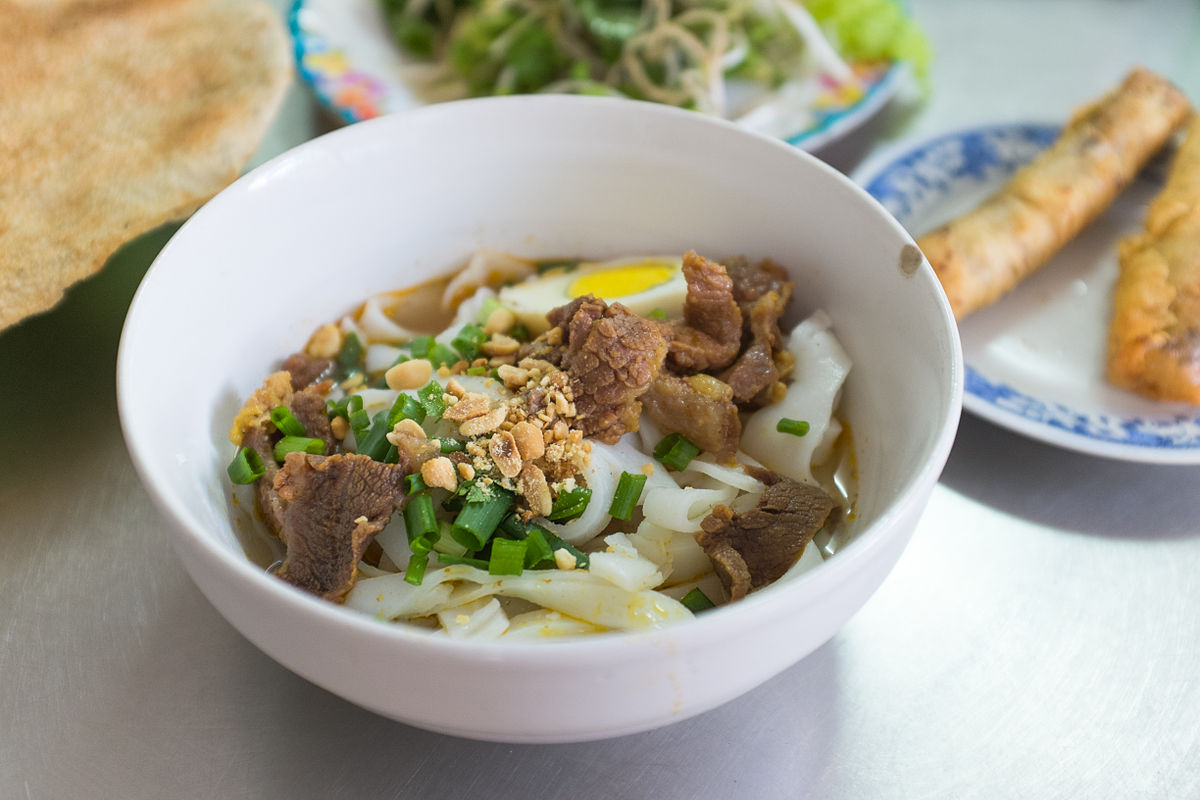 According to Wikipedia, Mì Quảng is a Vietnamese noodle dish that originated from the Quảng Nam Province in central Vietnam. The main ingredients of mì quảng are noodles, meat and herbs. It is typically served with a small amount of strongly flavoured broth. Wide rice noodles are placed on a bed of fresh herbs, and then a small amount of broth is added to the dish.
Shrimp, pork, chicken, fish or beef may be used in this dish. It is subsequently seasoned with fish sauce, black pepper, shallots and garlic. Turmeric is often added to the broth, giving it a yellowish color. Similar to other Vietnamese dishes, it is then garnished with peanuts and rice crackers. Other ingredients include hard-boiled eggs or steamed pork sausages.
3. Cơm hến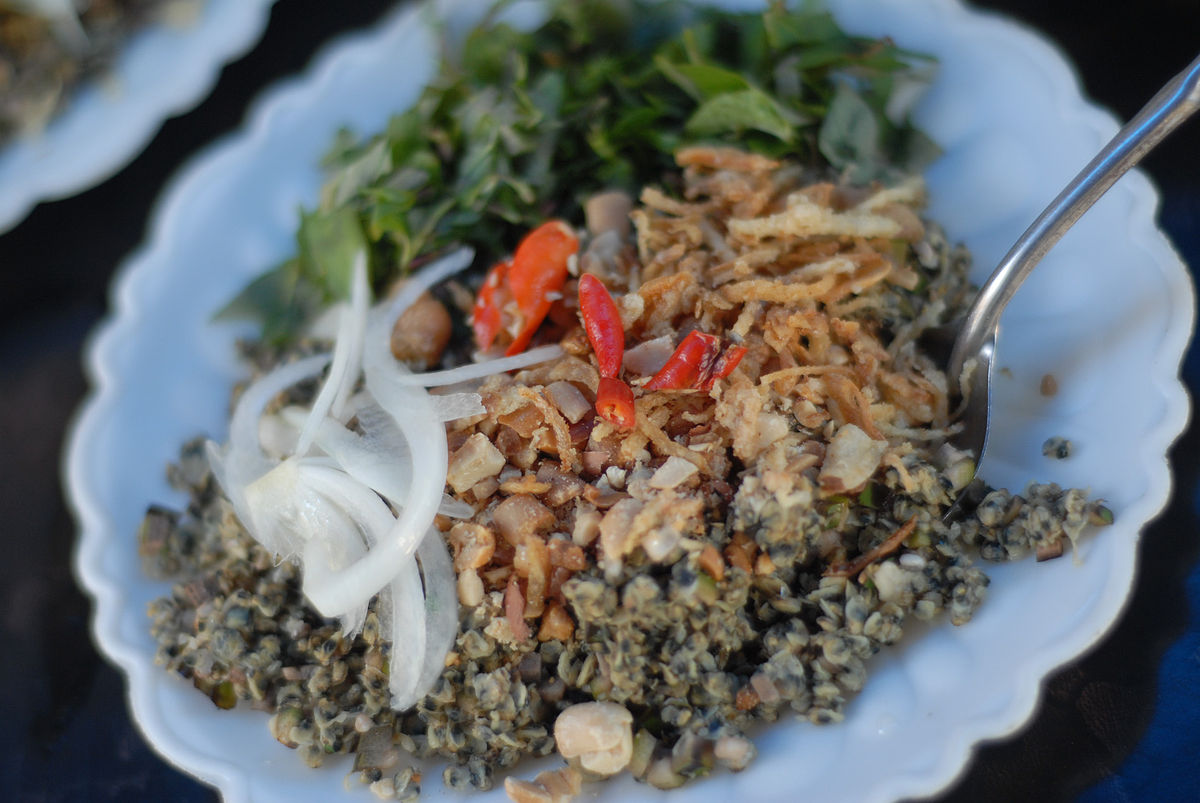 Cơm hến is a rice dish which originates from Hue. Cơm translates to 'rice' in English, while 'hến' means 'honey'. According to Wikipedia, it is made with baby mussels or basket clams and leftover rice. The dish is typically served at room temperature. Other ingredients in this dish include clams, fried pork fat, roasted peanuts, chili pepper, mint, fermented shrimp sauce and clam broth. It's like a Vietnamese rice salad, which allows you to enjoy sweet, salty and spicy flavours at once, with a bit of crunch.
4. Bánh bột lọc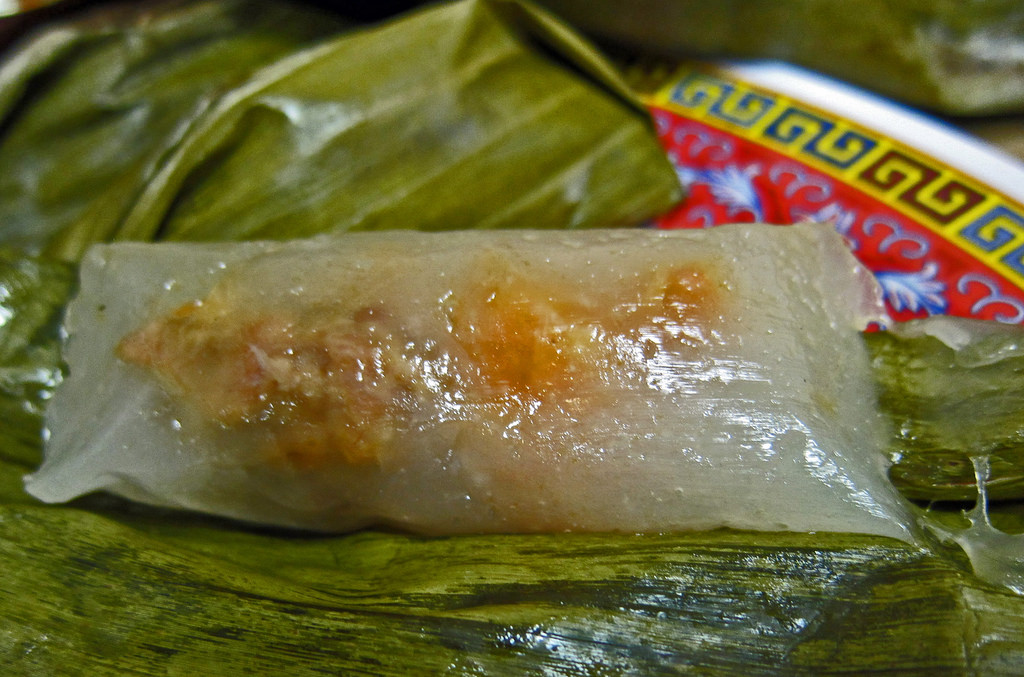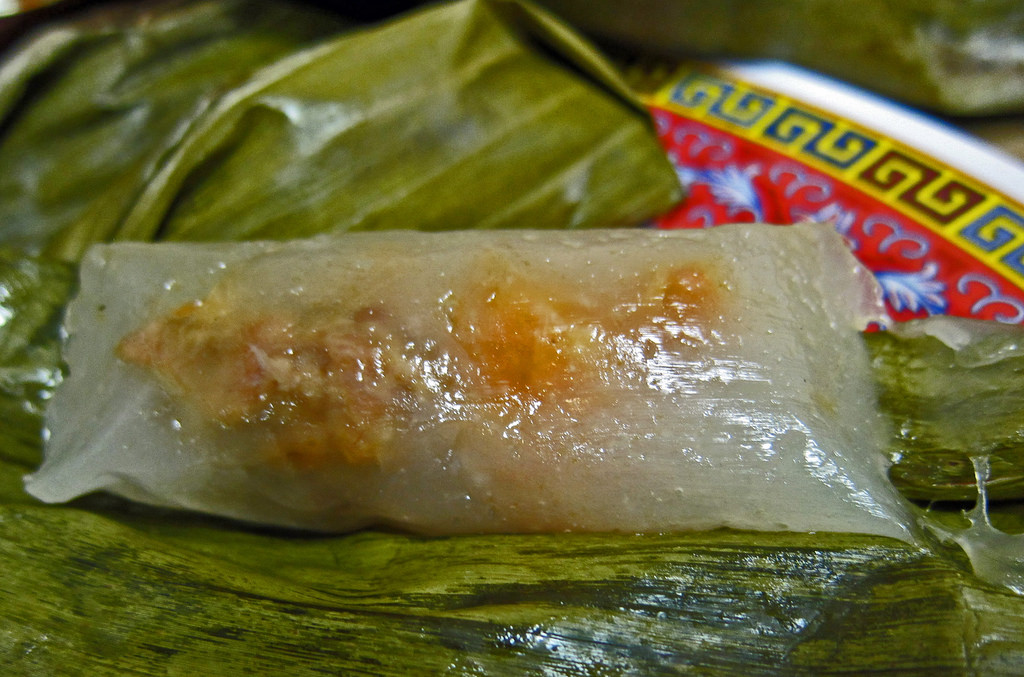 Bánh bột lọc is a small, clear-looking, chewy tapioca dumpling that can be eaten as an appetizer or a small snack. In Vietnamese, the term 'bánh' loosely translates to a 'cake' or 'bread'. According to Wikipedia, these dumplings are usually filled with shrimp and pork belly and are served with sweet chili fish sauce. Similar to Bún bò, this dish is said to have originated from Huế.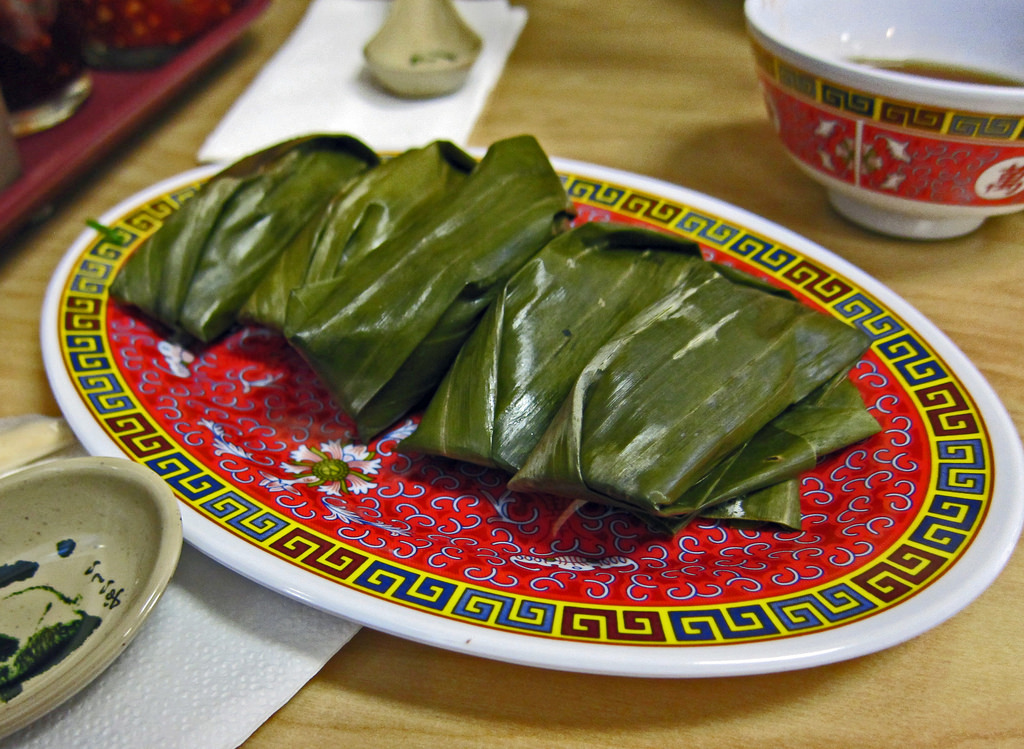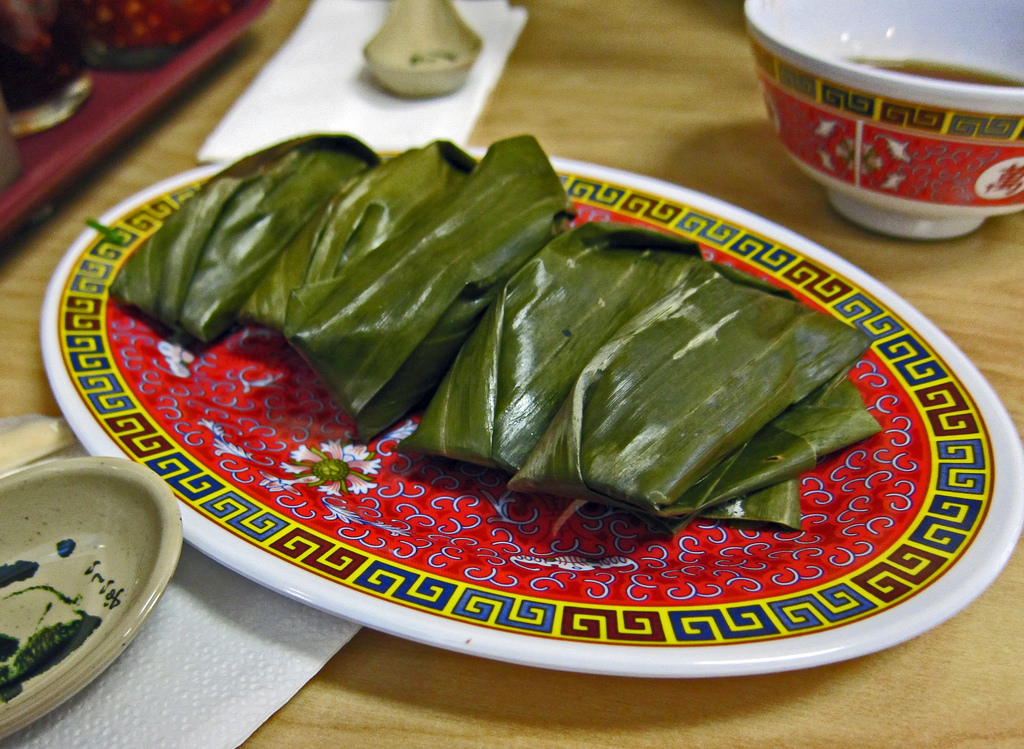 You will find that this dish shares similarities with its cousin Bánh Nậm (see below). The filling is traditionally made with a whole grilled shrimp and a slice of pork belly. That said, variations over the years include the addition of mushrooms and onions. In addition to tapioca flour, corn starch and rice flour have also been used to make the translucent wrapper.
5. Cao lầu (Hoi An)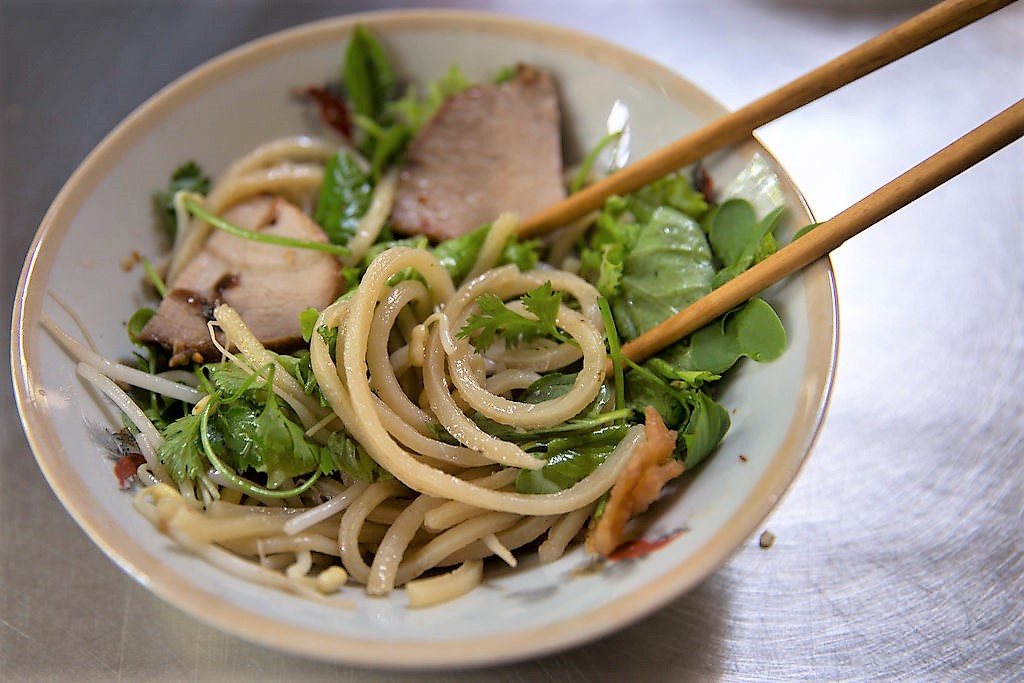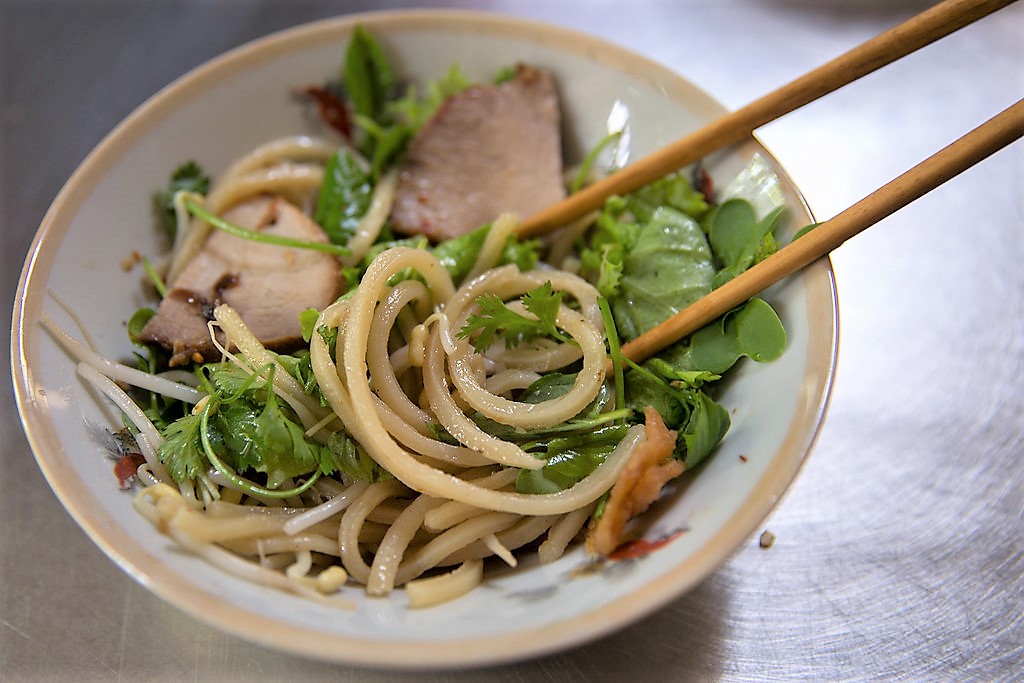 Cao lầu is a dish made with noodles, pork, and local vegetables. According to Wikipedia, this dish is found only in the town of Hội An, in the Quảng Nam Province of central Vietnam. According to Wikipedia, Vietnamese have called it a "mixing dish" because it includes vegetables, fried lard and sauce on top of the noodles. Cao lầu combines various flavors such as sweet, sour and bitter flavours due to the vegetables used. Savory notes are included with the addition of fried lard and fish sauce as seasoning. Similar to Cơm hến,  it is served at room temperature.
The noodle used to make Cao lầu is said to be special. It could be urban legend but to make Cao lầu noodles, the rice has to be stone ground and mixed with ash and water (that doesn't sound very appetising!). The noodles are cut and then cooked three times with firewood. The water to cook the noodles is also very special because it only comes from specific wells in Hội An. This is why traditionally, Cao lầu is a dish that can only be prepared in Hội An.
6. White Rose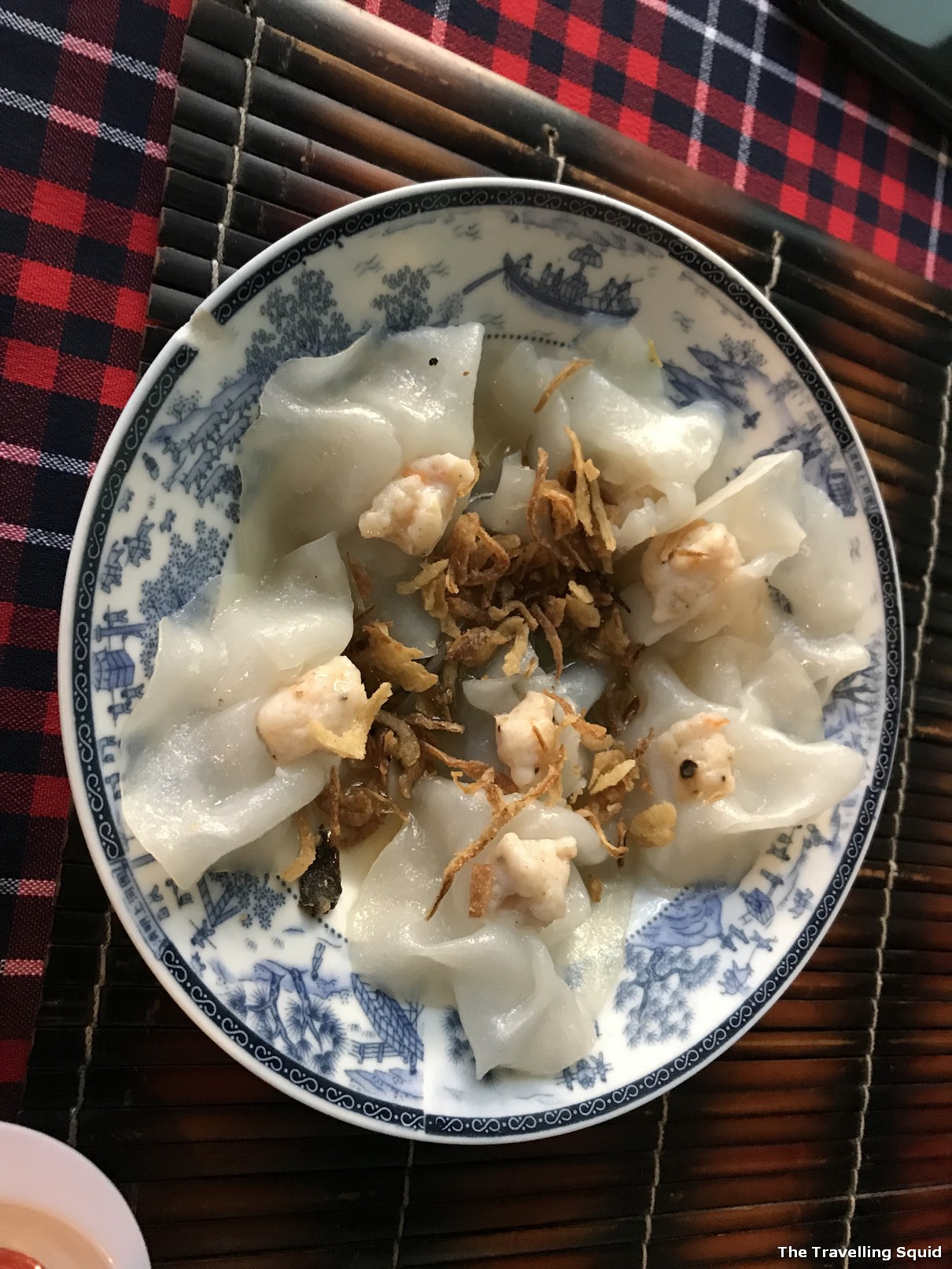 Similar to Chinese dumplings, White Rose is a dish made up of a shrimp filling wrapped in translucent rice paper skin. It is garnished with fried shallots and served with a sweet fish chilli dipping sauce. As the skin wraps around the dumpling, the folds give way to 'petal' like images. With a stretch of imagination, one could imagine them to be 'white roses' (see photo above). It's served with a savory and slightly sweet dipping sauce. In addition to Cao lầu, this is one other dish you must have in Hoi An.
7. Bánh Nậm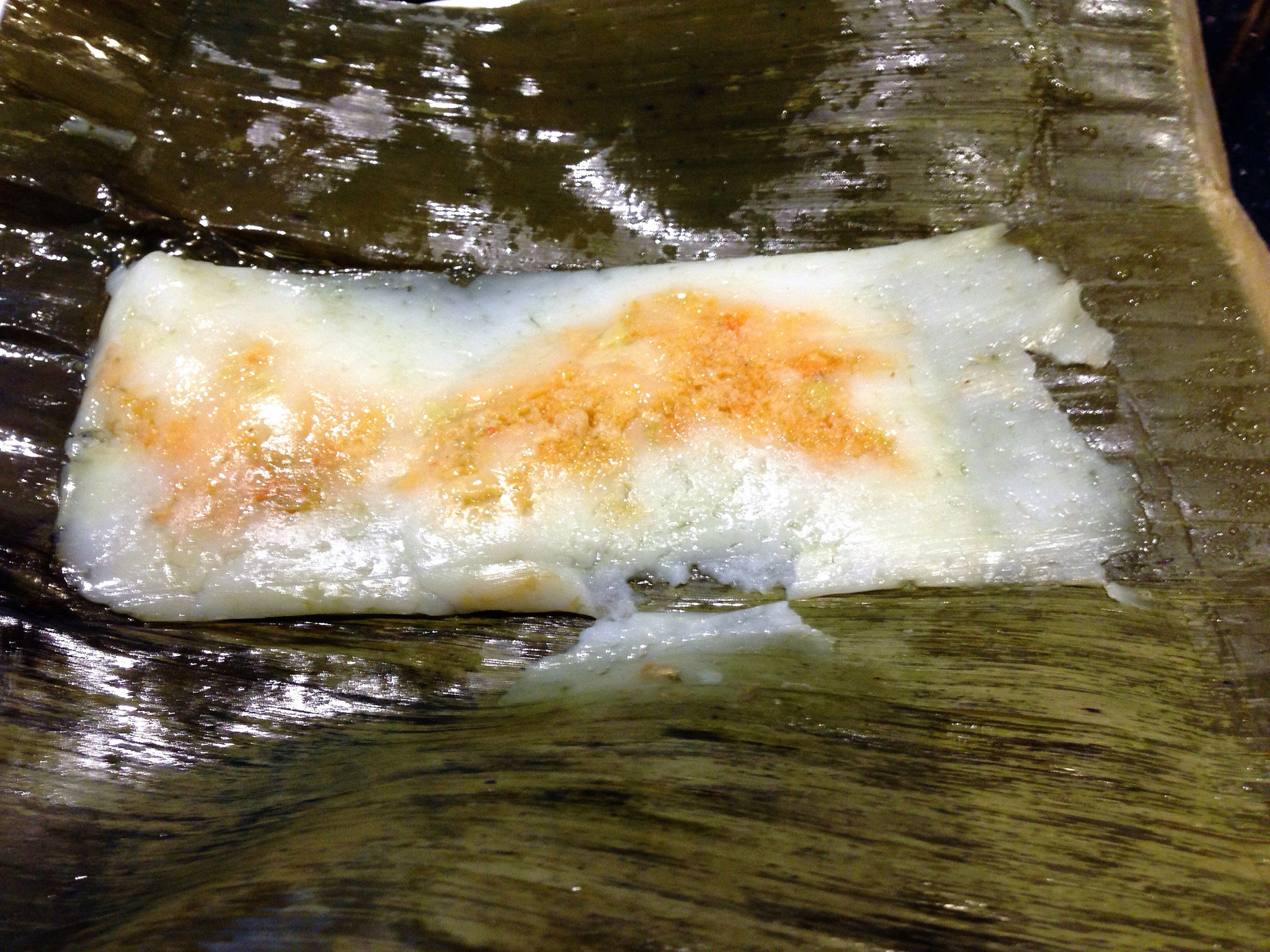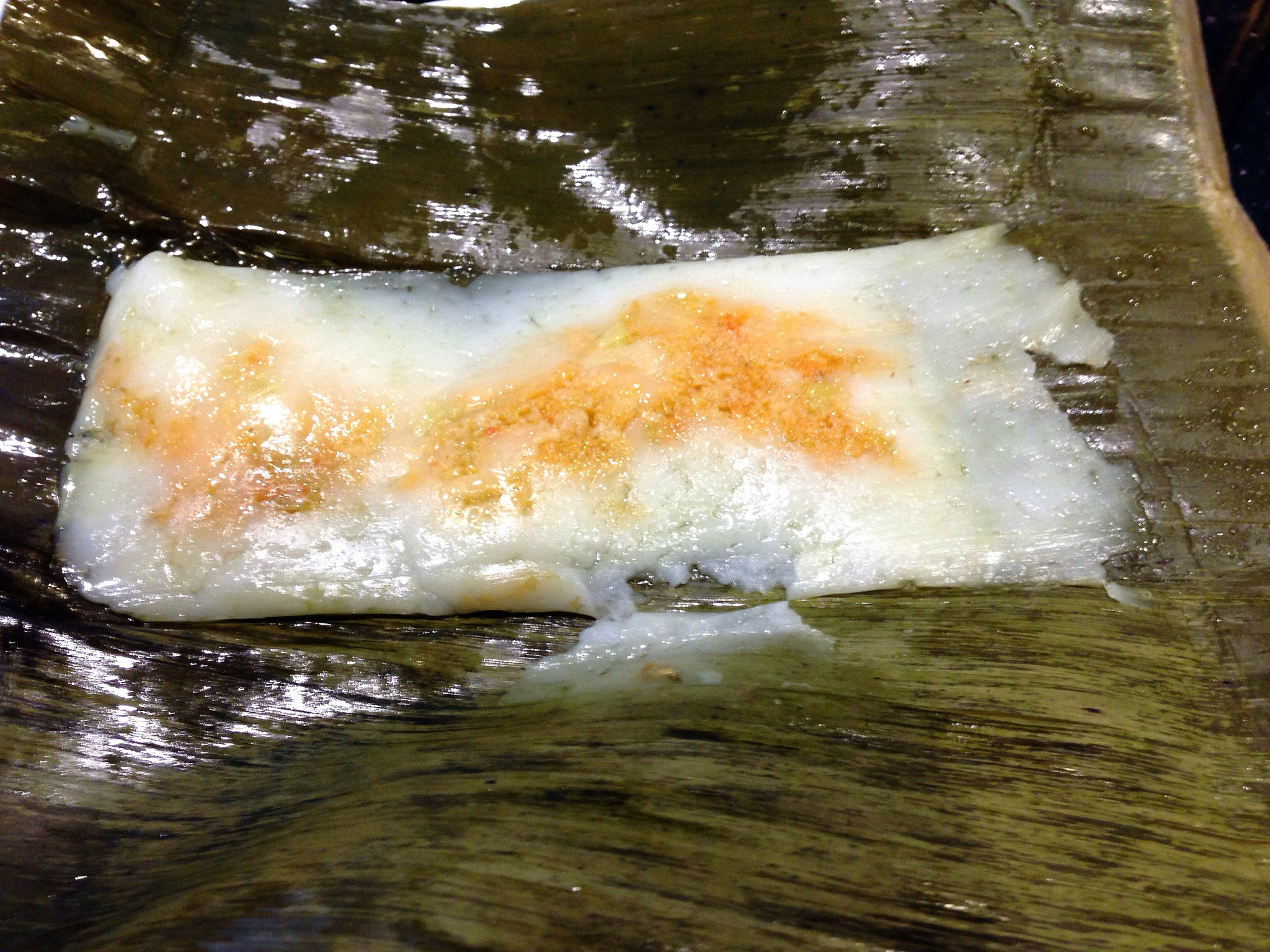 According to Vietnamese Wikipedia, Bánh Nậm is part of Huế  cuisine. It is a simple rice pancake wrapped up in banana leaves. Shrimp paste is typically used as part of its filling, though there are ways to keep this vegetarian-friendly. Once the paste has been added to the rice cake, they are wrapped in banana leaves and steamed. Bánh Nậm is usually eaten with a fish dipping sauce flavoured with a bit of chilli. If you're thinking that this looks strangely similar to Bánh bột lọc, you're probably right. The difference is the type of flour used to make the wrapper, as well as the texture.
The Travelling Squid's Take
If you're thinking that the dishes shared in this article tend to share the same basic ingredients, you're right. In terms of meat, beef is used quite often and so is shrimp for dumpling-like dishes. In most dishes, there are plenty of herbs used such as mint, basil and lemongrass. The food is always garnished with crunchy items such as pork fat and peanuts. But what I enjoyed most about Central Vietnamese food is its strong flavours. It isn't as spicy and strong-tasting like the Mala hotpots we have here in Singapore, but it's a delicate balance between the lighter flavours such as lemongrass, mint and basil, with a tinge of spice complemented by a fish-sauce base dipping sauce.
The best part of it all is that you never feel too full or guilty after a meal. : )
Writing this article was quite a challenge as I had to rely on Google to do the translations for certain dishes as they were in Vietnamese. To those who I have credited the photos to – a big thanks. As for readers of The Travelling Squid, hope you found the recommendations useful. If you have more suggestions, feel free to add them in the box below.