Review: Visit to Yukari in Osaka for Okonomiyaki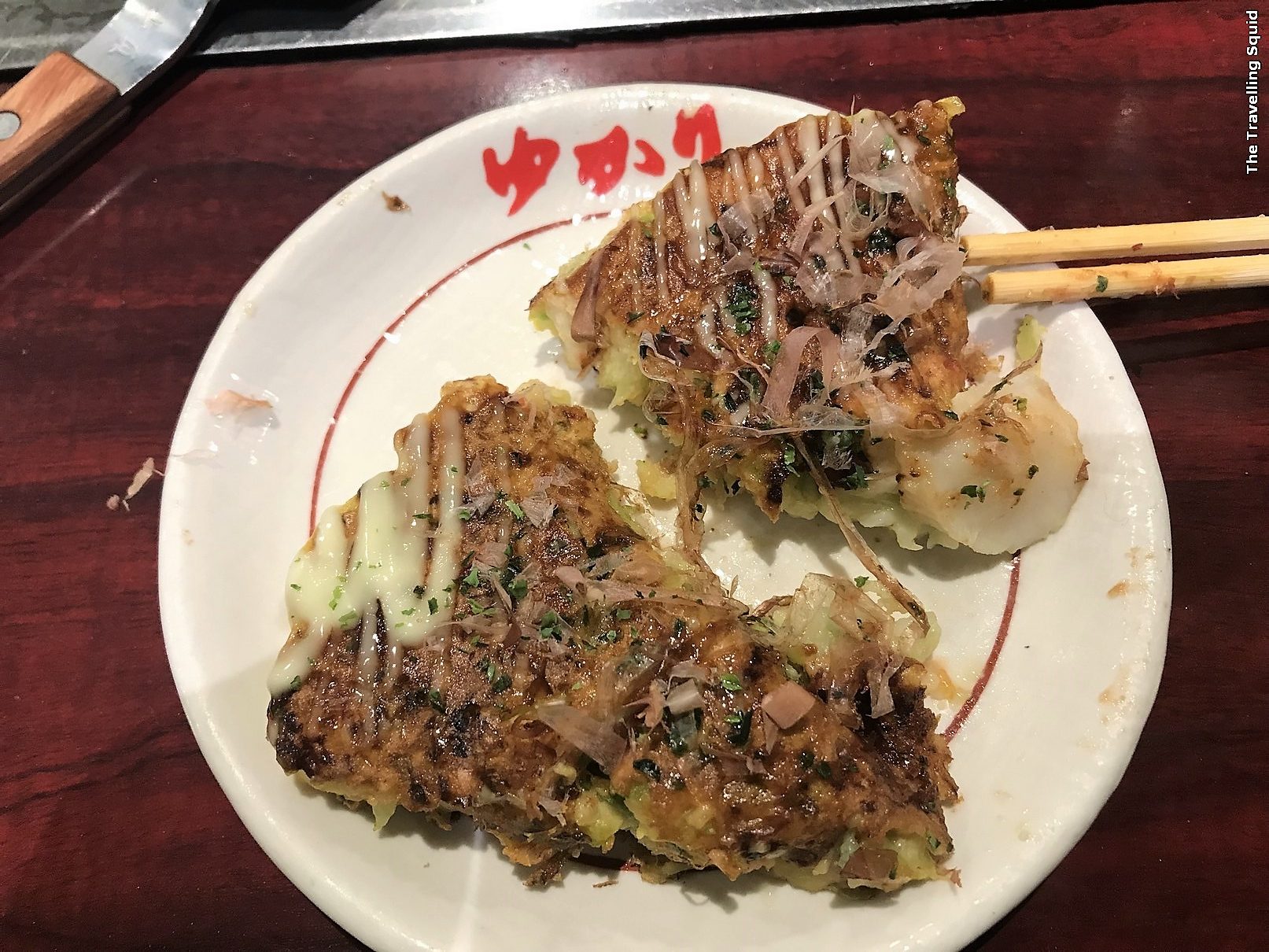 Okonomiyaki is one of my favourite Japanese foods because it combines food that I love into one dish – a savory pancake and seafood!. If you're new to this dish, it's essentially a pancake with seafood, cabbage, dashi and batter, with toppings of mayo and bonito flakes. According to Wikipedia, the name is derived from Okonomi, which means 'how you like' and yaki which means grill. It's one of the Japanese foods which is hearty and flavourful, perfect for when you're badly in need of sustenance. Here's a review of our visit to Yukari in Osaka for Okonomiyaki. To be honest, I'm not exactly sure how good Okonomiyaki should taste – but the one we tried was pretty tasty.
Visit to Yukari in Osaka for Okonomiyaki
The menu at Yukari is pretty extensive. There were plenty of options – you can also order the Hiroshima-style Okonomiyaki, where yaki soba (noodles) is the main feature of the pancake. Compared to Osaka-style Okonomiyaki where ingredients in the pancake are mixed, ingredients in the Hiroshima-style Okonomiyaki tend to be layered. Will touch more on this in a subsequent post on the Hiroshima-style Okonomiyaki we had in Kobe.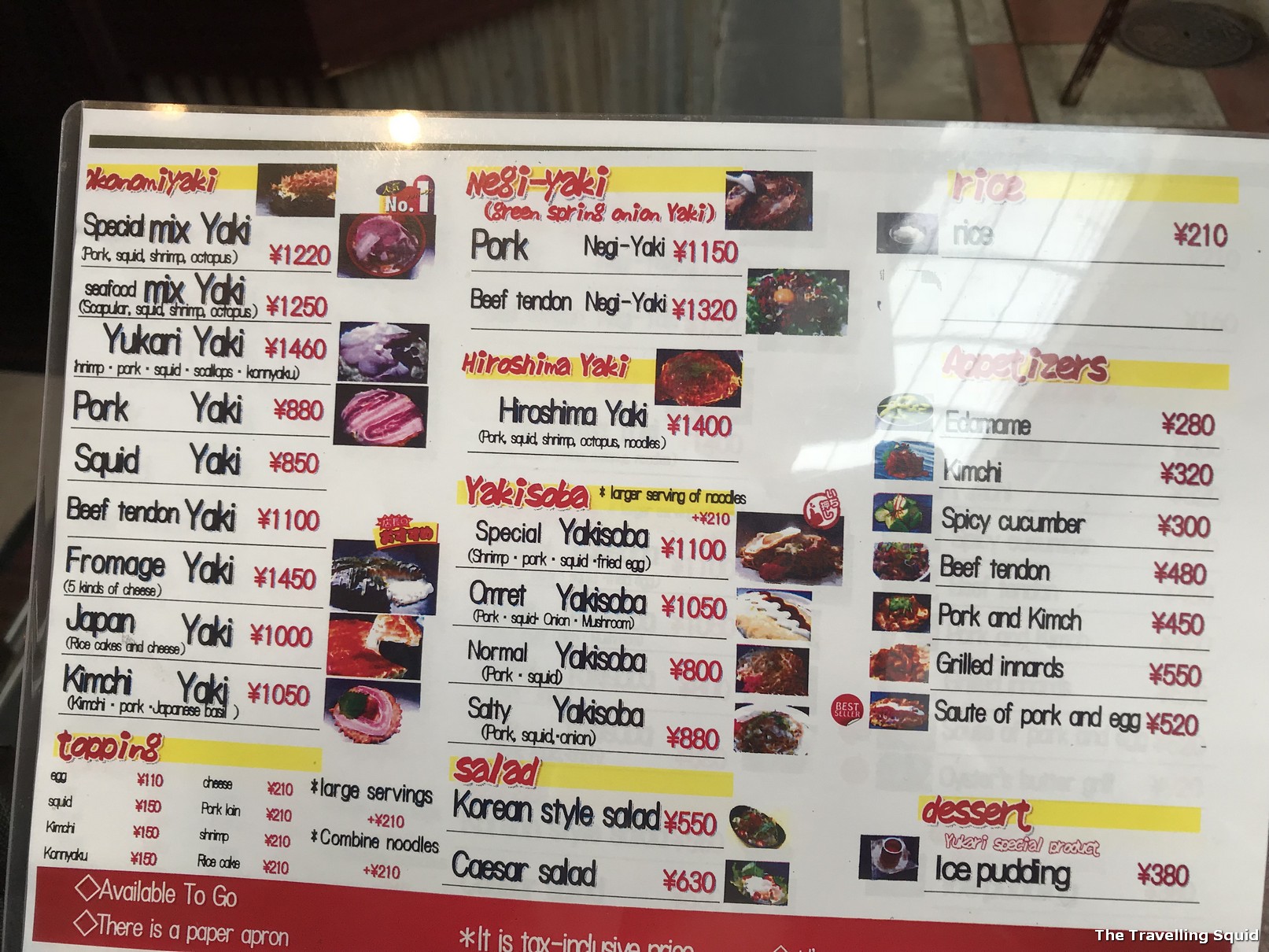 S and I ordered the seafood mix yaki (¥1,250), and S added additional pork and egg to his. It cost an addition ¥110 for the egg and ¥210 for the pork, which was quite reasonable. It was 11.30am and we quite hungry, having travelled from Kyoto to Osaka early that morning. The restaurant was full when we got there,  and there were three couples in front of us. About 10 minutes later,  we were ushered to the second level.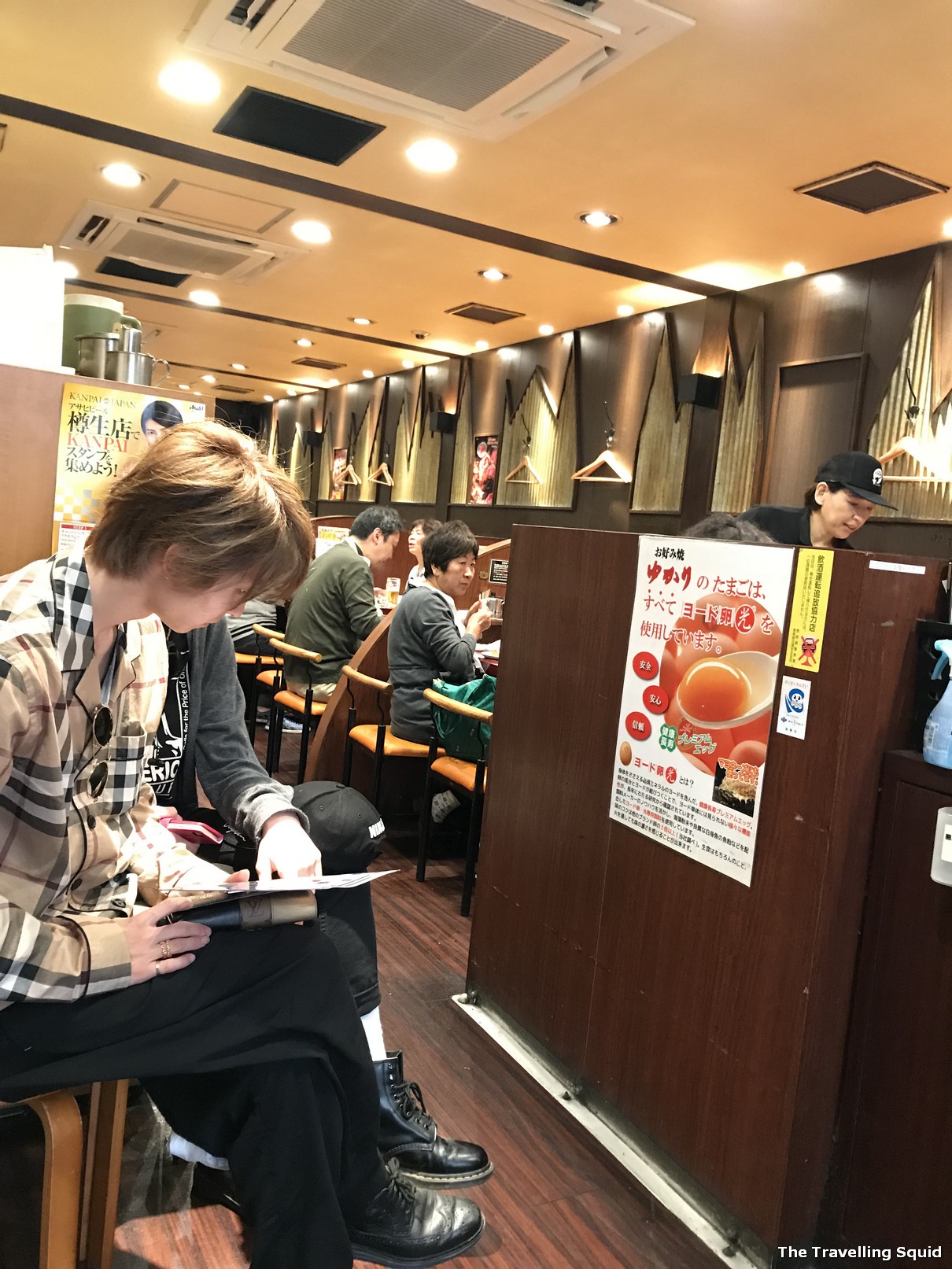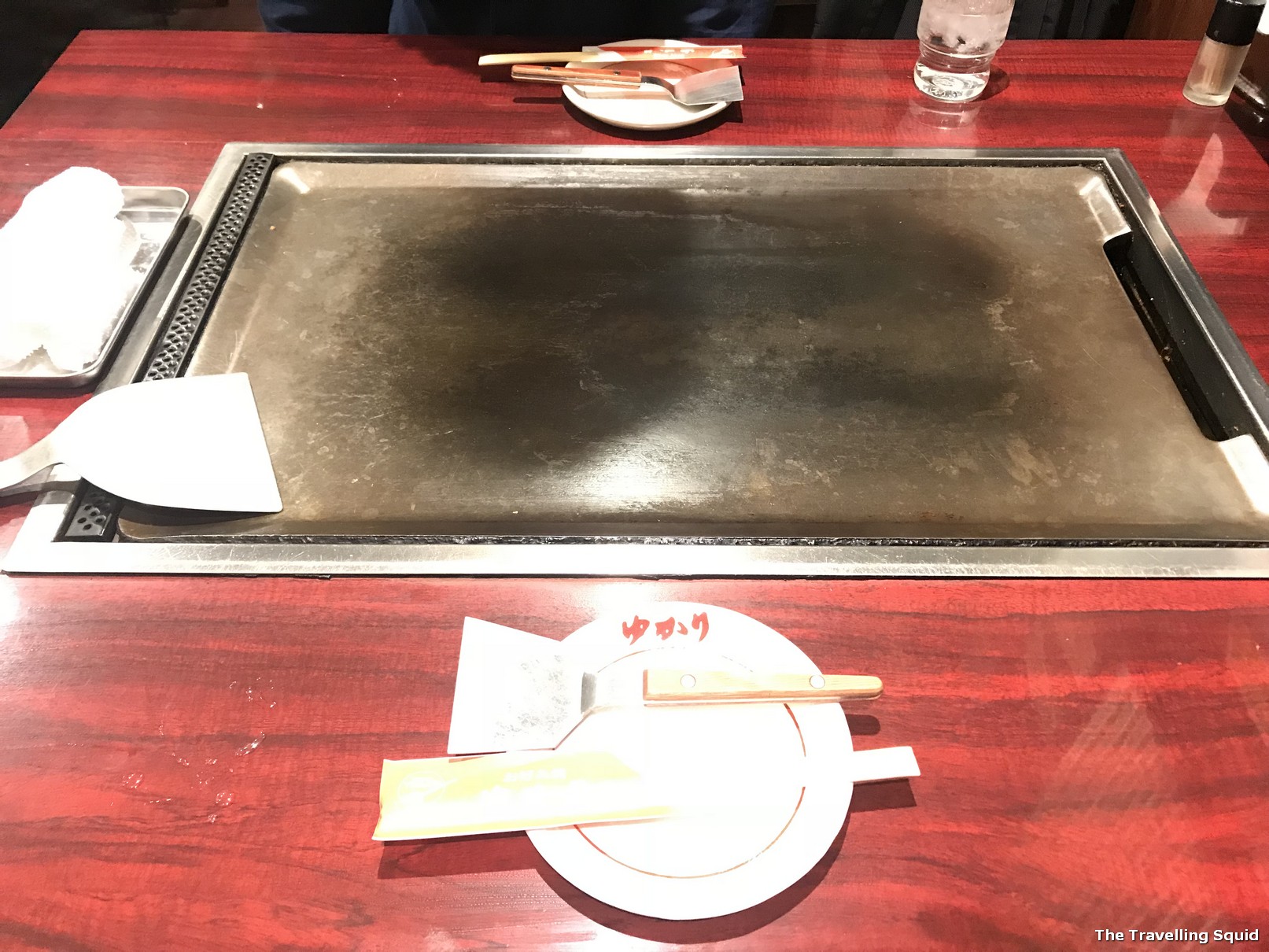 It took about eight more minutes for the staff to come with the okonomiyaki mix. It looked really good.. just not a good idea if you are terribly hungry and had to eat really soon. This is because the cooking process took awhile – about 20 minutes in total before we finally got to eat.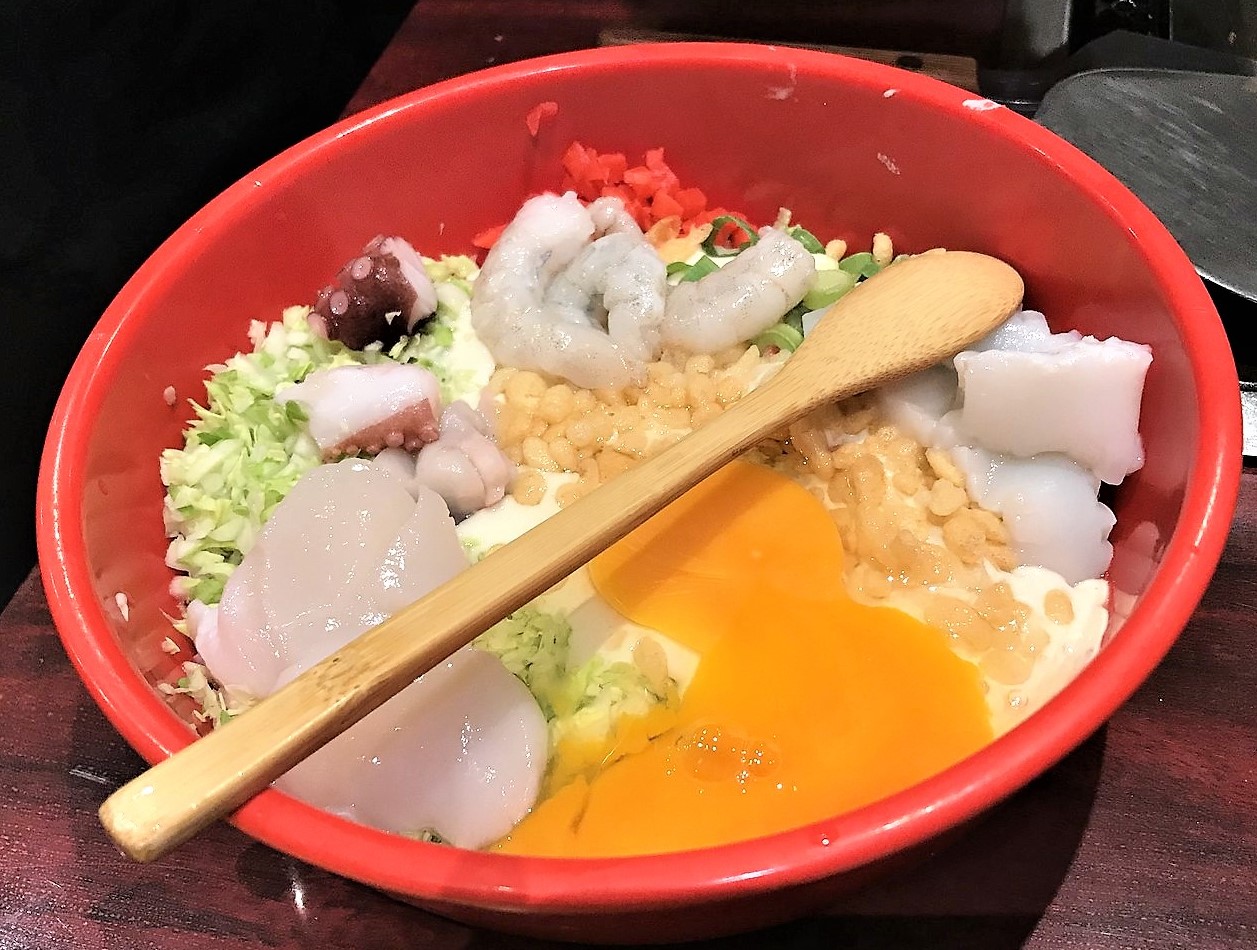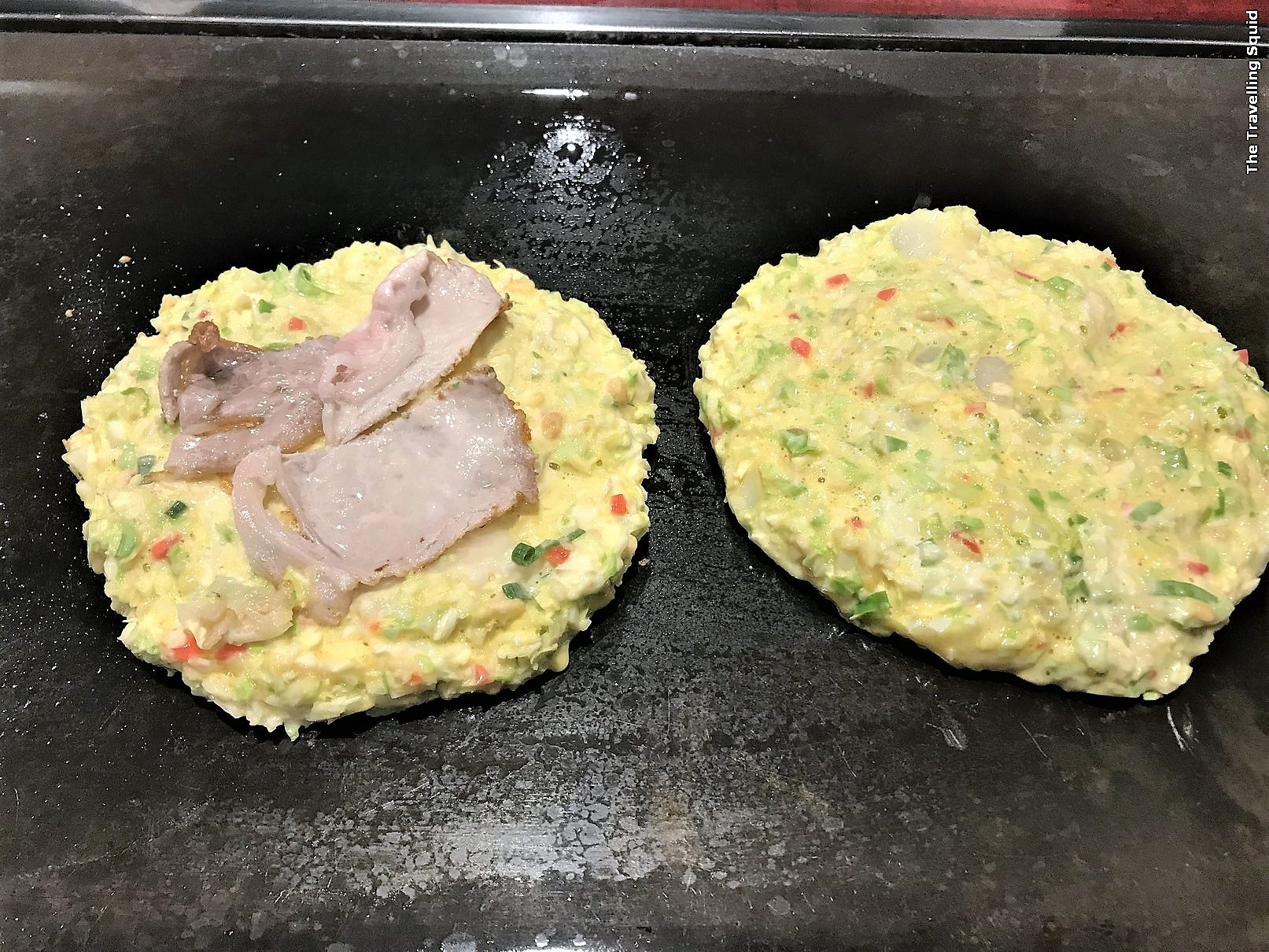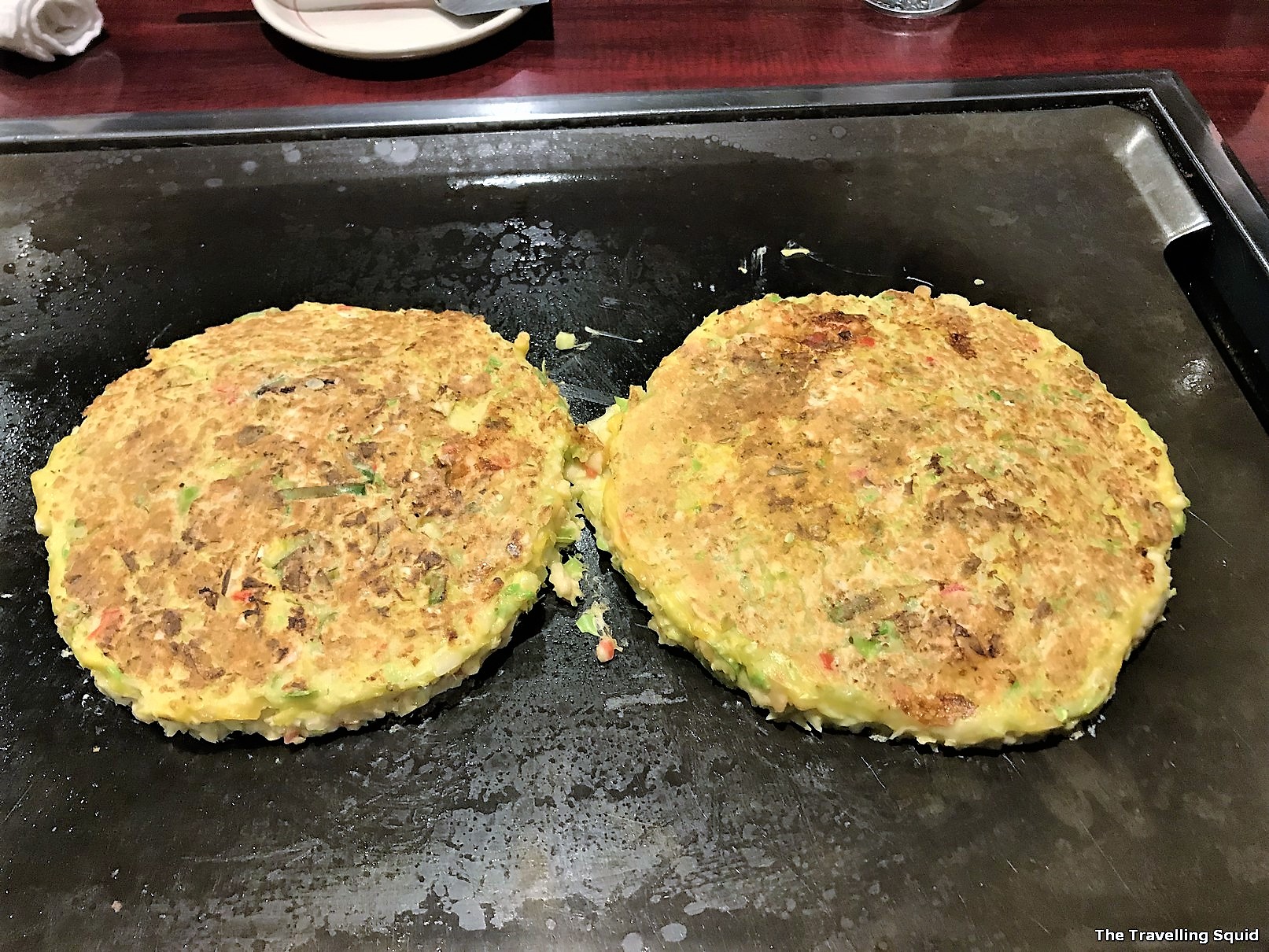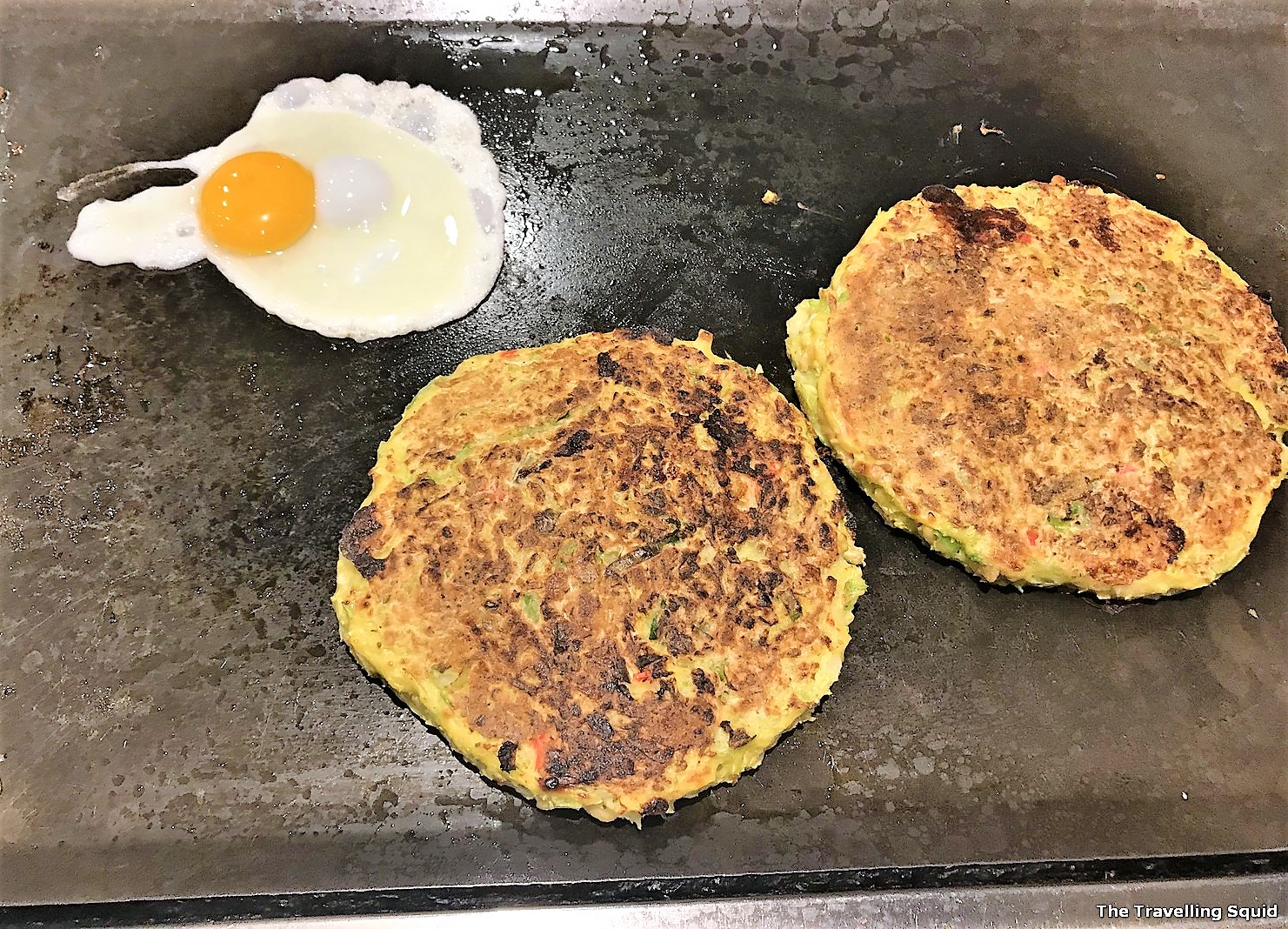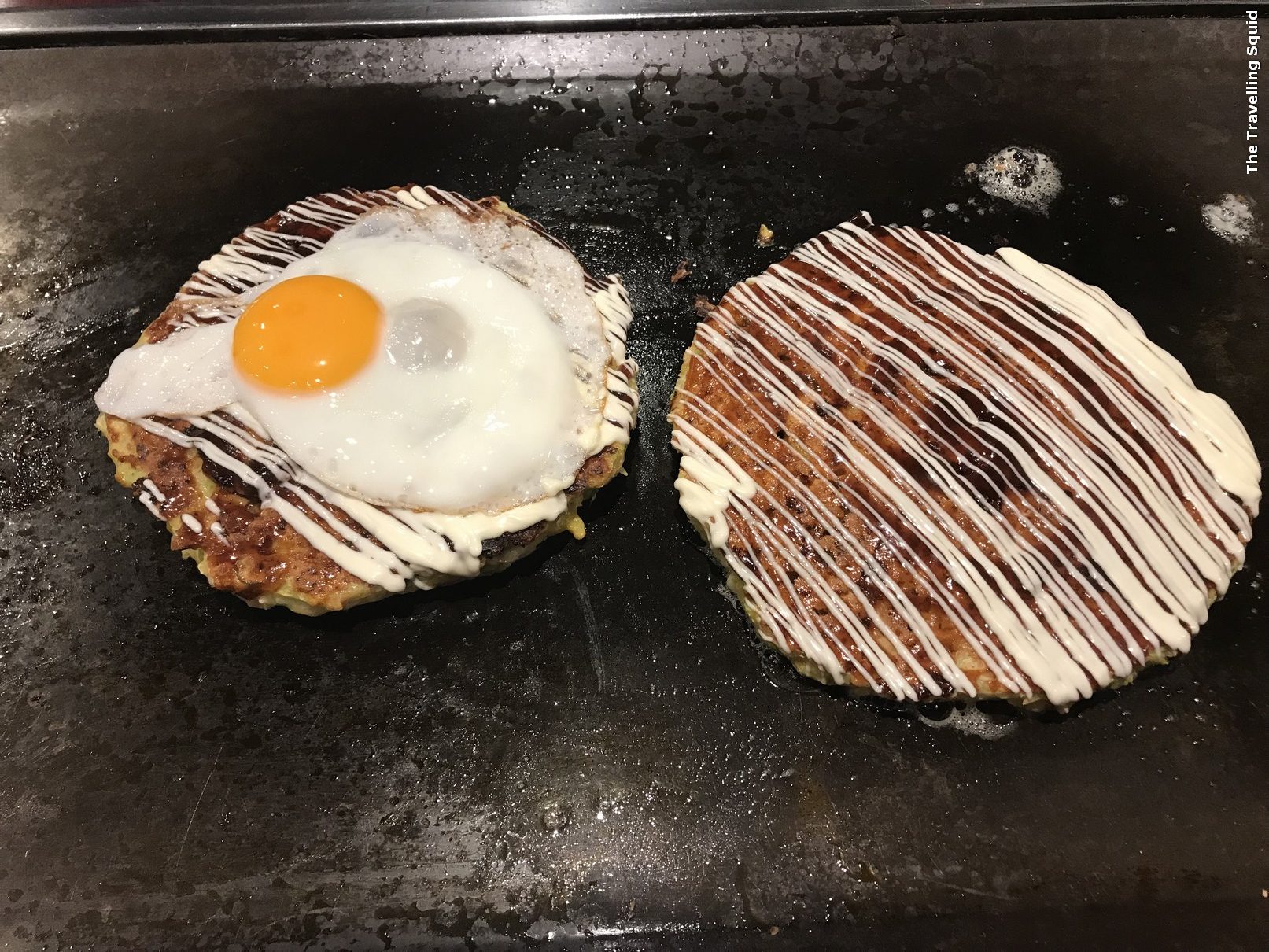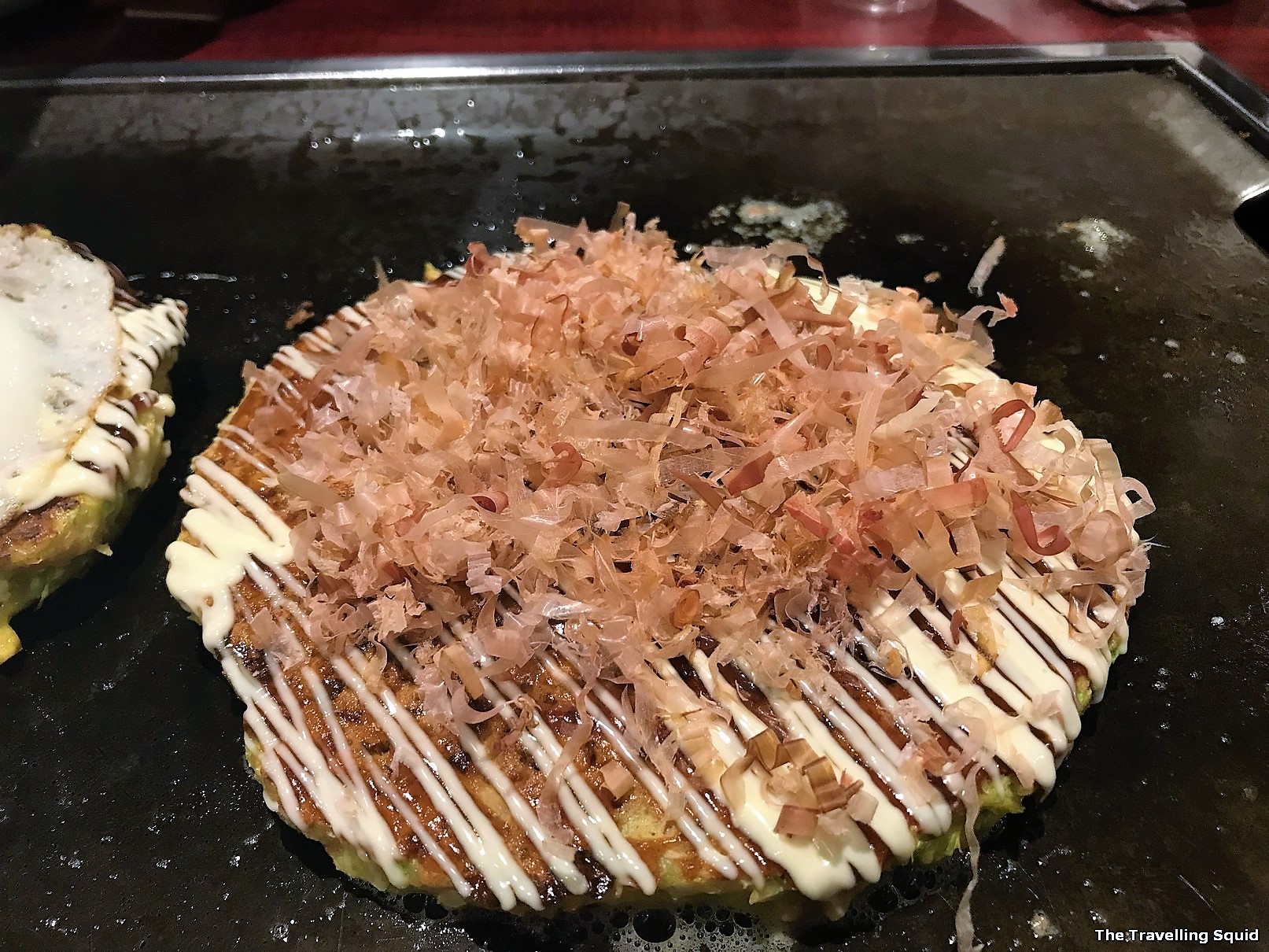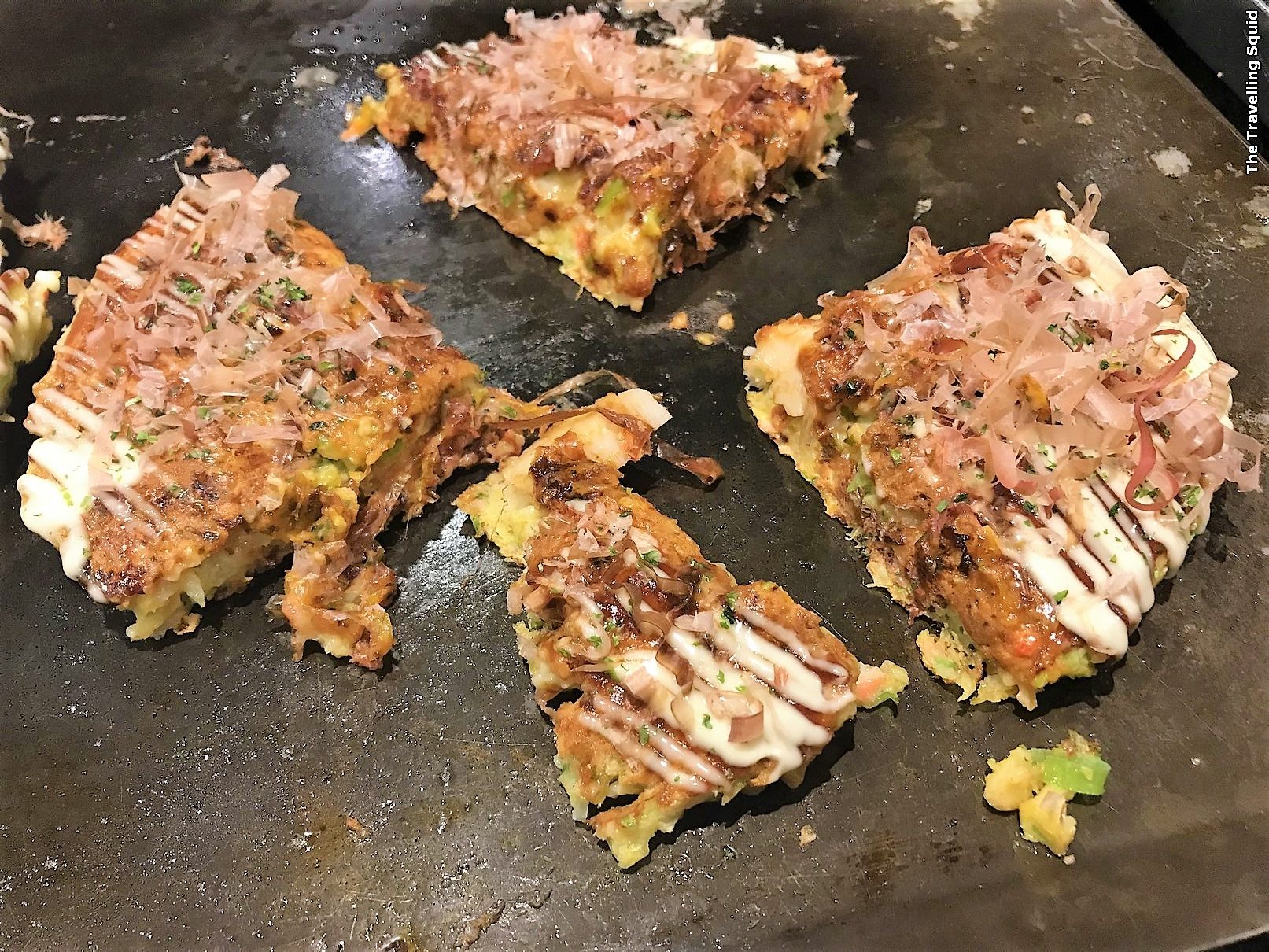 I really liked how the pancake was moist and yet not too oily. It was not too salty, and the mayo and okonomiyaki sauce blended right in with the pancake. The cabbage added a nice crunch to the pancake, and the squid, a nice chewy texture. In my mind, this was the ideal pancake – to be had savory, not sweet.
The Travelling Squid's Take
To be honest, I've not tried that many okonomiyakis to know which ones are good. But I'm definitely sure that I prefer the Osaka-style ones, which does not involve noodles sticking out from my pancake. (I'm not a big fan of thick noodles). I definitely like the mix of cabbage and seafood, and the doughy texture found in the Osaka-style Okonomiyaki. It was then did I resolve to try making this back in Singapore. It seems that there wasn't much technique involved – just cooking a bowl of ingredients. We will be trying this over the weekend, will let you know how that turns out. 😀
***
Visit to Yukari in Osaka for Okonomiyaki (Sonezaki main store)
Tel: +81 06-6311-0214
Address: Sonezaki Kita-ku, Osaka-shi Osaka prefecture 530-0057
Website: https://www.yukarichan.co.jp
Opening hours: 11am – 1am (last order at midnight! – great supper place)