In pictures (2) -The interior of La Sagrada Familia and how to get there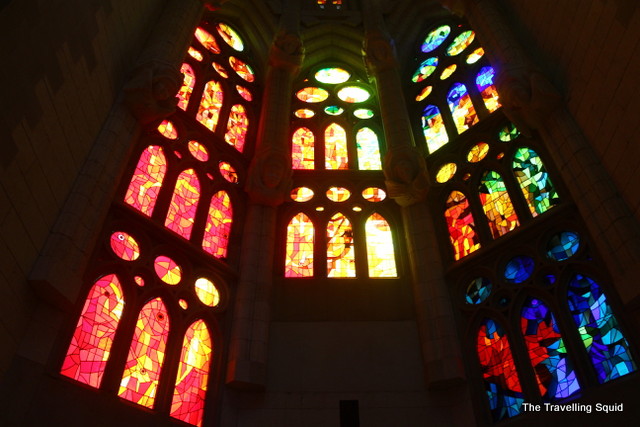 This is a continuation from In pictures (1) – The towers of La Sagrada Familia in Barcelona.
As mentioned in the first post, La Sagrada Familia is a basilica mired in a fair bit of controversy. Its fans have nothing but endless compliments for its artistic designs, yet detractors like George Orwell said that the Anarchists had bad taste not to tear it down.
I'll leave you to decide whether you like it or not. For now, let's find out how to get there, because being the top must-go place for any visitor to Barcelona, the queues to get in can be pretty long. So it's best to go early.
Also read on for pictures on the interior of La Sagrada Familia – think, rows of stained glass windows, pillars that look like trees, and ceilings that resemble a forest canopy. It's a work of art in my opinion.
* * *
How to get there?
Getting to La Sagrada Familia is easy. There's a designated metro station 'Sagrada Familia' on the blue and purple lines. Emerge from the underground station and you will find yourself in the presence of greatness, (and crowds as well).
* * *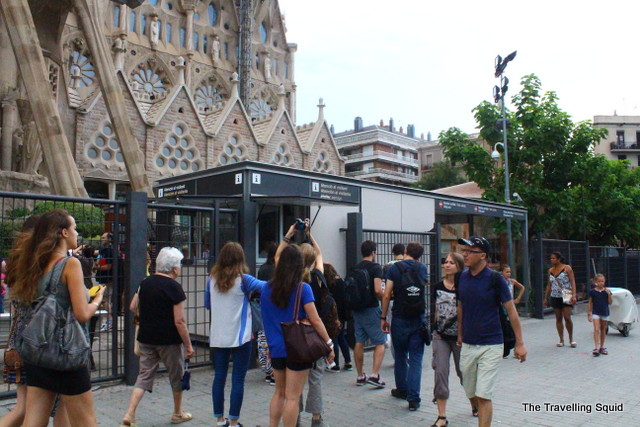 Tip – Get there early or prepare for long queues!
This is a point you should take note of. When we arrived at La Sagrada Familia at 10.00am in the morning, a long queue of approximate 300m long had formed in front of us. As we joined the back of the queue, we were informed by the staff that the next available time slot for entry was 1pm.
Which was a real bummer because we wanted to head down to Las Ramblas later on to do some shopping, and visit the Gothic Quarter after that. Of course, we could always head down to Las Ramblas after picking up the tickets, and return to La Sagrada Familia later on.
We queued for about 45mins – if you're nursing a Starbucks craving, there's a store nearby. Facing La Sagrada Familia, head towards the right, walk straight and cross the road at the traffic junction. Starbucks is just across the road.
The queue moved quite fast so it wasn't too much of a problem, especially if you're with company. When we bought our tickets, the time for entry was 1.45pm. So we headed down to Las Ramblas to do some shopping first before returning back.
In summer, I'd advise you to be there early to beat the crowds.
Opening hours:
October – March: 09:00 – 18:00
April – September: 09:00 – 20:00
Ticket Pricing:
There were some construction works going on at Sagrada Familia when we were there, therefore entrance to the other towers were closed. I'm not a history or architecture buff, so the basic ticket was quite enough for me. It comprised a visit to the main cathedral, the little schoolroom created by Gaudi for the children of his craftsmen's and an exhibition at the basement of the cathedral. We took about 2.5 hours to explore the place. For more information on ticket pricing, check out the picture below.
It costs €14.80 for a simple Basilica visit. The one that comes with Parc Guell costs €18.30 and does seem rather worth it too.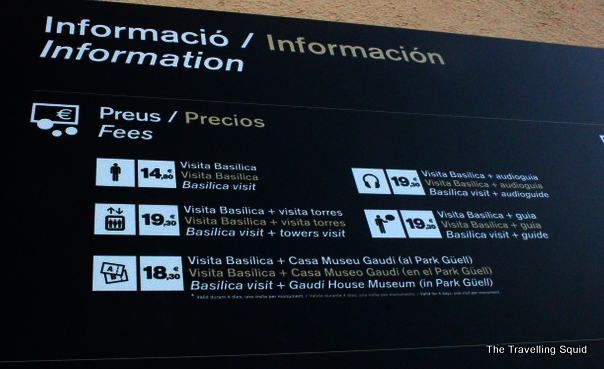 * * *
Our experience
The main Cathedral
Like its exterior, being inside the cathedral of La Sagrada Familia can be quite an eye opener. To the untrained eye, everything seems to be the same, sculpture after sculpture, and the series of stained-glassed windows. But if you look closely, you'll find that each sculpture has a meaning. It does help that I have a rudimentary recollection of some Bible stories. The stained-glassed windows were also arranged according to colour, and it looked really lovely as the sun rays streamed in.
When you're there, it's best to take a few moments to soak up the atmosphere. It's nice.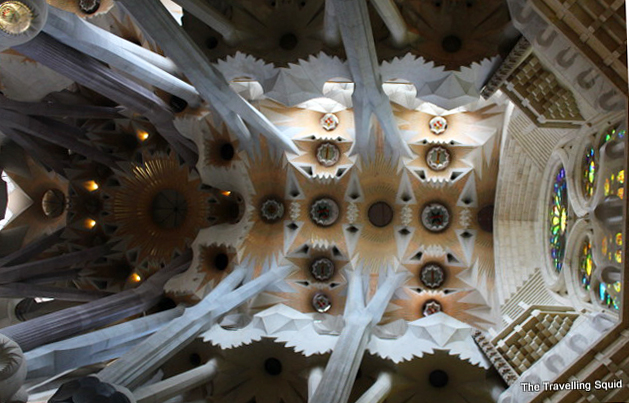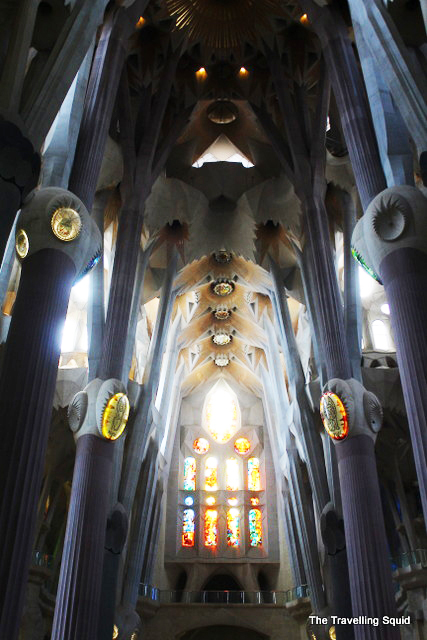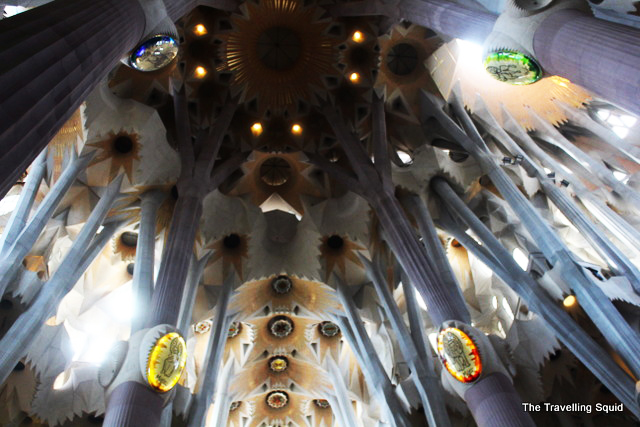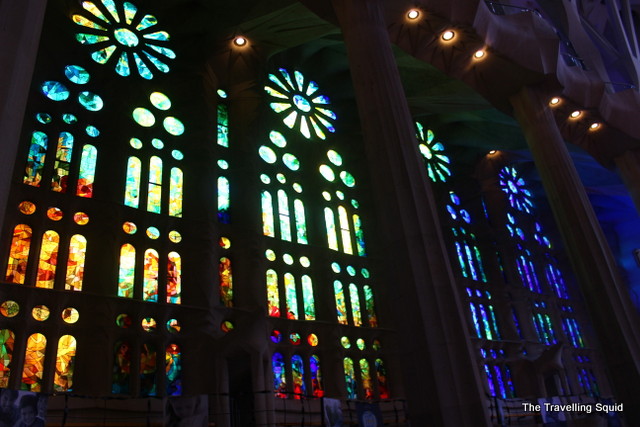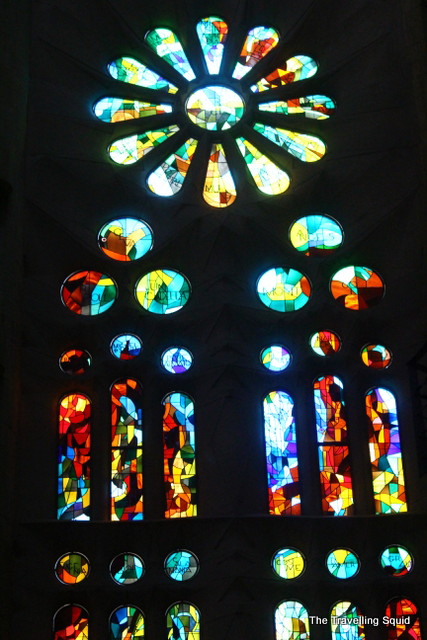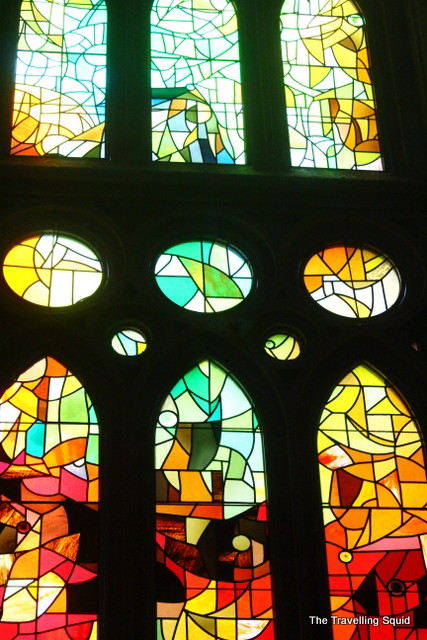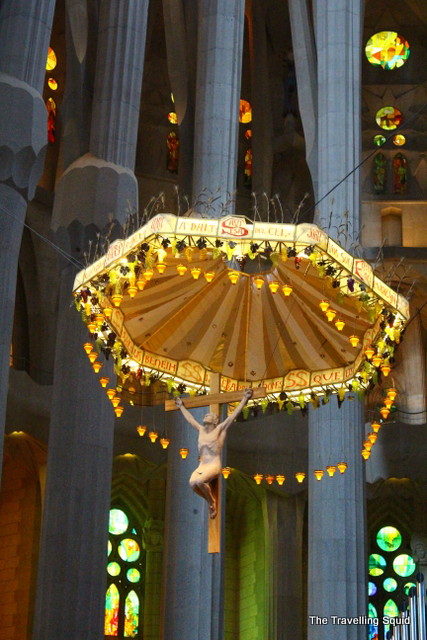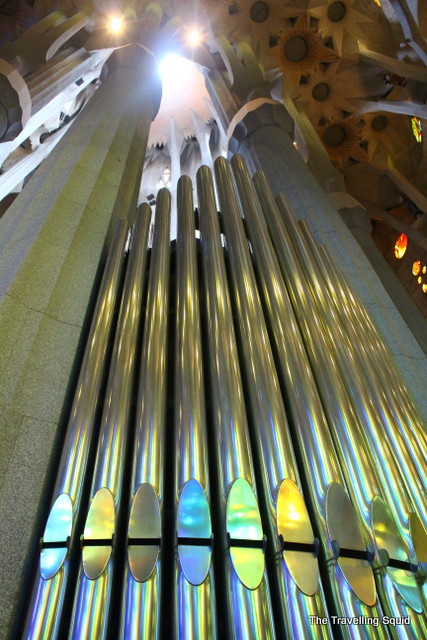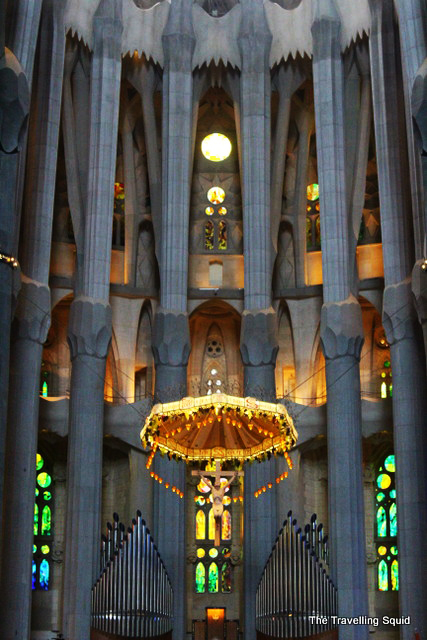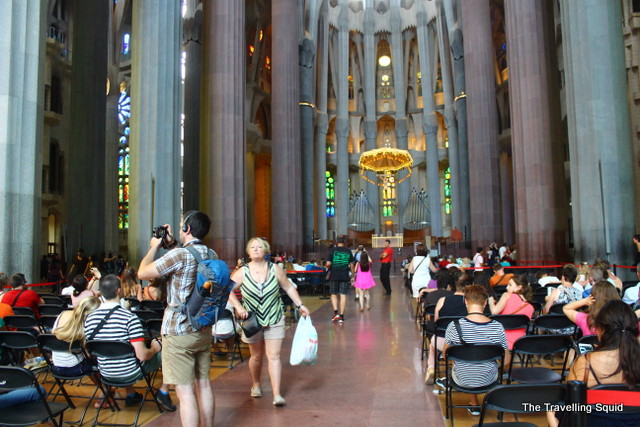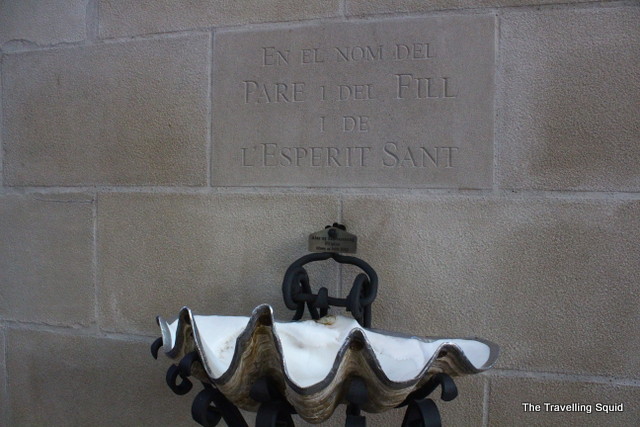 I didn't know this until I wiki-ed what a holy water font is – it is a vessel containing holy water generally placed near the entrance of a church. It is used in Catholic Church, Anglican Church, and some Lutheran churches to make the Sign of the Cross using the holy water upon entrance of the church.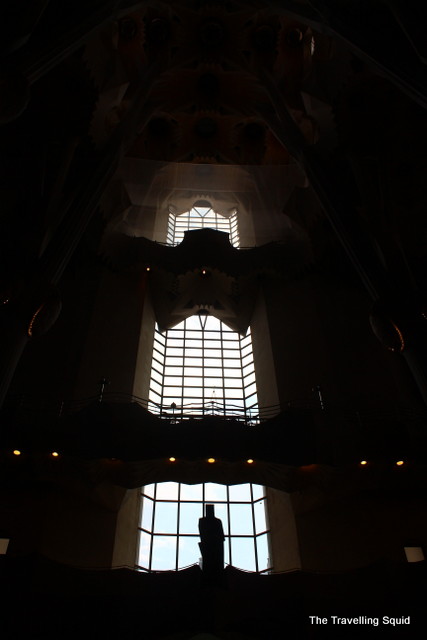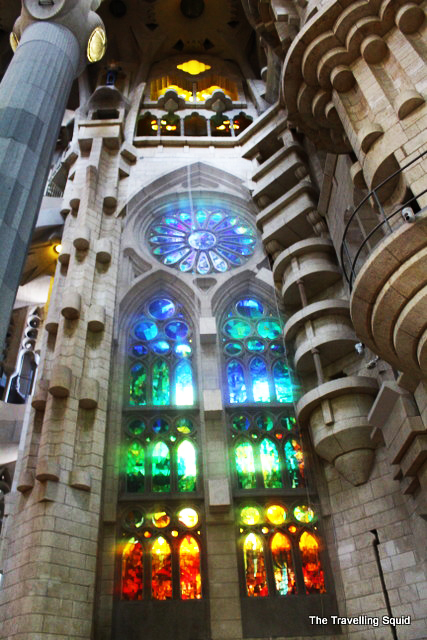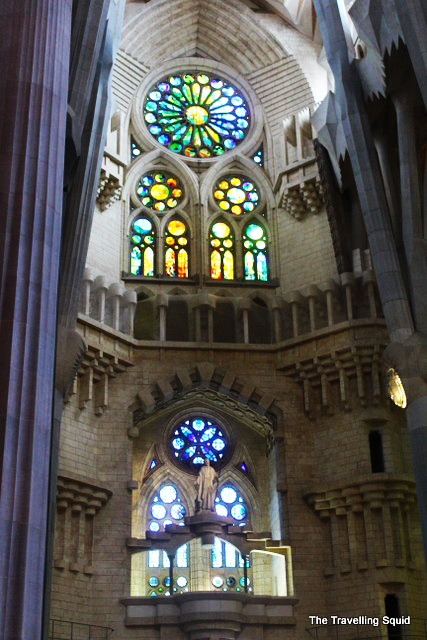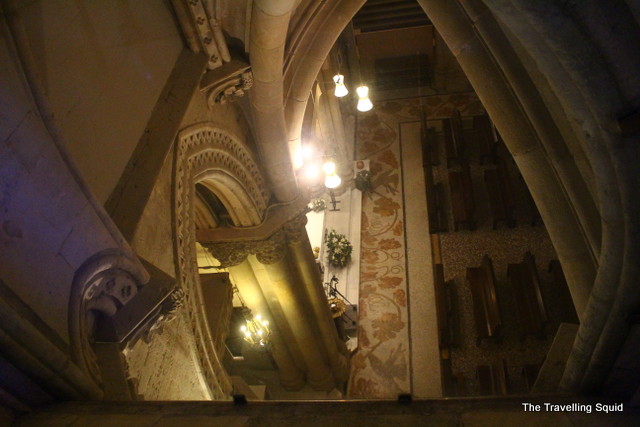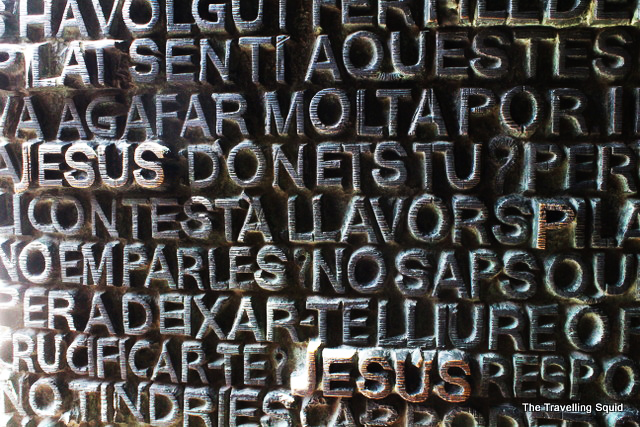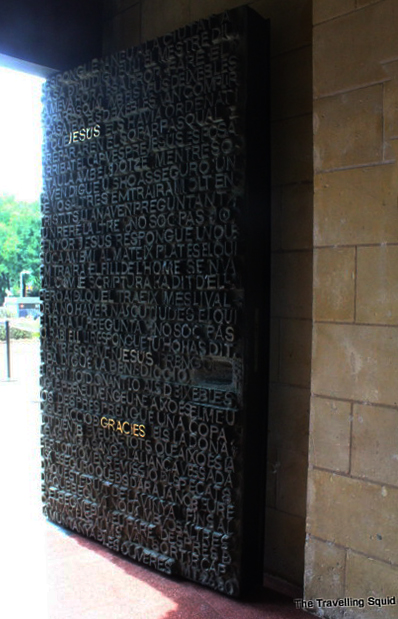 Disrespectful tourists
While I did enjoy the walk around the cathedral, I chanced upon something that made me really angry. It was a PRC Chinese tourist posing in front of a poster of a cross. For one pose, she even stretched out her hands straight, mimicking the cross. Just felt that it was wrong and disrespectful 🙁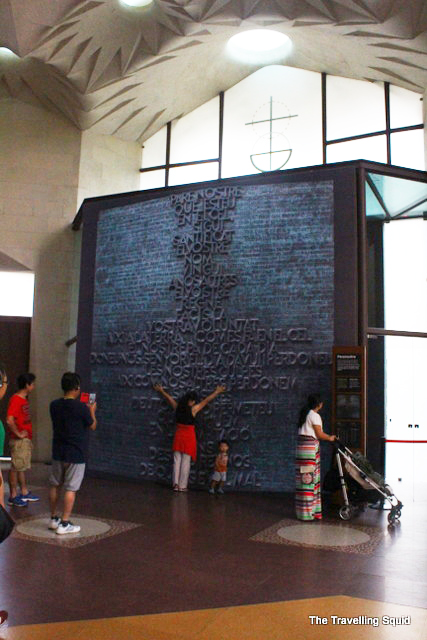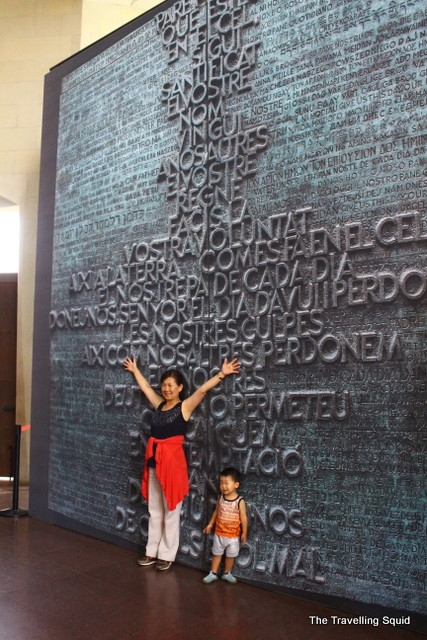 That's all for this post of the interior of La Sagrada Familia. Stay tuned for the last edition on Gaudi's Schoolhouse.