Review: A visit to Sake Bar Sasa Seiran in Kobe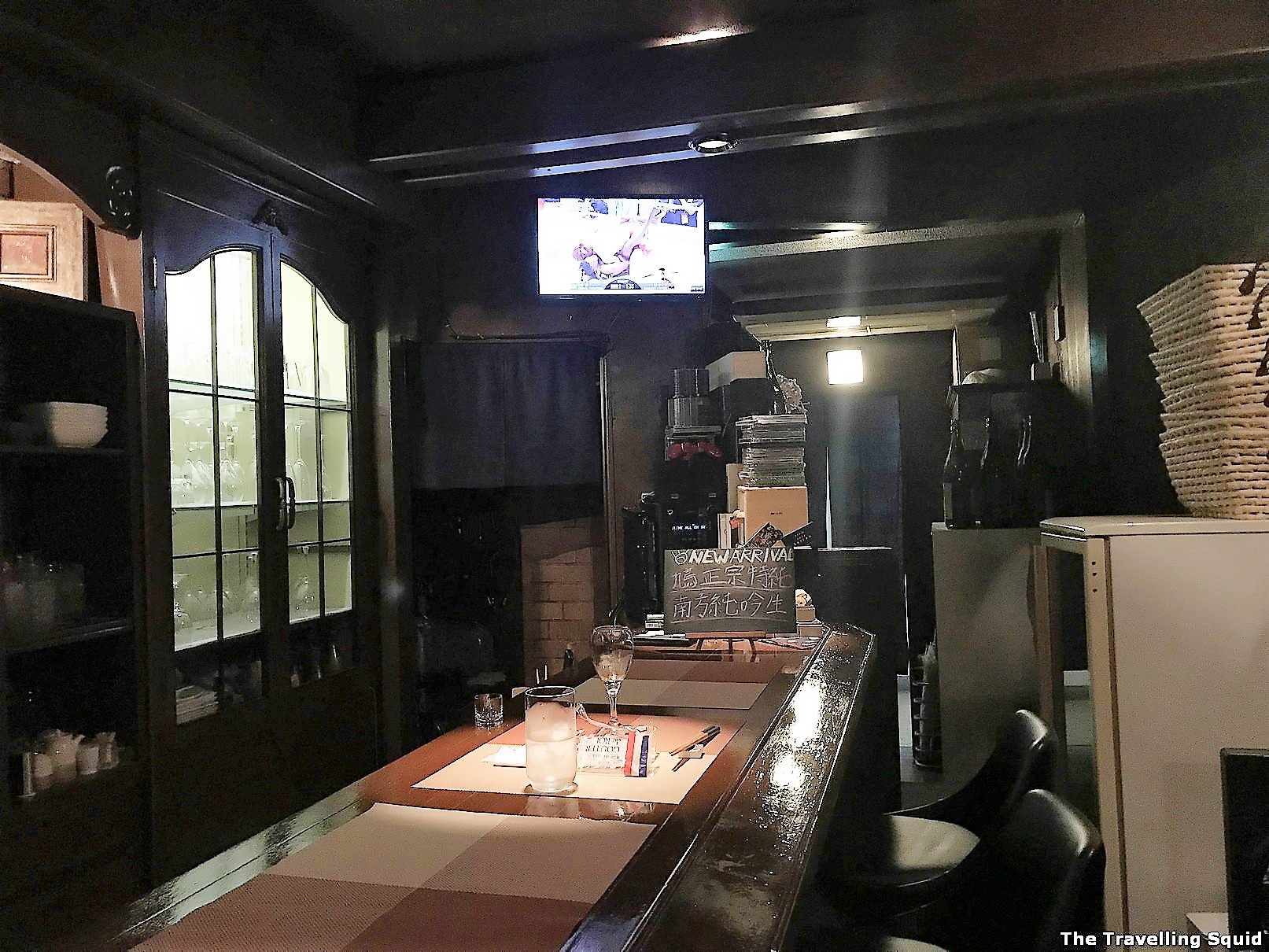 One of the activities we wanted to do in Kobe was to visit the Shin-Kobe Ropeway, but it was raining heavily. So we ended up having yakisoba and delicious Hiroshima Okonomiyaki at Sannomiya Center Plaza, and decided to adjourn to a bar for some sake. With the help of Google, S located a bar in the vicinity. Here's our experience at Sake Bar Sasa Seiran in Kobe – I thought our experience would have been slightly better if we could speak Japanese.
Sake Bar Sasa Seiran in Kobe is a 8-minute walk from  Sannomiya Center Plaza. It's located along a small back alley. Unfortunately I do not have a picture of how the bar looks along the street as it was raining heavily that evening.
When  we first arrived on a Sunday evening, there was a couple seated some distance away from us. They had brought their own snacks, and were chatting with the bartender. I think they were friends. Just as how we couldn't quite understand Japanese, the bartender didn't speak much English but could understand us based on context. Our first drink  was his recommendation and it came with a little bite – probably some pickles if I recalled correctly. According to Sake Bar Sasa Seiran's website, it also serves several types of bar food including a Japanese salad, a sake cake, udon, and bacon  steak. Sounds yummy.
亀齢辛口純米八拾 (pronounced Kametoshi Karakuchi Jumai hachijū)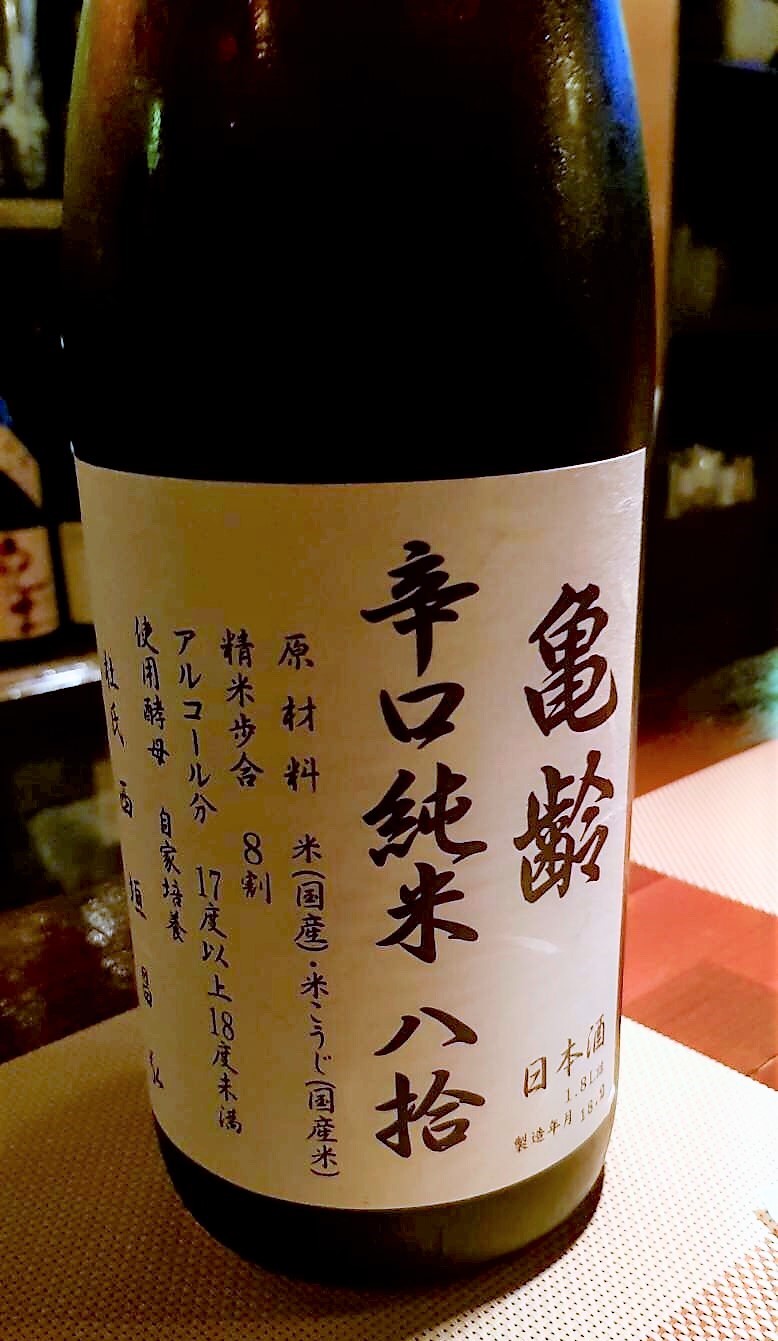 According to the sake brewer Jizakeyasan's website, this sake was produced at the Kameo Sake Brewery in Hiroshima. About 80% of the rice husk has been polished away, giving the sake a clean taste and light body.  I recalled that this was quite smooth when we tried it. This cost about ¥800 per serving (inclu taxes).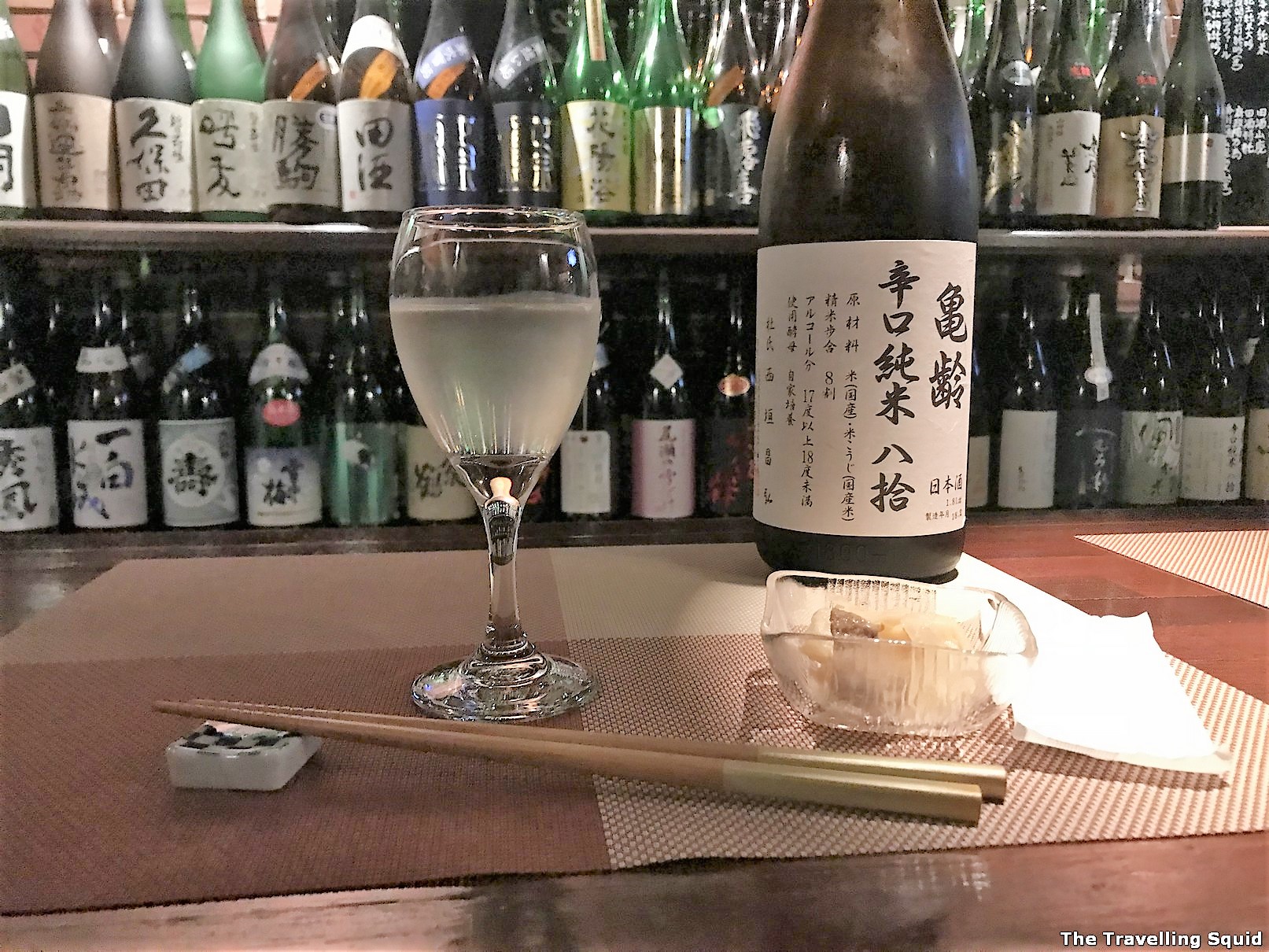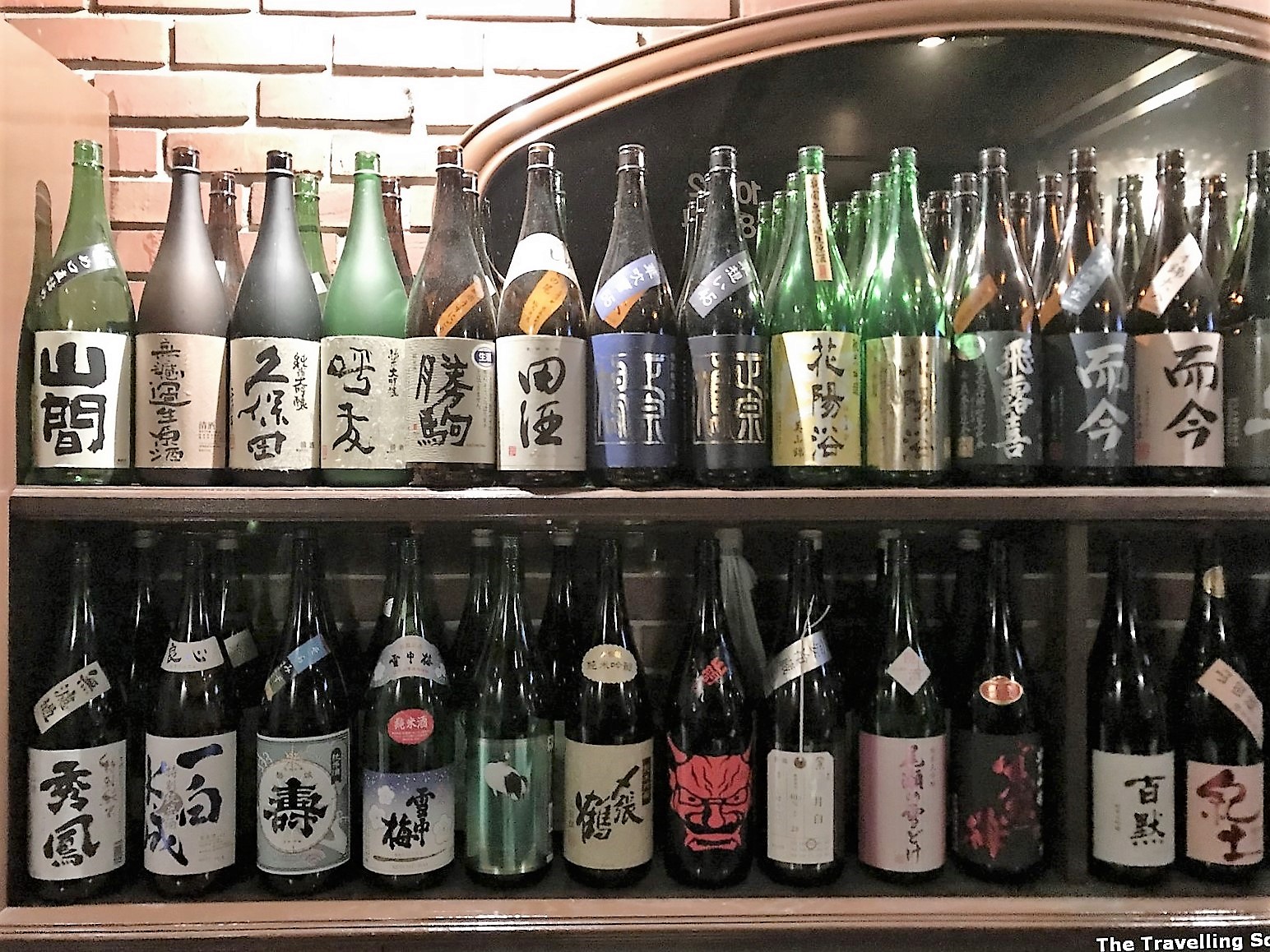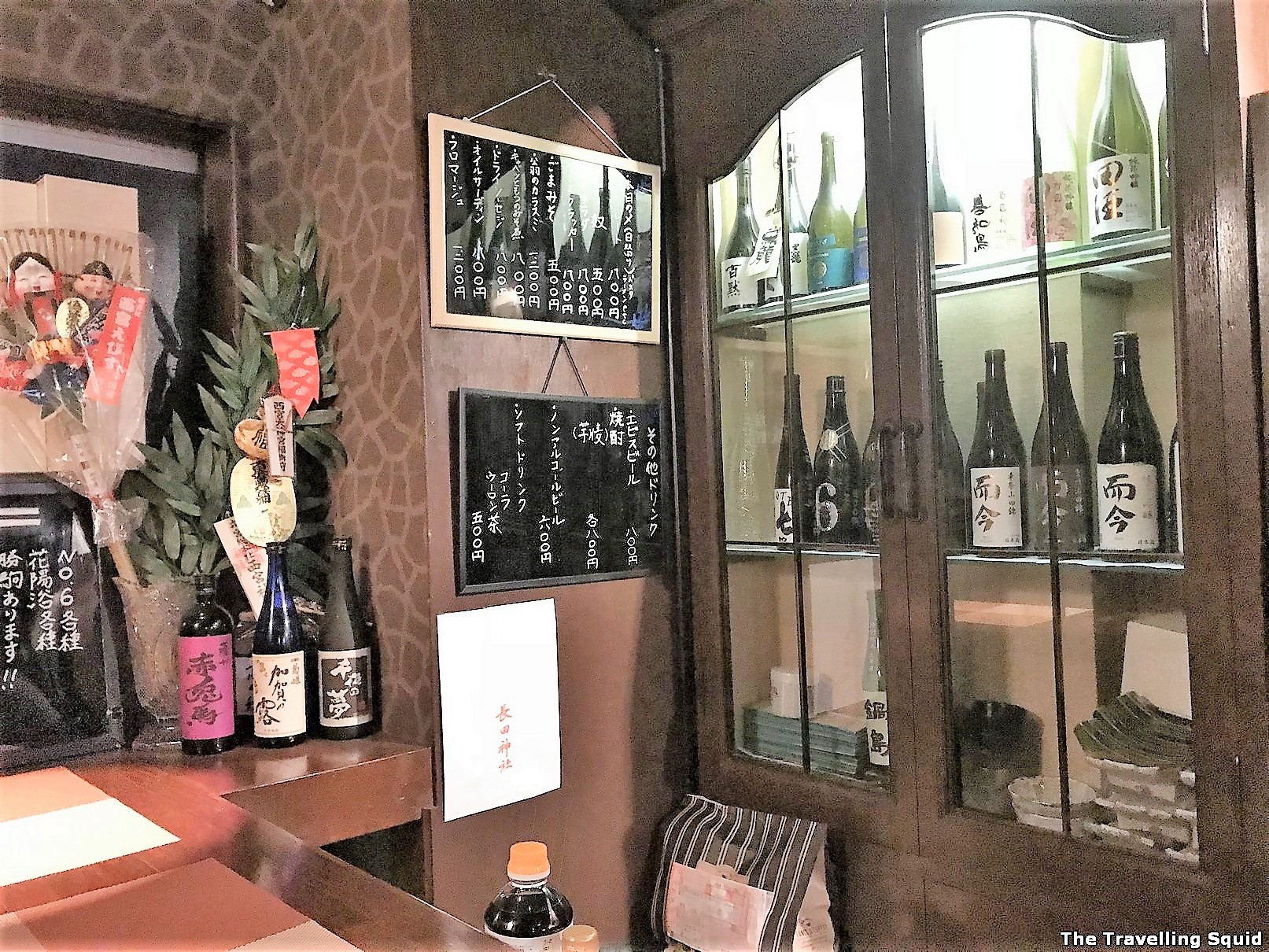 For our second serving, we requested that the bartender recommend us a sake from the area. He recommended us Rafale from Miyakobijin. It is made on Awaji Island, an hour's drive away from Kobe. (From the pictures, Awaji Island looks beautiful.) I personally thought that the label of the bottle was well designed and gave one a dream-like feel. The bartender said the Rafale was a seasonal sake – made during the spring months while we were there.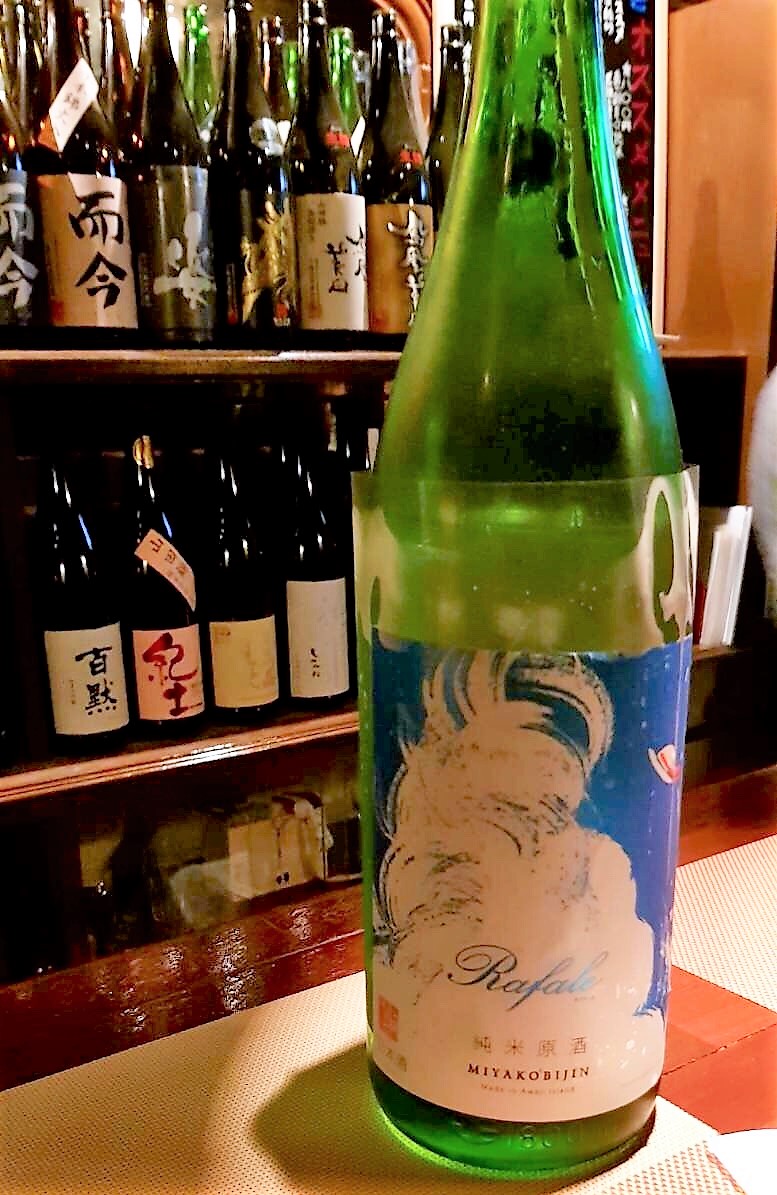 If I recalled correctly, the Rafale was medium-bodied. It was slightly sweet and that helped to bring out the fruity flavours of the sake. If I recalled correctly, there were aromatic peach and apple flavours in it –  it was very enjoyable. This was ¥1,000 per serving (inclu taxes) if I was not mistakened.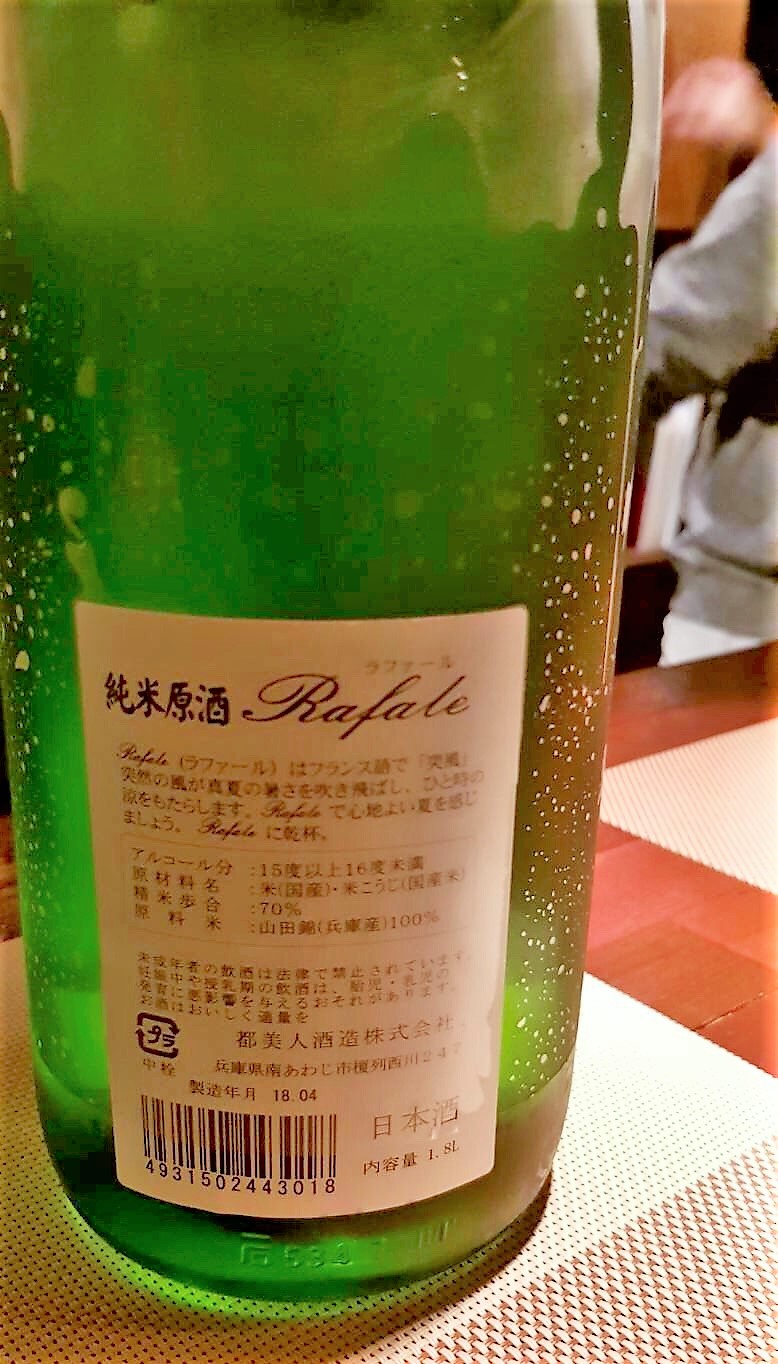 According to website Blackmarketsake.com, Miyako-Bijin brewery is located in south Awaji Island. It is known for its use of the traditional sake brewing method Tenbin-Shibori, where a traditional wooden beam press is used to press the rice used to make sake. The bags containing the rice and liquid brew are laid onto the wooden trough, wooden boards are then placed over the neatly stacked bags and a large wooden beam press is used to gradually add pressure.
(The video shows sake being made by mechanical press, unlike the method by Miyako-Bijin which is done by hand). 
One end of this beam press is attached to the wooden trough by a pillar and the other end acts as a lever when it has large oblong stones, weighing about 450kg in total, hung from it to start the pressing process. This traditional method is rarely used by sake breweries today as it takes twice as long. The amount of liquid produced is also lesser as compared to using a modern mechanical press. In 2001, Miyako-Bijin revived this tradition of using Tenbin-Shibori as it wanted to focus on the quality rather than the quantity of sake.
The Travelling Squid's Take
The sake we had at Sake Bar Sasa Seiran in Kobe was probably the best we had in Japan. I liked how this bar was quite authentic – its aim was to serve sake in a comfortable environment to people from different walks of life. I like how the setting was casual – I recalled watching a boxing match playing on TV at the bar. Our experience could have been better if we knew how to speak Japanese, but I think it is still worth visiting. I also thought it would have been more comfortable for us and the bartender if there were other customers at the bar. That way, we would not need to face the invisible language barrier constantly while we were there.
* * *
Sake Bar Sasa Seiran in Kobe
Tel: +81-78-332-6050
Address: Nakayamatedori Chuo-ku Kobe Hyogo
兵庫県 神戸市中央区 中山手通 1-8-19 三浦ビル 2F
Website: http://r.goope.jp/sasaseiran0301
Opening hours: 7pm – 3am