Visit Sylvias in New York City for great soul food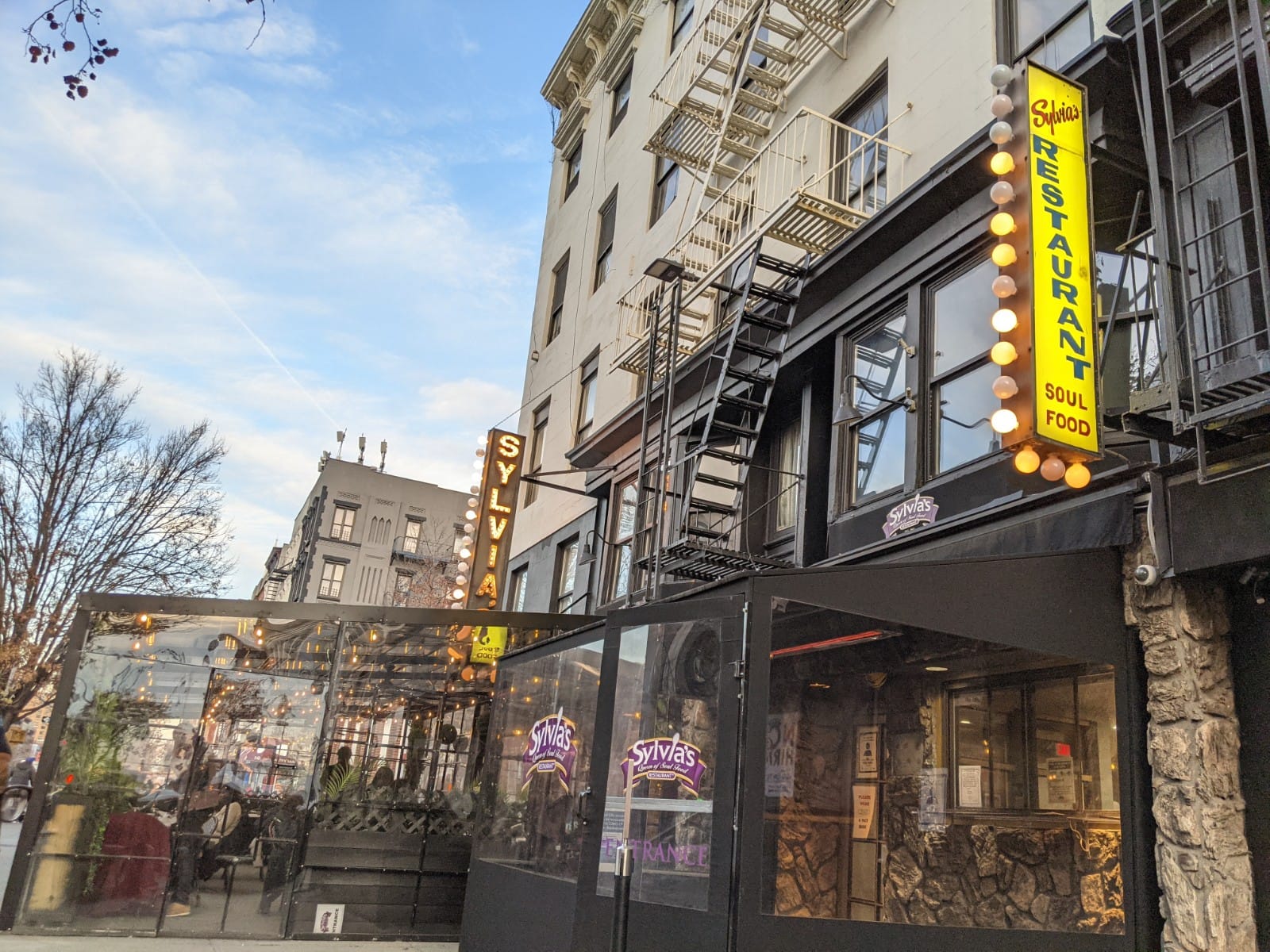 I visited Sylvias recently, after they were closed in Sep 2021 for renovations. As you may be aware, Sylvia's is a well-known spot in Harlem, known for its fried chicken and barbeque ribs. Similar to Irish pub McSorley's, I consider Sylvia's to be a New York institution. It was founded in 1962, and has been visited by some US Presidents including Barack Obama and Bill Clinton. Nelson Mandela, whose picture was on showcase in the restaurant, was a patron too. Unfortunately, I don't think there were pictures of Conan O'Brien, who did a little comedy episode as an employee there (see video below). While Sylvias is located very much North in Manhattan's Harlem, here's why you should visit Sylvias in New York City for great soul food.
Visit Sylvias in New York City for great soul food – What I love about Sylvia's – cornbread, collard greens and grits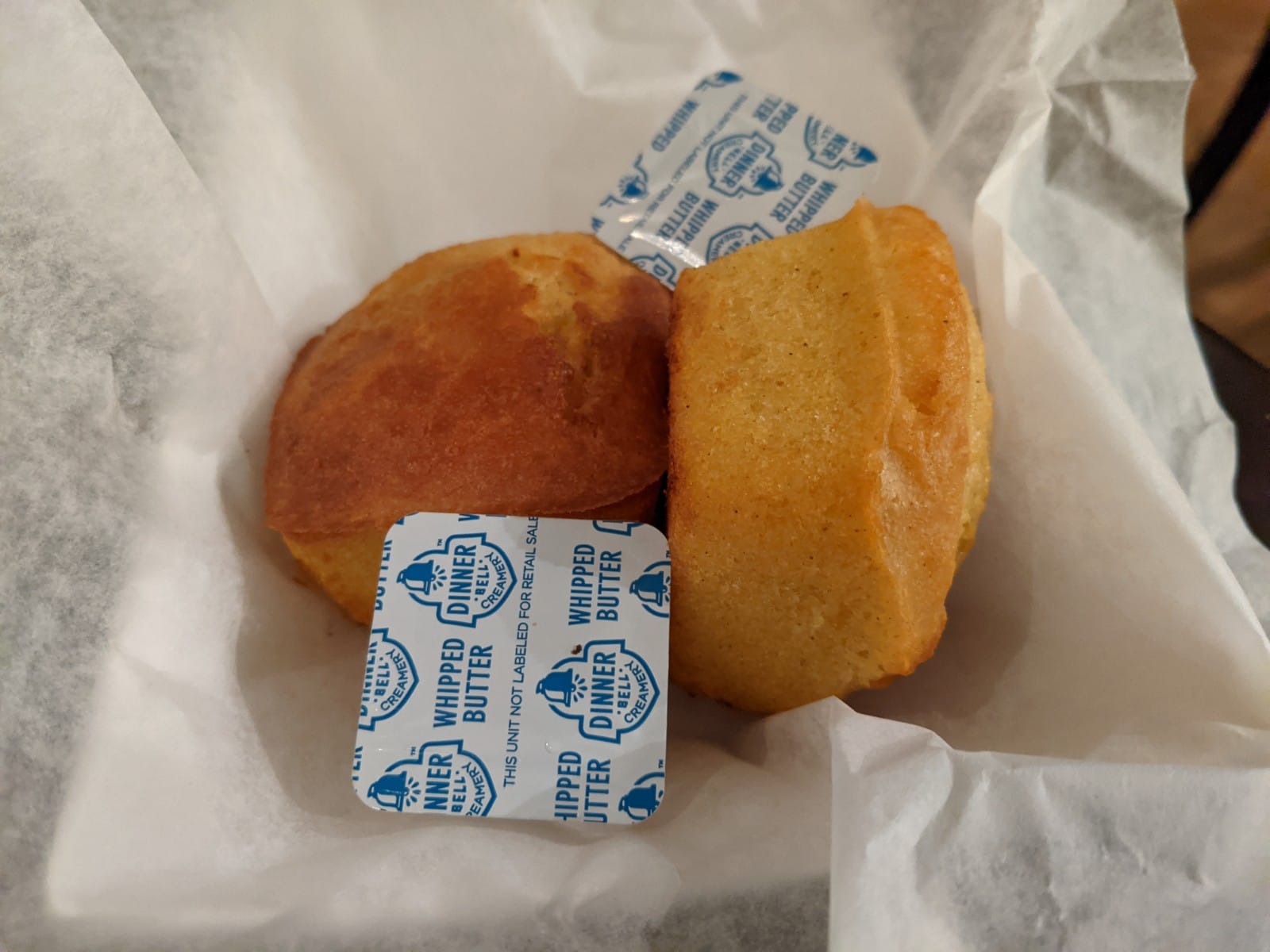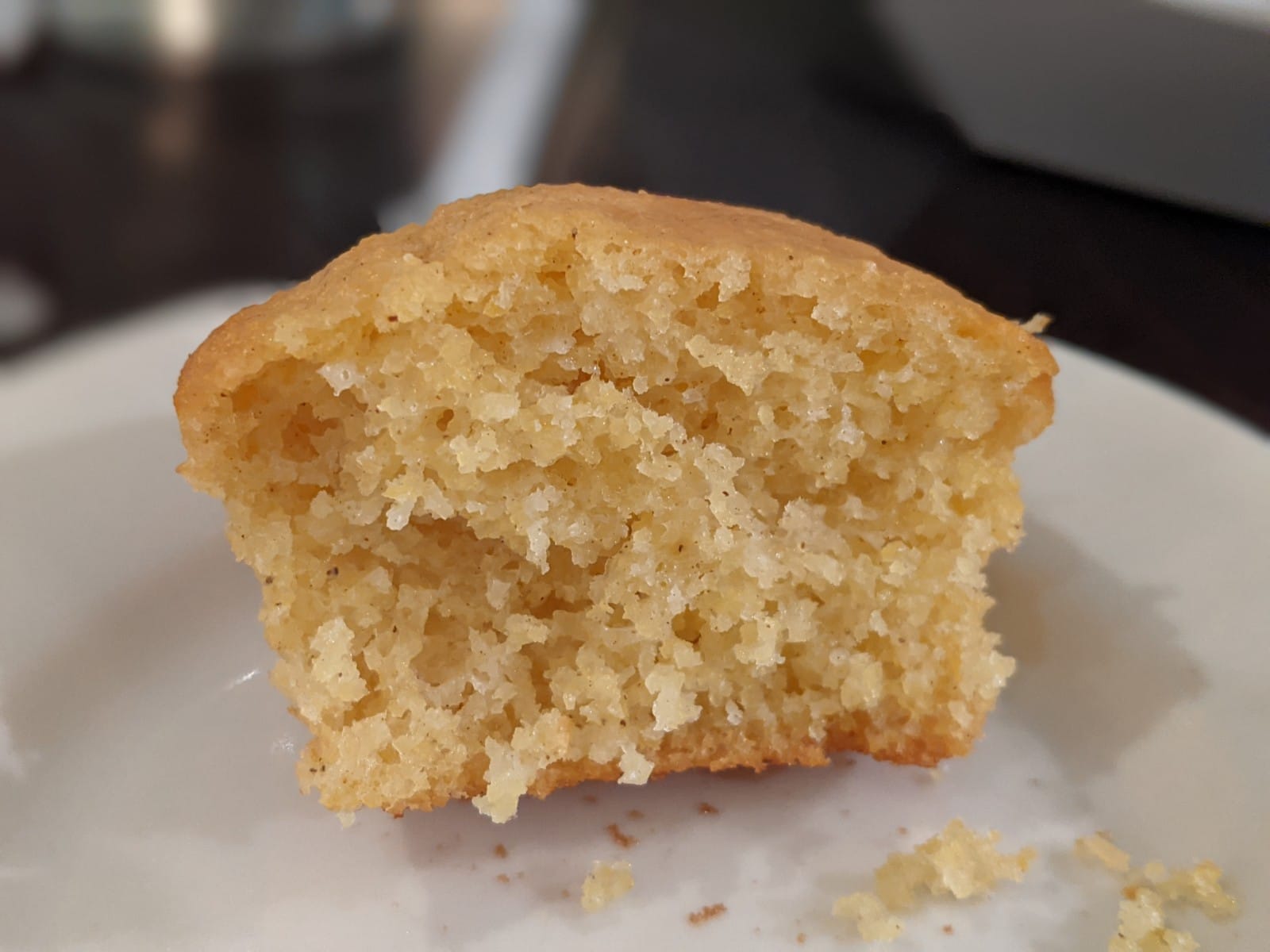 Apart from the super delicious fried chicken, what I love about Sylvia's are the sides – the cornbread is delicious – it's moist, each crumb literally falls apart as I bite into it. The collard greens are also one of the best – a perfect balance of savory, sweetness and acidity. Collard greens are pretty fibrous and can get tough if not cooked well – Sylvia's did it perfectly. I tried grits for the very first time and wow – it was a rich, creamy porridge – reminded me of congee in Asian cooking. The collard greens were of the right texture and flavour – soft but not mushy, with the right balance of savoriness and acidity.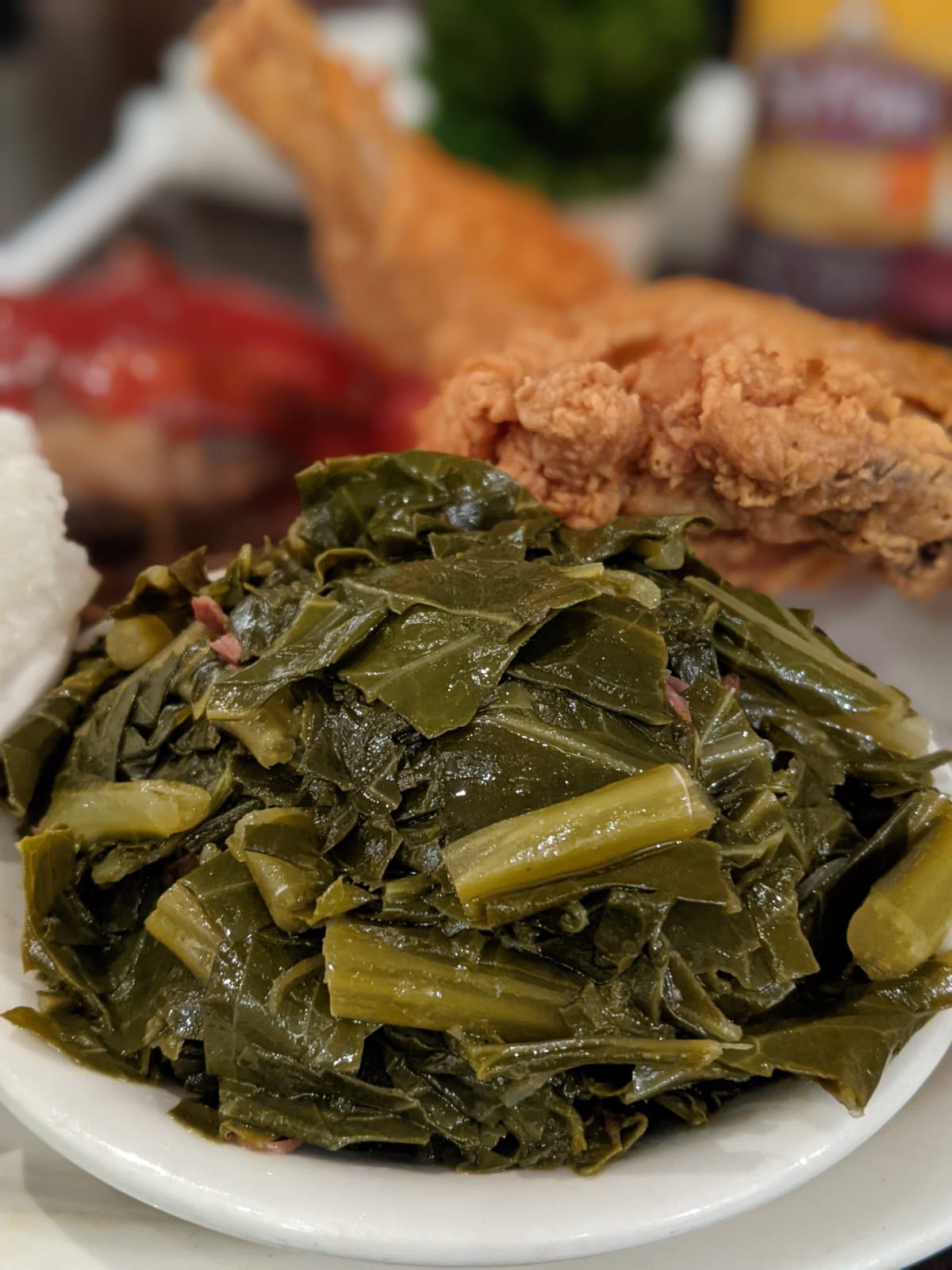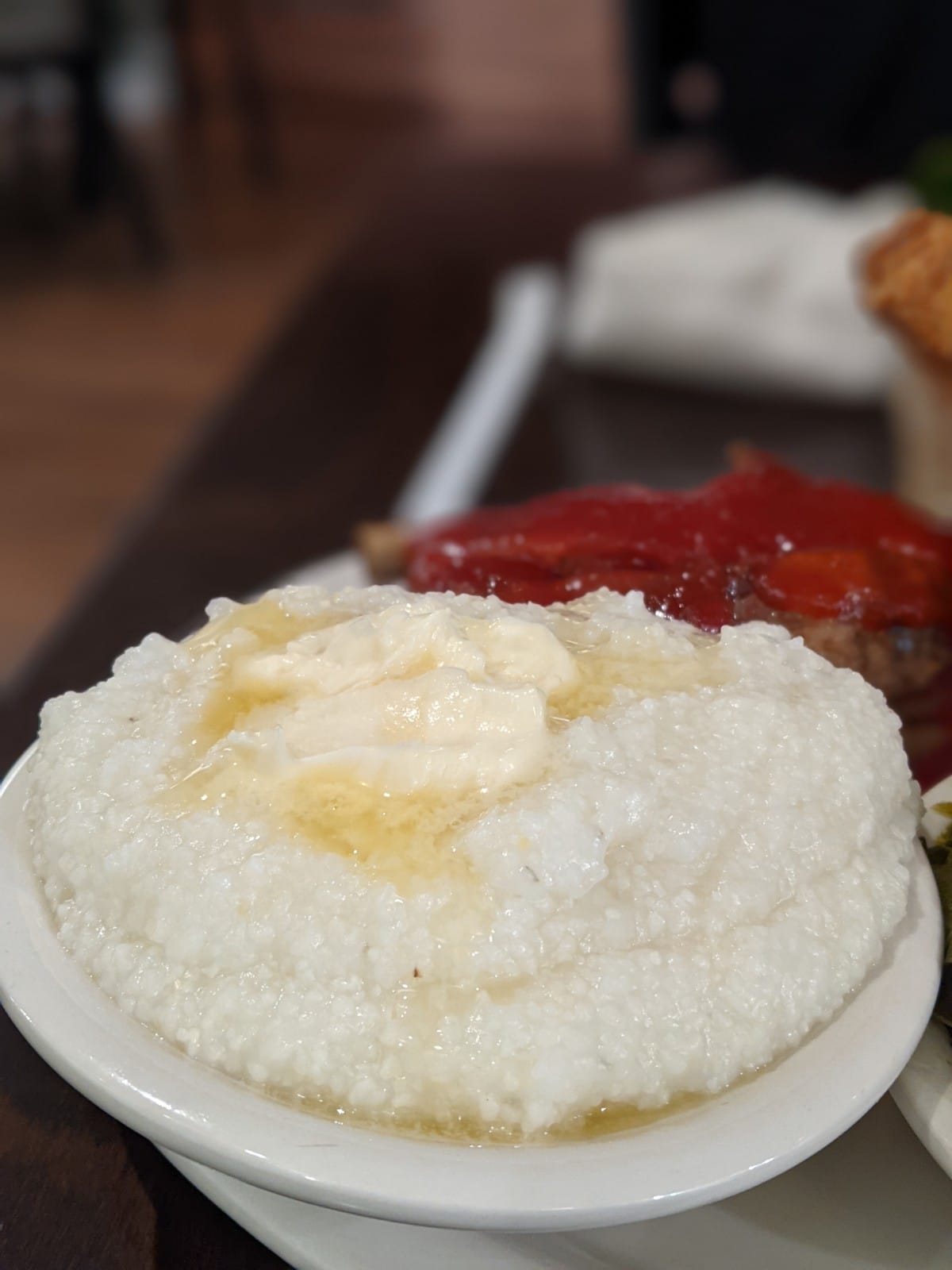 Visiting in May 2021
When I last visited in May, my experience was different as I dined at the patio. Back then, indoor dining was closed due to COVID restrictions. Therefore, I ordered takeout and had it at one of the tables on the patio. Due to renovation, Sylvia's has been closed since Sep 2021 and recently reopened in Nov 2021. I was super happy to be able to get a reservation on Resy, albeit it was at 3.30pm in the afternoon.
On that very day, I arrived at Sylvia's 30 minutes later than my original reservation! (The subway is not to be blamed, it was really poor time management on my end ://) I was worried that they would decline to take me, as they had declined a group just before me. In fact, the staff recommended them to Red Rooster (which I was tempted to visit during my visit as the environment was a comfortable one). But why do Red Rooster if you can eat at Sylvia's! Kudos to S's recommendation and I'm glad I went out of my comfort zone to order from Sylvia's on my first visit : ) The staff member said they do offer a grace period, but 30 minutes was a tad long. Thankfully he reappears 15 mins later saying that they have a vacancy.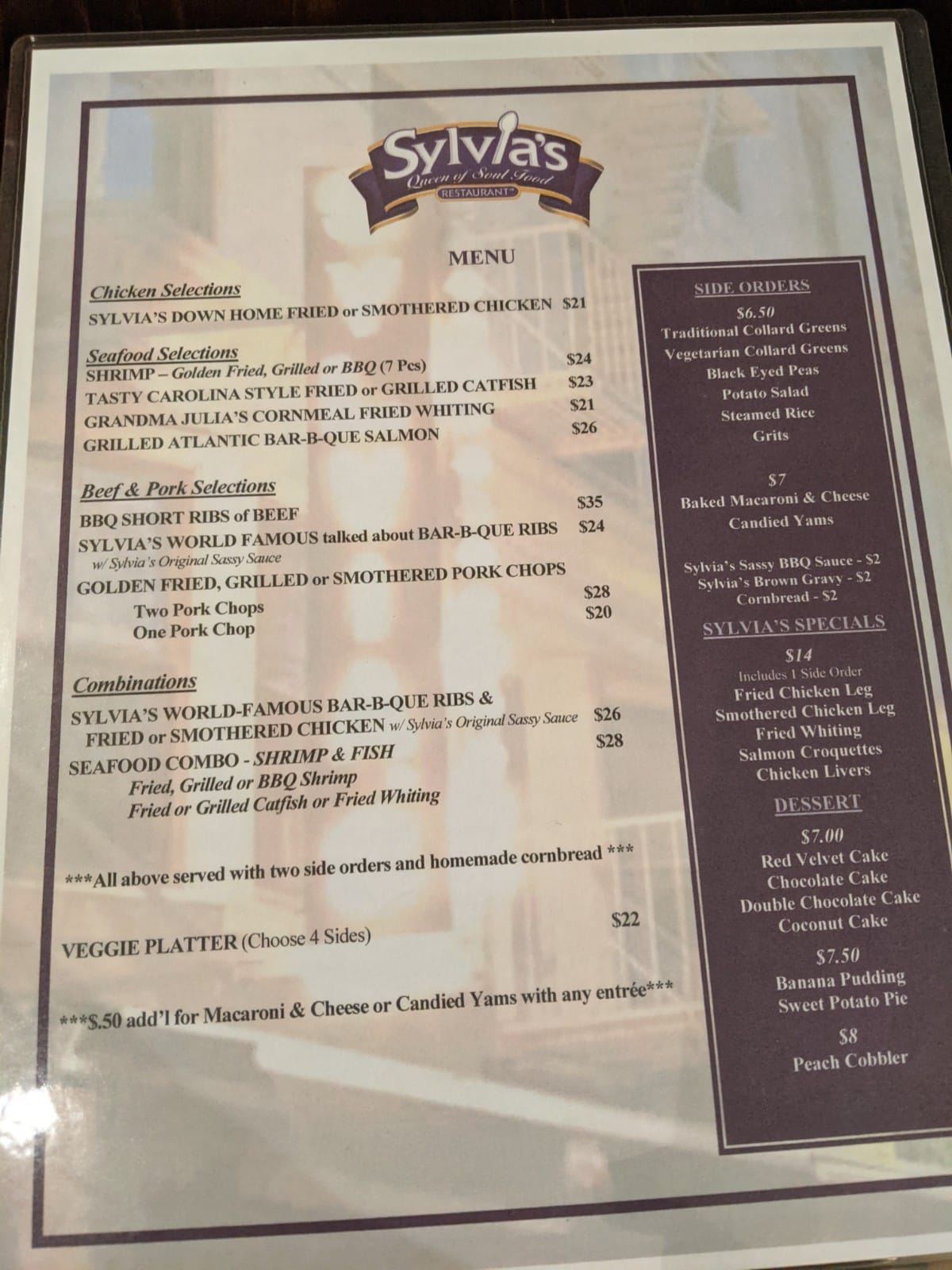 I had a look at their menu and was spoiled for choice. I really wanted to try their seafood options but decided to prioritize the chicken. I went with the combination which included chicken and barbeque ribs. Apparently the latter is pretty famous too. When I struggled between deciding whether to have fried or smothered chicken, my server was super helpful and said that smothered chicken is actually fried chicken with an onion-based cream sauce, and he could bring me a little bowl of gravy so I get to try both. That was really nice of him – really appreciated not having to order two chicken mains in order to try both options.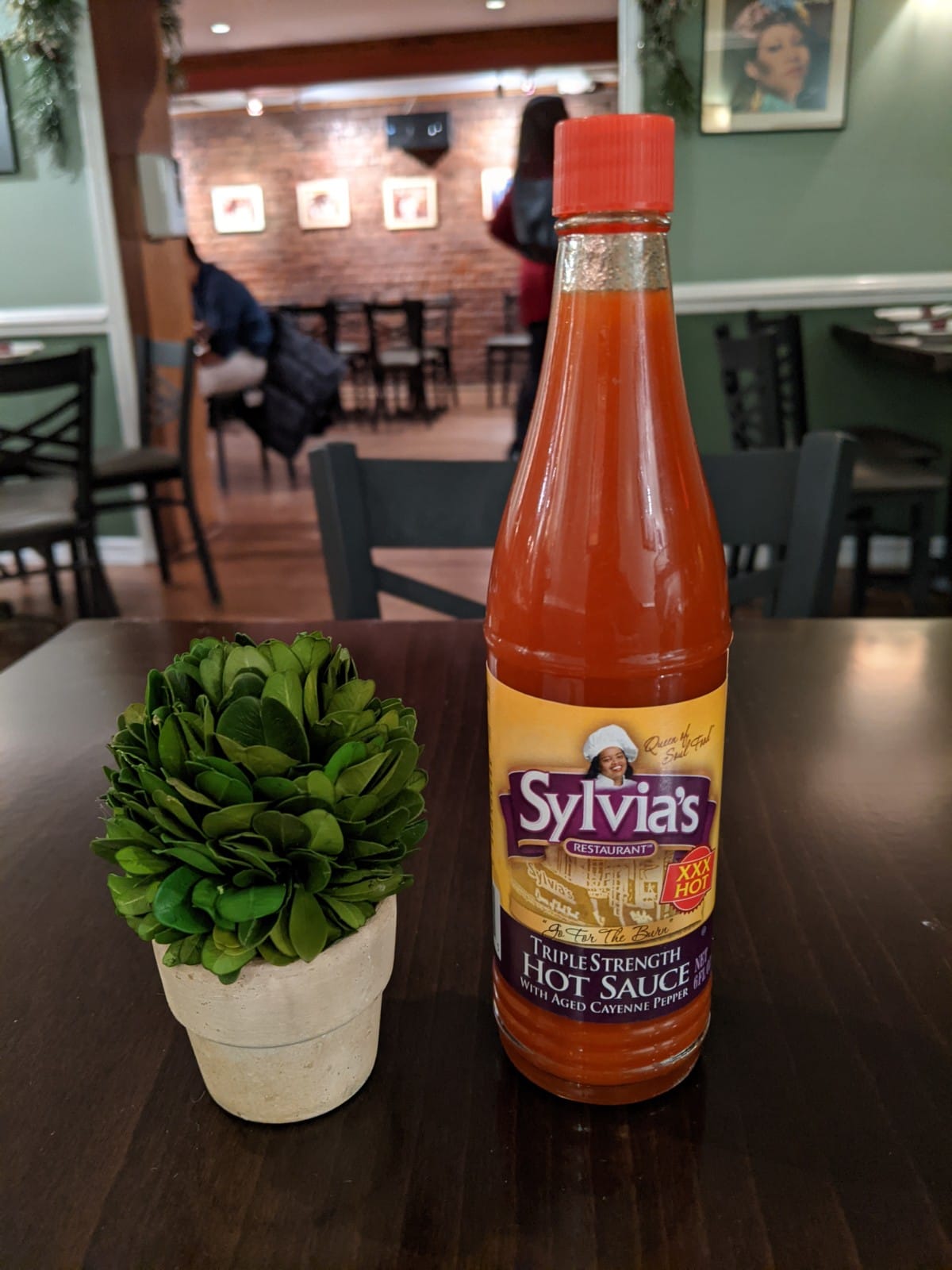 Sylvia's hot sauce
This was very addictive. I had about 1/8 of the bottle when I was there. It was a little spicy but super rich in flavour with just the right amount of acidity. Makes a great pairing with the fried chicken and interestingly, cornbread.
Bar-b-que Ribs and Fried Chicken combination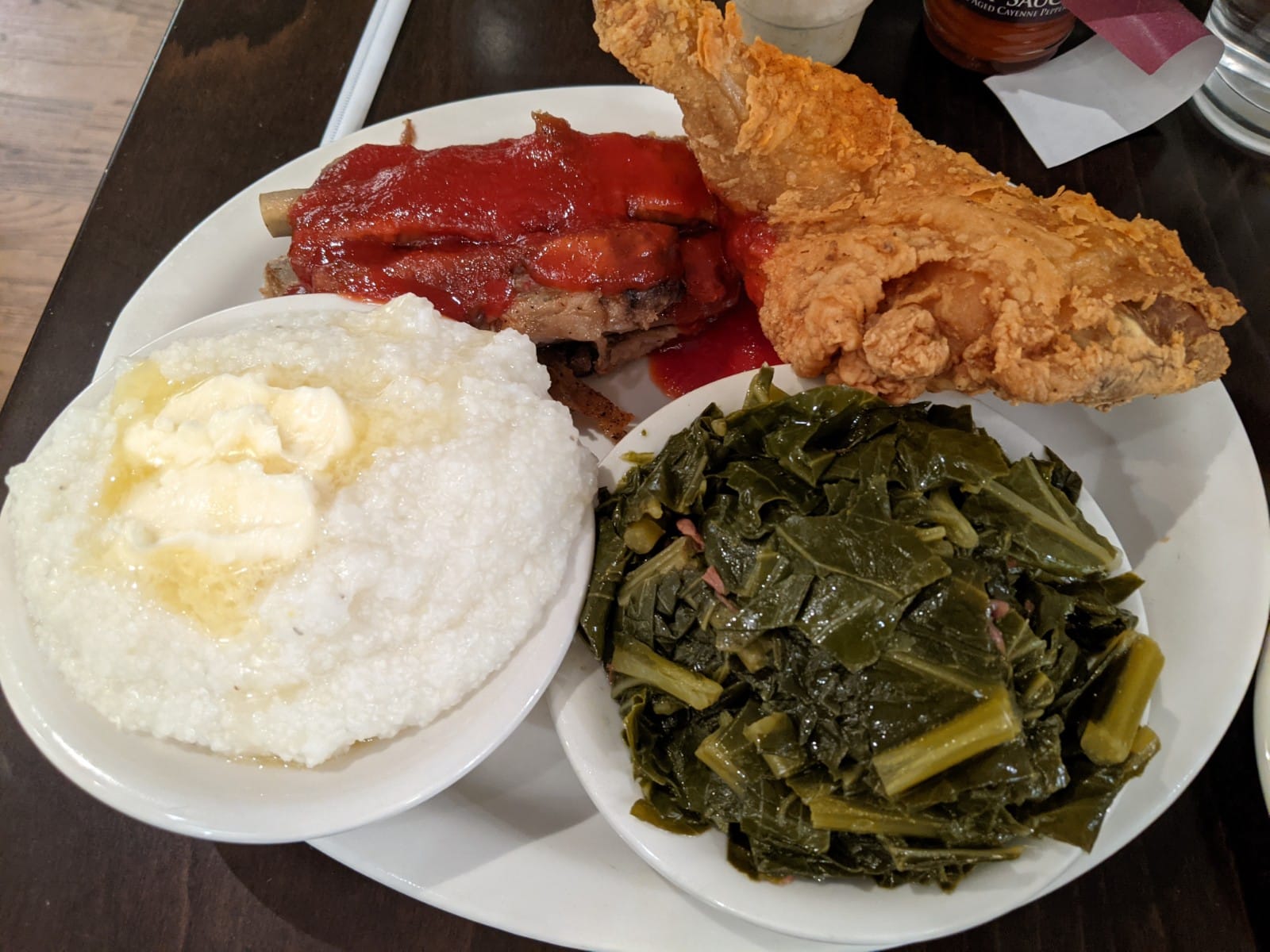 I ordered the ribs and fried chicken combination as I wanted to get the best of both worlds. It was great that my server offered a serving of smothered gravy so I could try what it was like to have smothered chicken too. I love chicken thighs and drumsticks so I got dark meat. Sylvia's white meat (breast and wings) seems to be pretty popular and was sold out when I was there.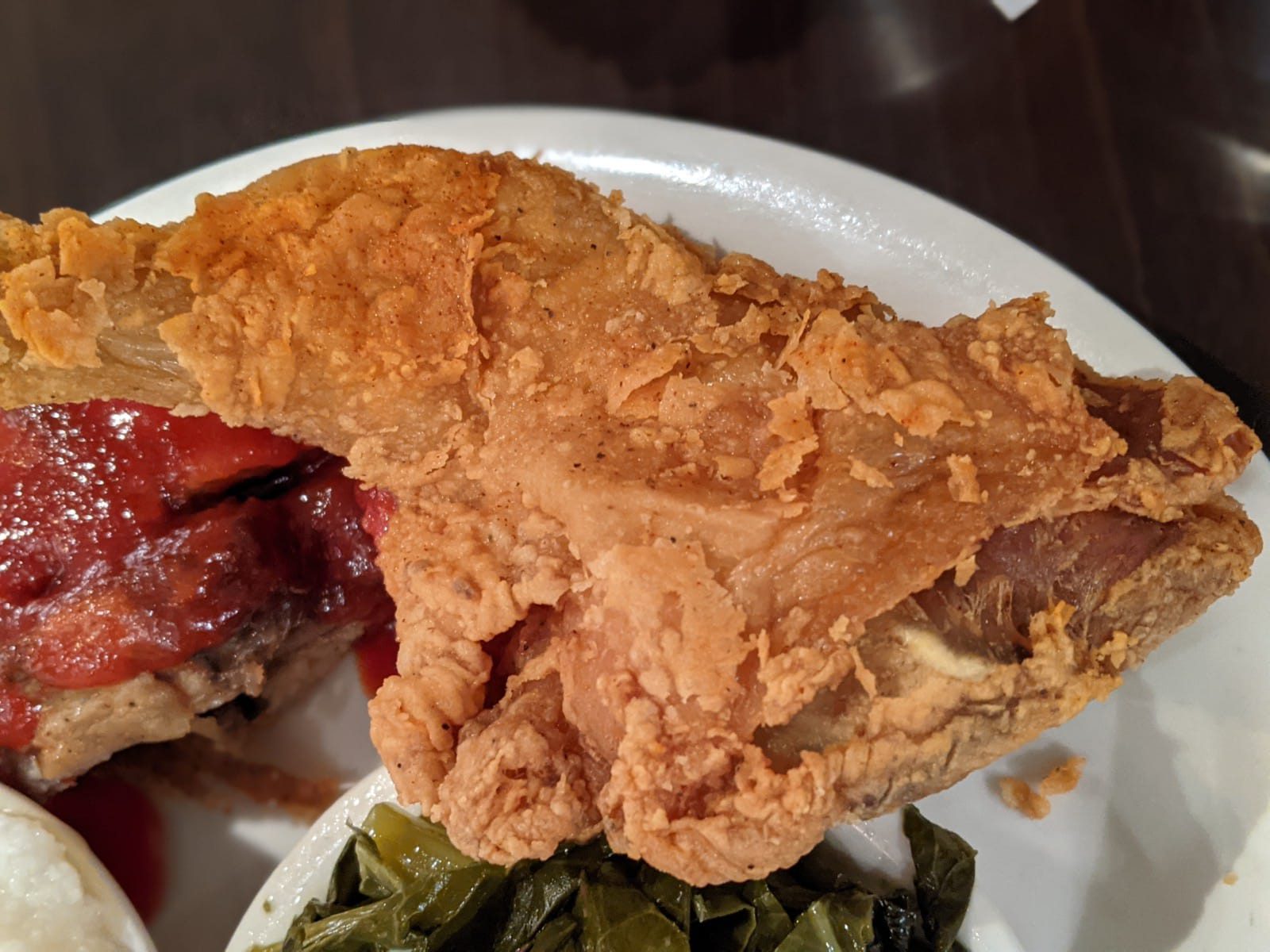 At $26, I would say it's a great price as this meal could have fed two. The serving of sides were hearty and absolutely delicious. I love how the fried chicken was crispy and yet not greasy. It was also well-seasoned – though I would say a little on the salty side. You could tell something more that salt and pepper went into the batter. It went absolutely perfect with the bottle of Sylvia's hot sauce on the table.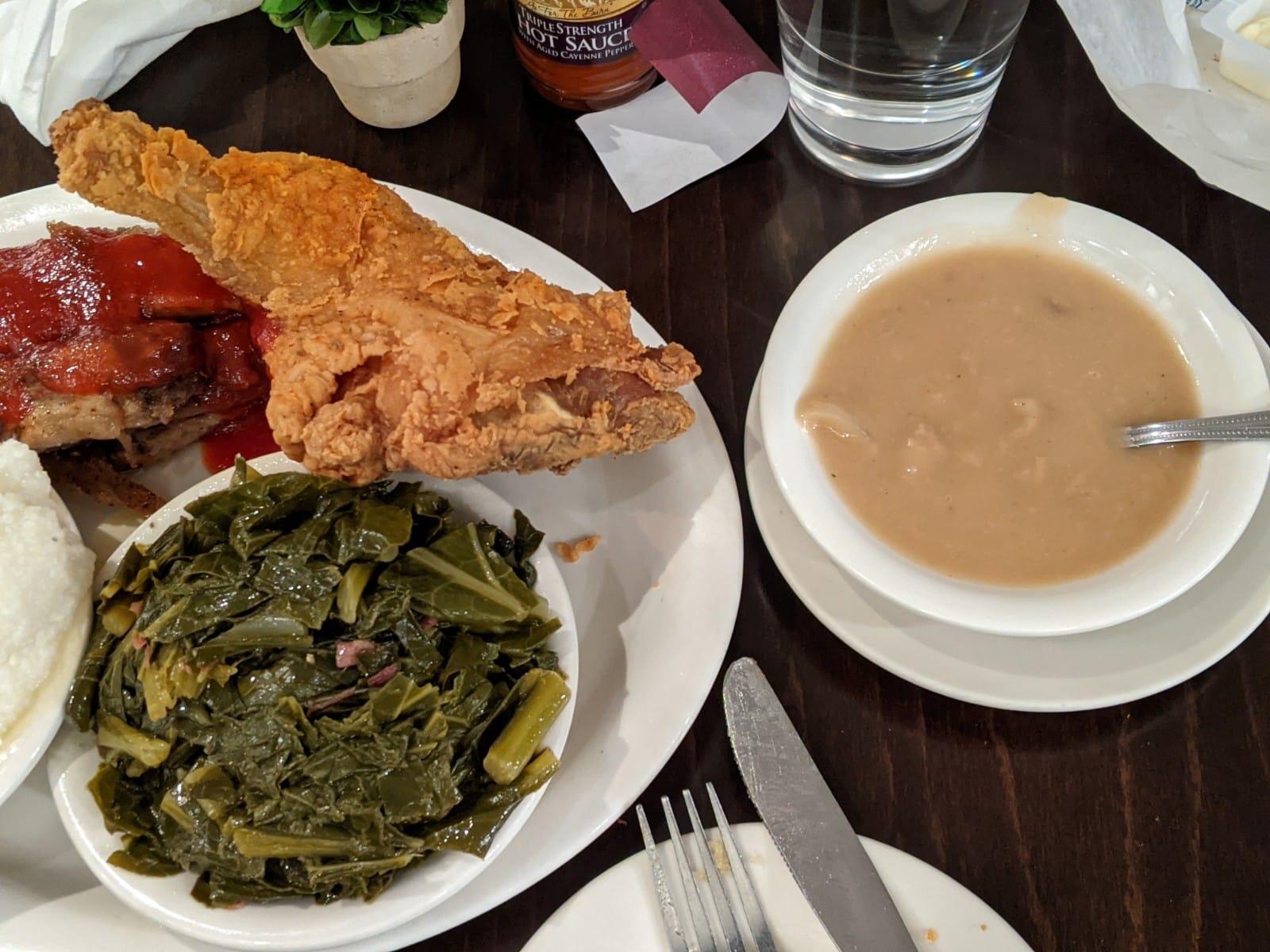 I enjoyed the smothered gravy which was a complimentary add-on by my server. I'd say it was an onion based, thick cream sauce. It was an interesting addition but my personal preference was to have the fried chicken on it's own.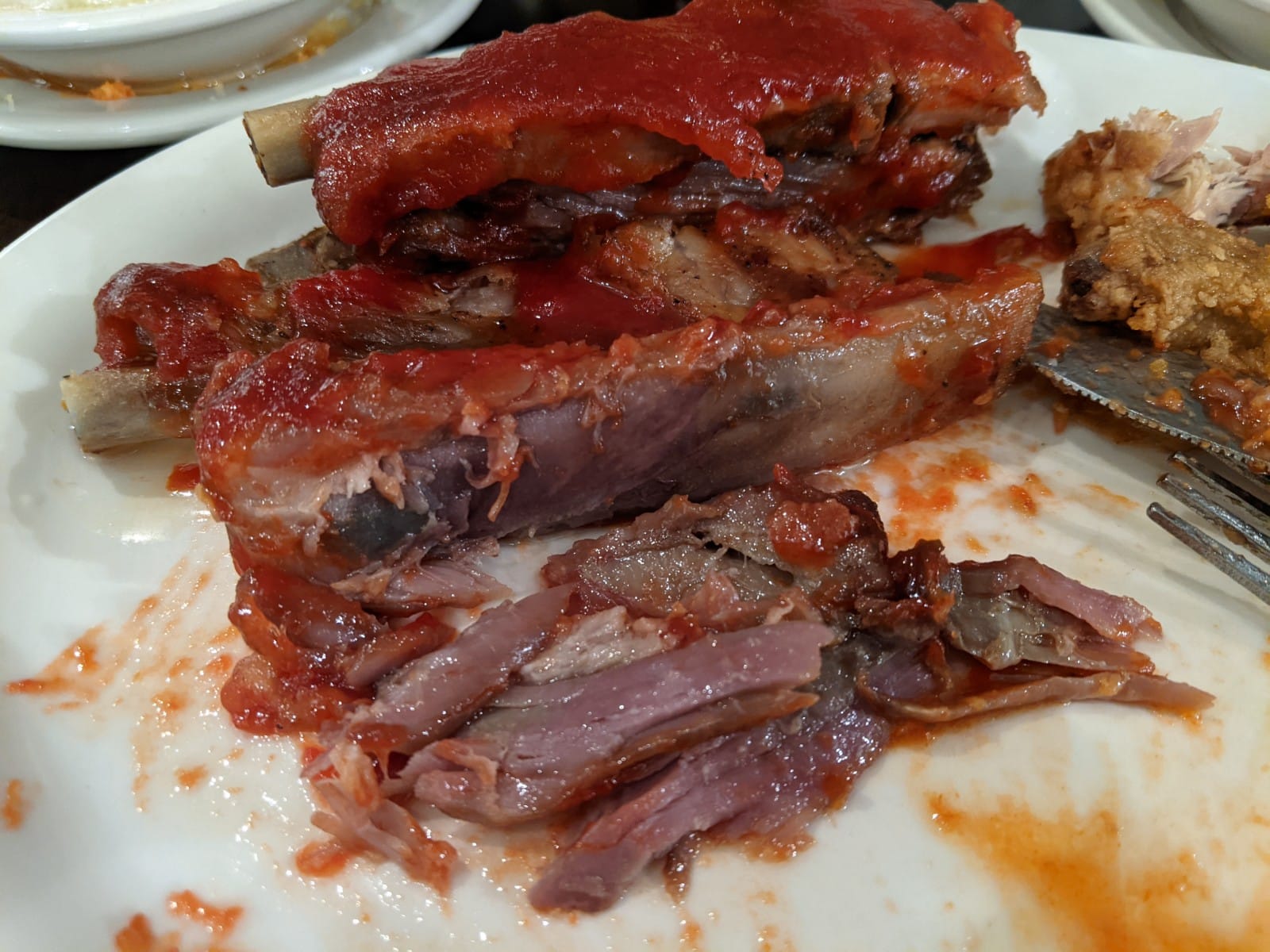 I think the ribs were very well done. The meat literally 'fell-off-the-bone' and was well marinated. The BBQ sauce was interesting – less smoky that the ribs I had in Atlanta but still rich and slightly more acidic. It could be of a different barbeque style.
The Travelling Squid's Take
I absolutely enjoyed my trip to Sylvia's. I relished the full dining experience and was so glad I could get a reservation. The quality of food is still top notch since the first time I visited in May, but having it in a cosy environment really adds to the quality of the experience.
It was worth the 45 minutes getting there, and 1hr + getting back. On the way there, I took the 2 express train but on the way back, the express service was cancelled and it was local service all the way, hence the extended travel time. But I'll definitely be back – looking forward to trying their seafood dishes next. Yum!
***
Visit Sylvias in New York City for great soul food