Four essential online tools for planning a trip to Europe
I'll be heading to Spain in the coming months to attend a friend's wedding. It's my first time planning a trip to both Western and Eastern Europe, and to be honest, I didn't have the easiest of times trying to fit in all the cities I want to visit (Barcelona, Madrid, Lisbon, Dubrovnik, Split and Prague) into three weeks.
When I used to plan trips as a student, I referred to my trusty Lonely Planet guidebook and made trip preparations using a pencil and paper. Little did I know how difficult it could be, especially when fitting in a myriad of flight and hotel bookings into three weeks. But time was of essence and because of the number of destinations I had in my three-week itinerary, I had to rely on online tools instead.
Therefore here's my recommendation on the four essential online tools for planning a trip to Europe: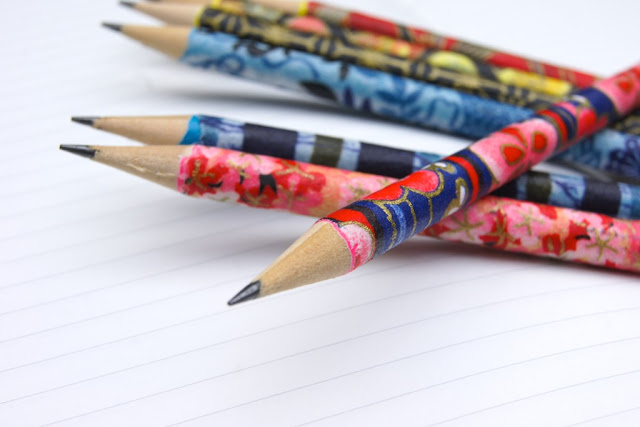 1. Dropbox/Excel OR Google Spreadsheet
For: Making a record of your flight timings and hotel bookings
In case you're wondering, I'm not an auditor with a penchant for spreadsheets but I'd highly recommend using Excel/Dropbox or Google Spreadsheet for trip planning, especially for long trips and if you're working with a travelling companion to compile an itinerary.
Essentially, Excel or Google Spreadsheet comes with a calendar template which can be downloaded, and is useful when it comes to plotting flight details and ensuring that your flight bookings do not overlap. There's also sufficient space to plonk in the hotel bookings – this ensures you don't make overlapping bookings or find yourself without a room for the night.
As mentioned in my earlier post on why auditors make great travellers, Excel is also a great tool to do budgeting. You can do currency conversion easily, and calculate the amount of money required for each day of the trip, in seconds.
To use Excel/ Dropbox or Google Spreadsheets?
Google spreadsheets offer the benefits of real-time sharing. However, Excel users may get frustrated as some features available in Excel may not be identical to Google Spreadsheets – it takes a while to get use to. If you're opting for the Microsoft Excel/Dropbox option, try not to edit the spreadsheet at the same time as your travelling partner – it will create duplicate copies. Also remember to save a backup of the document as well!
2. Seat 61
For: Anything you need to know about trains
Seat 61 gives you the lowdown on trains in almost any part of this world. The information on trains in both Eastern and Western Europe is very comprehensive. You can find out the price, train timetables and the types of seats available all on this site. It will come in very handy if you're travelling around Europe mostly via train.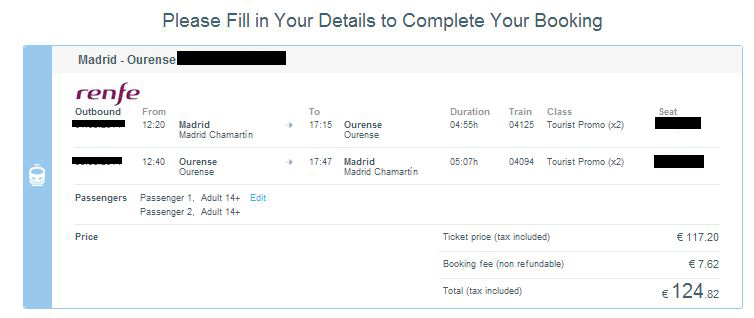 3. GoEuro
For: Trip planning via rail, bus, plane and car
Prior to discovering GoEuro, I visited the Renfe site in an attempt to book trains in Spain. But the process was a little difficult, especially for a non-Spanish user like myself. At times the site would be in Spanish, and I had to rely on a little guesswork to go through the search process.
Booking the Renfe train via GoEuro took me less than five minutes. After selecting 'book' on the timeslots I am interested in, I came to the summary page where I was asked to key in my particulars, email address and credit card details.
Booking is secured via a two factor authentication process, which requires you to enter a special code that has been sent to your phone. Once that has been done, I received a confirmation message on the screen and an email containing the invoice as well as the train tickets. I found the process to be hassle free and very convenient.
I incurred a small booking fee of seven Euros. It's a little expensive, but a fuss free way of booking train tickets without having to go through the lengthy booking process via Renfe. It would be great if the site could cover more destinations in Europe, such as Eastern European cities like Prague and Budapest.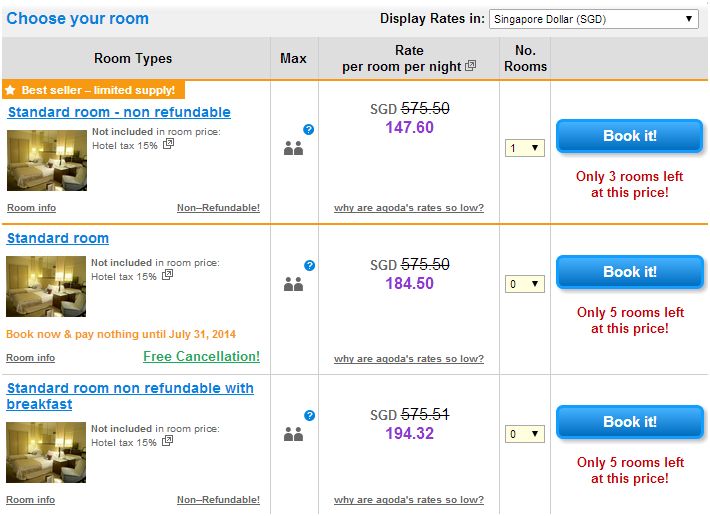 4. Agoda
For: Hotel Bookings
I found the site to be a very reliable place to book hotels. You can even do so with the Agoda app on iTunes and Google Play. It's a major time saver as you can browse through hotel listings while on the go. The interface is clean and easy to understand. Some hotels also have the option of making the booking and paying later on, at a specified date.
I once made a mistake with a booking via Agoda when I was overseas and had a friend help me make the change on my behalf. It was a rather stressful process but thankfully the customer service made the change within an hour and was pretty nice about it.
I'm not sure if it's the same overseas, but Citibank card members in Singapore get up to 12% off hotel bookings when you making a booking on Agoda every Wednesday.
* * *
Hope you found the tools shared above useful, and feel free to share more essential online tools for trip planning a trip to Europe!