Planning a two day itinerary in Isle of Skye – A nutshell
If you've got limited travel time, a two day itinerary in Isle of Skye might be enough to cover the main sights. Of course, time is a luxury, and if you have more time, you could stay there for more than a week. Here are some tips on planning a two day itinerary in Isle of Skye – it's towards a slightly more high-end budget, because the Bosville was a bit more expensive than our usual hotels. That said, we did enjoy it very much.
Portree
Portree is a great town to stay in. It's the biggest in Isle of Skye and has the most number of amenities and restaurants. Check out some photos of Portree below.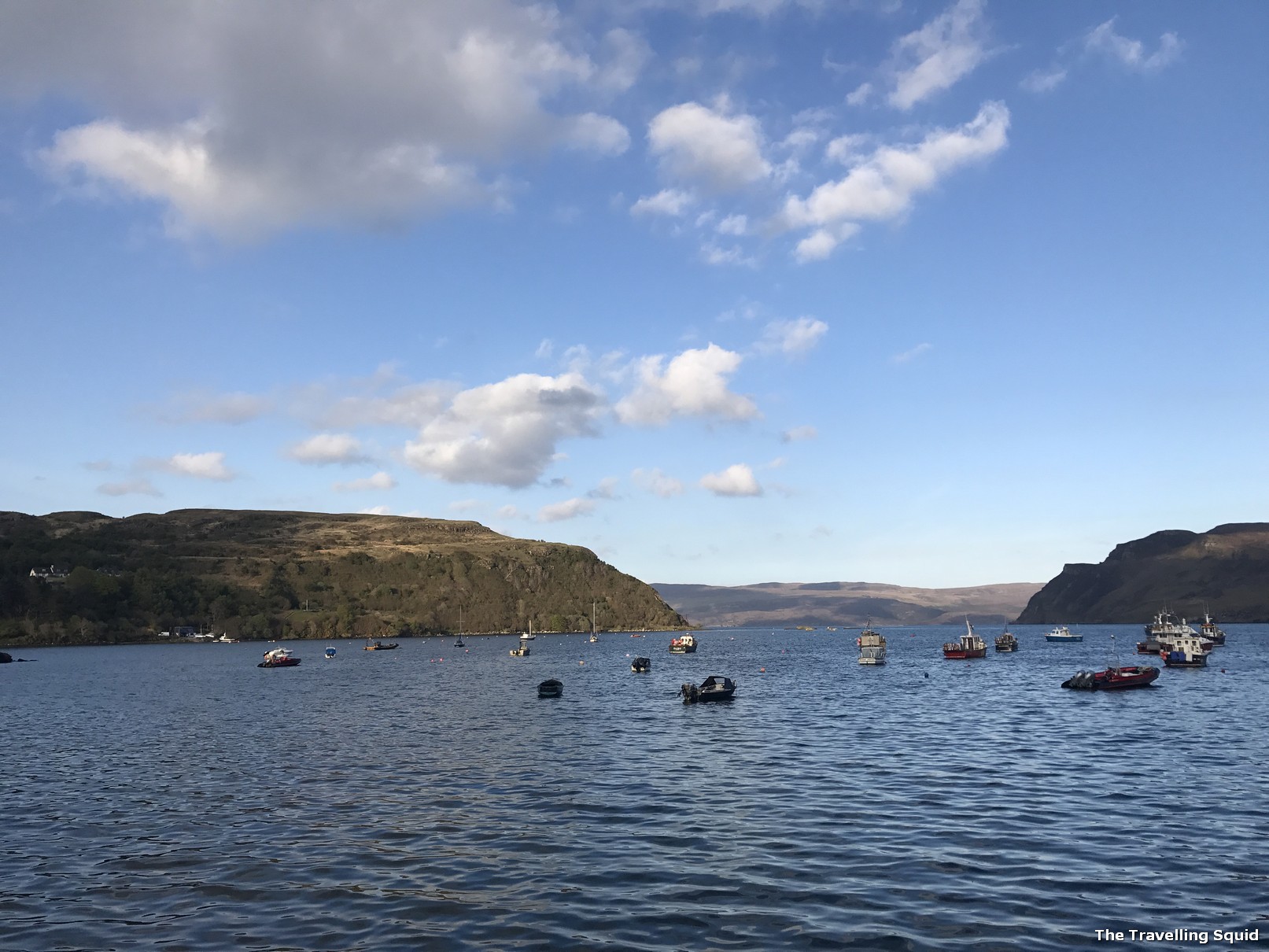 Weather
It drizzles quite often, even during the summer months, so do bring a poncho or a waterproof jacket if you're planning to hike. Bring a good pair of boots with a firm grip as the ground can get quite wet due to the frequent drizzle.
Accommodation
Accommodation gets fully booked especially if you're visiting during the peak spring and summer months. Do try to make a reservation early. I thought the cheaper options along Portree Harbour were pretty decent, but Friend S booked us for a stay at the Bosville instead. It cost us SGD307/ £170 per night but it did seem worth it given the lovely breakfast spread they had for us at the restaurant Dulce and Brose. There was even Scottish porridge (oatmeal) with a touch of whisky. Check out the link below for more information.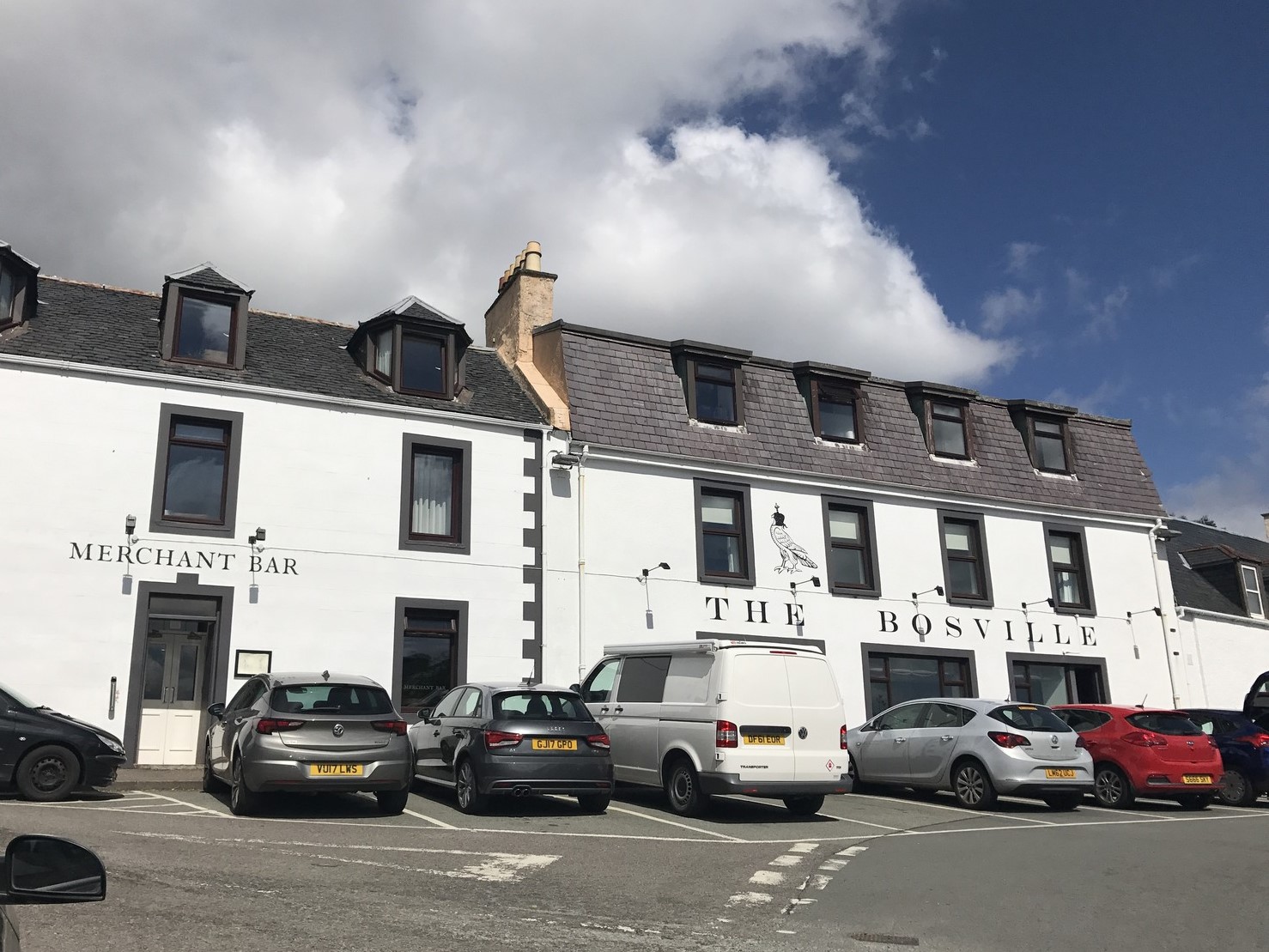 Hiking Trails
The hiking trails in Isle of Skye are not difficult. But neither can they be said to be a walk in the park. If you're looking for a relaxing walk which is easy on the knees, the Scorrybreac walk around Portree is a good choice. Check out the photos in the post below. The hike up to Old Man of Storr is moderate, if you're not planning to scramble up to the top.
*If you're looking for information on hiking trails, Walk Highlands is a pretty useful resource.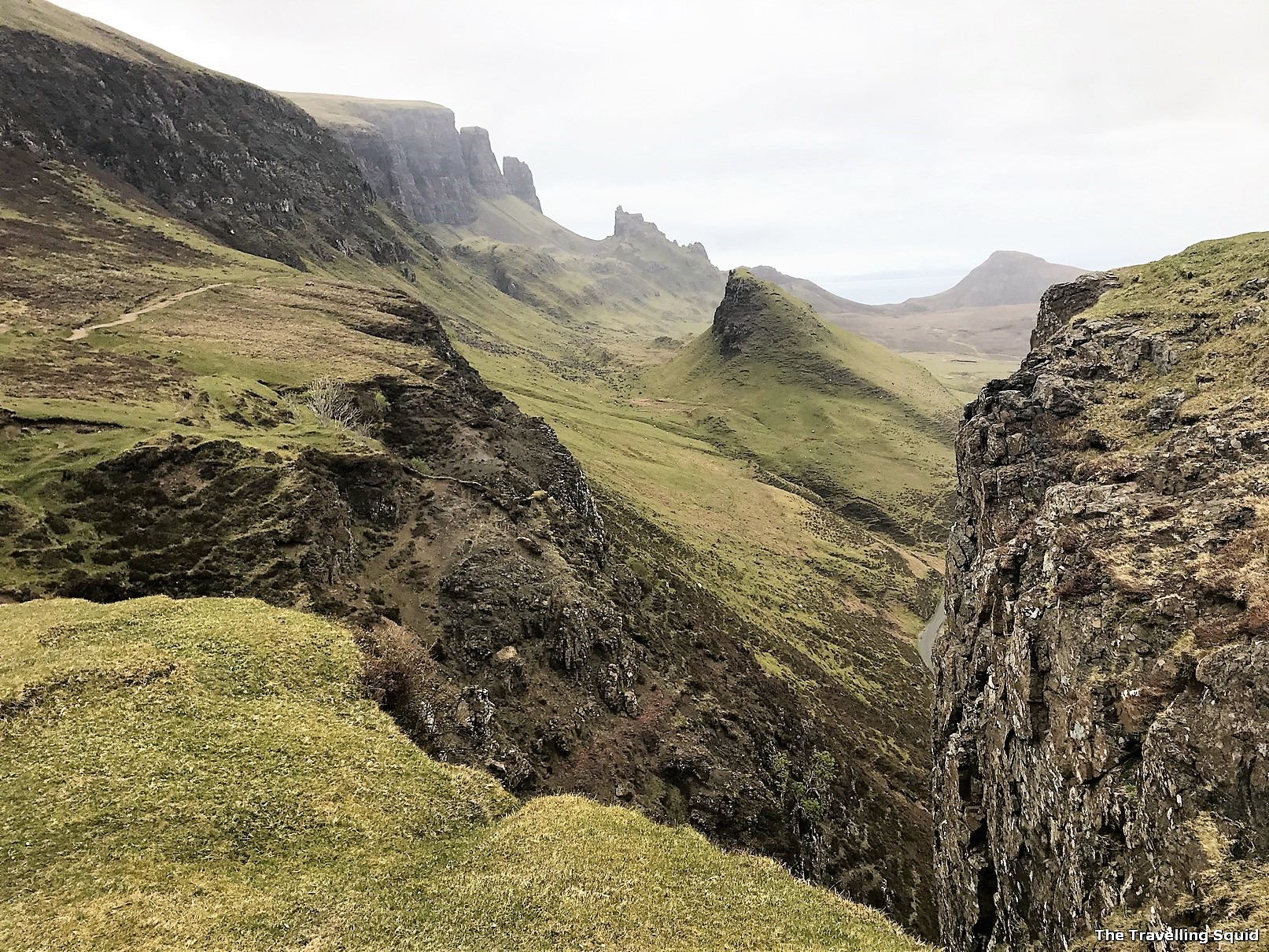 For those looking for a challenge, the hike around Quiraing to see The Needle and The Table is a must. It can get a tad challenging in heavy rain; timing is all that matters. No worries if it's raining too, you can simply drive up to the start point and take a short walk around the area. While you're at Quiraing, do visit the An Corran beach nearby
A must visit – the Talisker Distillery in Carbost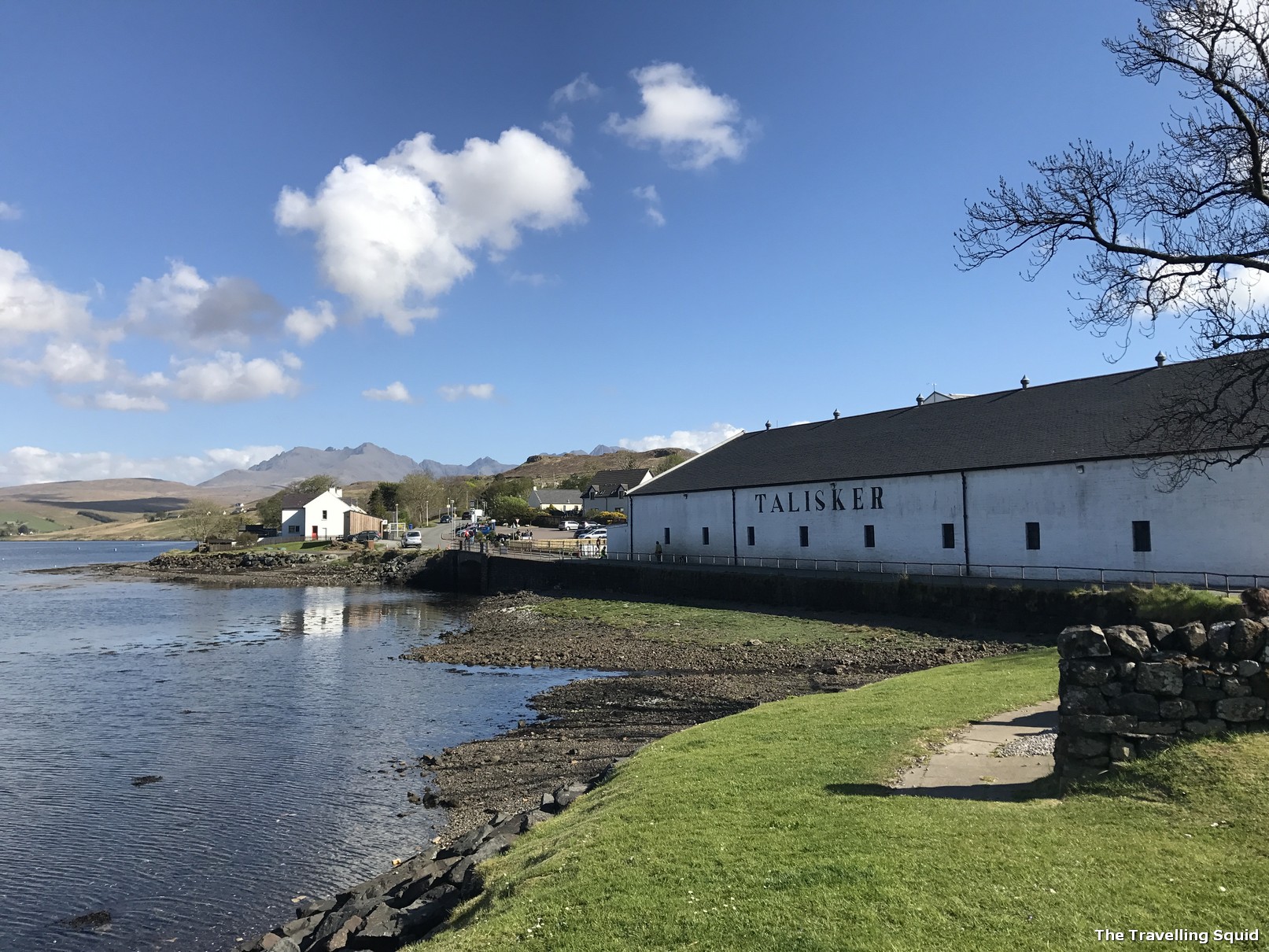 If you have not visit any other Diageo distilleries in Scotland, the Talisker Distillery in Carbost is a must-visit. It sits by the side of a loch and a range of mountains, and the scenery is beautiful (especially after a wee dram). As mentioned in earlier posts, if you've been to other Diageo distilleries in Scotland, it is likely that the Talisker distillery may be similar, in terms of their equipment and operating functions. The Oban distillery tour was actually the best in my opinion. I'm not saying this because we were given one complimentary whisky glass each : )
Food/ Drink
***
Planning a two day itinerary in Isle of Skye
Here was our itinerary:
Day 1
We arrived at Isle of Skye on a sunny morning. We couldn't check in till mid afternoon,  so we left our luggages with the hotel. After lunch, we headed to Talisker in Carbost to check out the distillery and have a wee dram.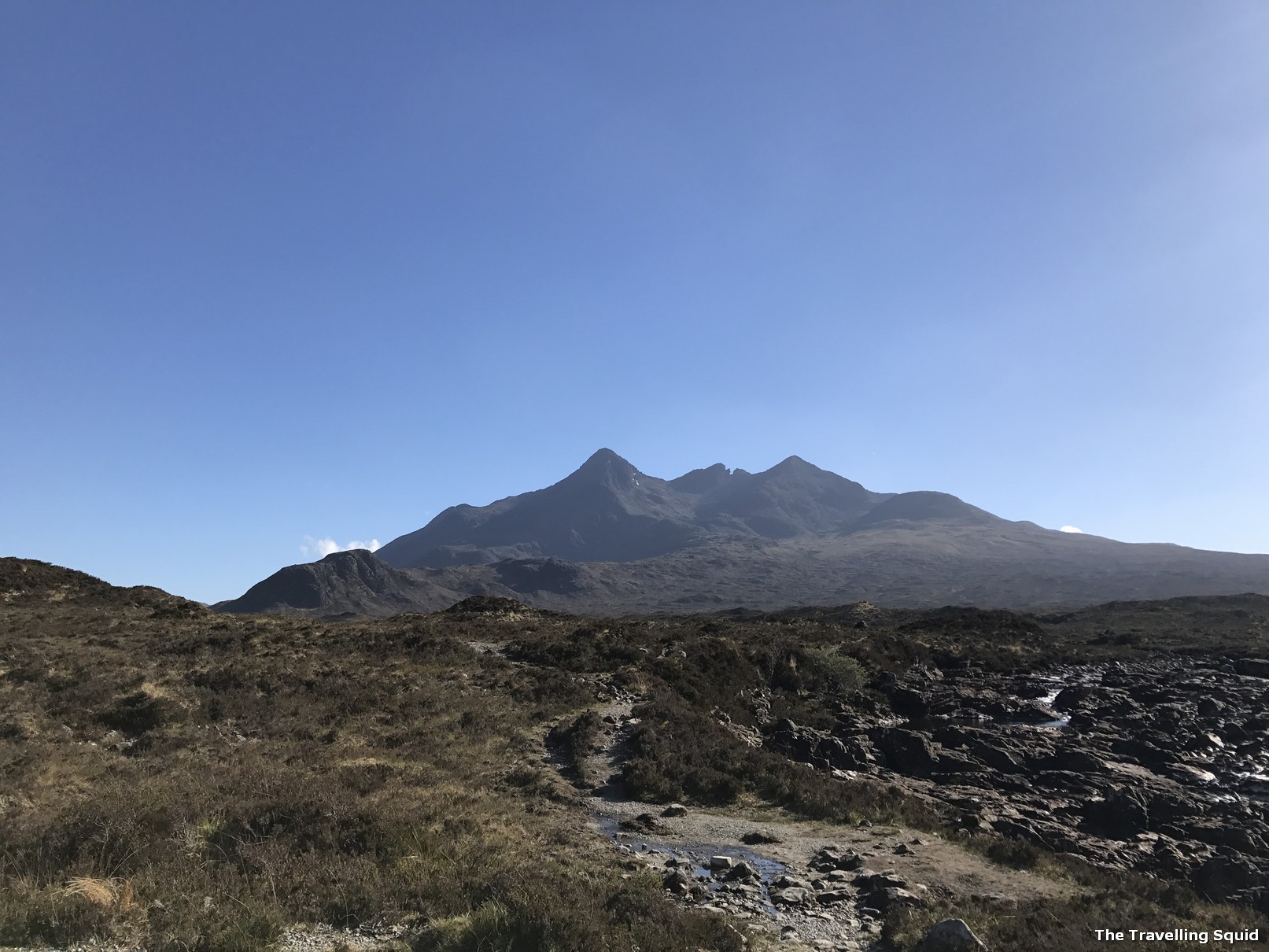 On our way back, we stopped by the Cuillin Protection Area. Apparently, Golden Eagles used to roost there. We left early spending 10 minutes looking for the Eagle and admiring stone piled-up together. (Also because I was reluctant to dirty my new pair of Clarke shoes.) Instead, we visited the Cuilin Brewery which was right opposite the trail but it was closed. So we bought a pack of beer back. Before our dinner reservation, we took a short walk around the Portree harbour.
Day 2
The next day, we visited the Old Man of Storr and did a little hike around Quiraing. We also visited the An Corran beach which was a 10 minute drive away. Last but not least, we returned to Portree in the afternoon, and then went on the Scorrybreac walk. It sounds like a lot of places, but we didn't walk much in Quiraing as it started to drizzle soon after. The other walks took an average of one hour each.
The Travelling Squid's Take
While planning for our trip to Scotland, we thought we would only have time to visit either Isle of Skye or Glencoe. But I'm glad that we made it to two destinations, despite it being a rather short stopover at both places. If you're visiting Scotland, a two day itinerary in Isle of Skye might just be sufficient to the hiking trails which lead to serene and majestic landscapes. Be prepared for that occasional drizzle.
After Isle of Skye, we then proceeded to visit to the Urquhart Castle near Loch Ness, hoping to catch a glimpse of Nessie. Stay tune to find out more…