Review of Highland Coffee near the Imperial City of Hue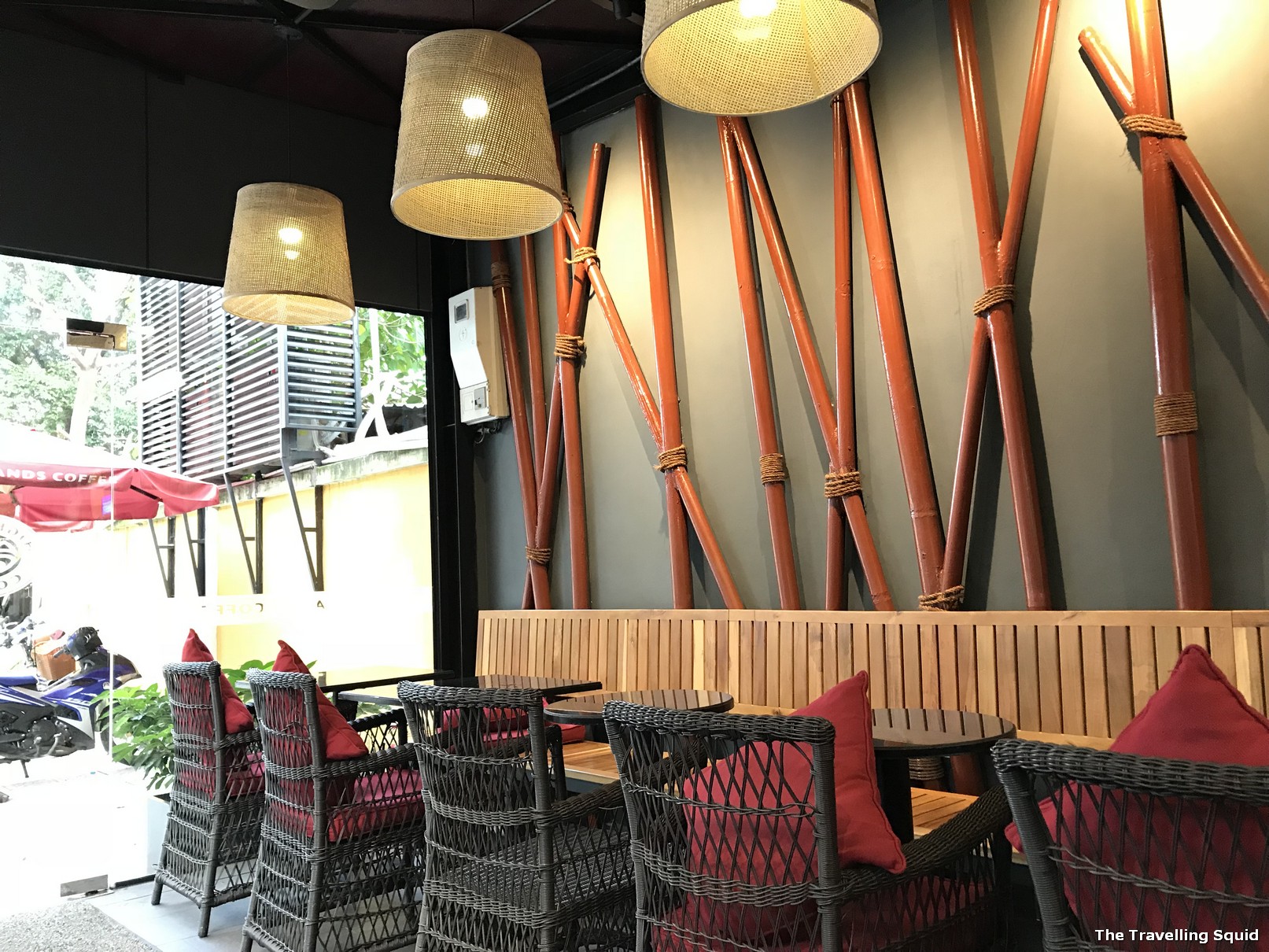 Given the prevalence of Highland Coffee chains in Central Vietnam, Friend S and I decided that we had to give this coffee chain a try during our recent trip to Danang, Hoi An and Hue. We soon found a great opportunity to do so – after a long stroll around the grounds of the Imperial City of Hue. Tired from the long walk, we were looking for a place to rest. Here's a review of Highland Coffee near the Imperial City of Hue.
While checking out one of the more unconventional aspects of the Imperial City, by scaling some walls which we probably shouldn't have been climbing,  we noticed that there was a Highland Coffee chain right outside the entrance of the Imperial City. Feel thirsty after the long walk and in need to avoid the enthusiastic green-taxi drivers who were lingering outside the Imperial City, we headed into Highlands Coffee.
The Ambience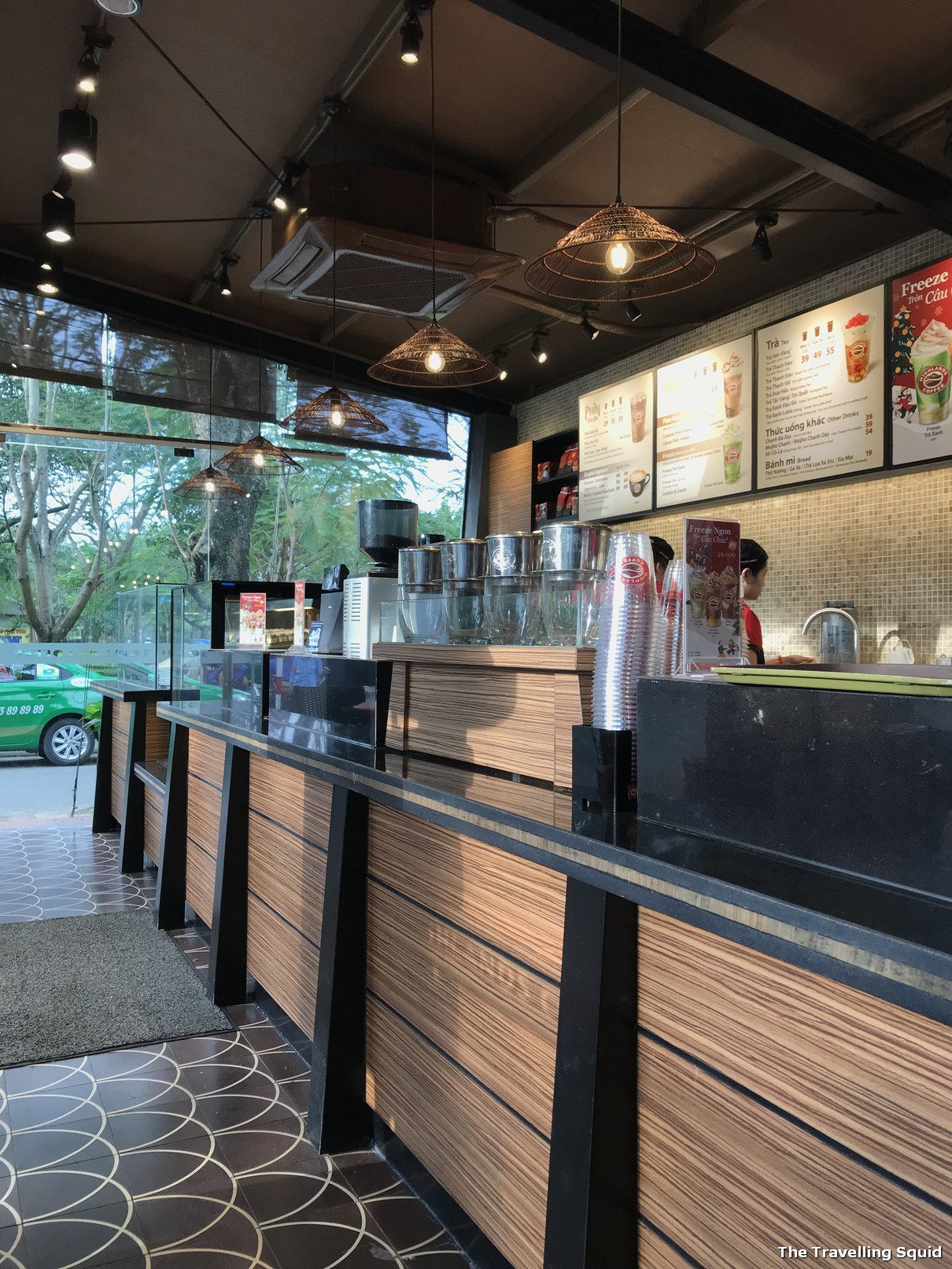 Upon entering, there's a narrow passage way between the coffee counter and the seating area. But there were more seats at the back. It was about 4.30pm in the afternoon and the place was quite empty. The cafe had a comfortable modern interior. There were not many people in the cafe. A couple seated next to us was on a date. They brought with them a Banh Minh-sort of sandwich to have it with coffee. The staff did not tell them that it was not allowed. Two students sat next to us studying – as students usually do. Watching them brought back memories.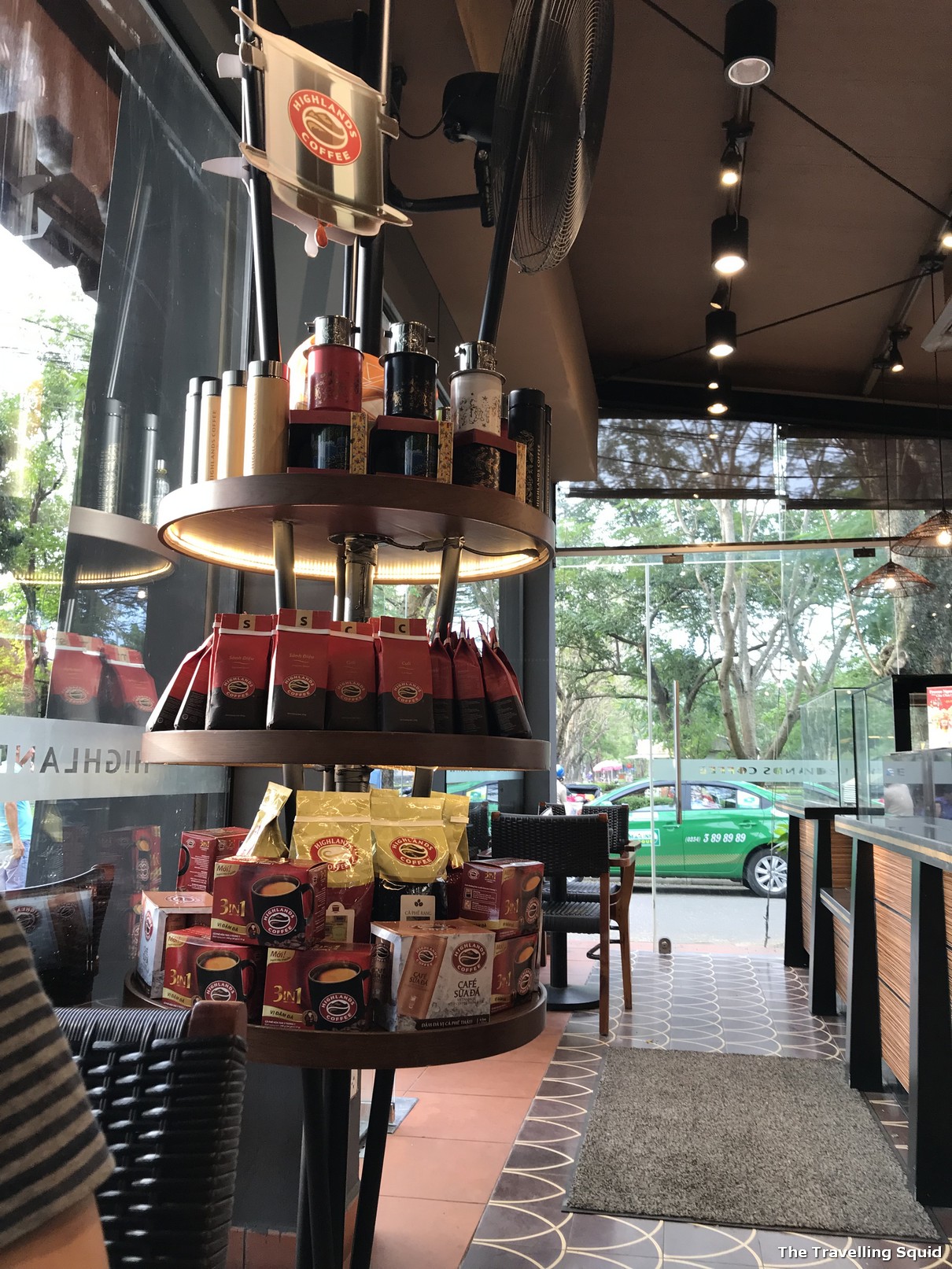 The Drinks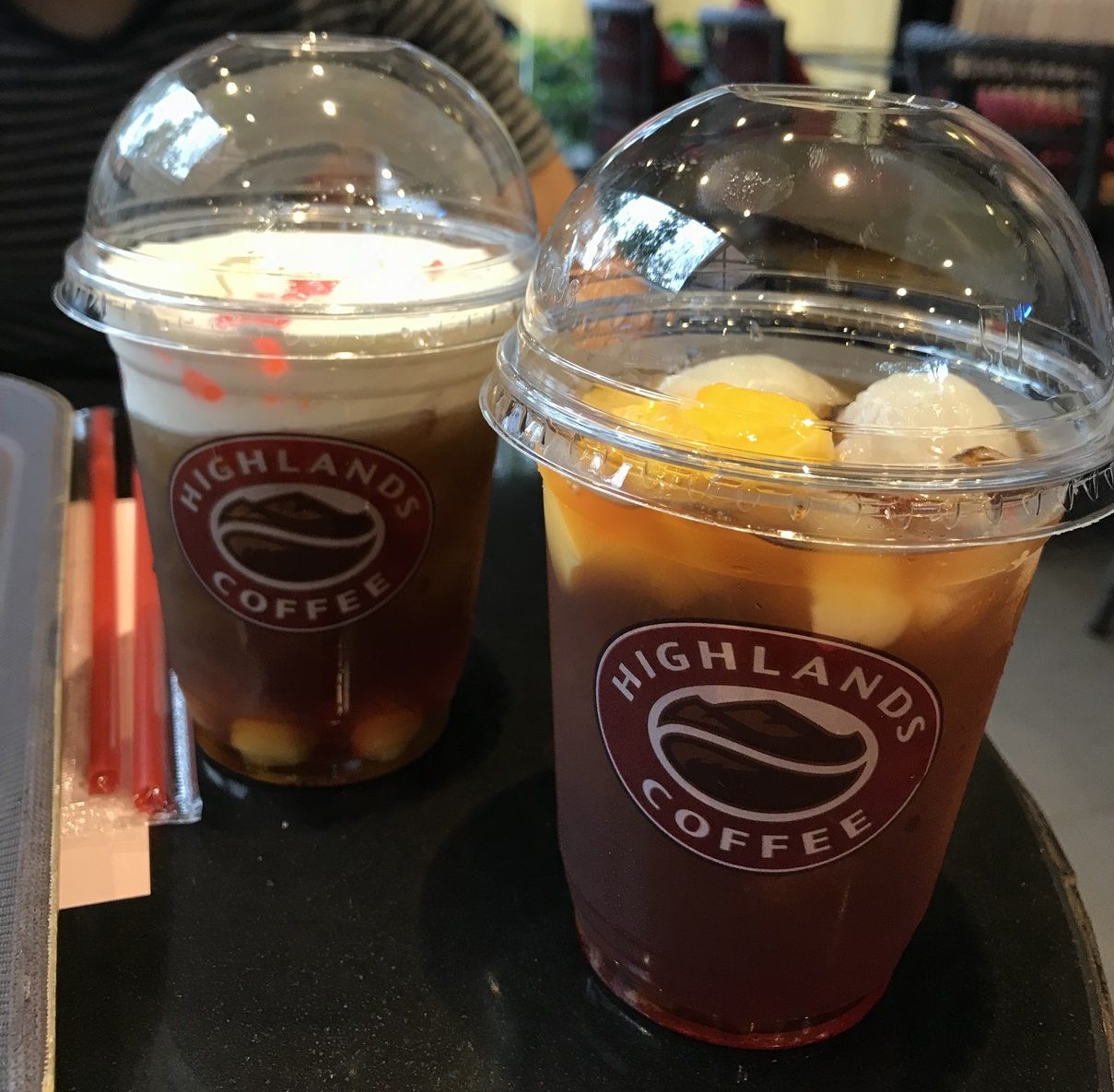 As it was getting late,  we didn't have coffee. I got a local drink – can't quite recall what it is. But it was white after mixing in the milk and had red rubies. (The concept is similar to Gong Cha). It was just sweet to me without much flavour. Friend S' iced-lemon tea was so-so. It cost an average of SGD3 /USD2.30 for a drink – which is pretty affordable if you compare to the SGD6 drinks we get in Singapore. I'm not sure but it may be on the expensive-end for locals.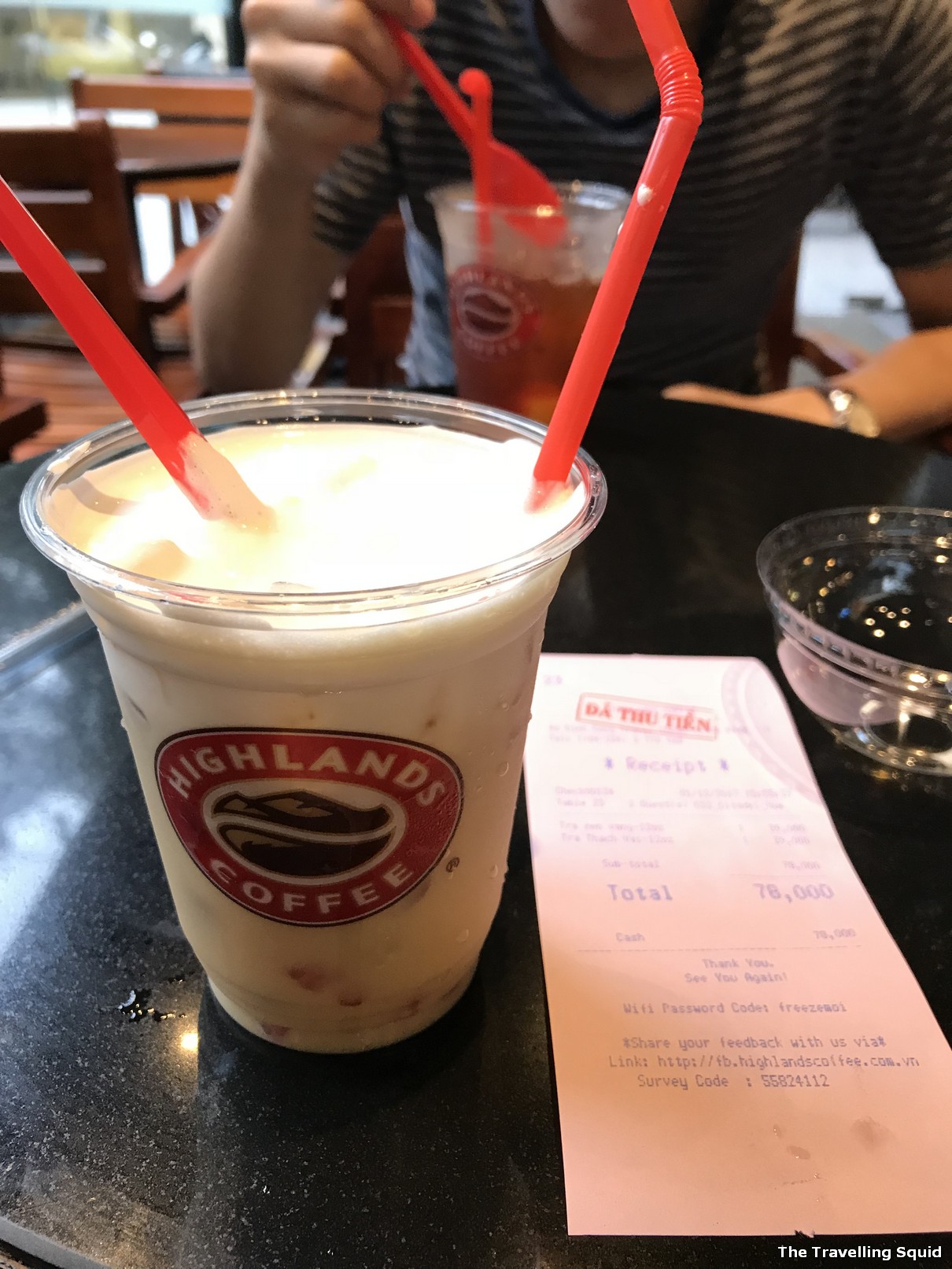 The Toilet
Well, our bladders were full after a long stroll at the Imperial City and I decided to visit the toilet. The toilet is located in a separate building right next to Highland Coffee. It looked pretty clean at first, but I made the mistake of lifting up the toilet seat. It was bad. It was like the surface at the back of the toilet seat hadn't been washed in years. Just saying. If you have to pee,  just sit on the toilet seat – don't lift it up. It's much better that way. I have not used the toilets at the Imperial City of Hue. They might be cleaner.
The Travelling Squid's Take
According to its website, Highland Coffee originated as a packaged coffee business in Hanoi. It started its expansion in the year 2000, and has since opened multiple outlets throughout Vietnam.  Well, my sense is that Highland Coffee strives to be like Starbucks. It has comfy sofas, a classy modern interior,  and an espresso machine. But does the coffee match up? Well, I'd still prefer Starbucks. But it's of a different price point. If you do visit Vietnam, I rather you spend your coffee quota on the likes of authentic Vietnamese Coffee at local shops like Holic Coffee in Danang. They are likely to be a bang for the buck.