Review: A kaiseki dinner at Hotel Konanso in Kawaguchiko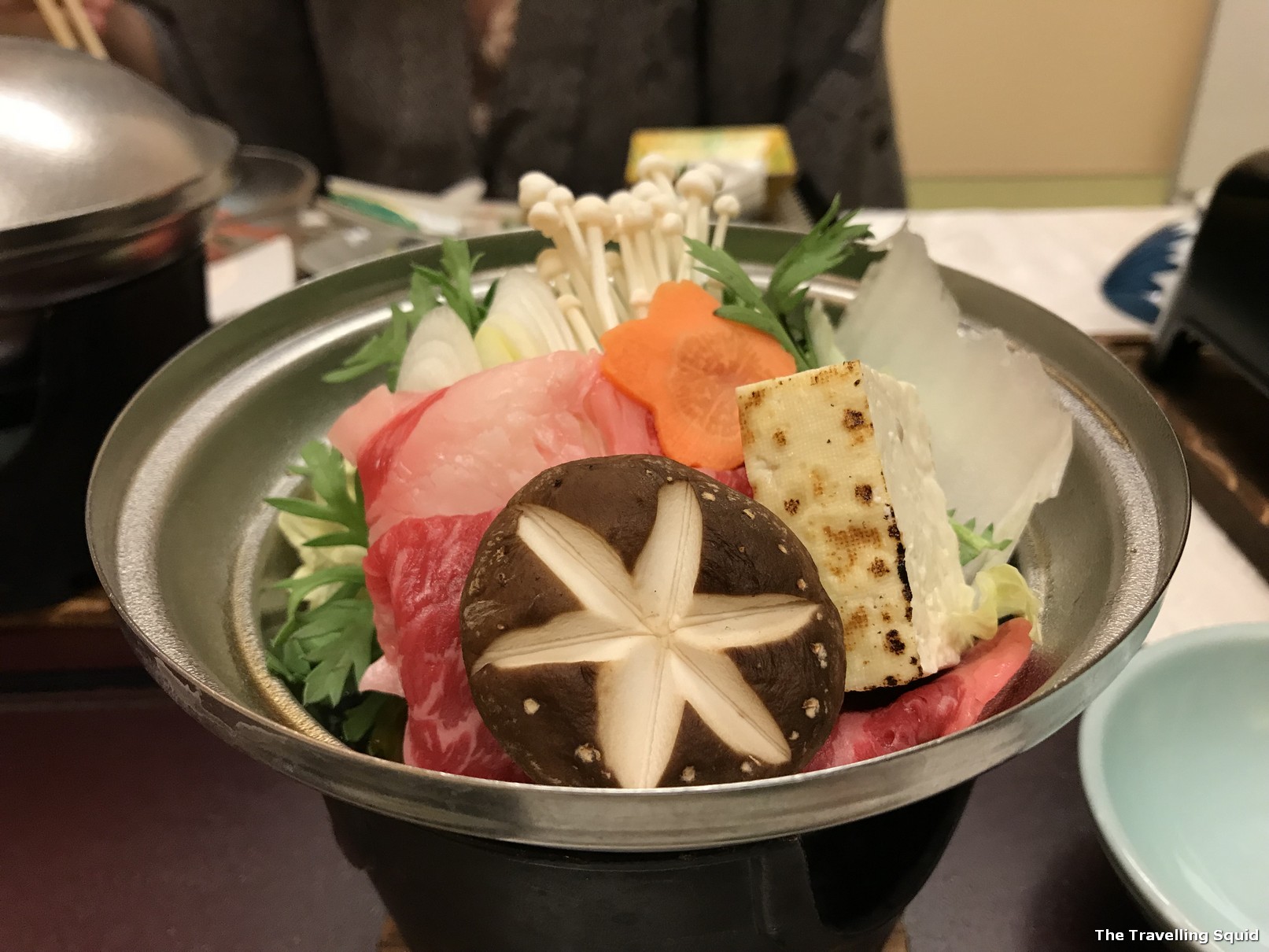 In earlier posts, we talked about our experience staying in a traditional Japanese room (a ryokan) for the first time and about soaking in an onsen. We also discussed our breakfast experience. This is the last post on our kaiseki dinner at Hotel Konanso in Kawaguchiko.
If you're wondering what a kaiseki meal is, it's a Japanese multi-course meal with dishes made through various techniques such as steaming and boiling. According to Wikipedia, it's comparable to Western haute cuisine. Before this, I had only one kaiseki meal in my life, so there wasn't a reference point. But what was interesting was also the fact that the Japanese had made it possible to have a multiple-course meal in a ryokan (traditional Japanese style hotel room). It was actually really nice to have the meal in our room, without having to walk to the restaurant. A tad indulgent, but it a dream come true especially after watching people have meals in their ryokan on Japan Hour (a Japan travel TV programme showing on Channel NewsAsia). In terms of dinnertime, we had the option of pre-arranging the timeslot we would like to eat at. We arranged to have our dinner at 7pm, and the staff came to serve us slightly after that.
The Menu – A kaiseki dinner at Hotel Konanso in Kawaguchiko
The menu came in an English printed note, accompanied by a handwritten menu with specific food items. To me, it's very important to know what's on the menu, as it's meant to be a learning experience. And I was glad that they were detailed. Here were the dishes which were served: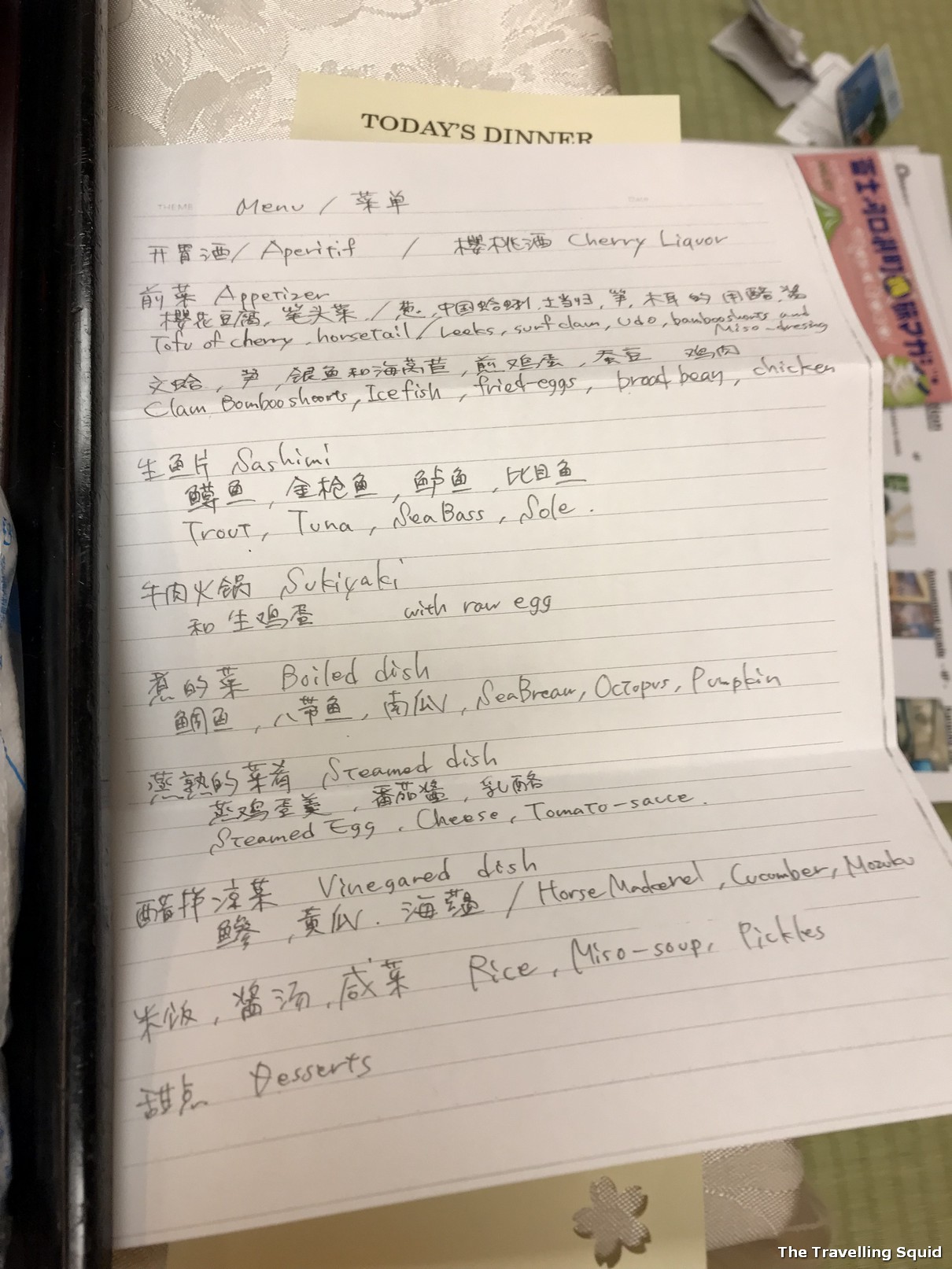 1. Aperitif – Cherry Liquor
Was sweet and easy too drink – not too alcoholic.
2. Appetizer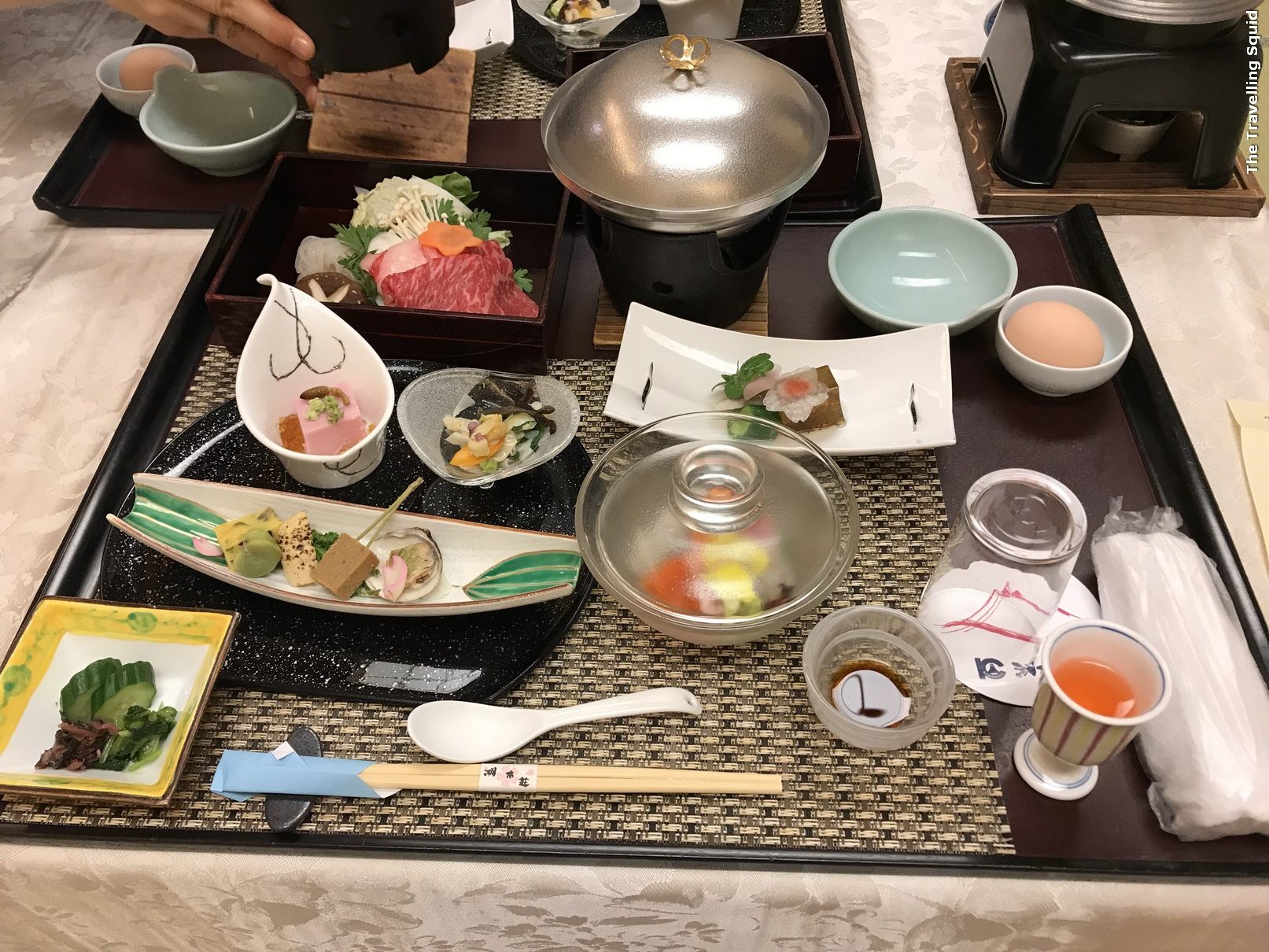 From the picture:
Top: Cherry tofu, horsetail, leek, surf clam, udo (spikenard – a type of vegetable, like an asparagus), bamboo shoots and miso dressing.
Bottom: Fried eggs, broad bean, chicken, clam bamboo shoots, icefish,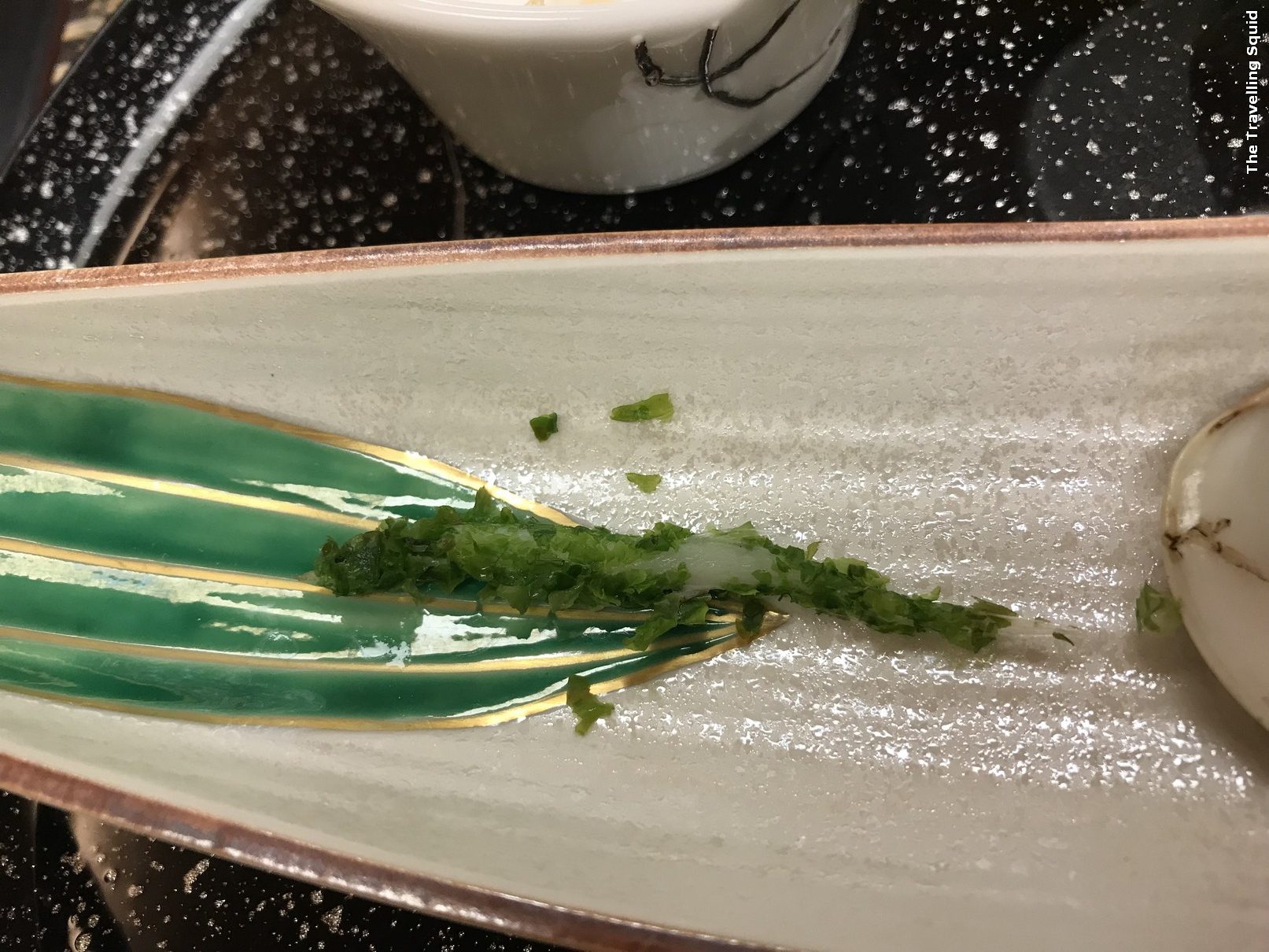 To be honest, I couldn't identify all of them. The top is probably the cherry tofu – which tasted quite like normal tofu. It was my first time eating udo (spikenard) and I thought it was quite savory and nice too.
3. Sashimi – Trout, Tuna, Seabass, Sole
I don't have much comments on the sashimi.  Though I think the addition of a leek wrapped up in the slice of seabass was quite a nice touch.
4. Sukiyaki, with raw egg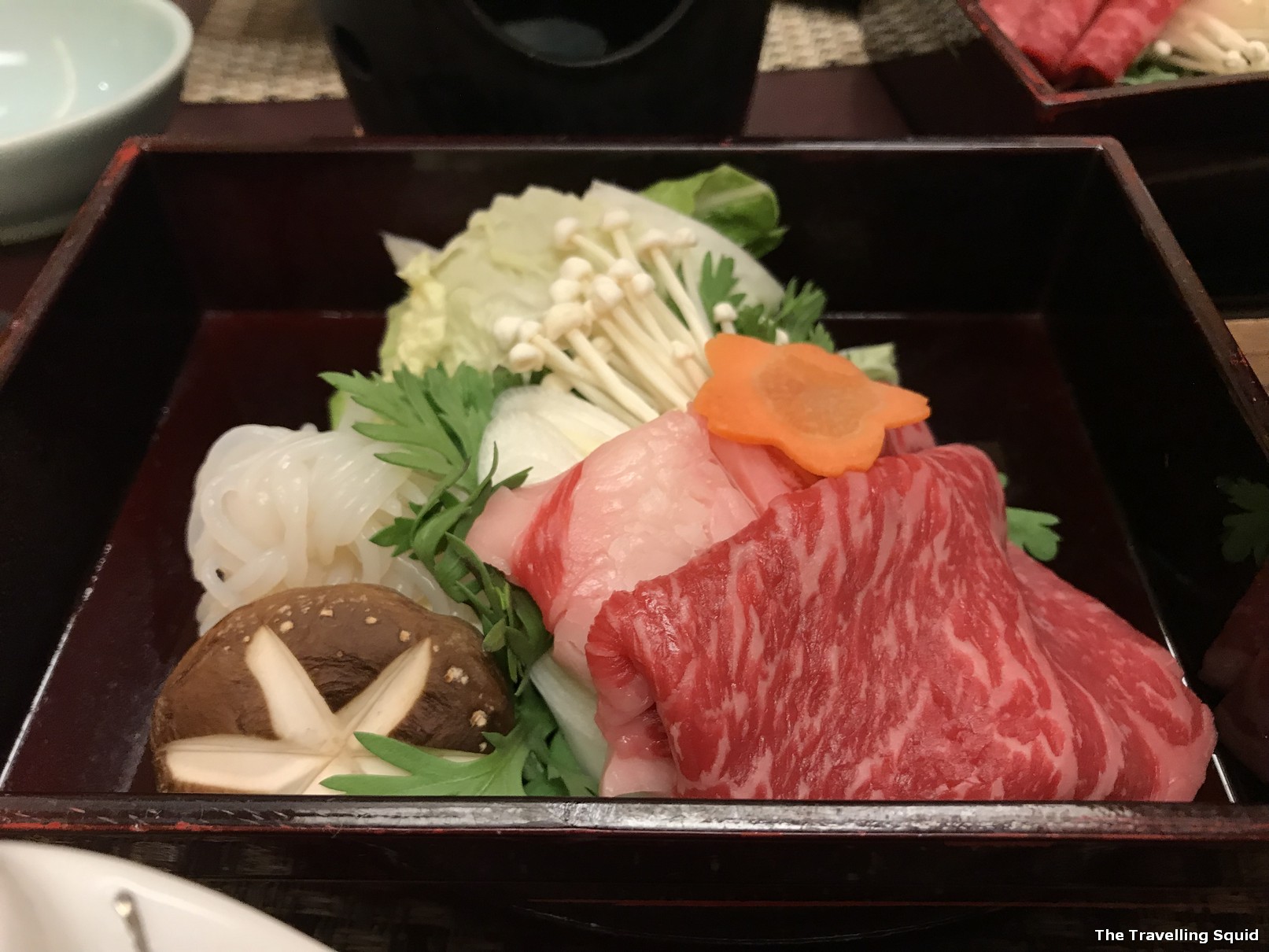 This was truly the best dish in this kaiseki meal. I've always loved sukiyaki – the stew is sweet and savory, and it's cooked with lots of vegetables and my favourite enoki mushrooms. The beef looked really fresh and marbled. I think it was wagyu. The lady told us that their eggs were fresh and it was fine for us to dip the beef in raw egg. It was the most mind-blowing experience ever, with the beefy and egg flavours mixed in your mouth.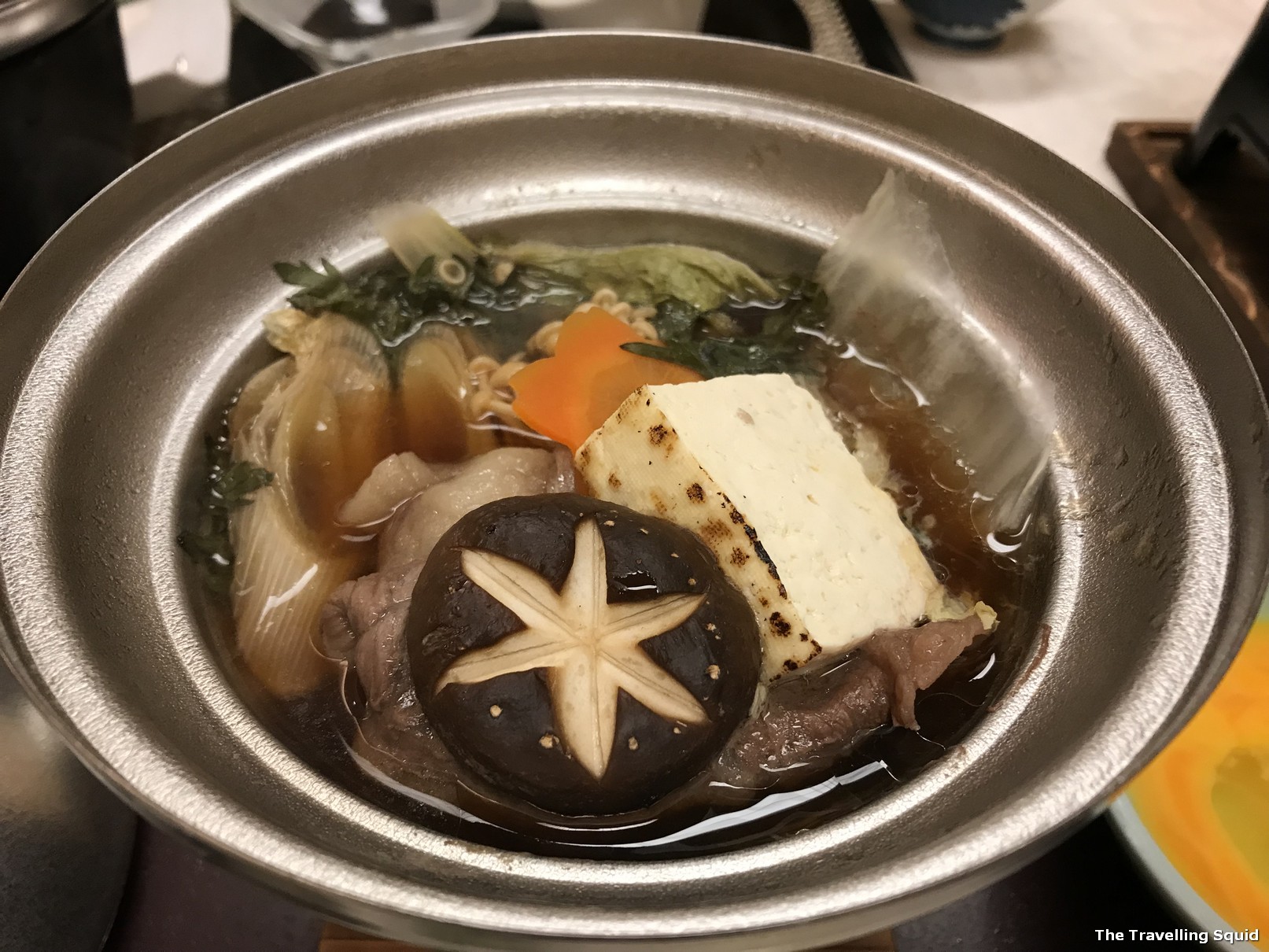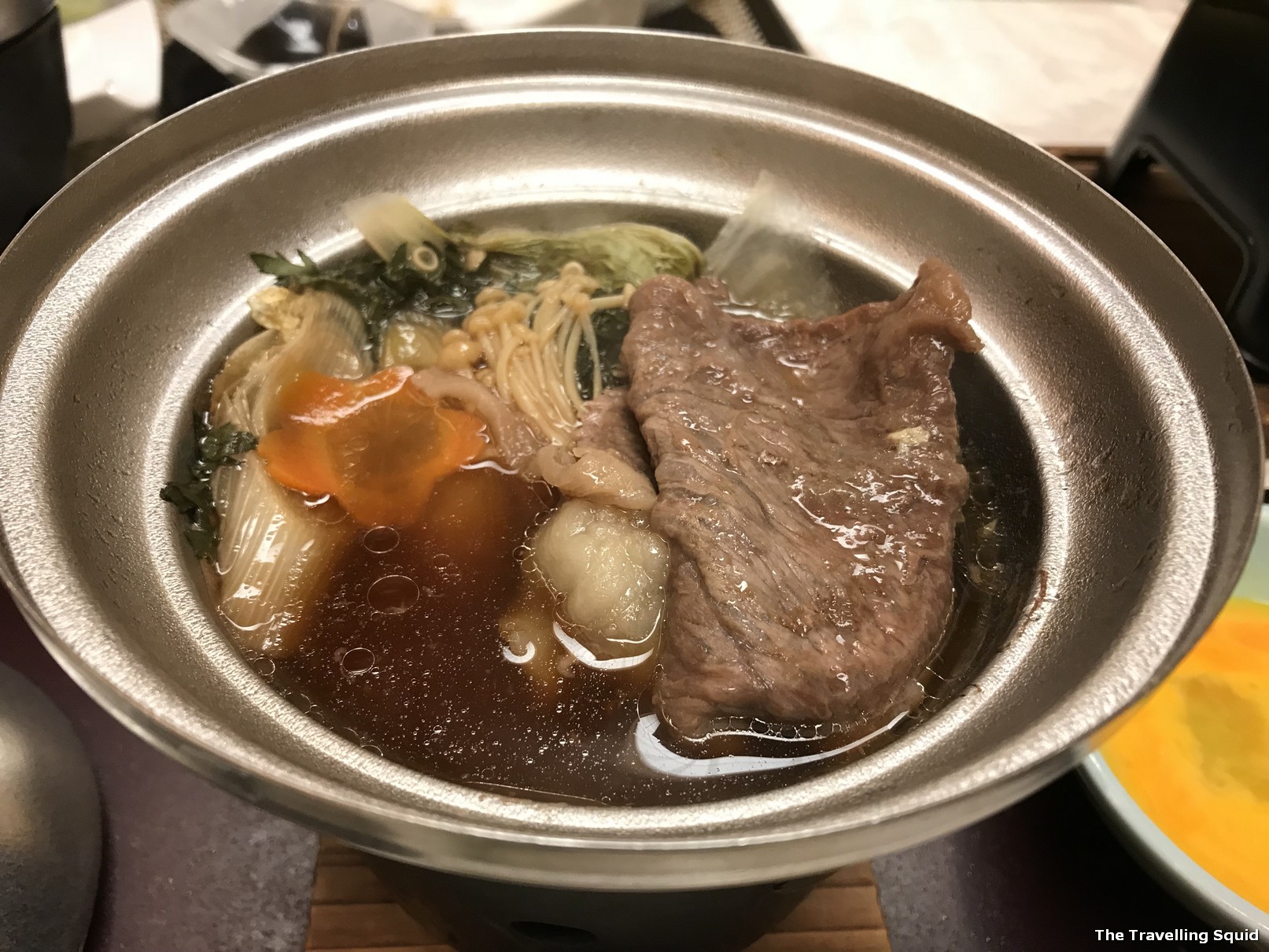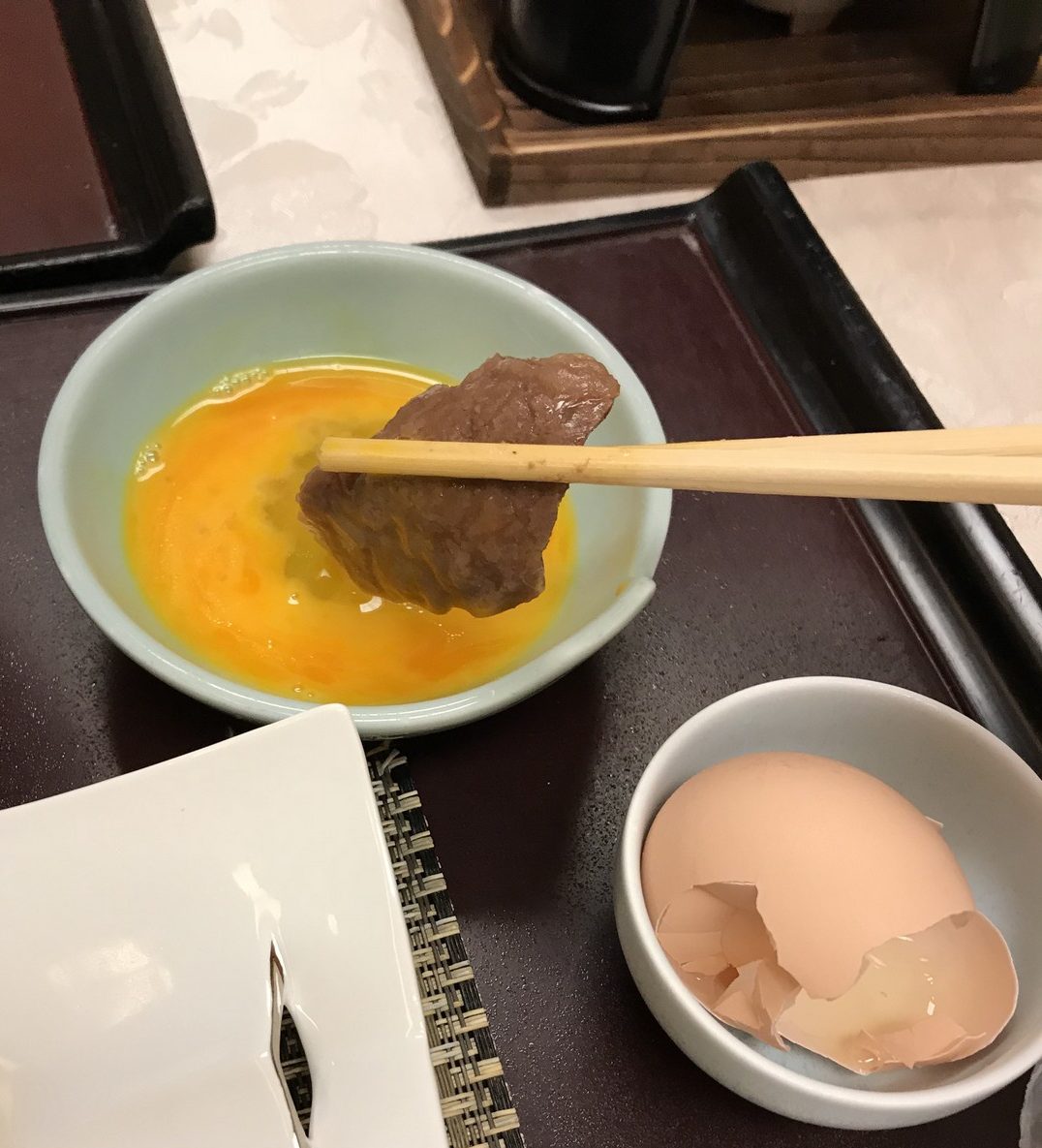 I'm not sure why the flavours matched so well. It could be an umami of sorts. But the raw egg felt so comforting when dipped with the cooked beef. It was a match that was meant to be. Check out the egg-shell in the picture above – it looks really fresh too. The slippery texture of the egg mixture also went well with the chewiness of the beef.
5. Boiled dish – Sea bream, Octopus, Pumpkin
This dish was alright. I noticed they had shaped the pumpkin in the shape of Mount Fuji. Interesting. I really liked the seasoned octopus.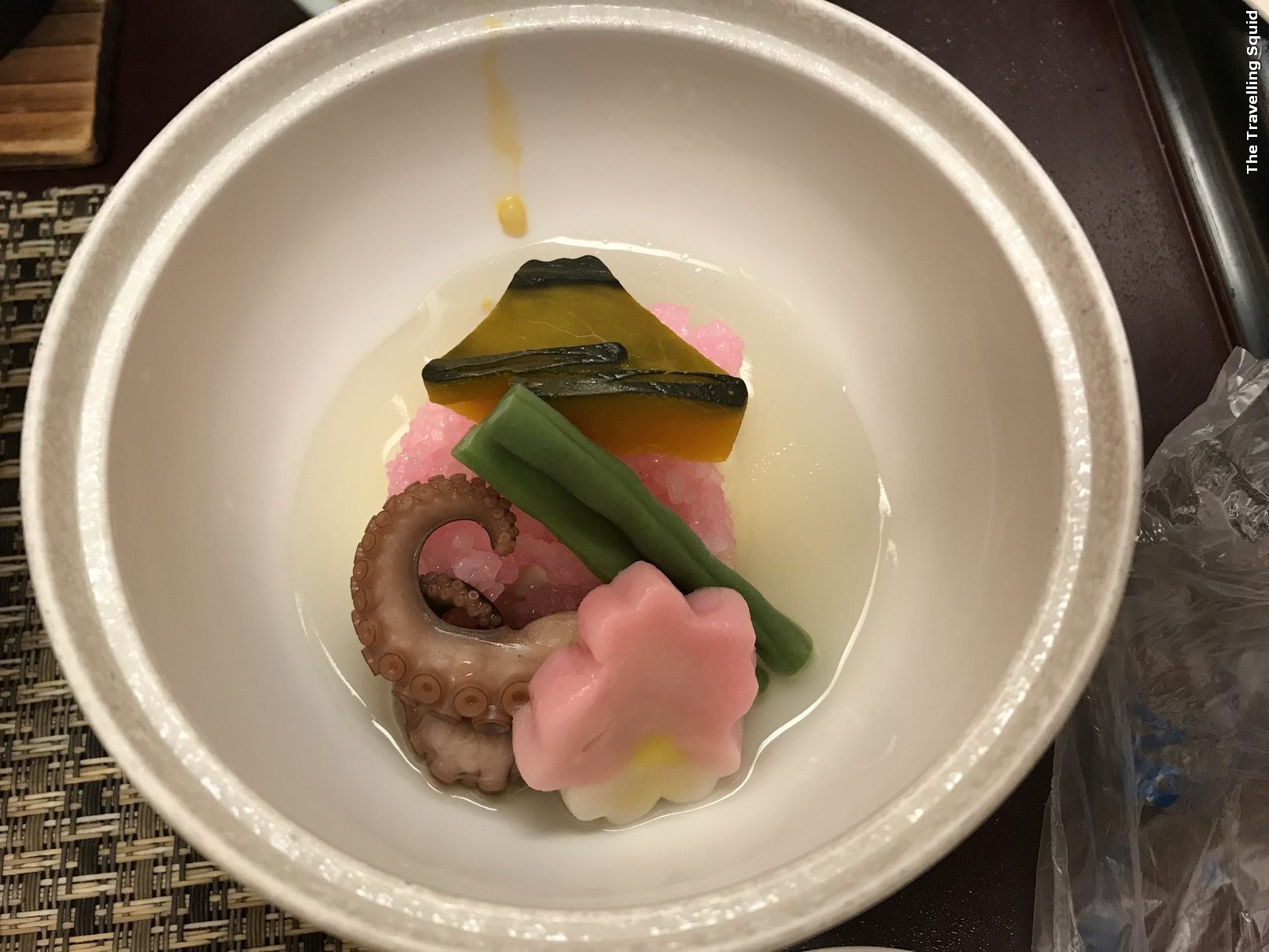 6. Steamed dish – Chawanmushi (Steam-egg, cheese, tomato sauce (like a pizza))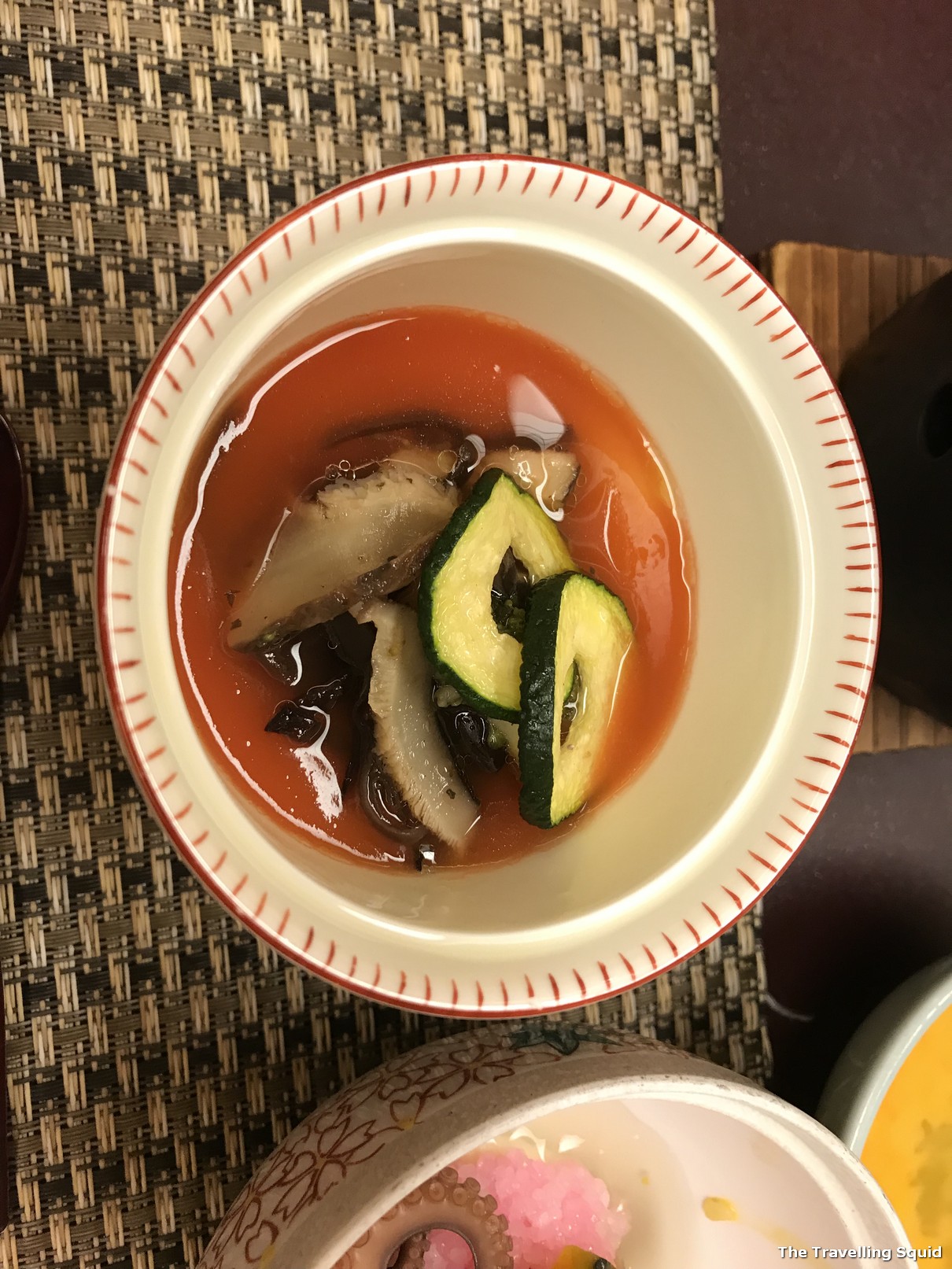 This chawanmushi was not made the traditional way. It came with tomato sauce and cheese, which was most interesting. The staff told us that the chef had attempted to make it similar to pizza, in the Western context. The flavours were quite legit, but I would have preferred the traditional style.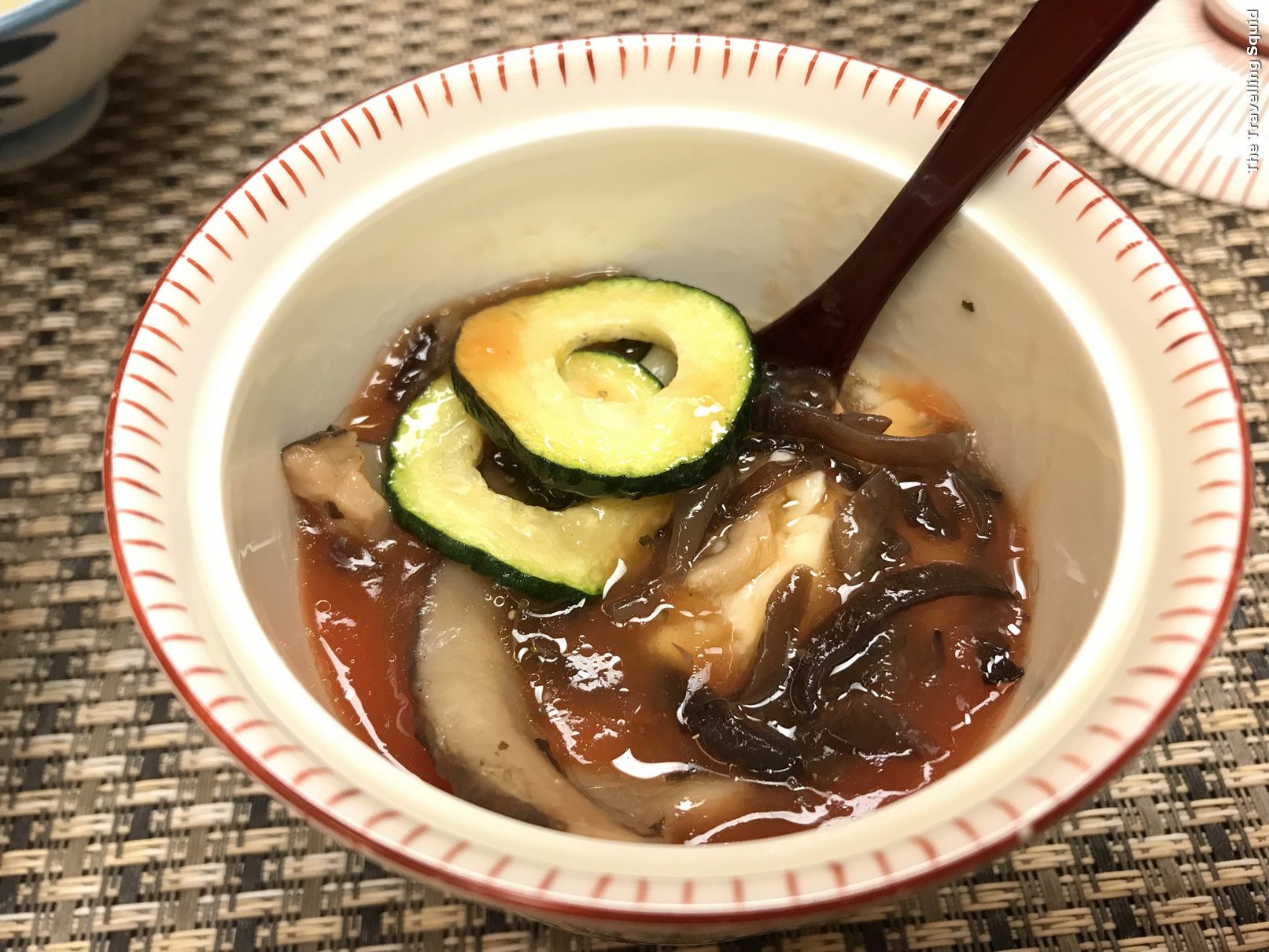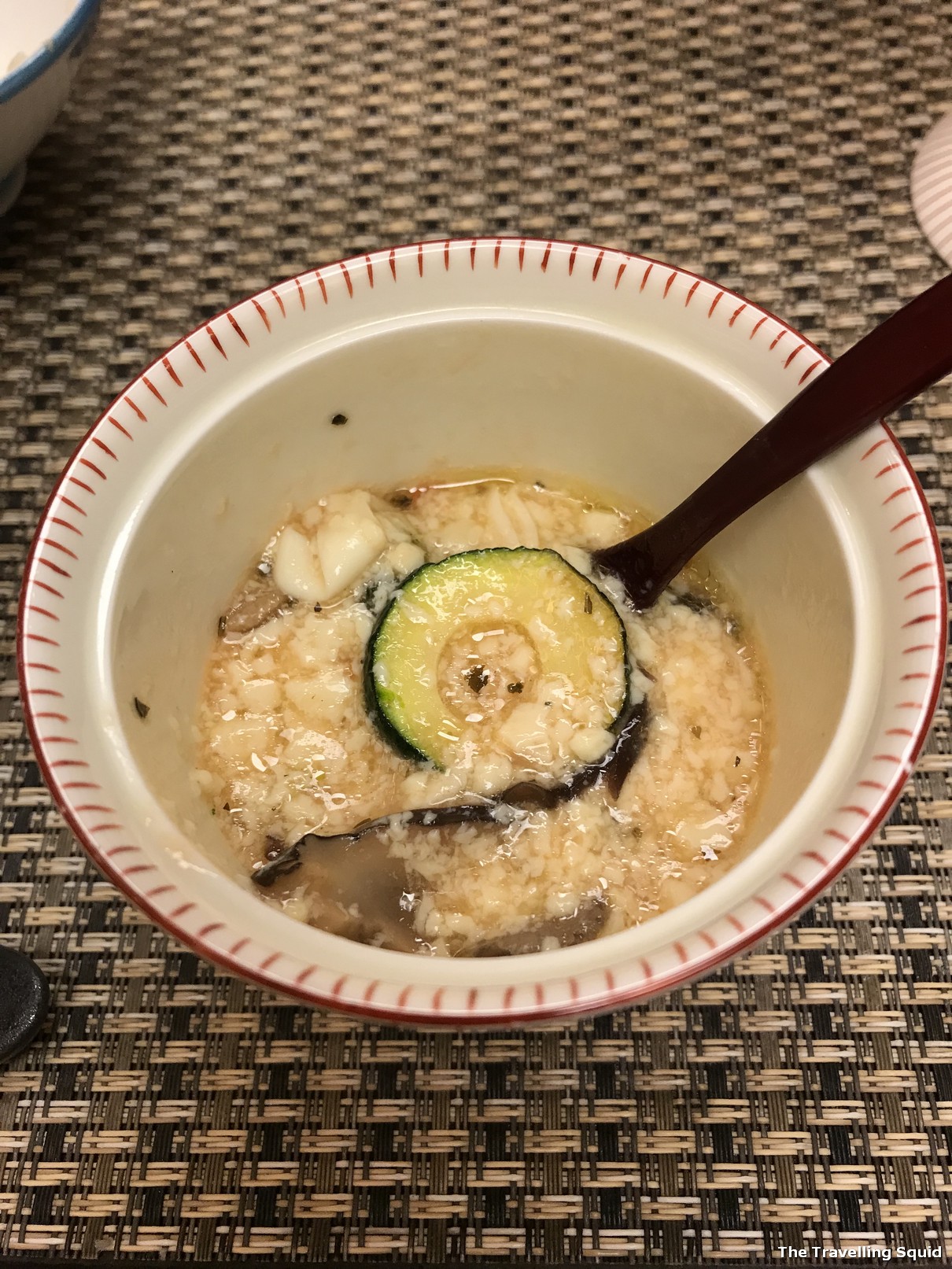 7. Vinegared dish (dish with cured items, I guess) – Horse mackerel, cucumber, mozuku (a type of seaweed)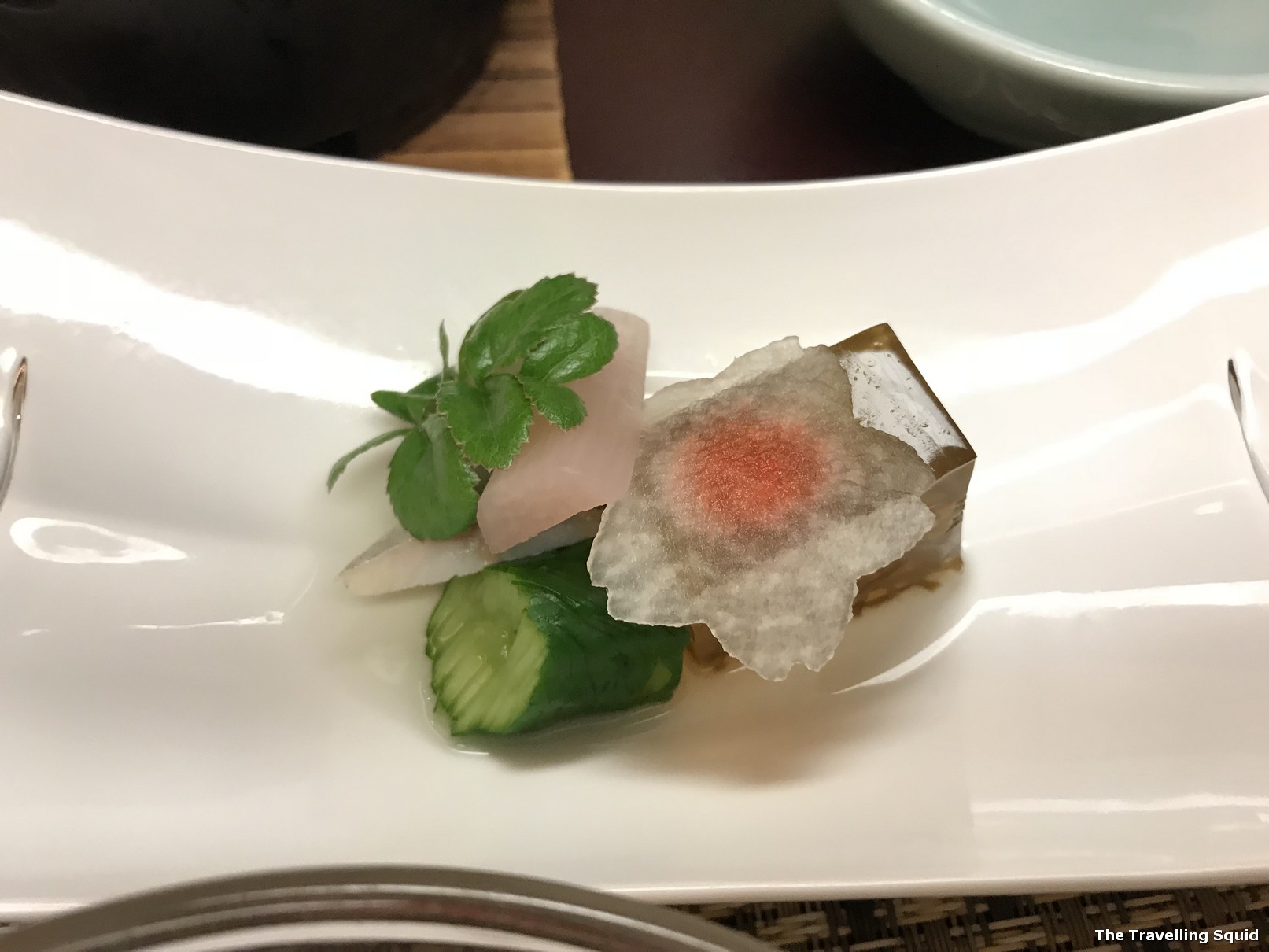 8. Rice, miso soup, pickles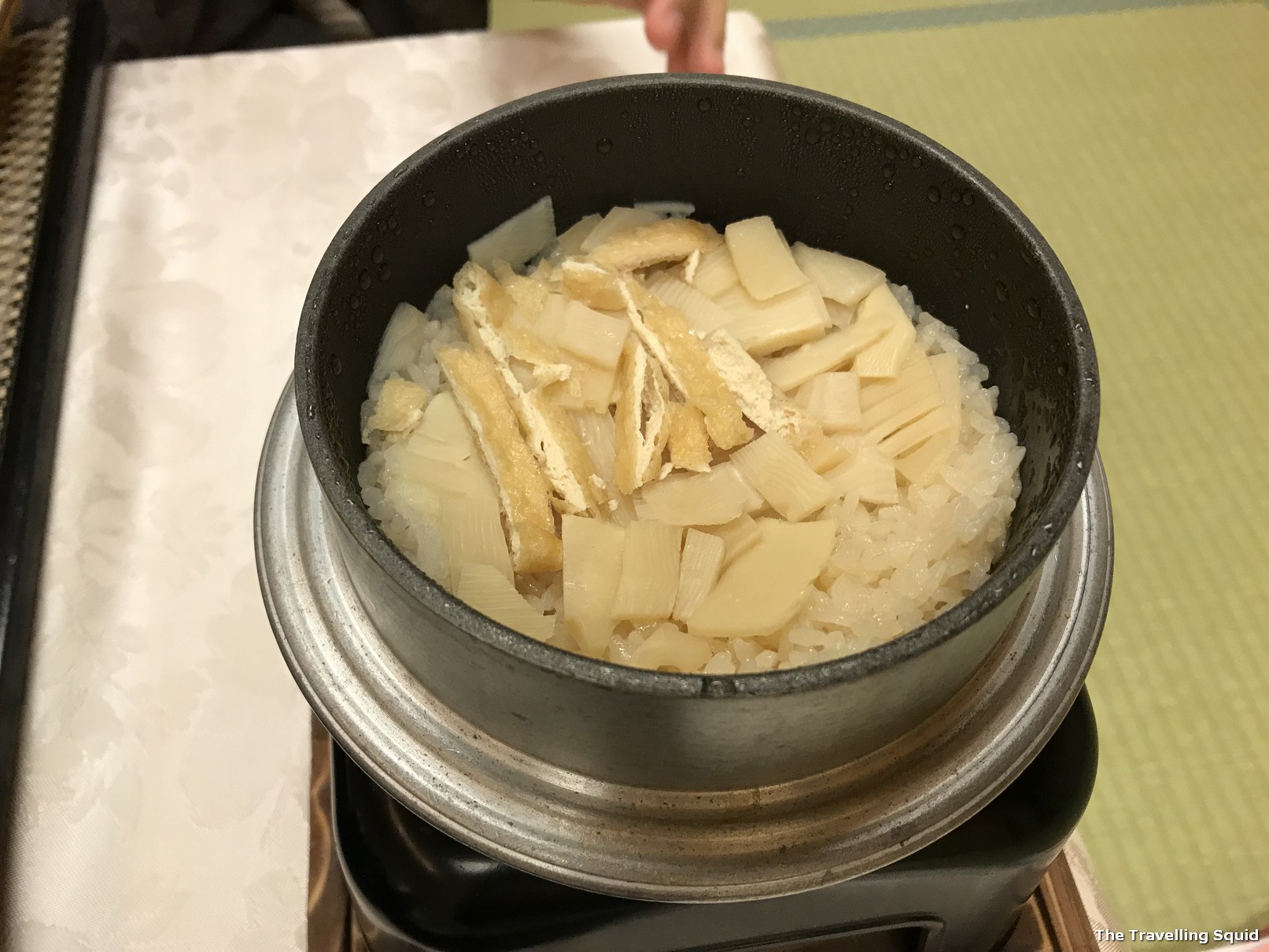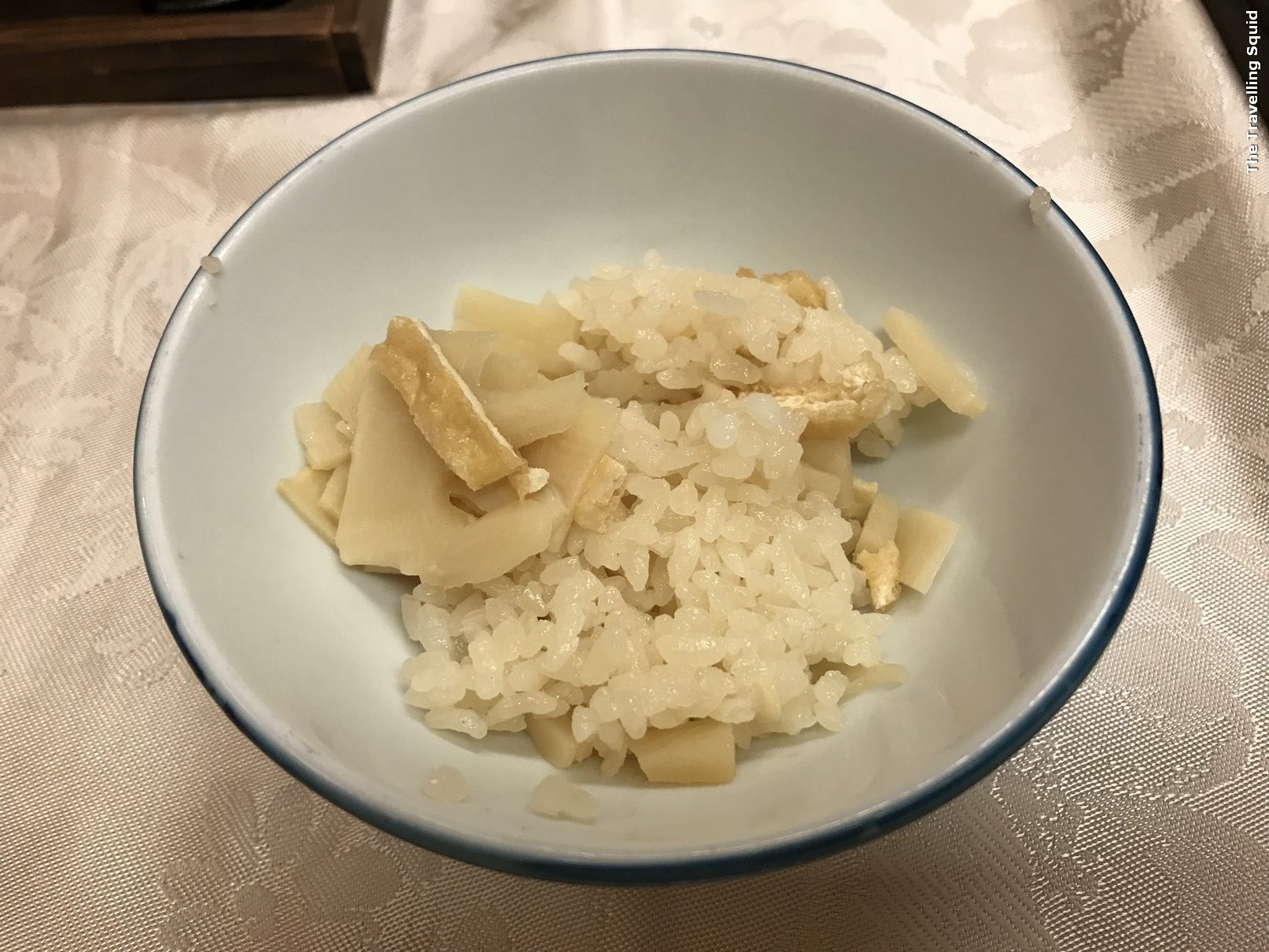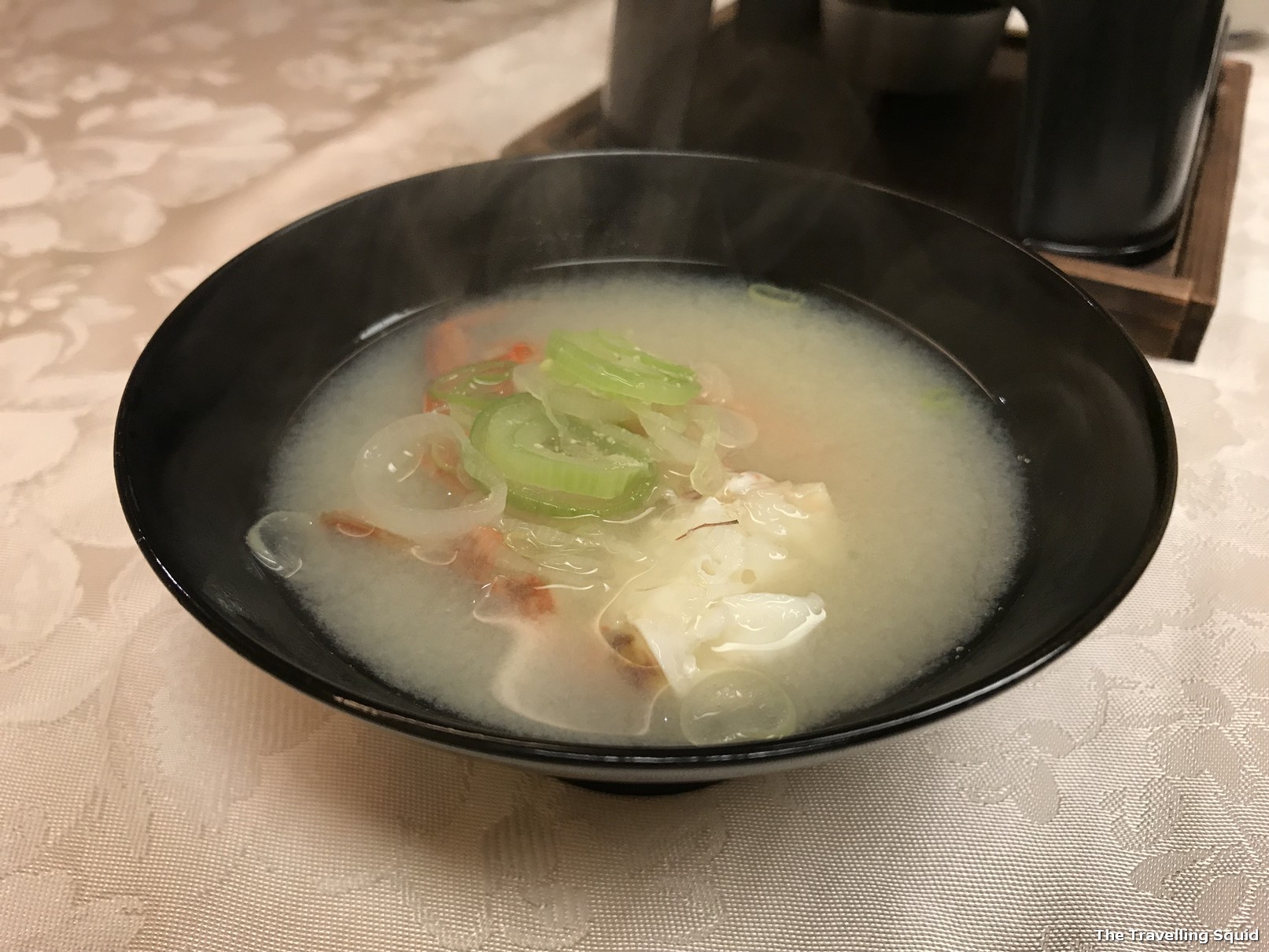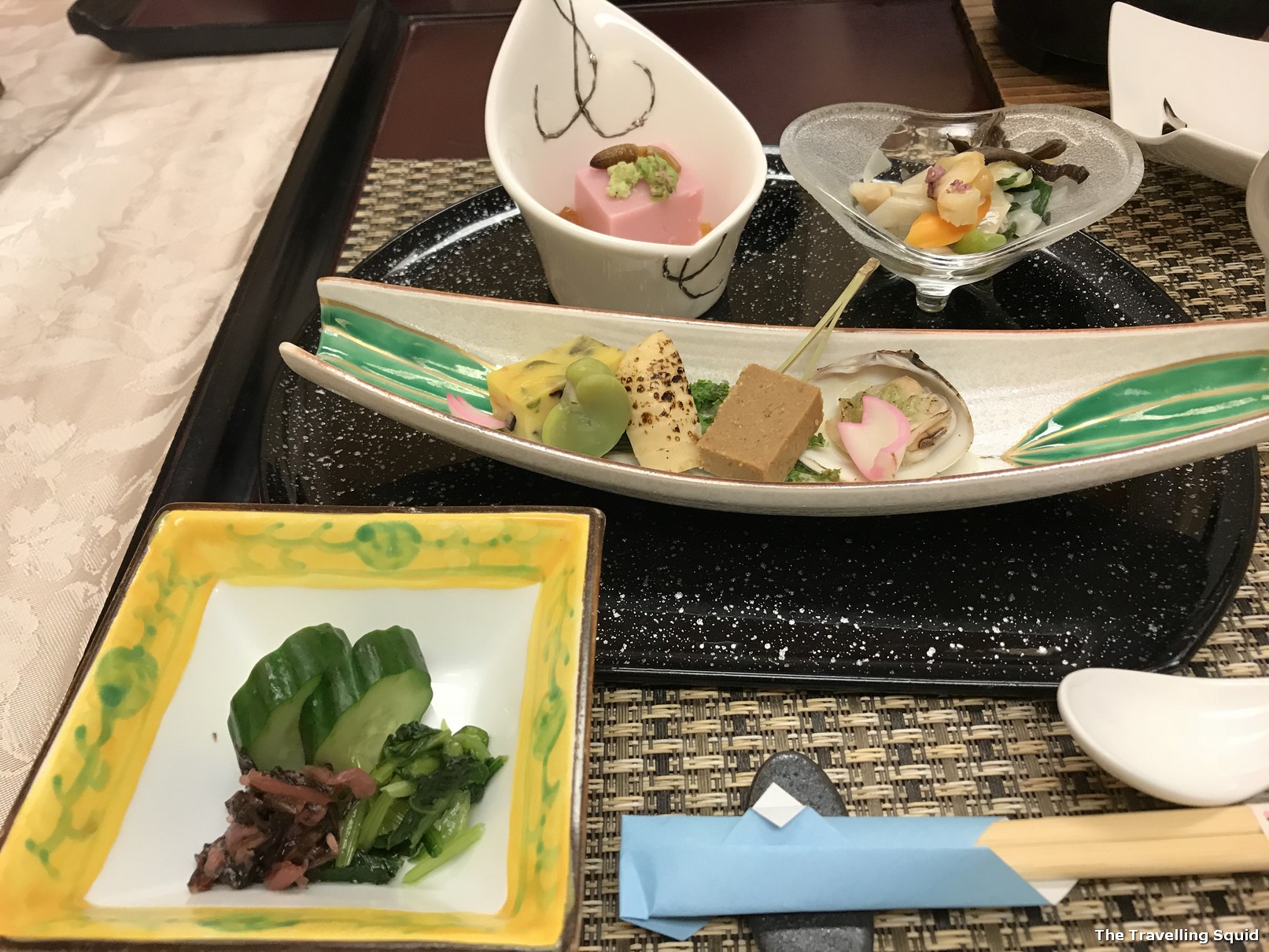 9. Desserts – Red bean mochi, cake, and orange mochi
I'm not a big fan of desserts and thought they were not bad. It's quite a generous serving too. Towards the end,  we felt super full and it was challenging to finish some of these.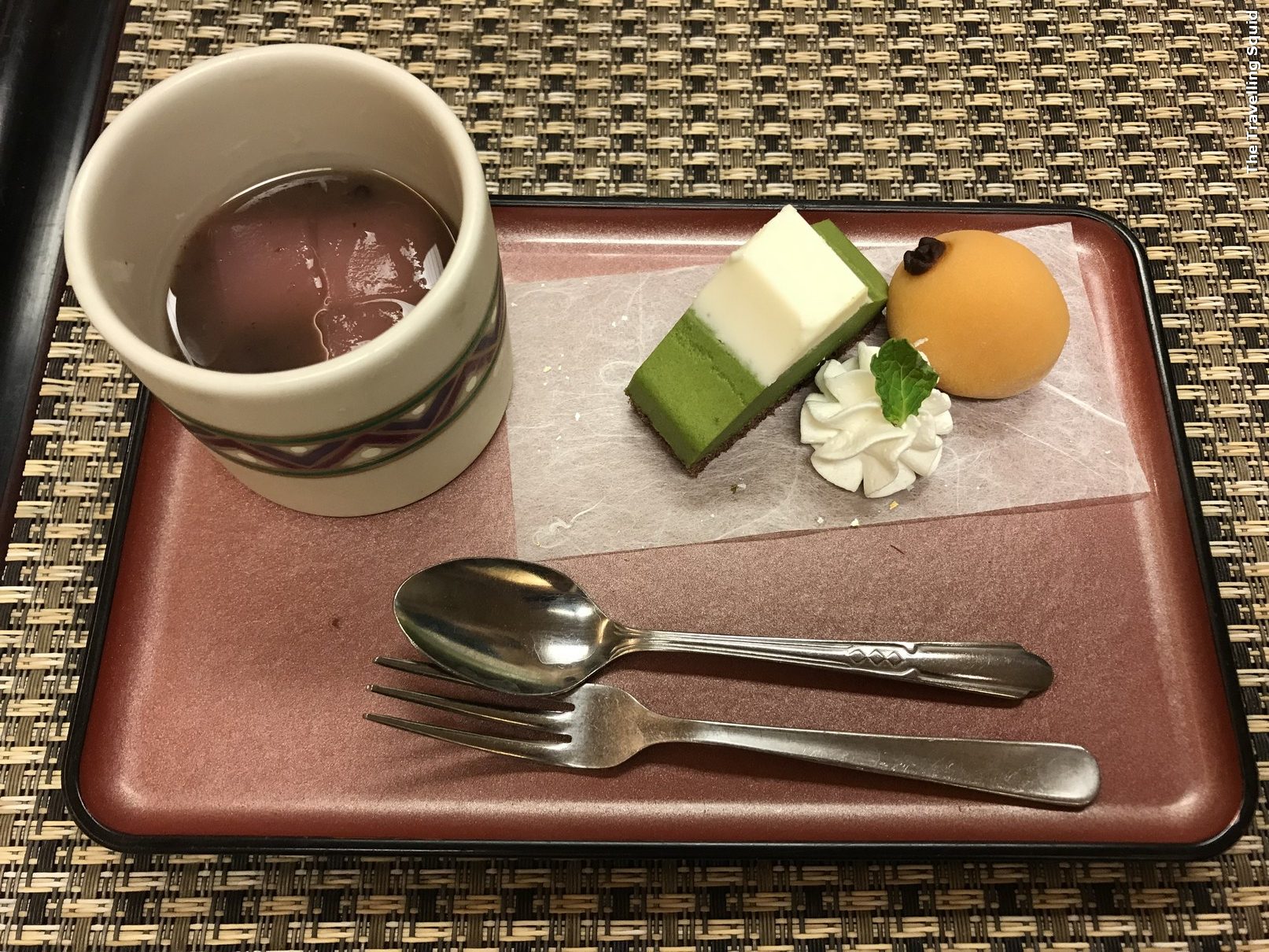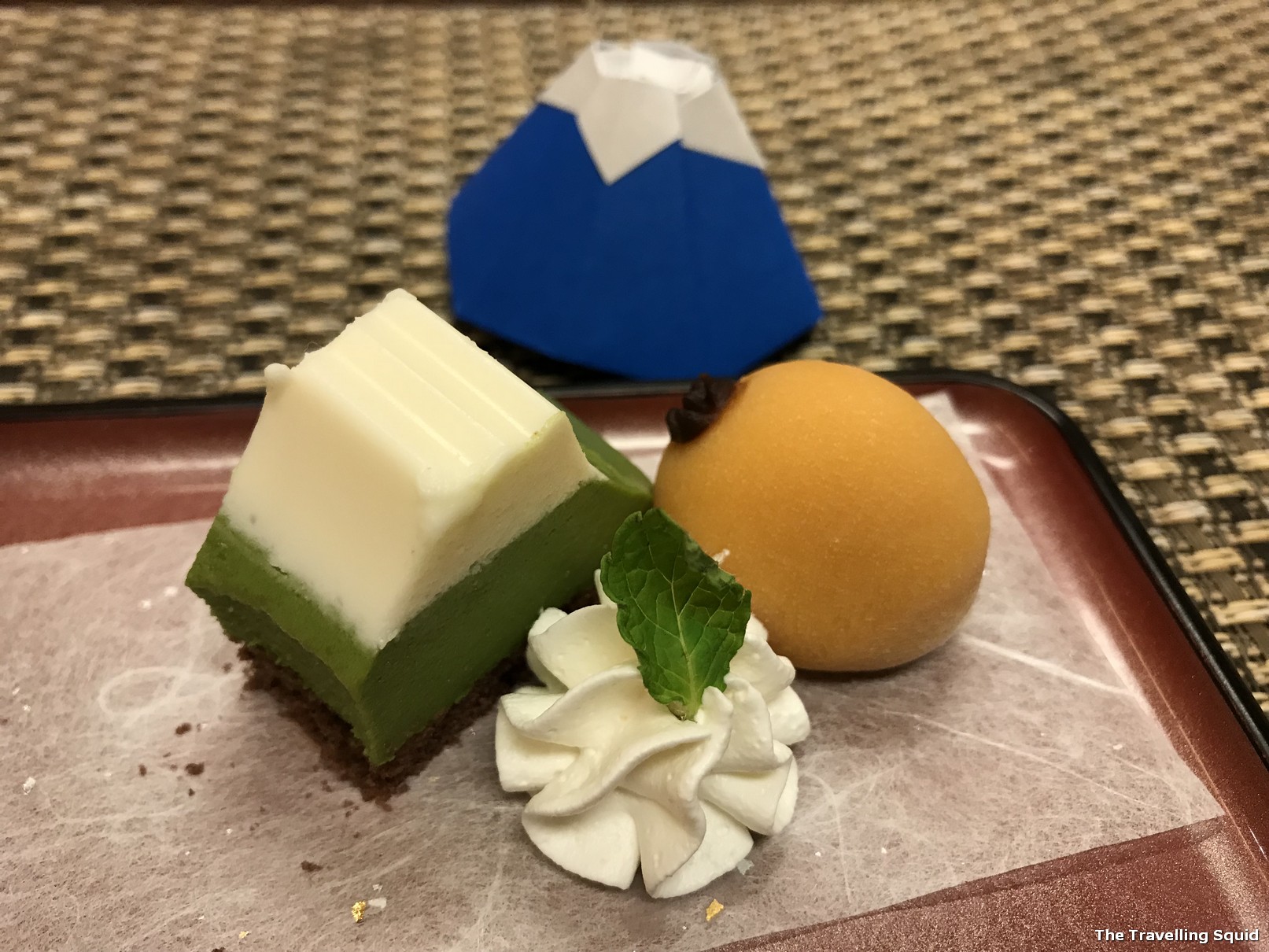 Hojicha to end the meal
It was actually a good choice to offer us Hojicha to end the meal as it is low in caffeine. That way, it helped to cleanse one's palate, but at the same time, wasn't an obstacle to sleep.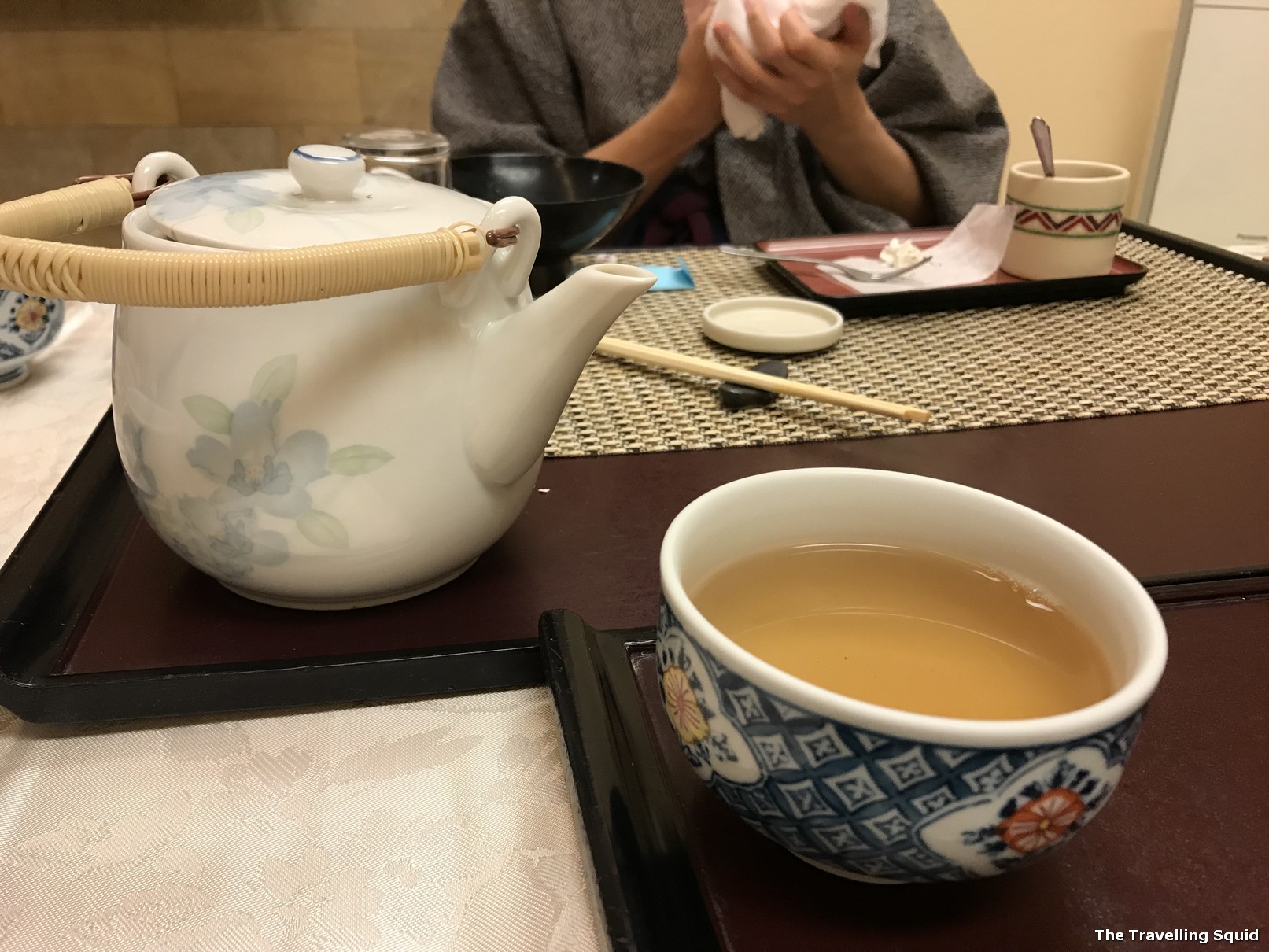 The Travelling Squid's Take
I've had three kaiseki meals in my life (this one inclusive). One in Singapore and two in Japan. All had its perks but I suppose the ones in Japan were slightly better, largely because there were fresher produce and the atmosphere we were in did have some effect.
This meal was really value-for-money. When I compared prices of the ryokan with dinner and without on Agoda, the difference is just SGD 47 / USD 35. Hence I strongly encourage you to go with the option with dinner.
For this meal, it was our first experience eating in a ryokan. The staff went out of their way to make the meal accessible to non- Japanese speakers through the English menu and the origami folds of Mount Fuji. I thought that was a nice touch. Other than that, it was nice learning about Japanese culture through food. Through the various techniques such as the appetizers, the boiled dish, the steamed dish and the vinegared dish, and pickles.
My favourite was the sukiyaki beef with raw egg, and the bamboo shoots rice (Takenoko Gohan). It was my first time having the rice and it was super tasty. To me, the meal was really about simple food done well. The attention to detail was immense – everything from the plating involving various herbs, flowers, vegetables and a sculptured shitake mushroom, to the origami folds. As some would say, It was a feast for the eyes as well.