Recommended: Visit Restaurante Lorea in Mexico City for affordable fine dining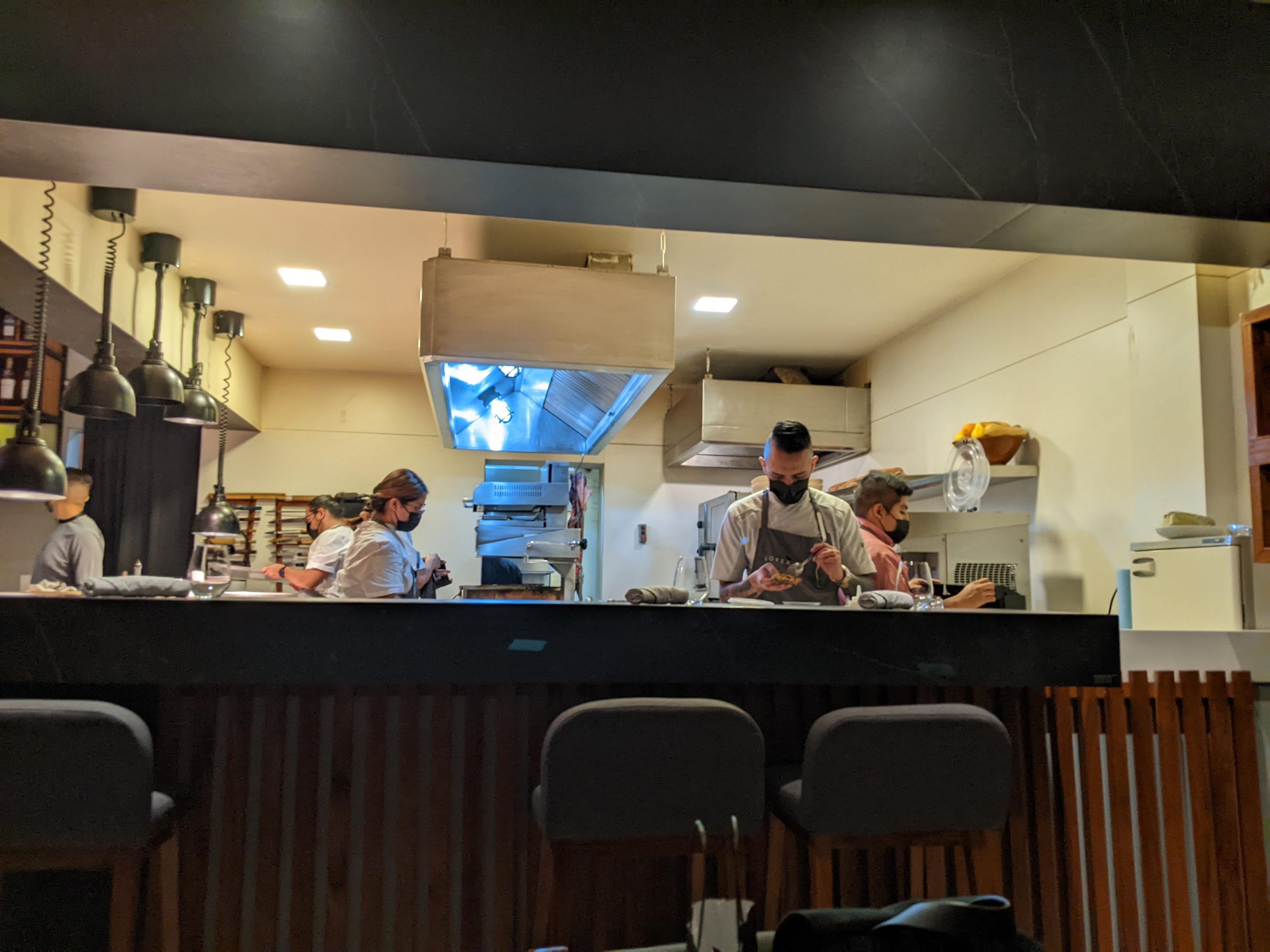 If you're travelling to Mexico, do check out Restaurante Lorea in Mexico City for affordable fine dining. At the time of writing, Lorea is listed as one of the world's top 50 best restaurants. Setup by female chef Oswaldo Oliva who trained in Spain, Lorea focuses on highlighting the value of Mexican ingredients from all over the country.
In terms of pricing, we found it to be very reasonable, as the total bill worked out to about MXN 6,310 / USD314 for two. This was using restaurant prices as a benchmark. The price included a welcome cocktail and a glass of wine to go with the steak. We also had the tequila and mezcal experience, which is highly recommended as it was the best tequila and mezcal we had. Check out The Travelling Squid's separate blogpost on the Tequila and Mezcal experiences, which came with a pairing of food too.
If you're planning to visit for dinner, set aside some time as the entire meal took us about 4 hours to complete. While it could be shorter without the Tequila and Mezcal experiences, it's highly recommended that you go for it, especially if you're new to Mexican liquors.
Menu – Lorea in Mexico City
Snacks
Tuna Apache tostada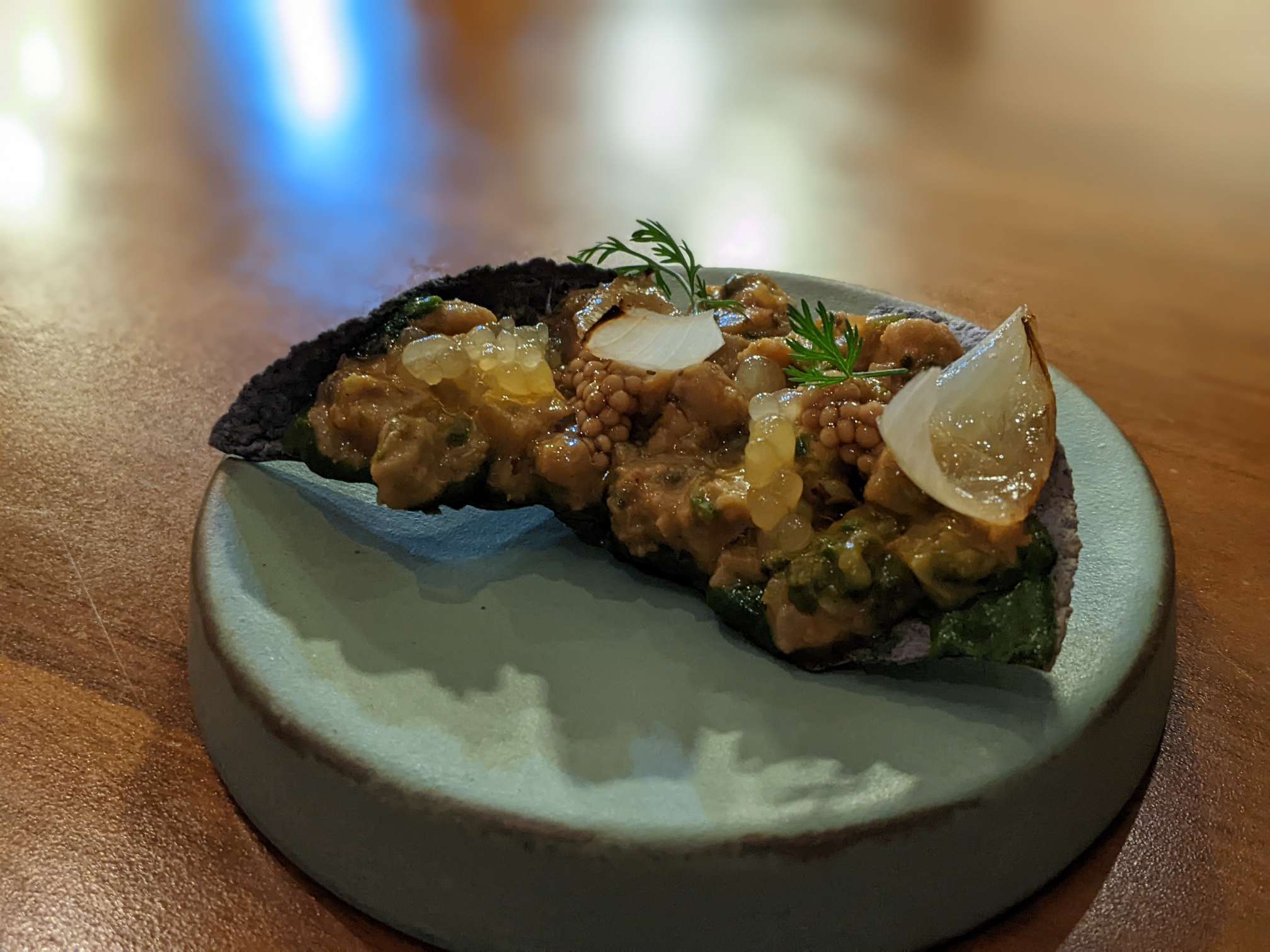 The tuna apache tostada was a really interesting setup with some sweetness and acidity from citrus and umami from the tuna and onion.
Sweet potato with tatemada sauce & Fried plantain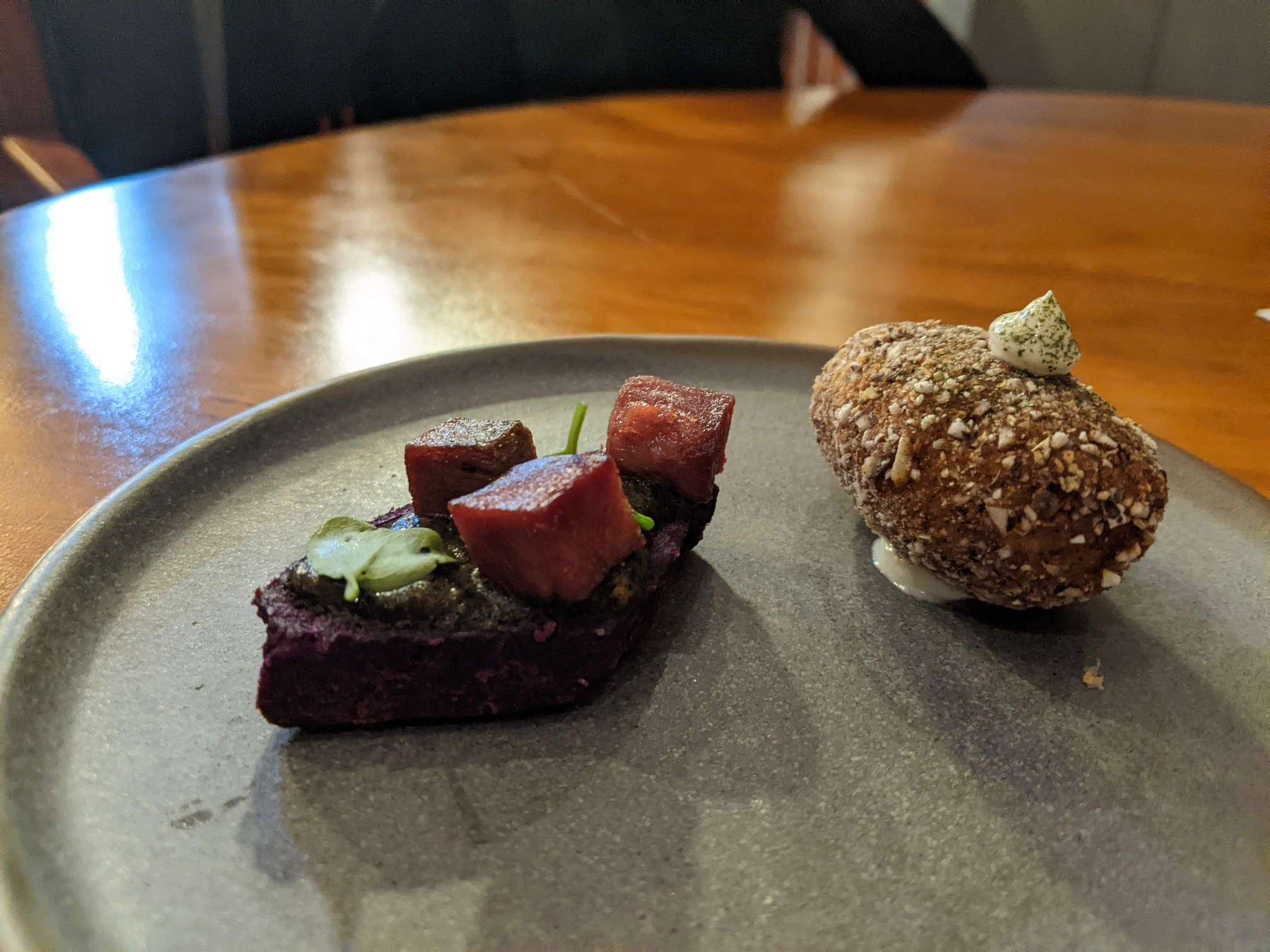 Just in case you're wondering, tatemada is a type of salsa which is a little more charred in nature.
Feast
Esquites and crispy tendon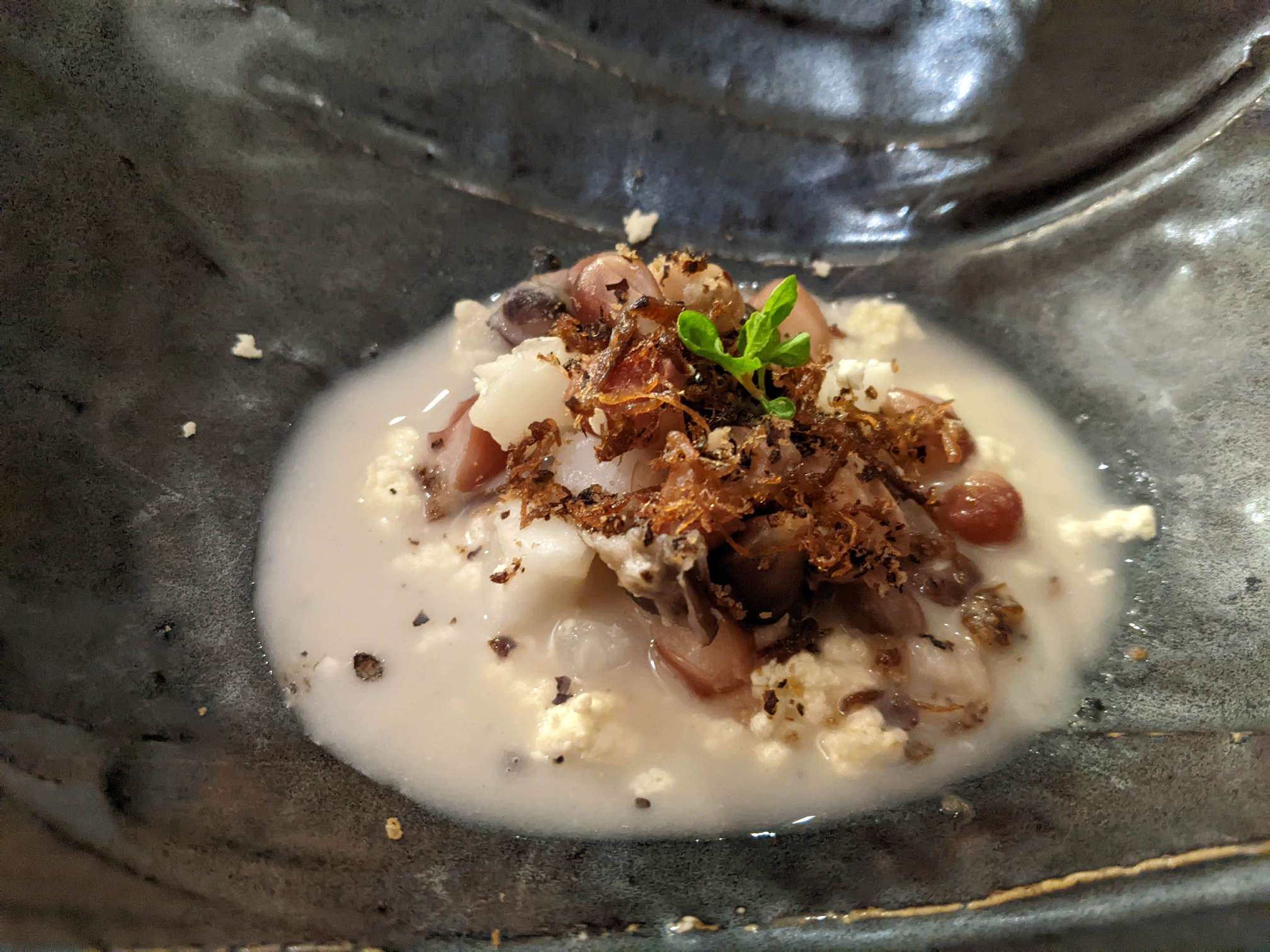 If you, like me, are wondering what esquites are, they are a Mexico corn salad, typically made with chili, cheese and garlic, according to Serious Eats.  One of my learnings from the Mexico trip was that Mexican corn is one of the best – there are so many varieties and each has a different taste and texture. This esquites and crispy tendon dish was really interesting – unveiling flavors we were not quite expecting.
Watermelon and yuzu crudo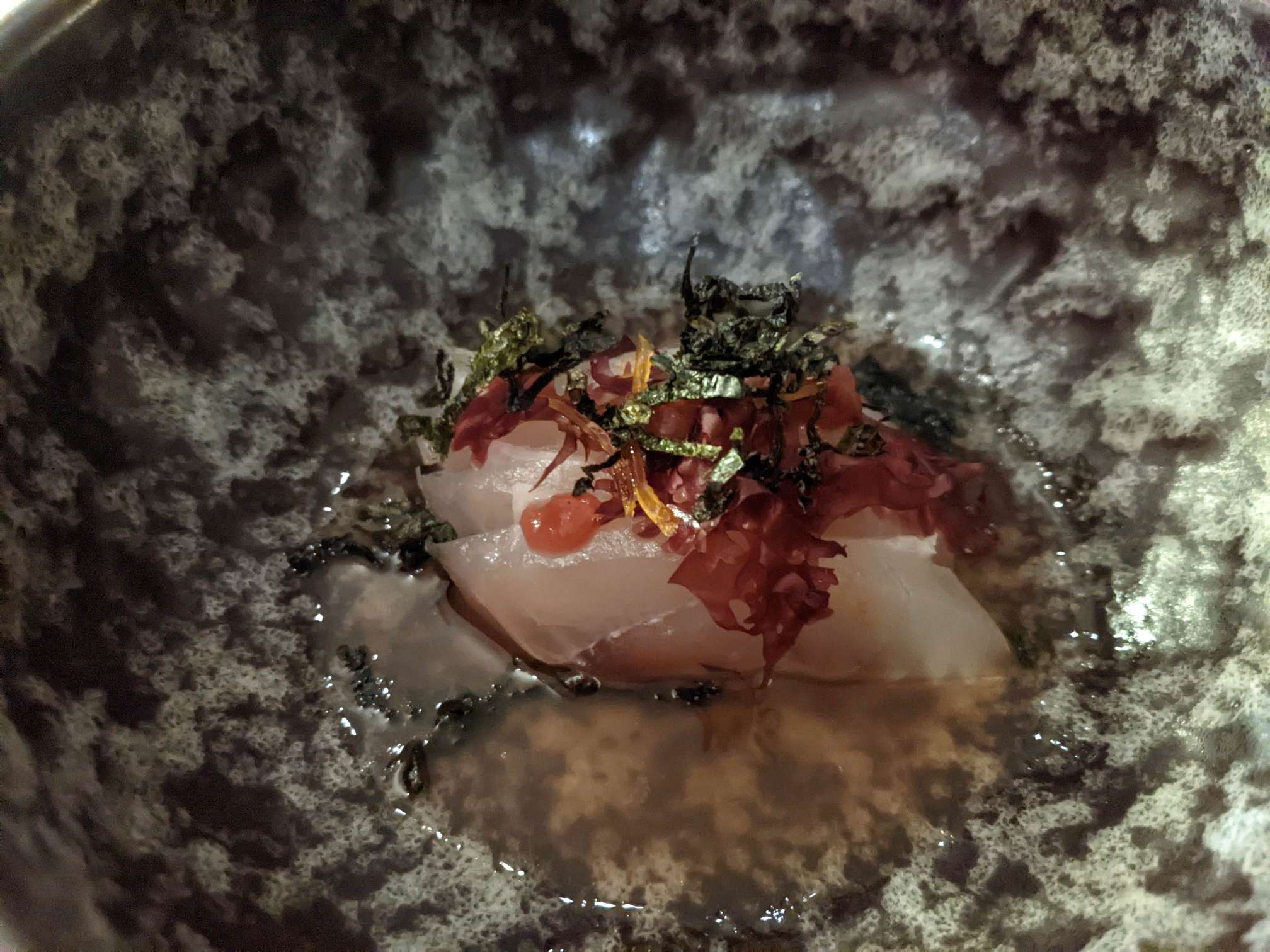 I did enjoy this – recall a light sweetness from the watermelon, a tiny bit of acidity from the yuzu that went very well with the crudo (in this case it was a raw white fish).
Blue Stew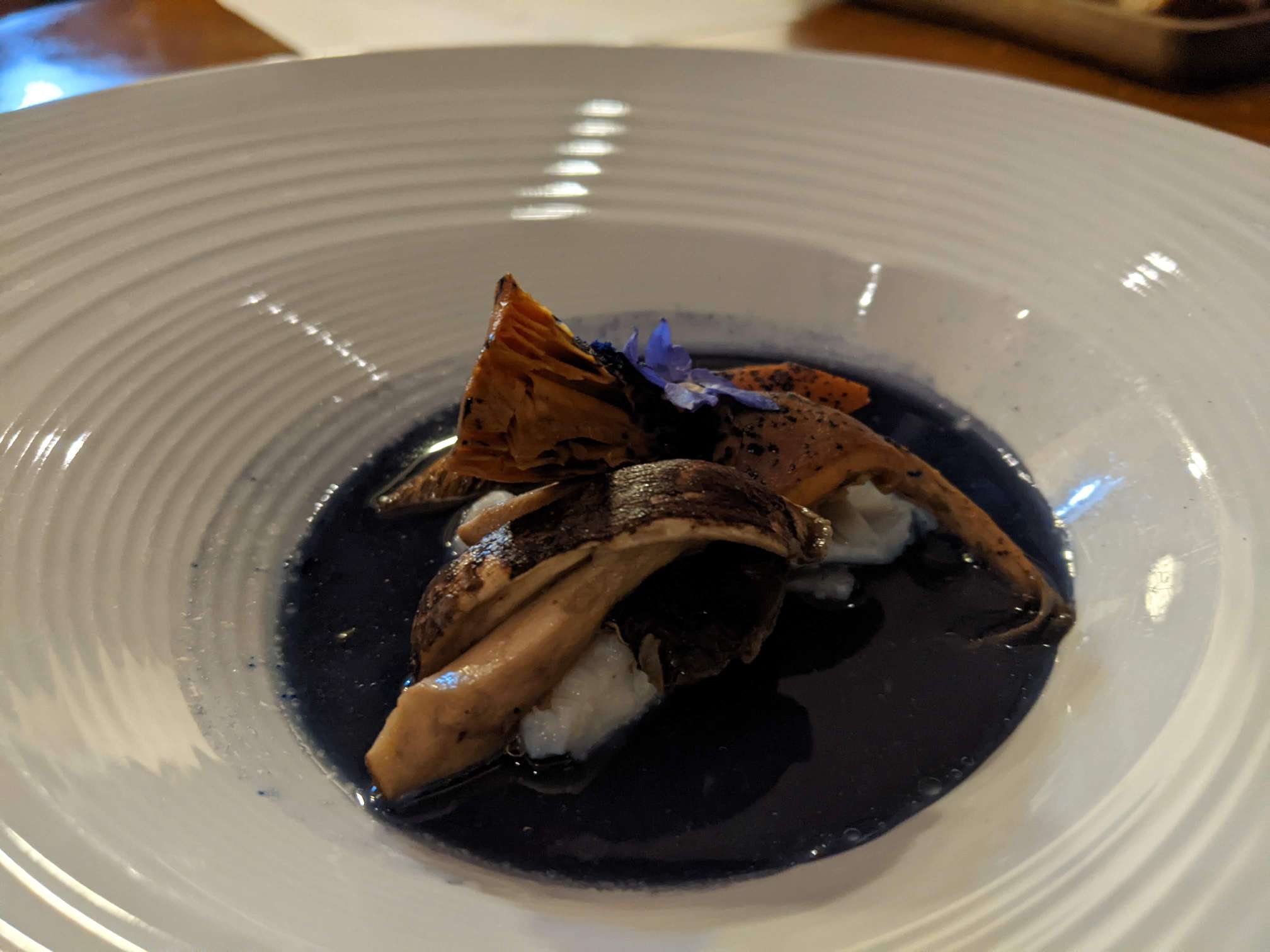 This stew was seafoody in nature and was paired with mushrooms and, if I recall correctly, a fish. The seafood flavor was light and subtle, which got us wondering about the ingredients used – perhaps squid ink was used.
Huitlacoche taco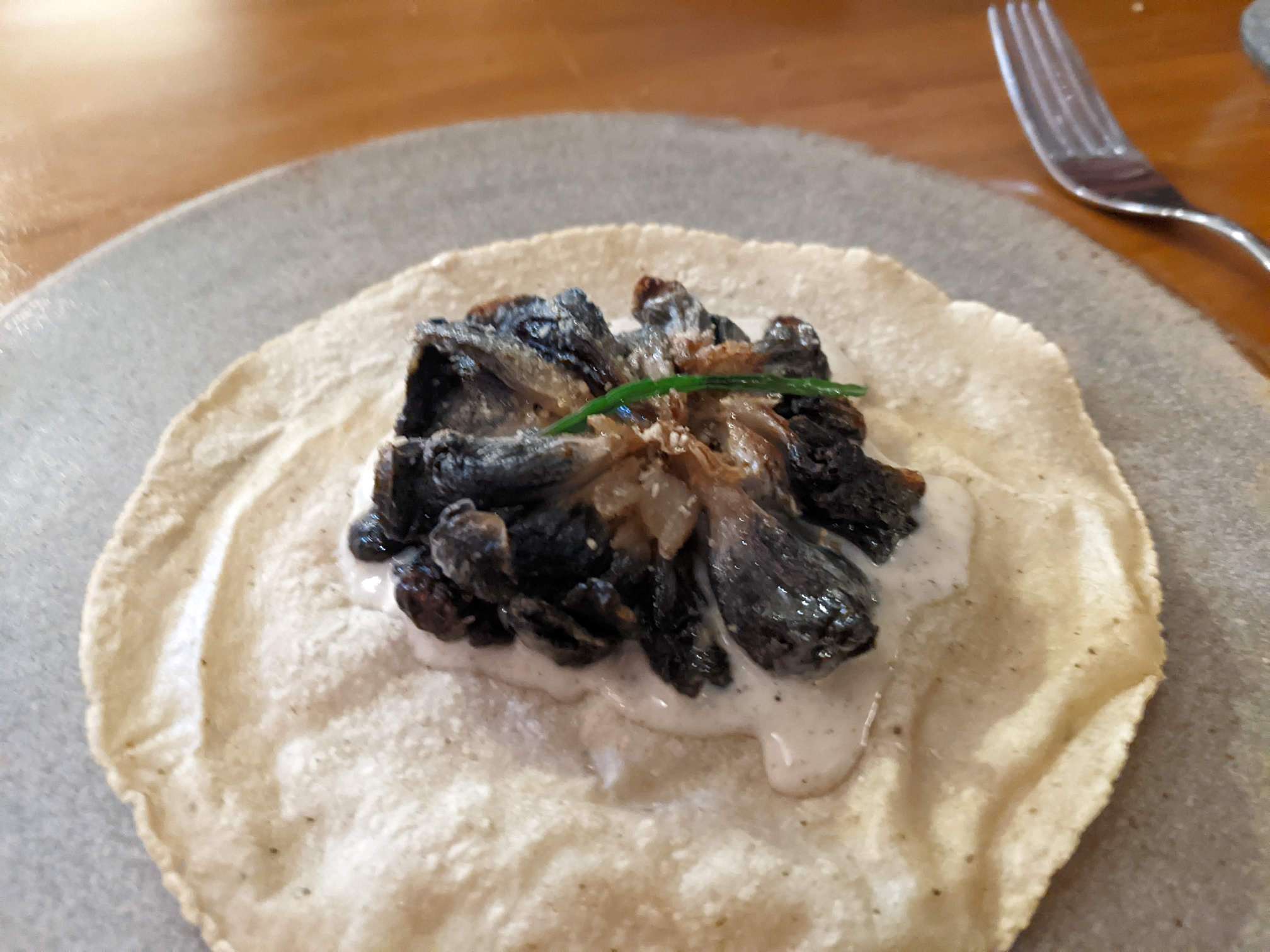 According to online food store Woodland Foods, Huitlacoche is a fungus that grows on corn, typically used as a filling for tacos, soups and quesadillos. Lorea staff said that it is considered to be a delicacy. To me, it tasted like an interesting kind of mushroom, with an earthy and spongy texture. We were invited to view the fungus on a mushroom too – to be honest, it wasn't the most appetizing of all sights, but still very interesting!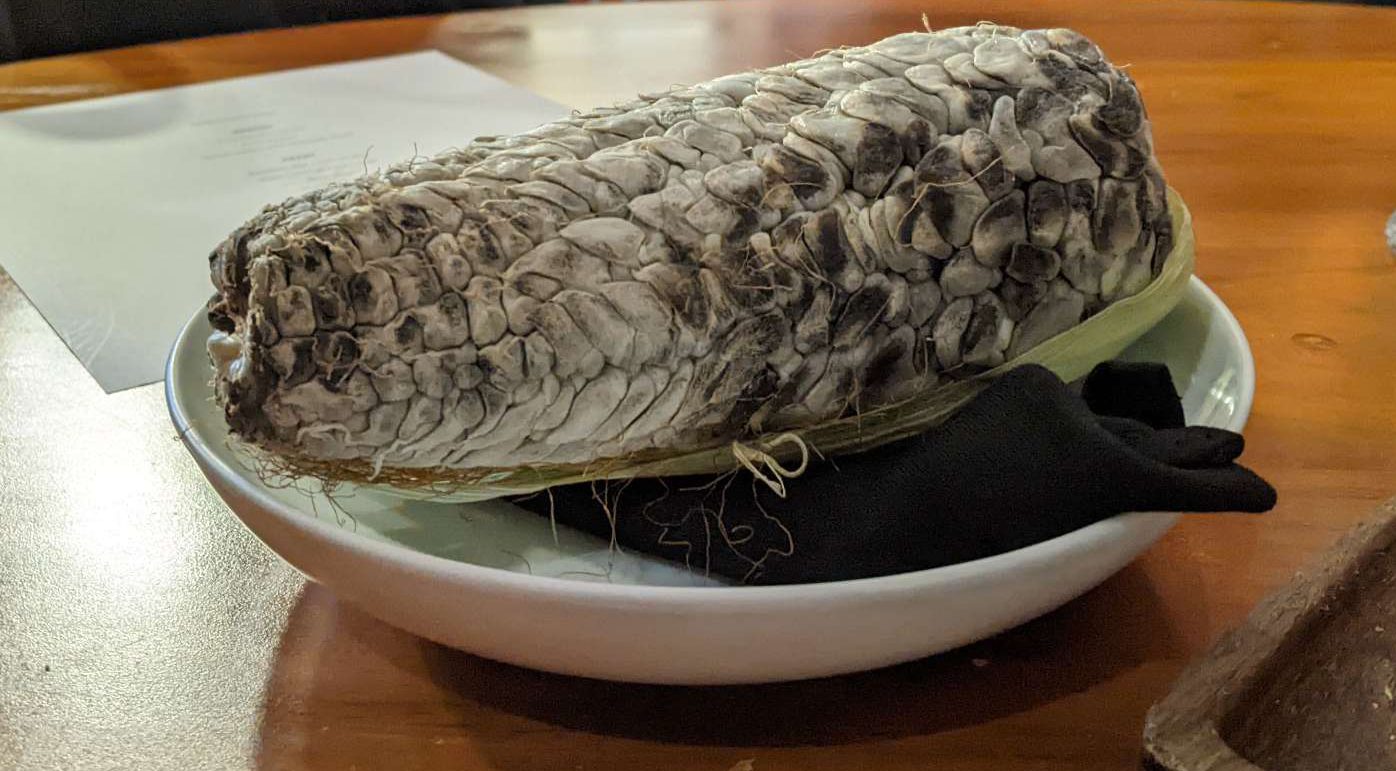 Butternut squash and vanilla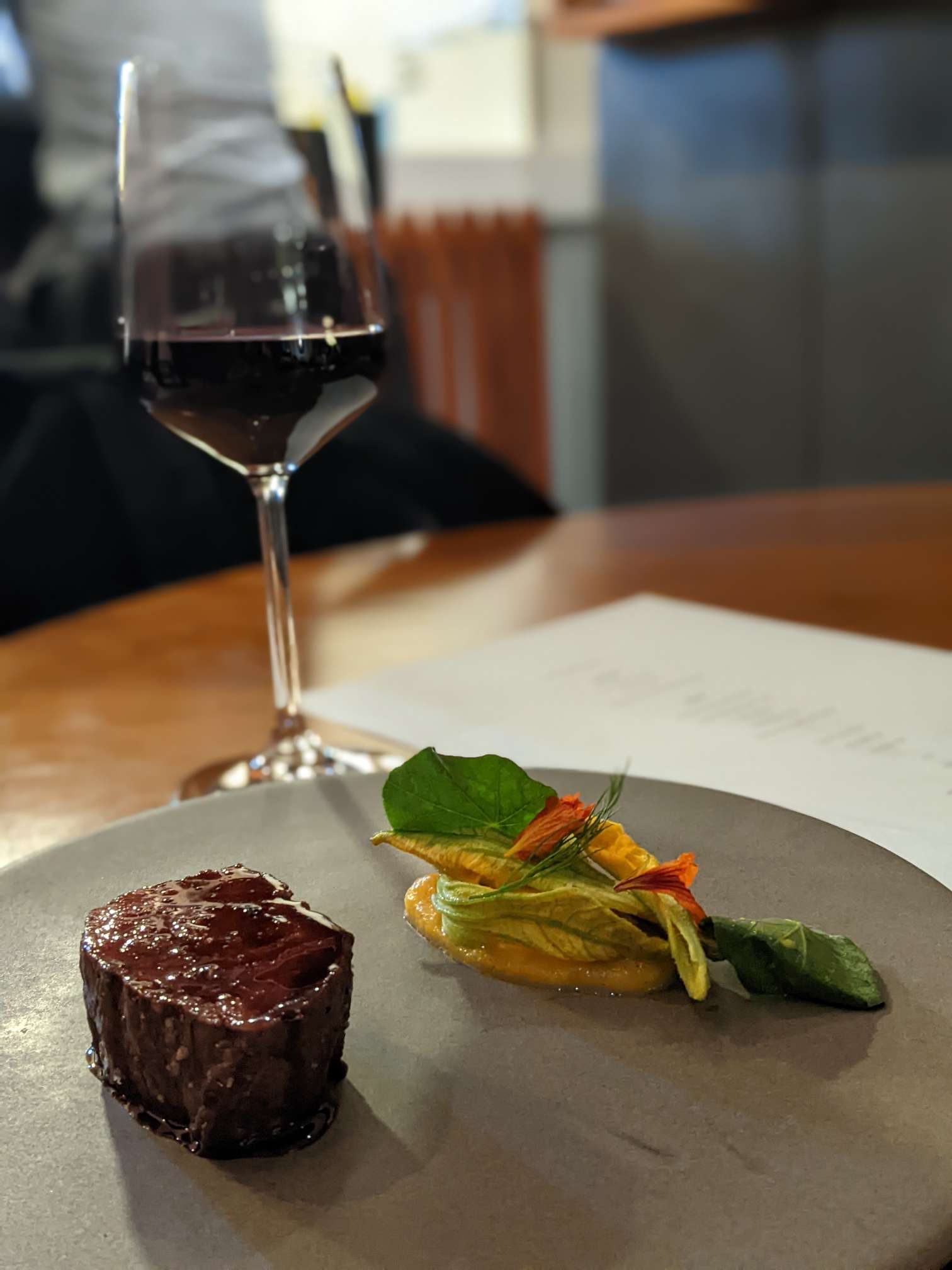 Enjoyed the squash display – wasn't expecting a steak to come with this too, so this was nice. It paired nicely with the beef – a good match of sweet and savory flavors.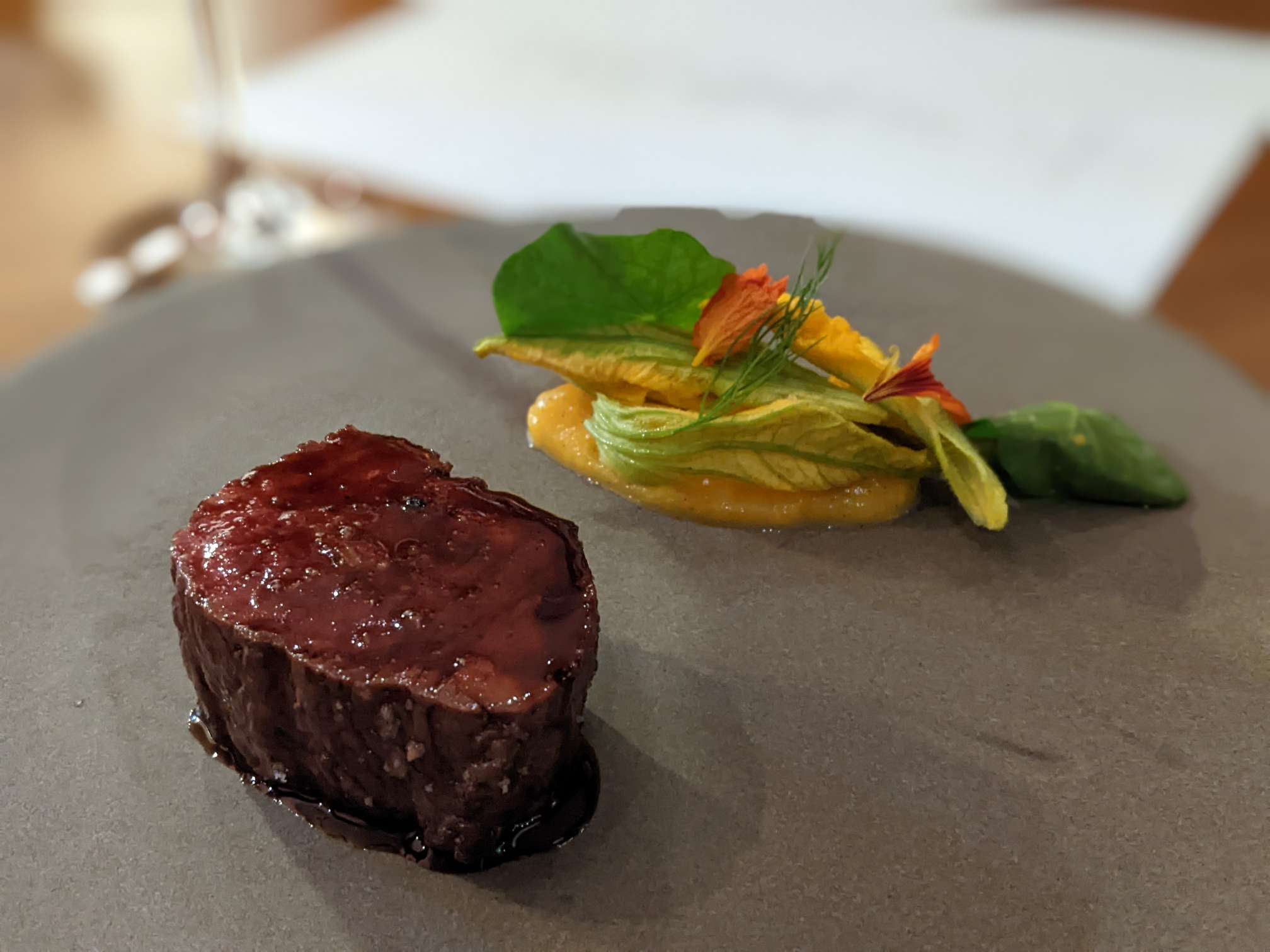 Dessert
Edam and plums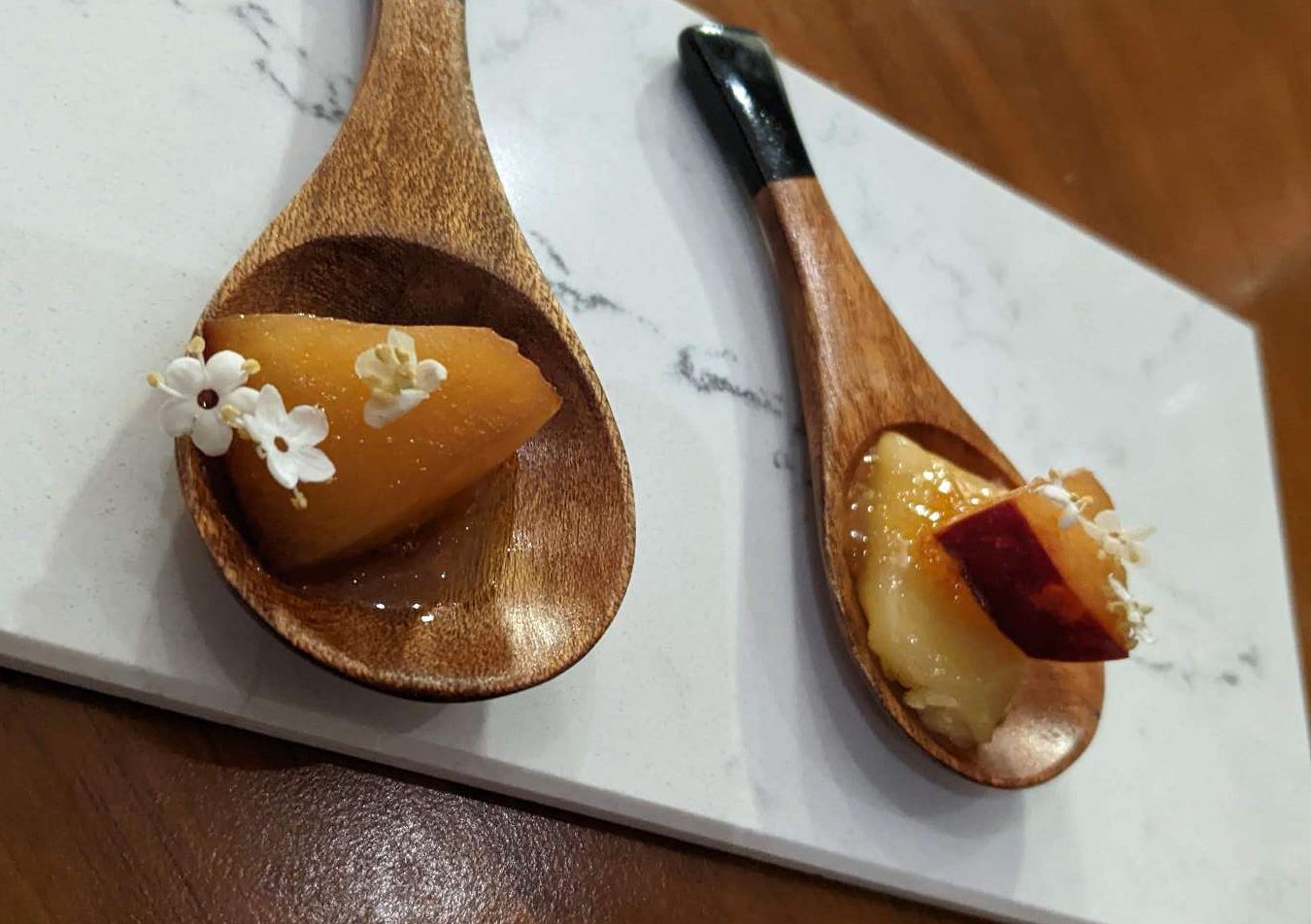 By the time it came to desserts, we were very full, but we pressed on. It was a lovely setup, the plums were sweet and when mixed with cheese, gave a strong, memorable, mouthfeel.
Pumpkin pie & Smoked milk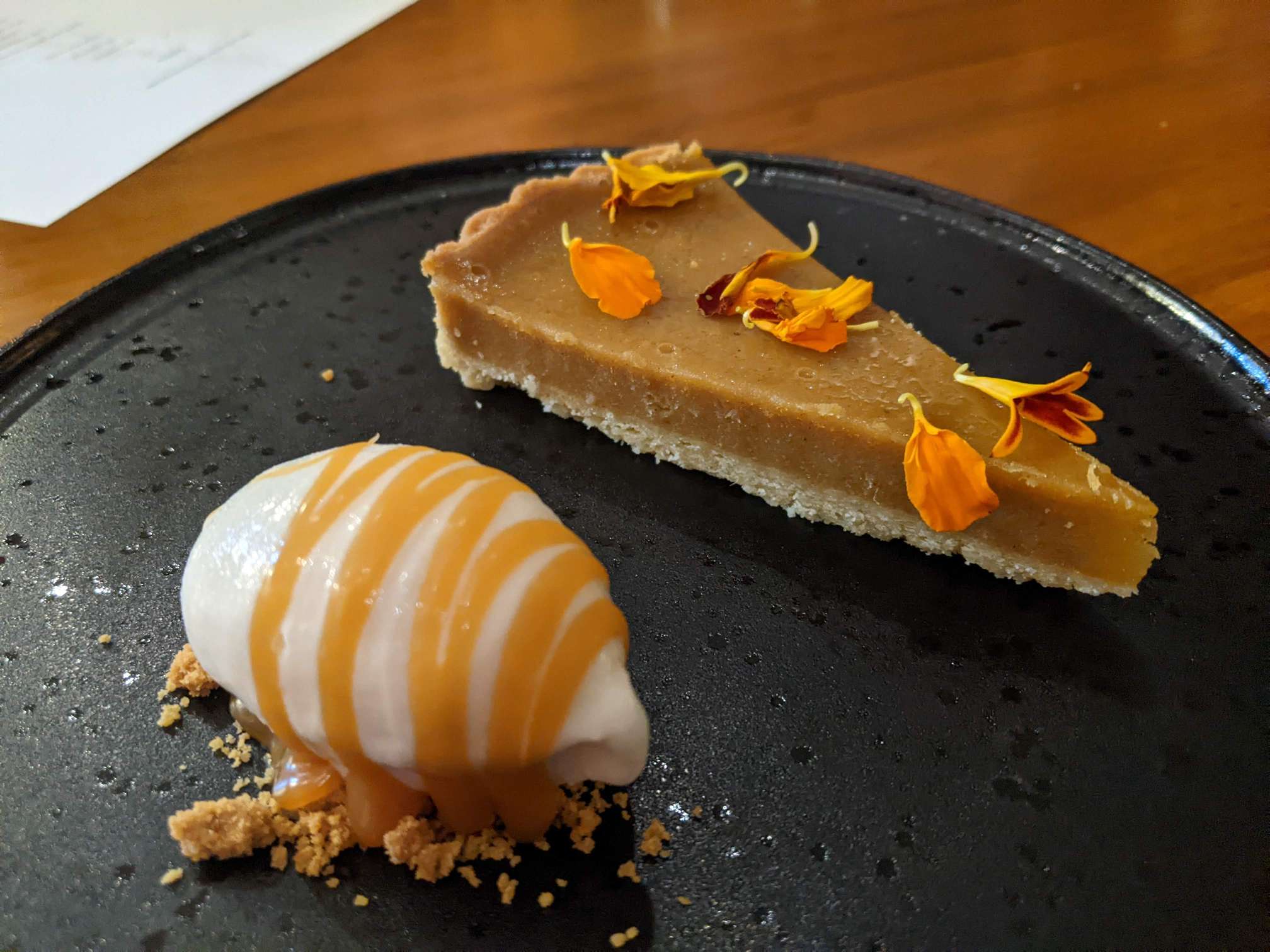 I'm not sure if the ice-cream is the smoked milk in this dish – it was good! The pumpkin pie was delicious too – not too sweet, while the ice-cream went very well with it. The perfect way to end the meal.
The Travelling Squid's Take – Restaurante Lorea in Mexico City
We thoroughly enjoyed the meal – I personally wish I had taken detailed notes as I had forgot the flavors of some dishes since it was written 2 months ago. In summary, we enjoyed the experience, the flavors, textures and approach to the dishes were genuinely intriguing for us and we encourage you to give it a try if you're here in Mexico City.
Restaurante Lorea in Mexico City
Address: Sinaloa 141, Roma Nte., Cuauhtémoc, 06700 Ciudad de México, CDMX, Mexico
Website & Reservations: https://www.lorea.mx/
Opening hours: 2pm – 11pm daily