Five things to do if you have one day in Kuta Bali
If you, like us, have only one day to spend in Kuta Bali, embrace it! Instead of staying at Starbucks reading a book, or sipping a coffee at Bali's Ngurah Rai airport (it's fantastic now btw), why not head down to the beaches, which is a 15 min drive away from the airport.
1. Walk along the beach
If you can, head down to the beach. It's not super beautiful with fine white sand like that in Maldives, but it's just nice to take a stroll along the shore, with the sand against your feet.
The beach is an interesting place. Witness girls getting picked up, ladies (sun-tanning in a way that is not acceptable in some cultures) and yes, people getting tattoos. Temporary ones for most. My friends had (interesting albeit emo) quotes written on their backs, and a dragon imprinted on their arms.
If you're into surfing you're in for quite a spread. Hawks selling Banana Boat and water sporting activities will come to you, but can be easily avoided.
* * *
2. Eat at Ultimo
I know Ultimo is located at Seminyak, but you just got to find your way there no matter what. It's a 10 min car ride if there's no jam. Take only Bluebird taxis! And not taxis which are blue and have random logos of a bird on them. It cost us Rp 50,000 for a ride to Ultimo from the Sheraton.
Anyway Ultimo is a really awesome Italian restaurant which has great food and the prices are not steep. We ordered their set dinner, which came with a salad, squid ink pasta and a lovely piece of chicken. What was important is the red wine that came with it. ; )
My friends also loved the 'Slice Parma Ham Served with Fresh Melon' (Rp 72,000) and the Rocket Salad with Panfried Slice Mushroom, Parmesan Cheese & Tossed with Olive Oil (Rp 27,000)
For more ideas on their food choices and main course, check the Ultimo website.
We were there on a Friday evening and there was a live performance going on. It was really nice listening to Greatest Hits from singers of our era, while sipping a local favourite, Bintang Beer.
* * *
3. Catch the sunrise/ sunset by the beach
If your room doesn't have an ocean view, fret not. You could always take a walk by the beach, sip a Bintang, tuck into dinner while watching the sun fade into the horizon. It's a nice feeling.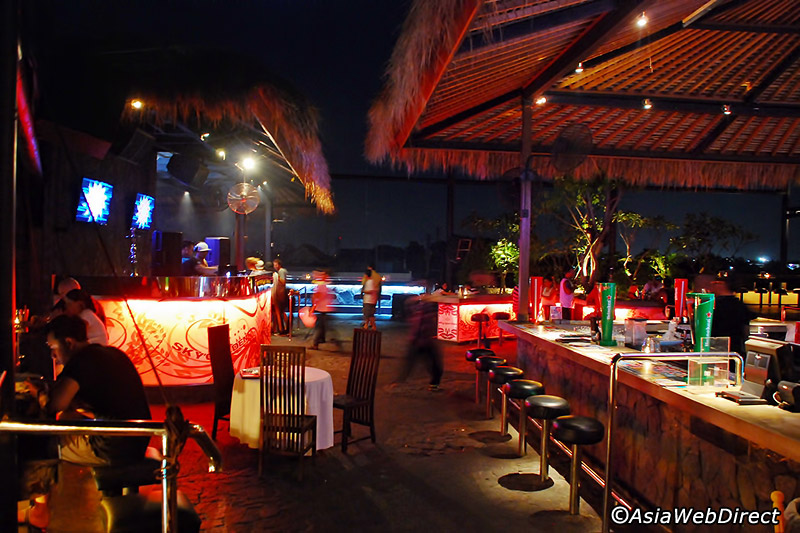 4. Visit Sky Garden (Optional- If you're into night activities)
If you're looking for that one last epic night in Bali, Sky Garden is the way to go. Just make sure you don't have too early a flight to catch the next day. I'm saying this from experience because I did have quite a bad tummy ache – thankfully my flight was at 3pm and the toilets did not let me down.
5. Shop at Zara (Optional – Once again, only if you're into shopping)
I've been to the Zara store in Kuta and it's not very much cheaper. But if you need to satisfy your thirst for shopping after many days of trekking and meditation, here you go!
* * *
Unless you're into surfing and water sports, I think one – two days in Kuta would suffice. Bali has much to offer beyond this touristy hideout, but indulge when you can!
For more of Bali's natural gems, check out my next post on hiring the right driver who can bring you around Bali, especially the Northern parts, which are slightly more difficult to access by public transport. Stay tuned.