Review: For a good izakaya in Kyoto visit Beppinya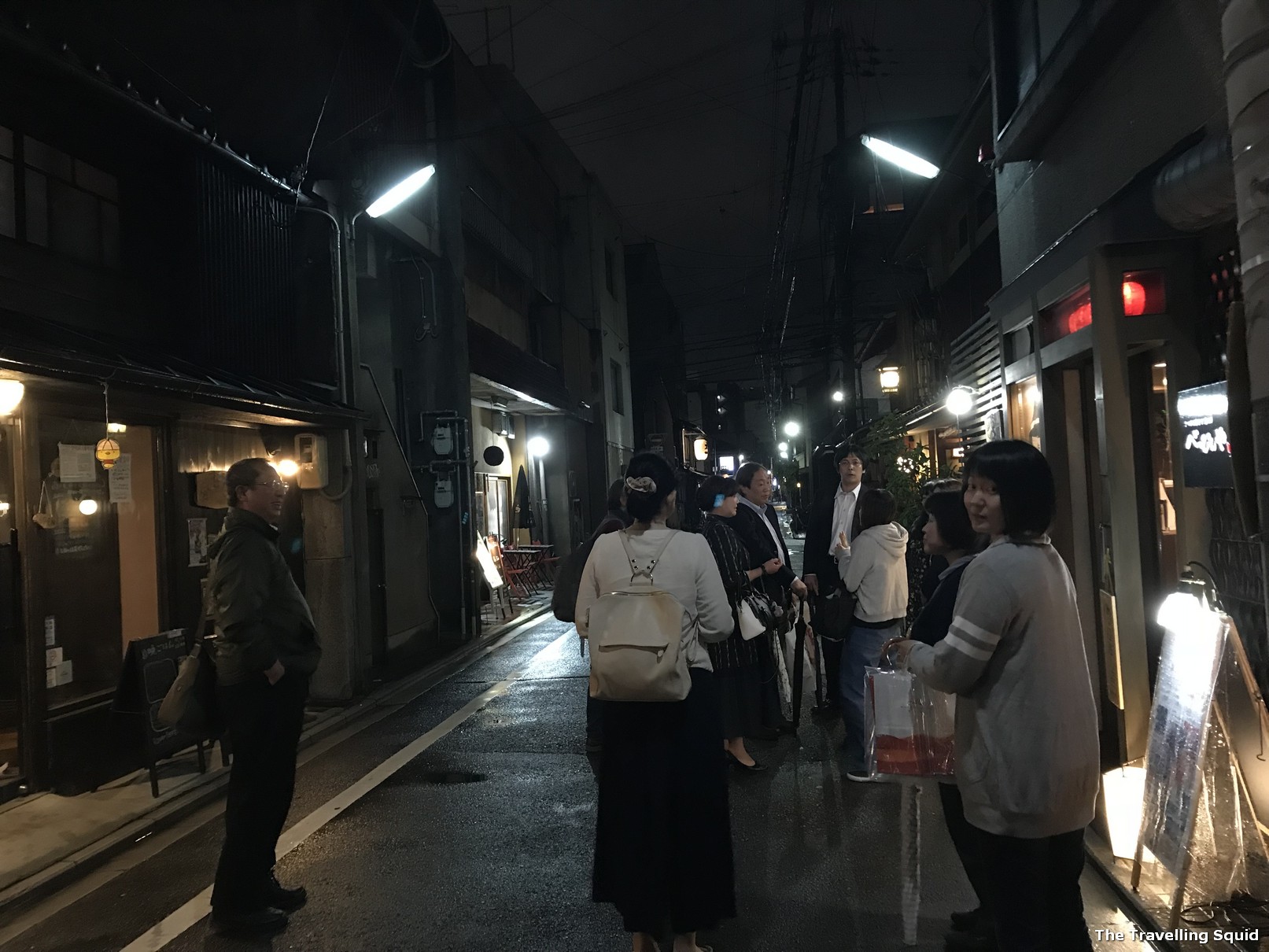 Izakayas are a quintessential part of Japan's food and bar culture. If you're wondering what izakayas refer to, they are essentially Japanese-style bars which serve alcoholic beverages and small snacks. We were wondering along the streets of Kyoto one rainy evening, on the search for a place to have sake.  We decided to stop by this izakaya, which looked busy despite the heavy rain. Little did we know how intense the grilled meats could be. There was also a wide-range of sakes at affordable prices, which made it a good stepping/tasting stone into the world of sake. Here's my recommendation – that if you're looking for a good izakaya in Kyoto visit Beppinya.
The Location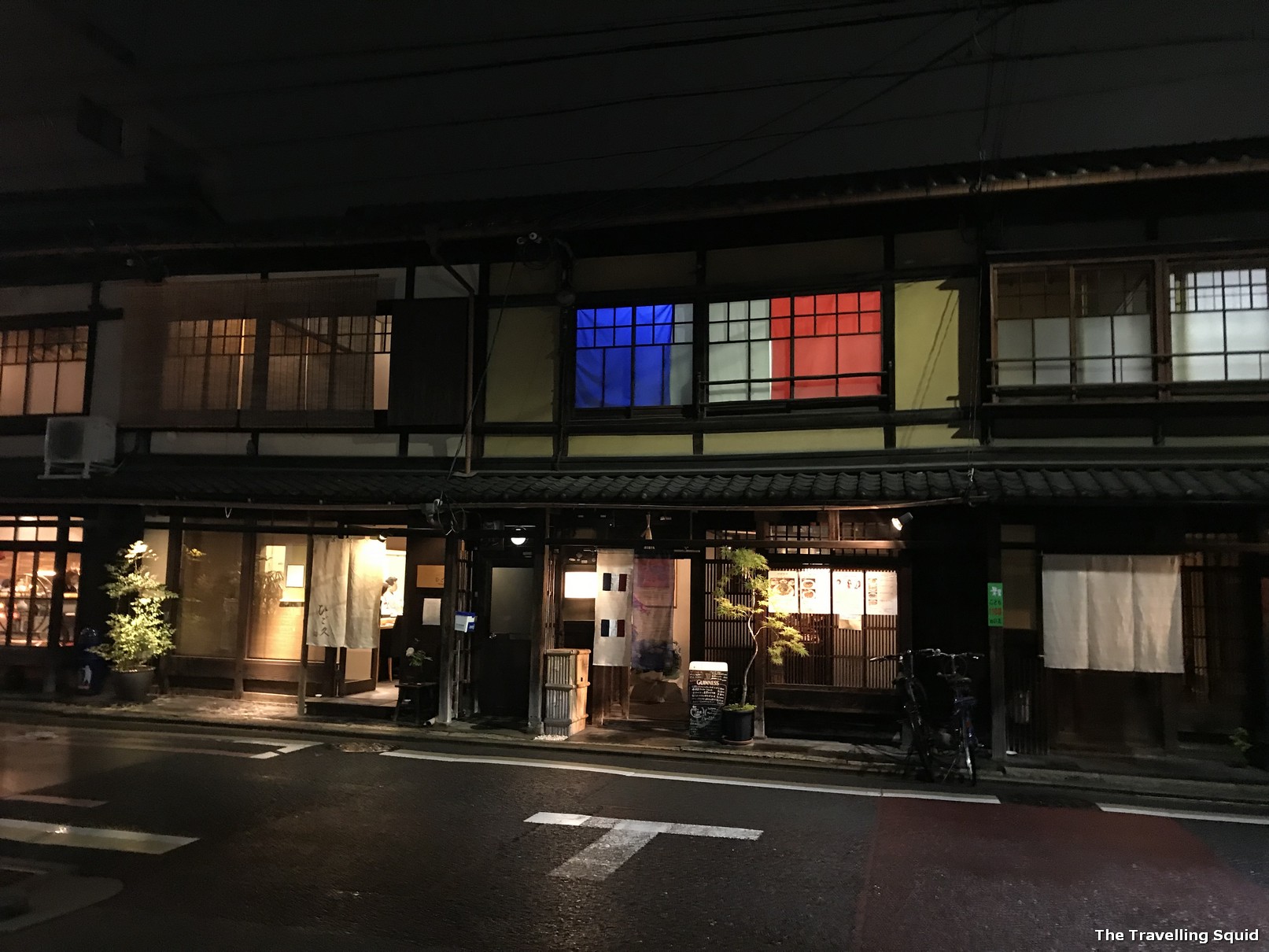 Beppinya is a 10 minute walk from the Nishiki Market in downtown Kyoto. It's a five-minute from both the Shijo and Karasuma subway stations. We were lucky as it was a five-minute walk from our accommodation, Kaeda Guesthouse. There's plenty of local restaurants and izakayas at the street that it's on, hence it's a good place for to izakaya-hop. The street is popular with locals – we can tell because there's hardly any English-speaking foreigners and the menus are mostly in Japanese.
About Beppinya (べっぴんや)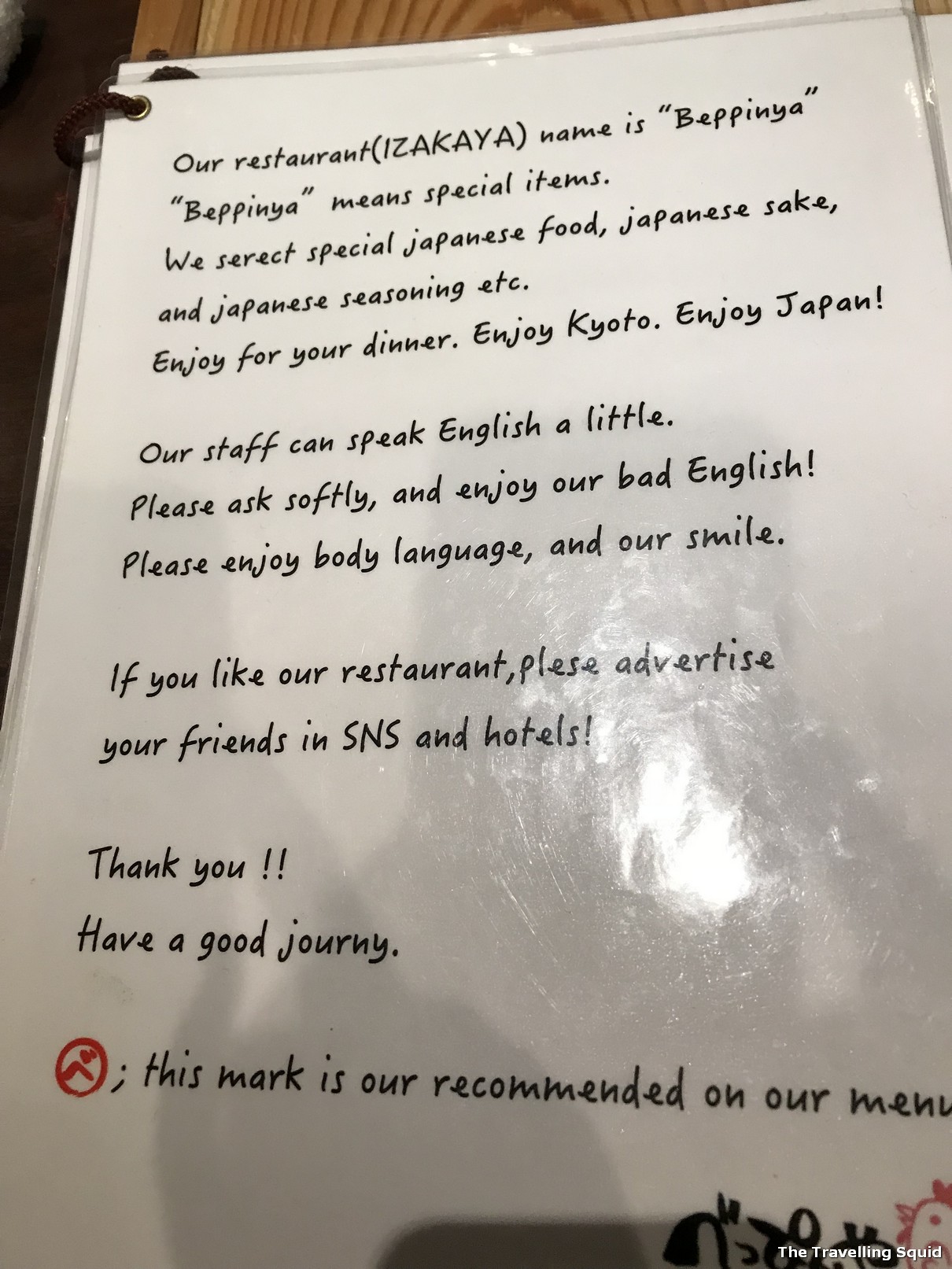 I was wondering what Beppinya means in Japanese, and it turns out, according to fastjapan.com, 'Beppin' is a term for 'beautiful ladies'. However, it is used to describe someone who is easy-going and outgoing, more for the girl next door than gorgeous ladies in a beauty pageant. 'Beppinya' according to the English menu is for special food items, such as Japanese food and sake, which worked perfectly for us.
The Food / Cooking process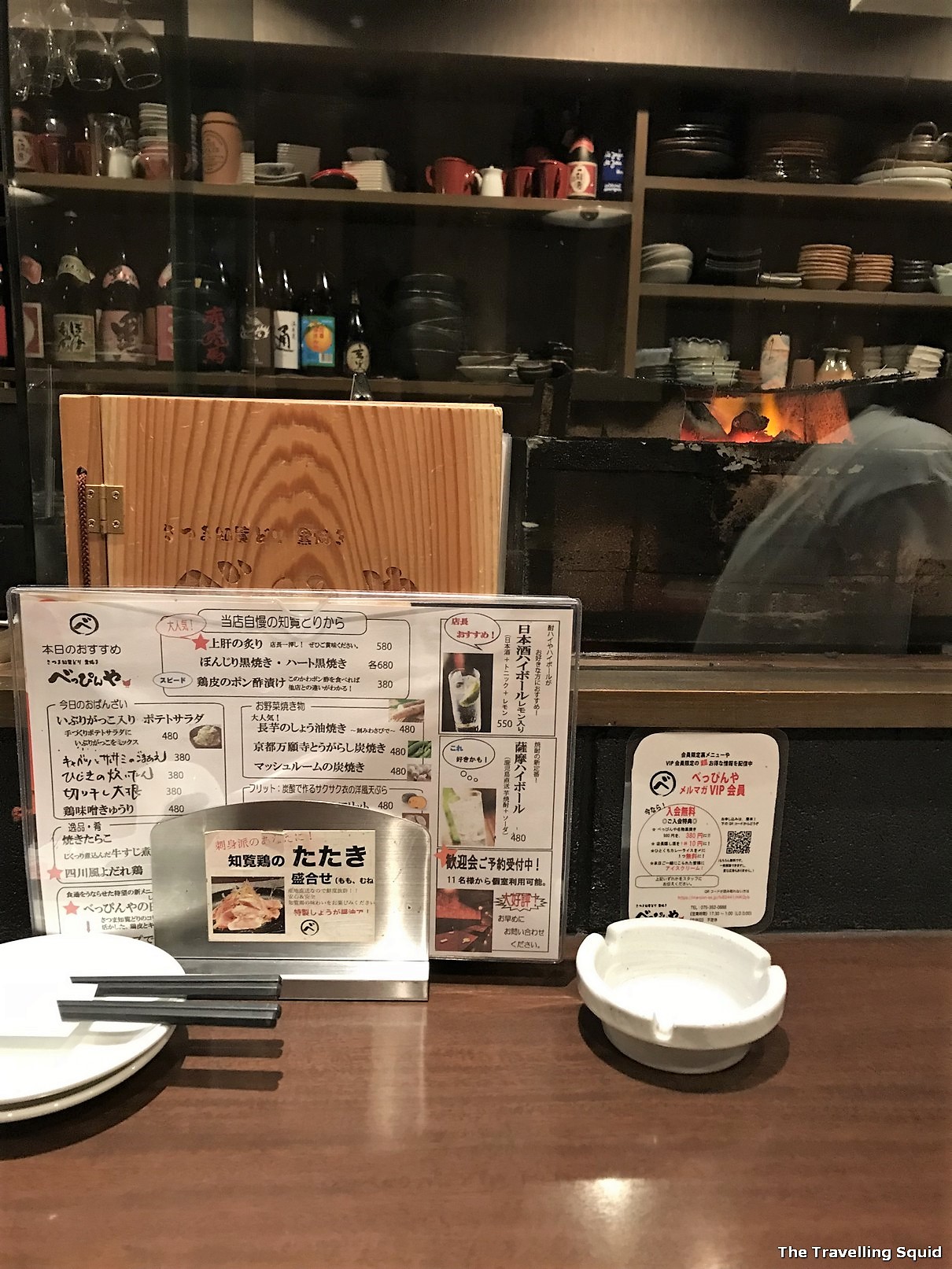 We visited Beppinya on a Friday night and it was bustling. There was a couple seated near us who was on a date and in the restaurant's private room were a group of ex-classmates were having a reunion dinner. (It's my conjecture that these folks were ex-classmates.)
To be honest, I wasn't expecting the style of cooking from the chef. I thought it was a yakitori place. The couple on the first date ordered one of Beppinya's special dishes. I was sitting in front of the grill/fryer, which just a glass panel in between. Suddenly, flames started emitting from the grill. I got alarmed and slightly worried for the chef. But he was unperturbed. I then noticed that he was smiling.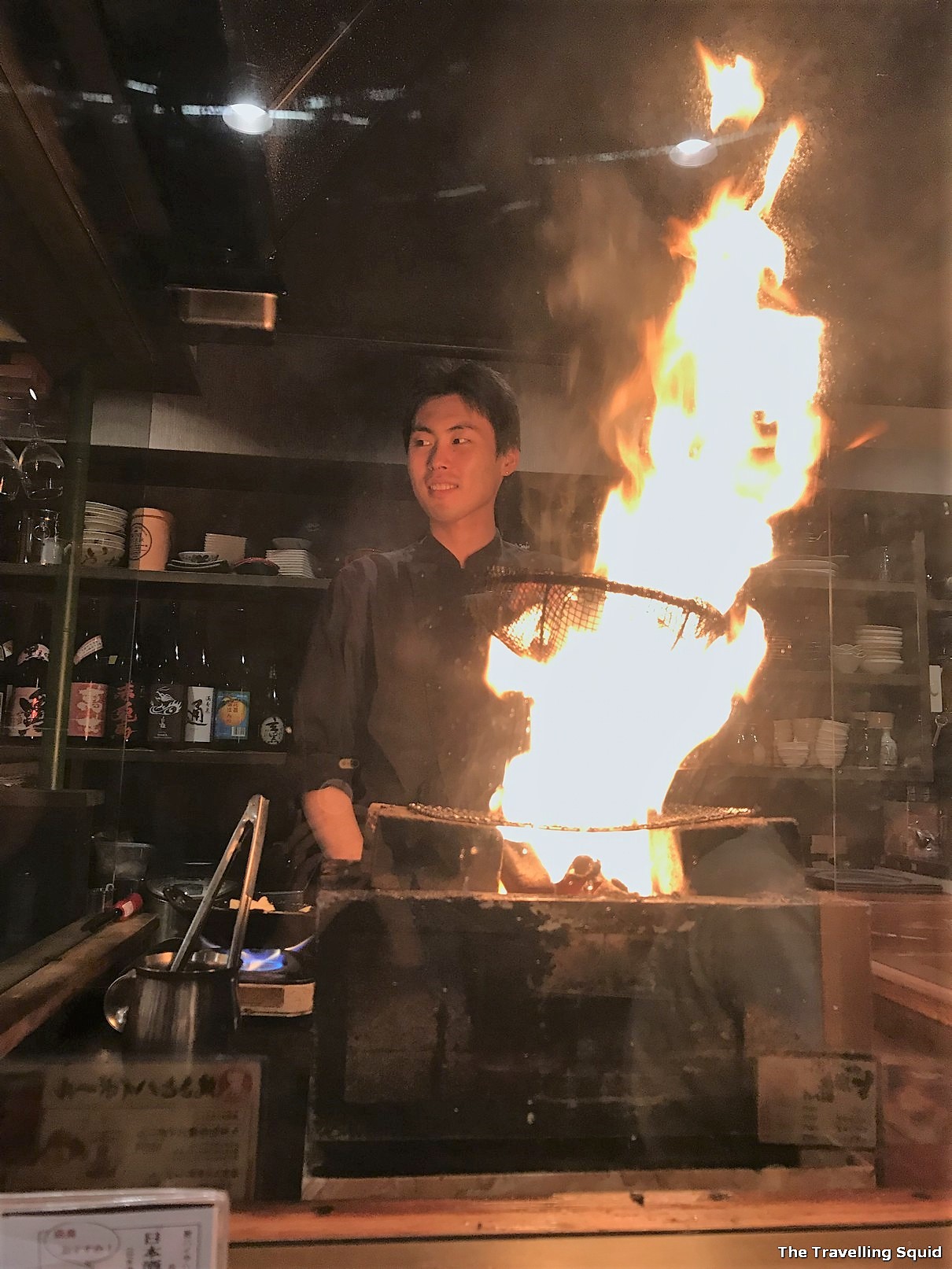 From the side, I could see a young Japanese lady taking a picture of him. As you can see from the picture, he is beaming, almost as if he is relishing the attention. ໒( ͡ᵔ ▾ ͡ᵔ )७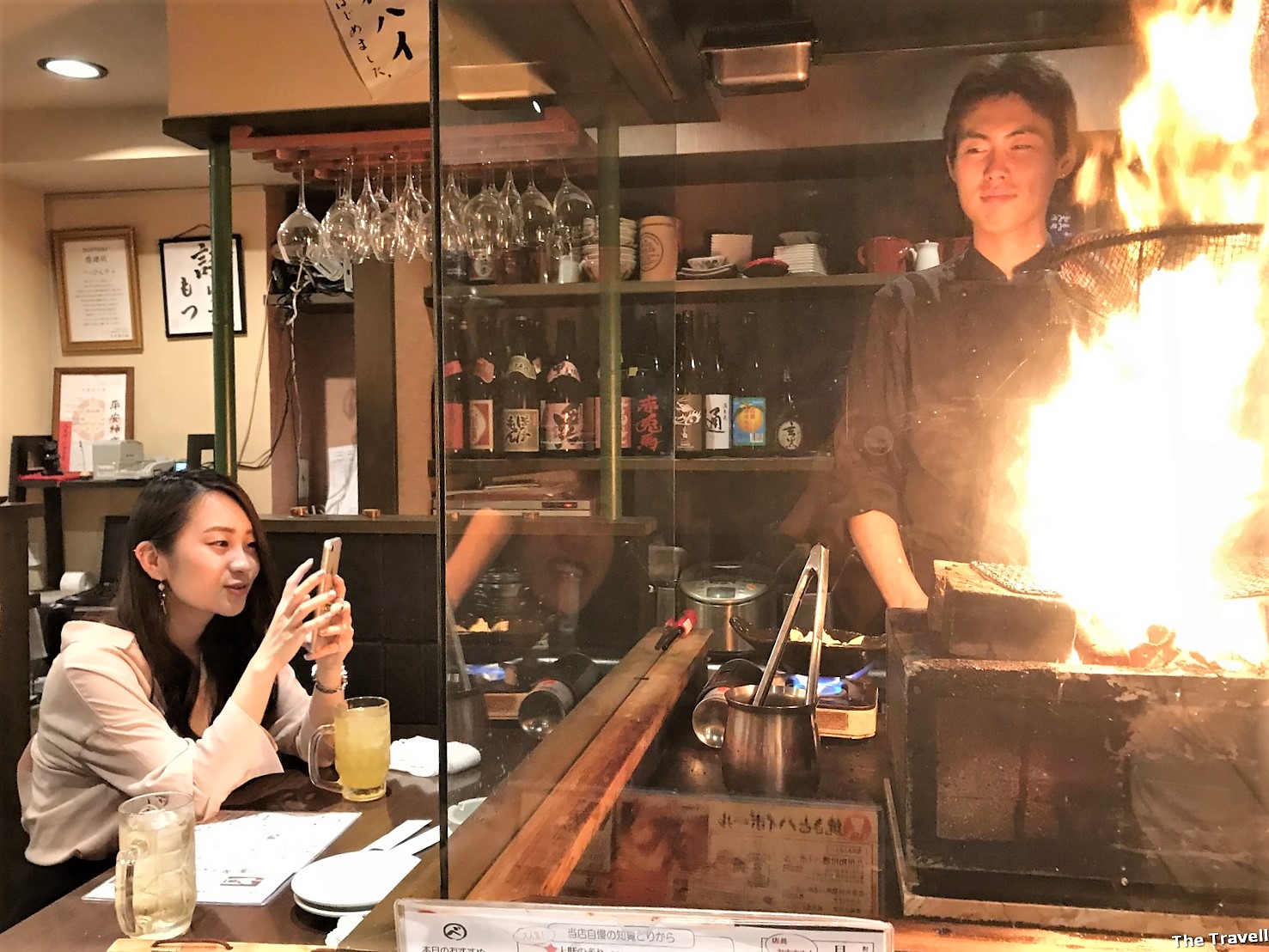 The Chicken Thigh
Now here's the chicken thigh that we ordered. It was grey in colour with black bits. It was so hot that the cabbage it is laid on turned black when it came into contact with the meat.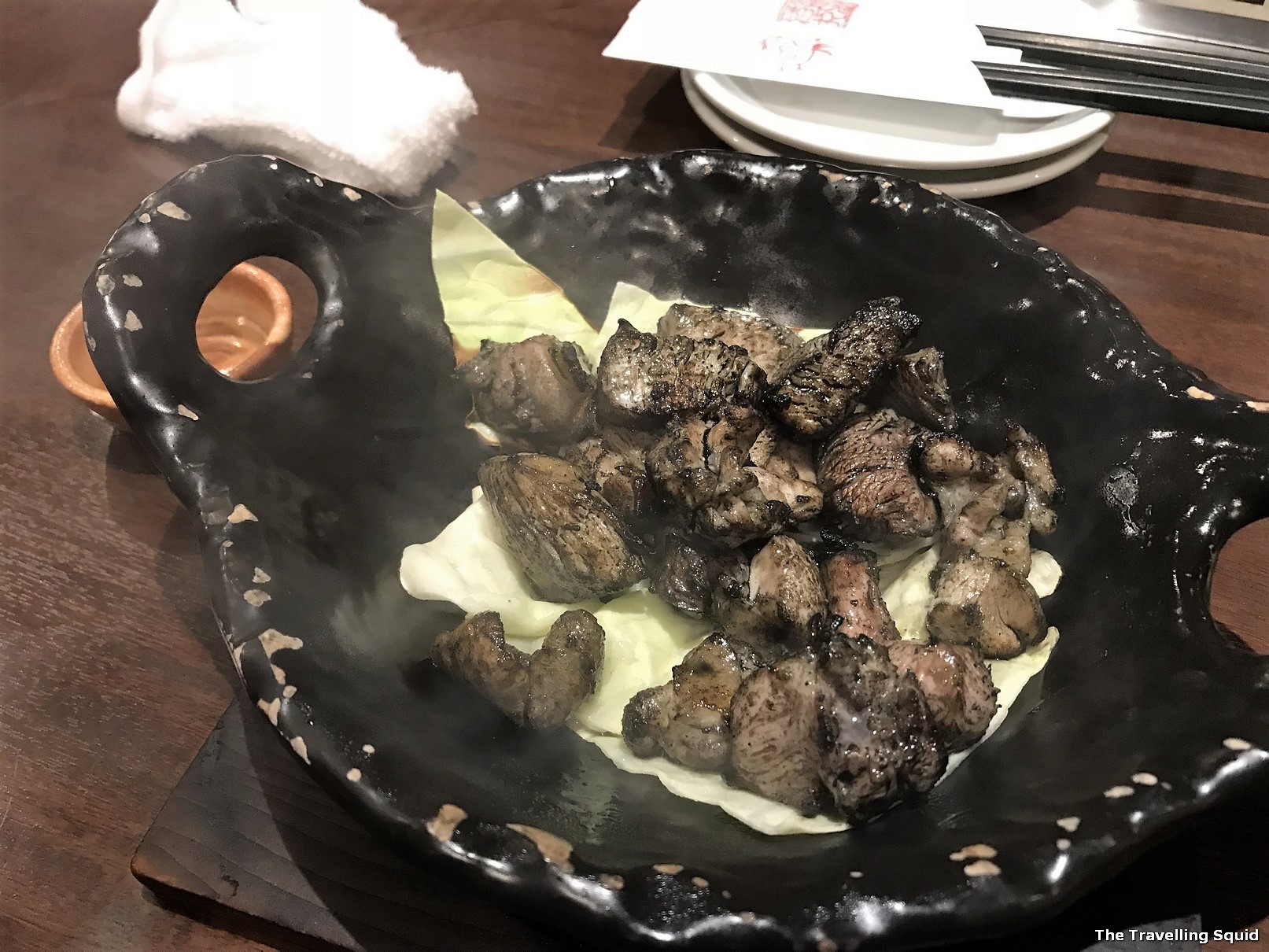 We also ordered other dishes like the potato salad, which was delicious, and two servings of sake.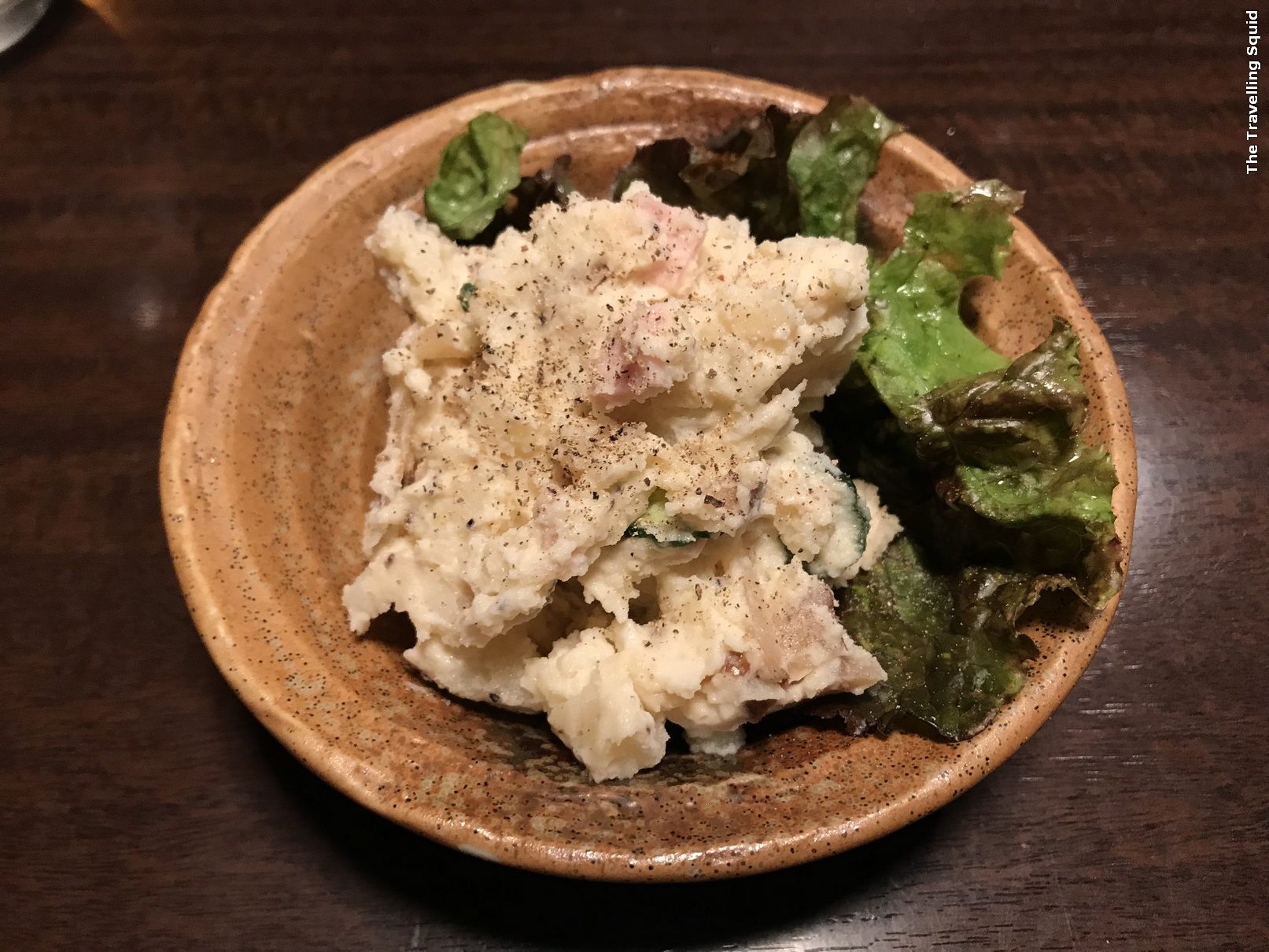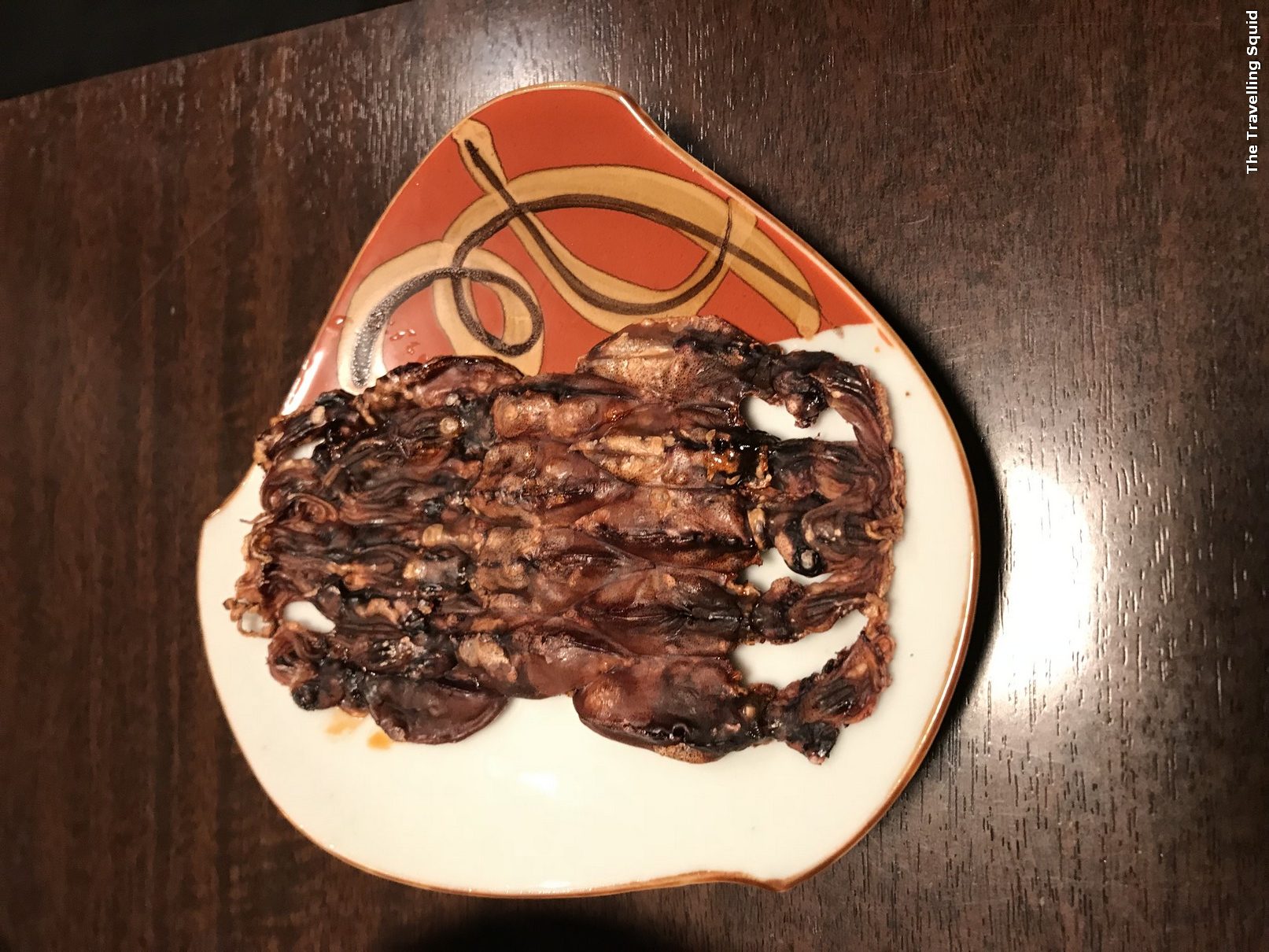 The Sake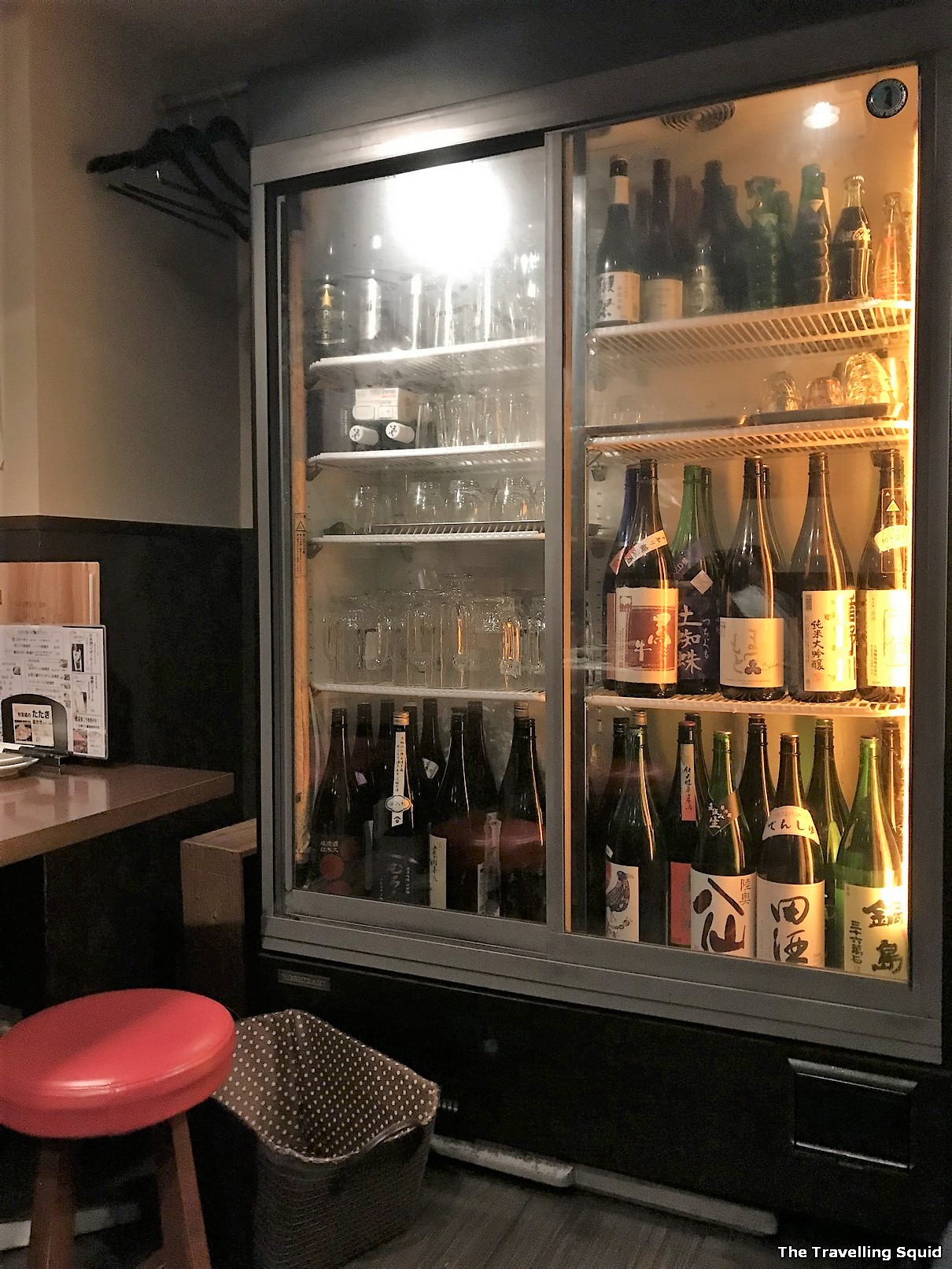 The menu
It's honestly difficult to pick out a good sake, because we don't know any better.  On the first day, we tried 山法师 and it was pretty good. It cost us ¥380 / USD3.40/ SGD4.65 for a serving.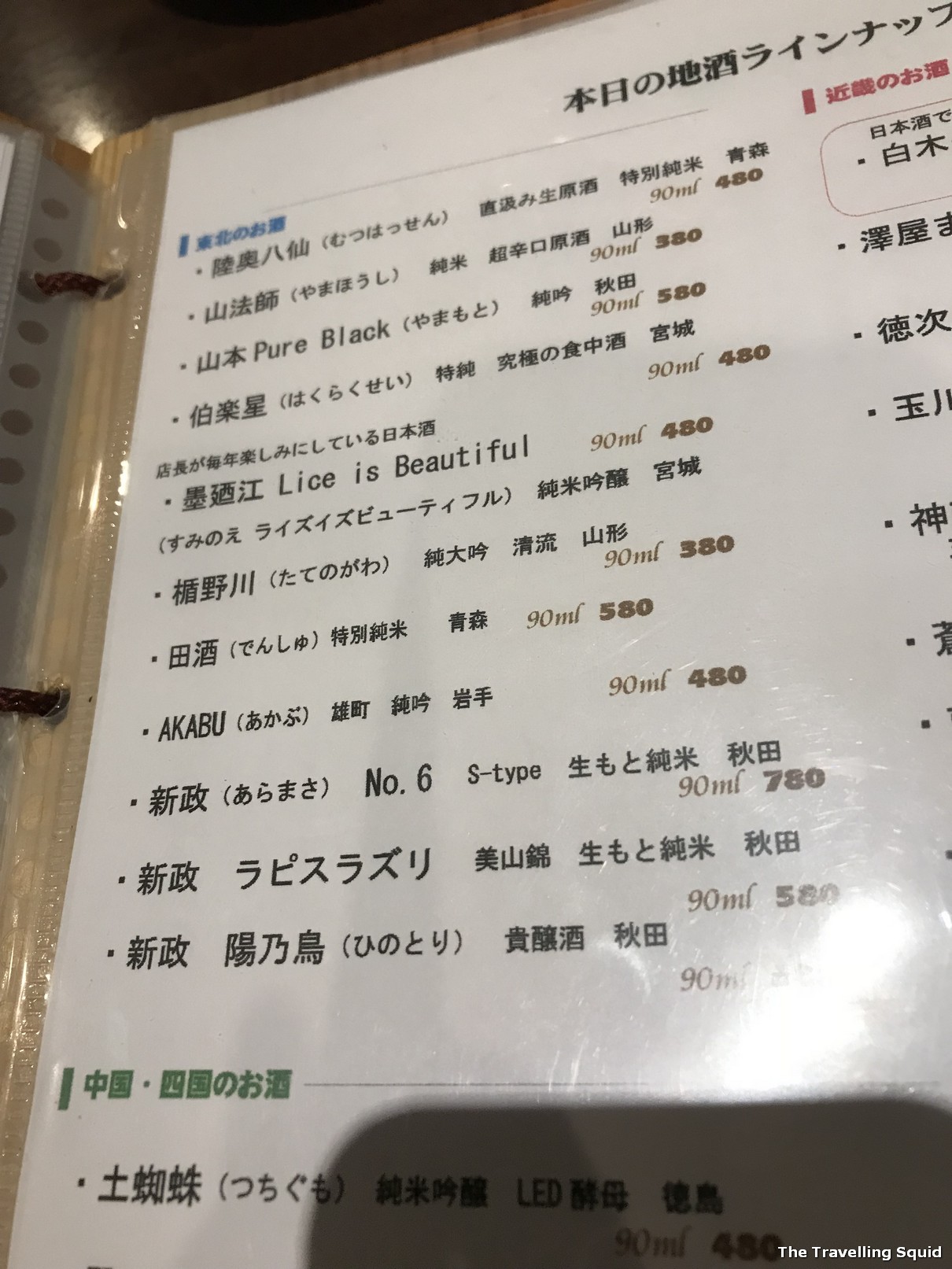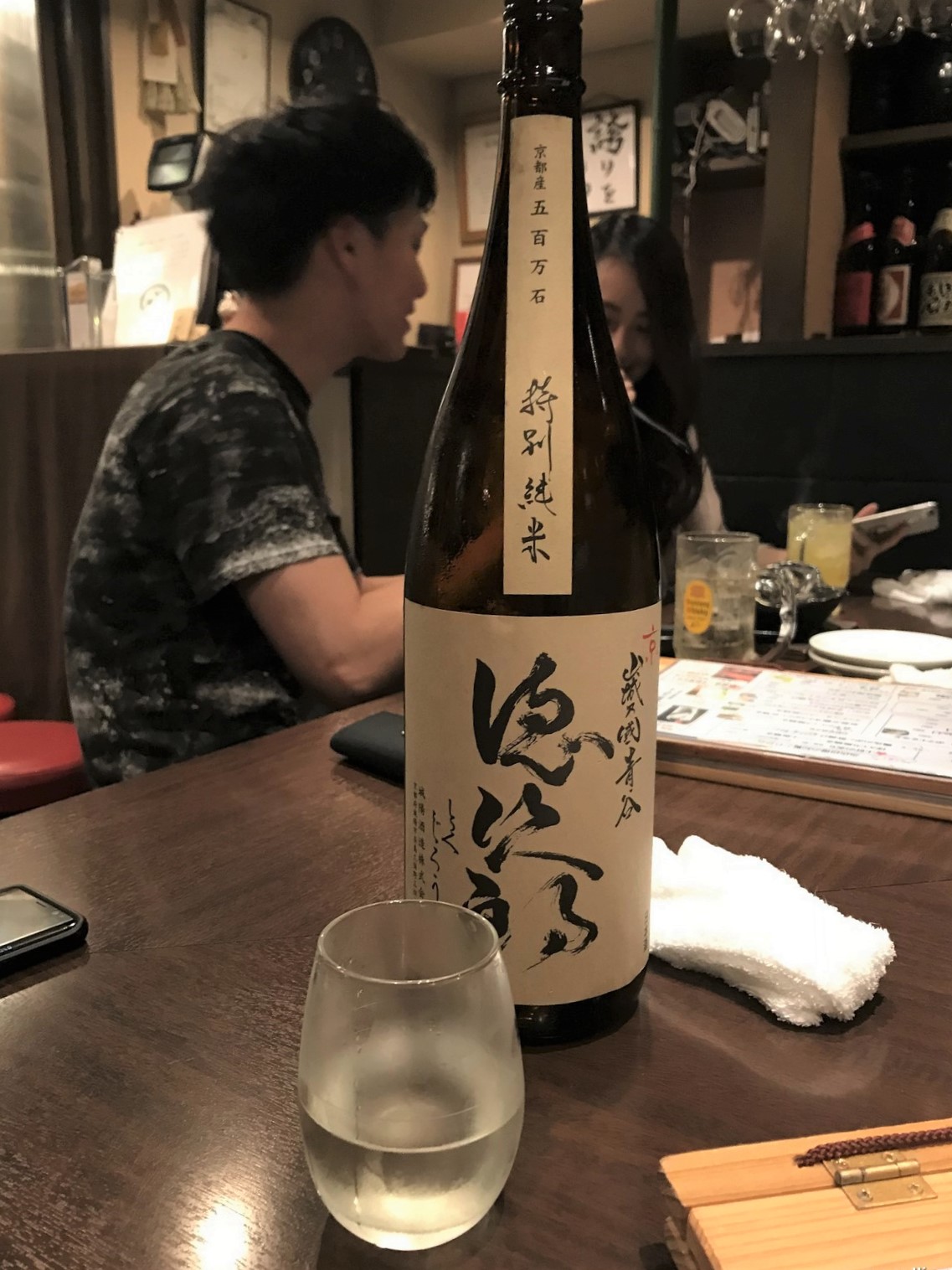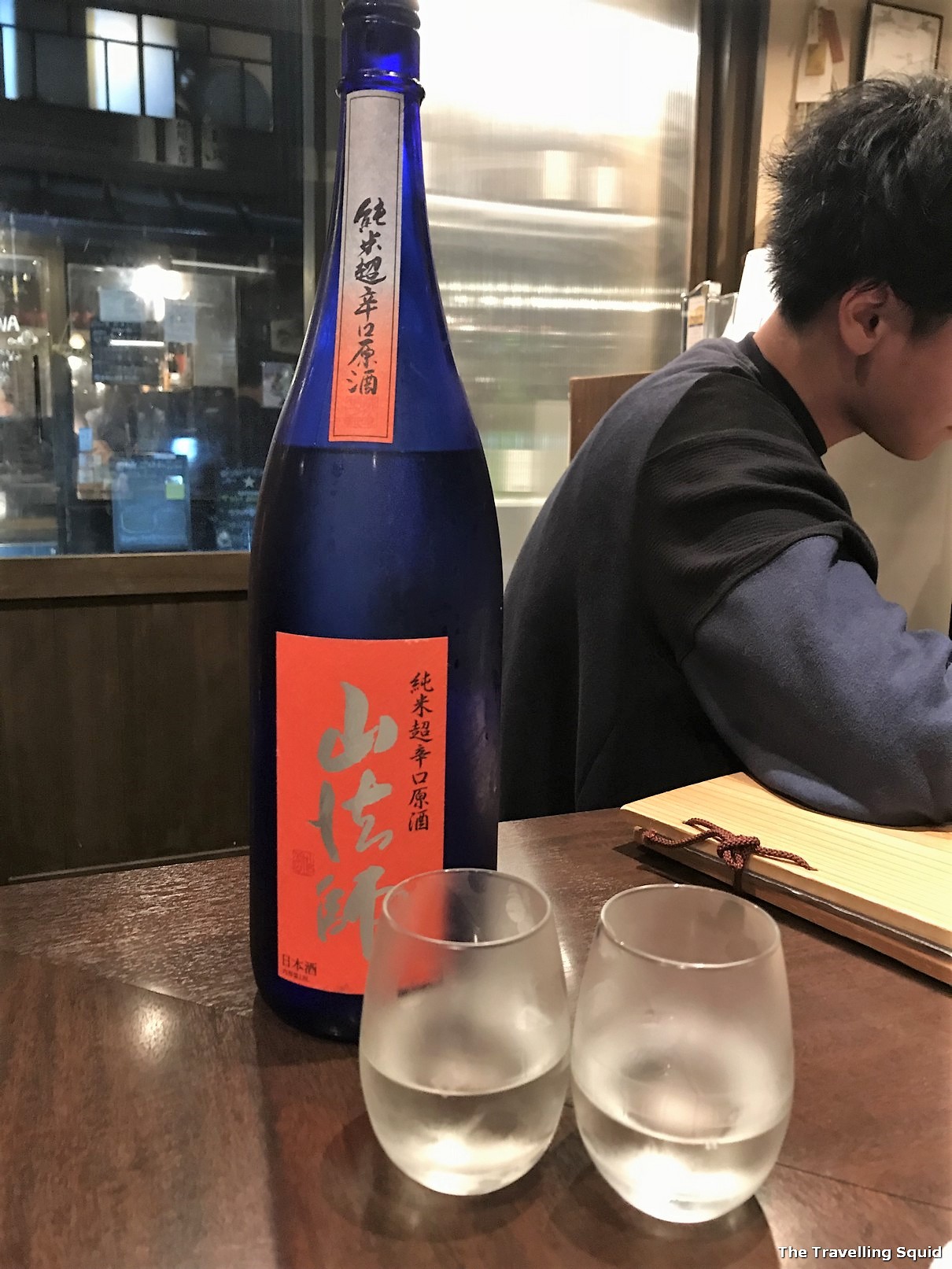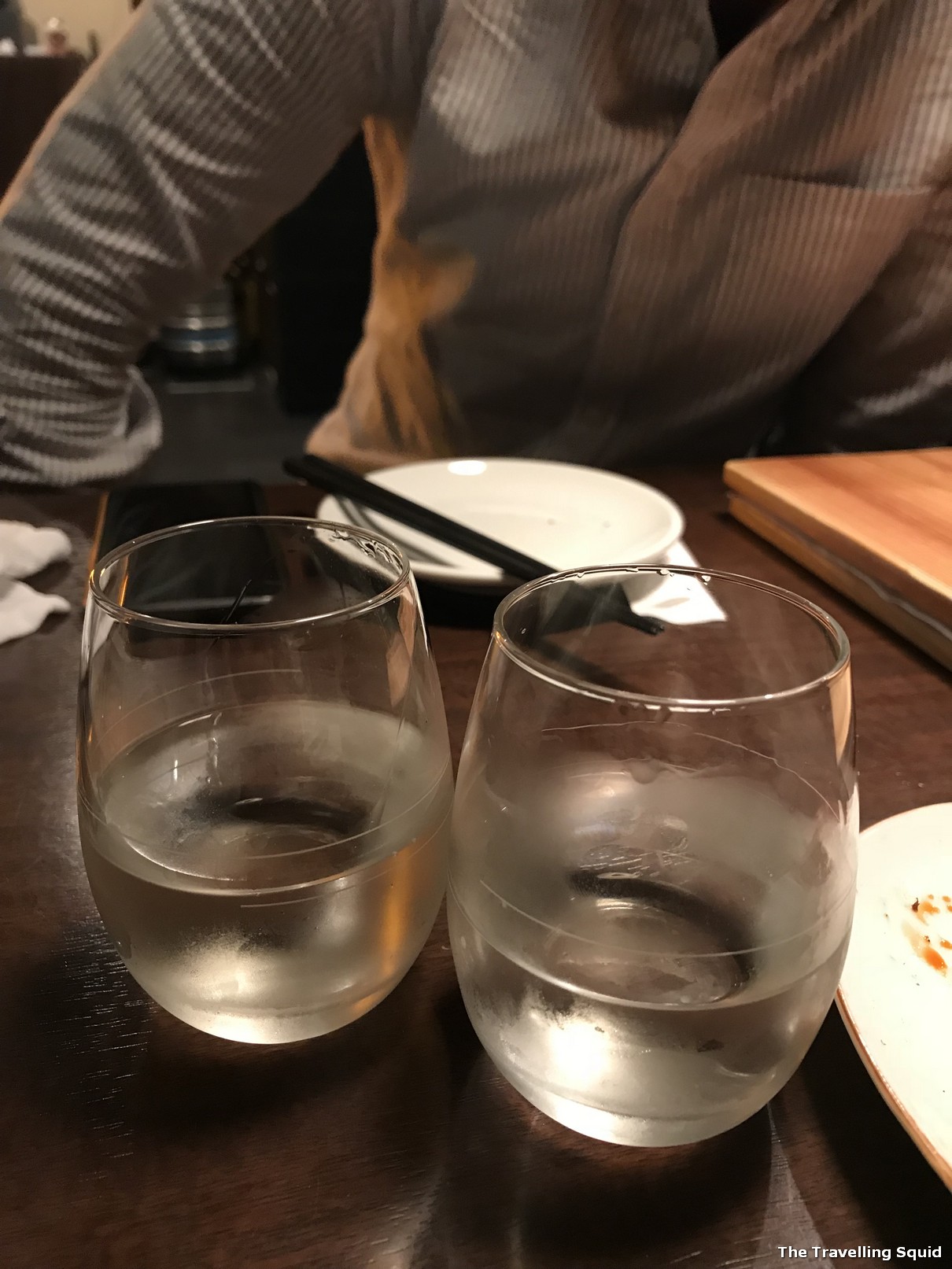 As I can't speak or read Japanese, I've only been able to understand sake in terms of dryness/ sweetness. Apparently, there's also some difference if the sake is made with polished or unpolished rice. To me, sake is much easier to drink than wine and mid-range sakes are quite smooth on the palate. However, it is much more difficult to tell the difference between a good sake than a good wine. I'm guessing, it will only come with practice. A chat with the bartender or staff will help, but unfortunately we can't speak Japanese and I have emerged none the wiser.
The Travelling Squid's Take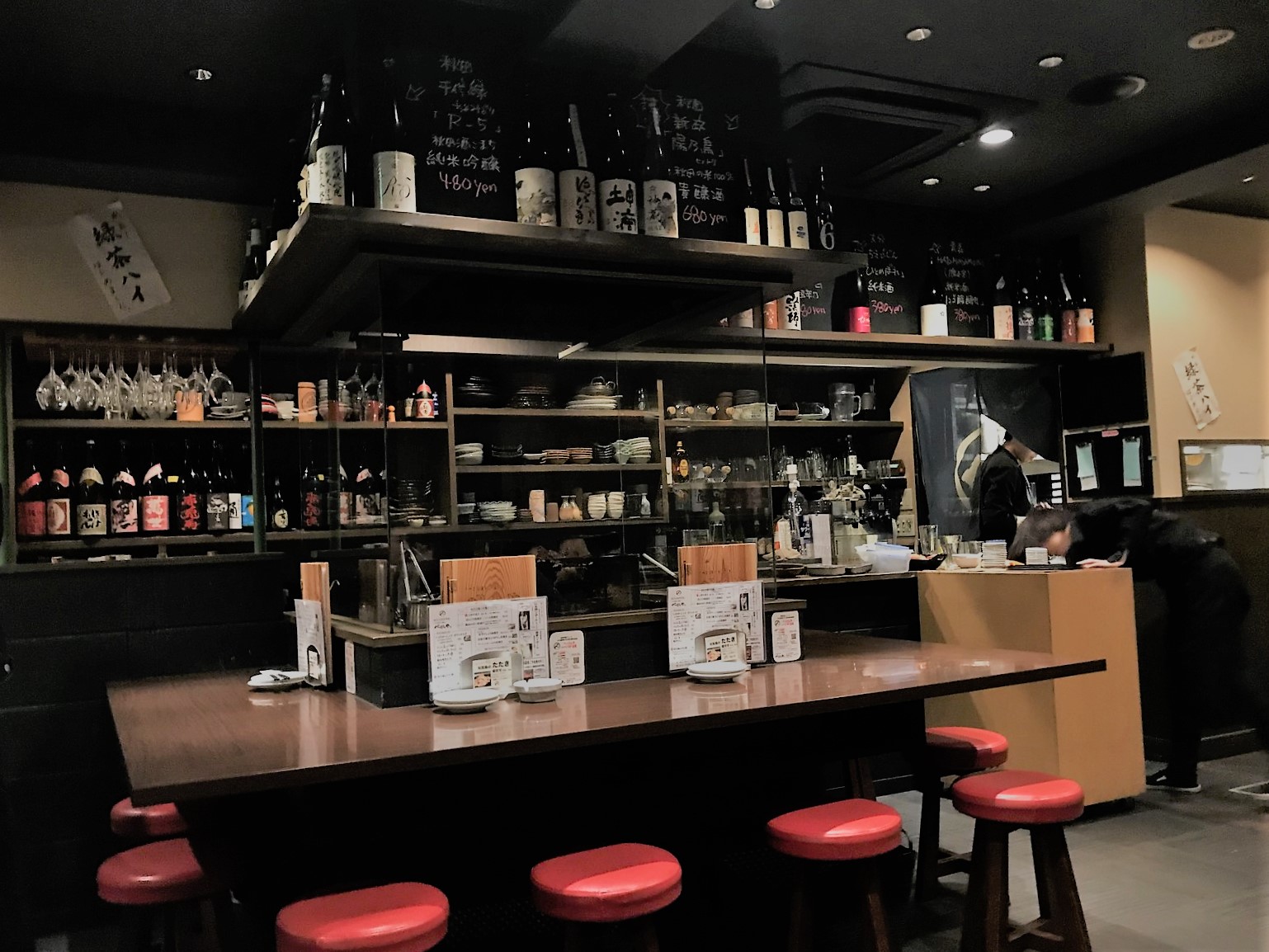 I like Beppinya due to its cosy environment. It's an authentic place frequented by people living in Kyoto.  The food and drink are not too expensive, and there is a good range of mid-priced sakes available to go with bar food. After our somewhat dis-satisfactory  experience at a cheaper and smoky sake place, combined with an unfortunate visit to a creepy otaku's lair/bar, Beppinya was in my opinion, the best place to be. Hence my recommendation – for a good izakaya in Kyoto visit Beppinya. Stay tuned for an upcoming post on the visit to the creepy otaku's lair.
***
For a good izakaya in Kyoto visit Beppinya
Address: 207-1 Ayazaimokucho, Ayanokoji Yanaginobanba-dori Nishi-iru, Simogyo-ku, Nakagyo, Kyoto 600-8072, Kyoto Prefecture
Tel: +81 75-352-0888
Website: https://www.anji-gr.com/beppinya/
Opening hours: 5.30pm – 1am daily